Welcome to the Daily Crypto News: A complete News Review, Coin Calendar and Analysis. Enjoy!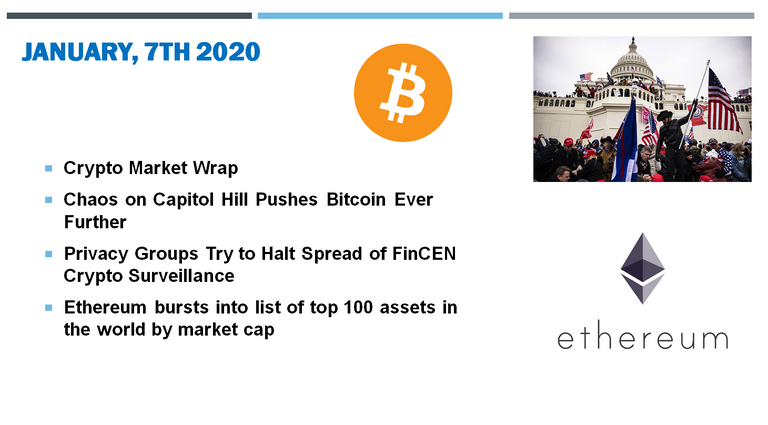 Retail buying through PayPal is likely helping push bitcoin's price higher while traders are hoping to get into an ether options market with potential volatility similar to March 2020.
Bitcoin (BTC) trading around $36,122 as of 21:00 UTC (4 p.m. ET). Gaining 5.7% over the previous 24 hours.
Bitcoin's 24-hour range: $33,875-$36,122 (CoinDesk 20)
BTC well above its 10-hour and 50-hour moving averages on the hourly chart, a bullish signal for market technicians.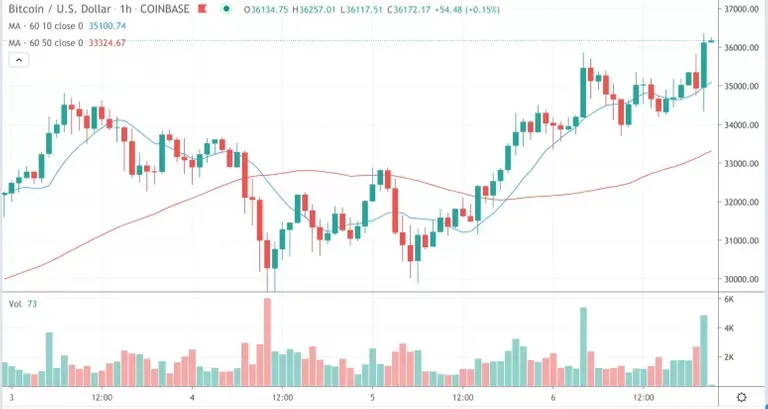 Many funds, including Pantera Capital, are identifying growth in retail demand via PayPal's brokerage Paxos, which also owns the itBit exchange and provides liquidity. Since PayPal launched cryptocurrency capabilities for its users, itBit's BTC volume numbers have increased significantly.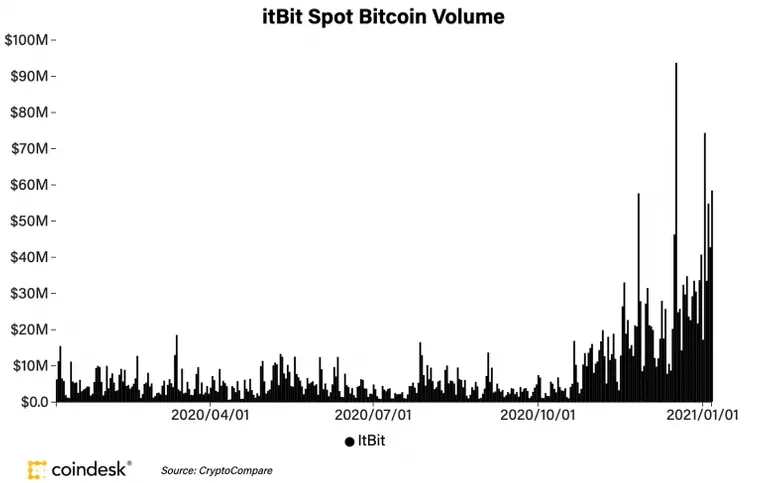 The heat is on ether options
Ether derivatives, such as futures and options, are instruments traders are now clamoring for. On Deribit, the top venue for ether options, implied volatility, which is the forecast of an asset's spot price movement, is 170%, according to data aggregator Genesis Volatility.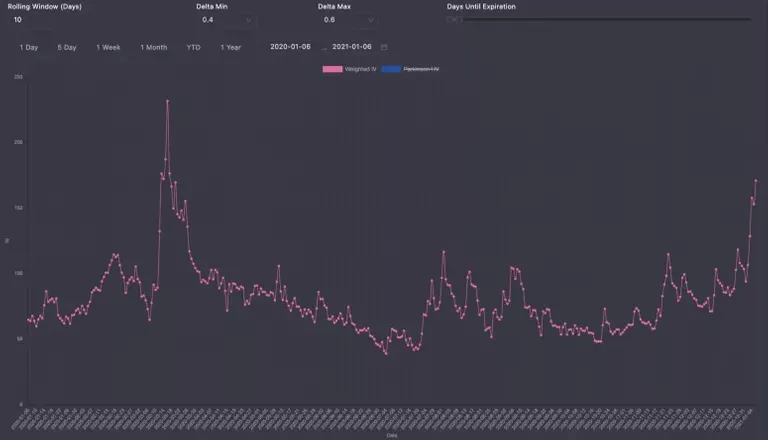 Protestors stormed Capitol Hill after Democrats win Georgia Senate.
Bitcoin hits new record highs as S&P closes at record highs.
Increased fiscal spending is seen as a key reason for optimism in the markets.
It was an odd day for Bitcoin to be breaking more records. On Wednesday, the state of Georgia had turned blue, giving the Democrats majority control in the Senate and paving the way for President Biden to have a free hand in enacting new policies.
A few hours later, as the Senate was about to certify the election results in Washington DC, an angry mob broke in to disrupt proceedings.
Biden is good for Bitcoin
While the scenes of chaos and violence dominated the headlines, the markets had a very different take. US traders, especially those who have benefitted from the boom in tech stocks powered by Facebook, Apple, Amazon, Netflix and Google were hoping that the Republicans held onto the Georgia Senate seats.
Indeed, all of those tech stocks were down yesterday with Apple down by as much as 3%, Facebook 2%, and Amazon 2.5%.
However, over on the Dow and S&P 500 - exchanges that aren't as tech-centric - the news that Democrats now have a (tiny) majority in the Senate and a slim majority in the House, saw the Dow close at a record high on Wednesday, and the S&P 500 was up 0.6%.
Representatives from the Blockchain Association, Coin Center, Electronic Frontier Foundation, and Fight for the Future held a Reddit AMA.
They discussed a proposed FinCEN rule that would require crypto exchanges to record and report certain transactions.
The groups have criticized the rulemaking process and argued that the requirements are different than for banks.
Due to an apparent paperwork mixup, the deadline to submit public comments on a proposed US Treasury rule that would enable some financial surveillance of private cryptocurrency wallets was "quietly extended" until tomorrow, January 7.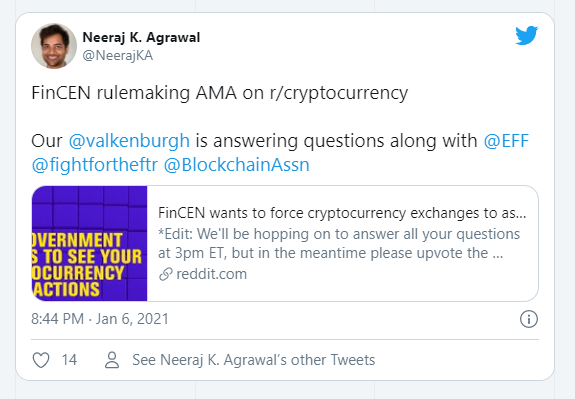 Staff members for cryptocurrency advocacy organization Coin Center, digital rights advocacy group Fight for the Future, membership group Blockchain Association, and pro-privacy organization Electronic Frontier Foundation took part in a reddit AMA to discuss their efforts to stop a proposed rule from the Financial Crimes Enforcement Network (FinCEN), a bureau of the US Treasury Department that counters money laundering and the use of money for illegal purposes.
A 13% rise in the price of ETH over the past 24 hours has propelled Ethereum onto a list of the top 100 traded assets by market cap for the first time, as measured by CompaniesMarketCap.com.
Ethereum marched past 12 other entries on the list today and is currently positioned in the #88 spot, between Bristol-Myers Squibb at #89 and Anheuser-Busch at #87.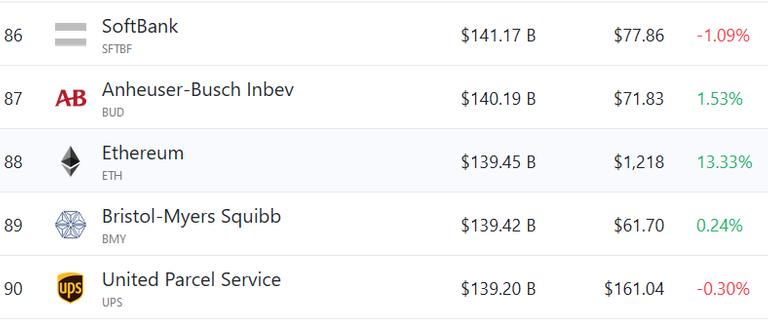 Up 62% in 2021 alone, the price of ETH crossed $1,200 today for the first time since Jan. 2018 and appears poised to overtake its all-time high set Jan. 13 of that year. This year's gains translate into a $53 billion increase in Ethereum's market cap, enough for it to overtake the market cap of several household conglomerates, including Wells Fargo, AstraZeneca, Philip Morris, Morgan Stanley, and Citigroup.
Bitcoin — the only other cryptocurrency on the top 100 list — has also been on a tear through the rankings, surpassing Visa, Berkshire Hathaway, Alibaba and most recently Tencent, to move up to the #10 spot. With an estimated market cap of $12.19 trillion, gold sits atop the list by a margin of $10 trillion; its next closest competitor being Apple, at #2.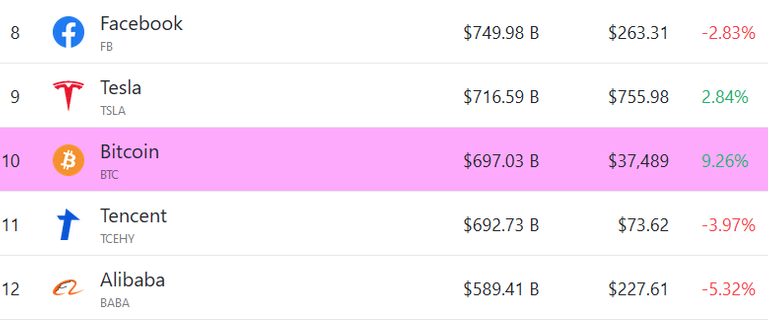 🗞 Daily Crypto Calendar, January, 7th💰

"AMA: STX on Top Traders"
"Muneeb Ali to have a live AMA about Stacks 2.0 Mainnet Launch on KuCoin."
"Mandatory upgrade requires resync Hard fork 1/7/21: block height 1501000"
"Update: these incentive programs will launch at 00:00, January 7th 2021, China Standard Time. [11:00 AM EST January 6th]"
"Scheduled (Jan 7, 2021, 18:00 UTC): Hedera will be upgrading the Mainnet to v0.10.0 on Thursday, Jan 7th 2021 at 18:00 UTC."
"Trading: Jan 7, 2021 at 17:00 (UTC+8) | Trading pair: REVV/USDT"


➡️ Youtube
➡️ Twitter
➡️ Hive
➡️ Publish0x
➡️ UpTrennd
➡️ Read.cash
➡️ LBRY
➡️ Spotify
➡️ Be paid daily to browse with Brave Internet Browser
➡️ A secure and easy wallet to use: Atomic Wallet
➡️ Invest and Trade on Binance and get a % of fees back
➡️ Check out my video on Unstoppable Domains and get 10$ off a 40$ domain purchase
➡️ Get 25$ free by ordering a free Visa Card on Crypto.com using this link or using this code qs4ha45pvh


20% of this article rewards wil go to the @hodl-fund account in order to support HODL Community Initiatives.
Find out more about HODL Community: Crypto Social Community and by following our community account @hodlcommunity

If you would like to delegate some HP to our community and support us; we give you back 90% of the curation rewards on a daily basis ! APR > 12% !
500 HP - 1000 HP - 2500 HP - 5000 HP
Make a good APR Curation by following our HIVE trail here