Welcome to the Daily Crypto News: A complete News Review, Coin Calendar and Analysis. Enjoy!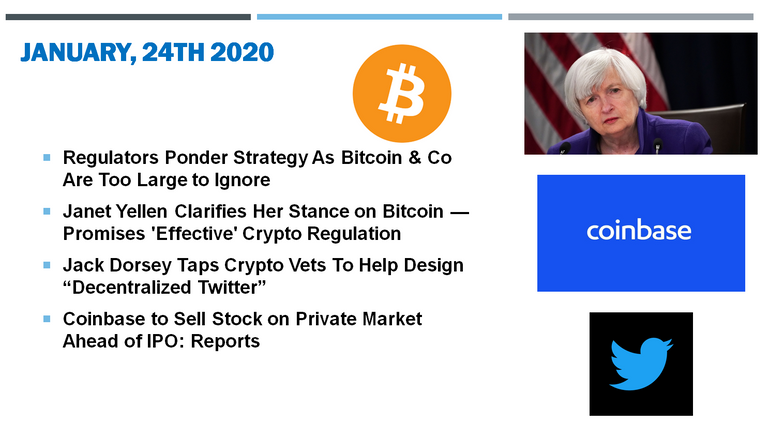 As the crypto industry grows, "it's natural" that regulators would increase their scrutiny.
Some argue that the intention of regulators is to suffocate crypto and make way for CBDCs.
No major changes expected in the US in at least the next few months.
The writing is on the wall: regulation is coming for crypto. While a small handful of nations have already introduced specific cryptoasset legislation over the past few years, it looks as though the world's major powers are gearing up to introduce substantial new regulations and laws.
This point was brought home forcefully by remarks made in mid-January by European Central Bank (ECB) President Christine Lagarde. Speaking to Reuters, she said "there has to be regulation" of crypto at a global level, mostly due to the fact that bitcoin and other coins are used for "totally reprehensible money laundering activity."
However, according to Chainalysis, the criminal share of all cryptocurrency activity fell from 2.1% (USD 21.4bn) in 2019 to 0.34%, or USD 10bn in transaction volume in 2020.
In either case, together with recent actions from the US Treasury and Financial Crimes Enforcement Network (FinCEN), such overtures suggest that crypto is due for a legislative reckoning sooner or later, with nations using the excuse of money laundering to bring it more fully within their oversight.
Aims and motives
"As crypto has gained mind and market share among institutional and individual investors over the past year, it's natural that international regulatory bodies would increase their scrutiny and potential oversight," said Blockchain Association executive director Kristin Smith.
Joe Biden's pick to become the new U.S. Treasury Secretary, Janet Yellen, has clarified her stance on bitcoin and cryptocurrencies. This follows her remarks during a Senate hearing when she said that cryptocurrencies are mostly used for illicit financing.
Janet Yellen Clarifies Her Crypto Plans
Janet Yellen clarified her position on the regulation of cryptocurrencies in a written testimony published Thursday following the Senate hearing on her nomination as the Treasury Secretary. During the hearing, Yellen made some statements regarding cryptocurrencies which were heavily criticized as being inaccurate.
The finance committee began by briefly describing the benefits and risks of bitcoin and other cryptocurrencies. "Bitcoin and other digital and cryptocurrencies are providing financial transactions around the globe, like many technological developments, this offers potential benefits for the U.S., and our allies," the written testimony reads. "At the same time, it also presents opportunities for states and non-state actors looking to circumvent the current financial system and undermine American interests. For example, the Central Bank of China just issued its first digital currency."
I think we need to look closely at how to encourage their use for legitimate activities while curtailing their use for malign and illegal activities.
Twitter CEO Jack Dorsey wants to decentralize social media.
To help him work out how to do that, he's enlisted help from those deep within decentralized tech.
The project they're working on is called Bluesky.
Jack Dorsey, CEO of social media company Twitter, is a noted fan of Bitcoin's use of decentralization to strengthen the blockchain network.
Now, Dorsey's plan to build a "decentralized standard for social media" is starting to take shape, with contributions from Protocol Labs, the company that's produced the censorship-resistant InterPlanetary File System and distributed storage network Filecoin.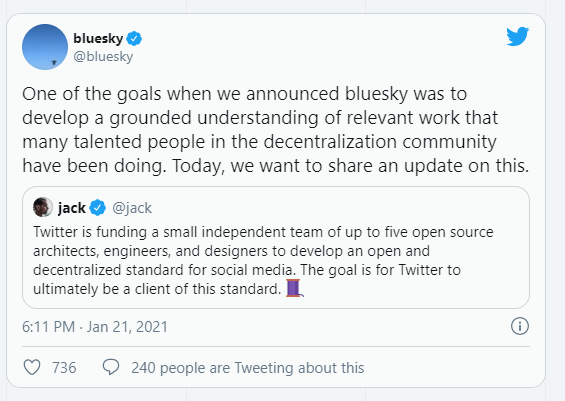 A week after the US Capitol riot on January 6, Dorsey explained why Twitter was permanently banning then-President Donald Trump from the platform lest his tweets spur further violence. The Twitter thread touched on the circumstances of the ban before pivoting to open admiration of Bitcoin—which Dorsey called "a foundational internet technology that is not controlled or influenced by any single individual or entity."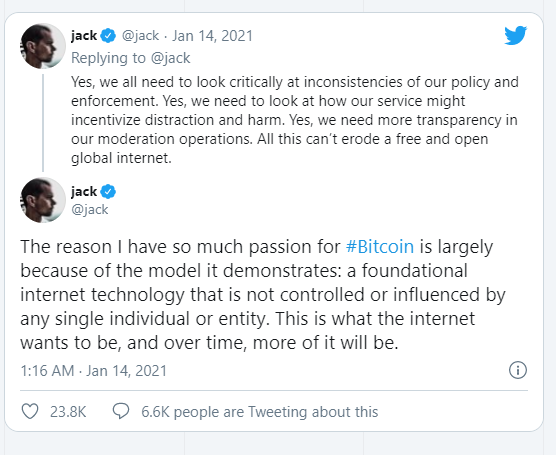 Ahead of its upcoming IPO, Coinbase has said it's holding a secondary market for private stock on the Nasdaq, according to reports.
Current and former employees, among other shareholders, would be able to sell shares.
In December, the company filed for an IPO, whose date has yet to be set.
Coinbase will hold a secondary market for its private stock on the Nasdaq, according to reports.
The exchange informed shareholders that they would receive further details about the sale on Monday, The Block reported today. Secondary markets typically allow employees, former employees and others who hold stock in a private company to sell some portion of their vested shares in advance of a public offering.
🗞 Daily Crypto Calendar, January, 24th💰

"We are proud to host a live #tech demonstration and Q&A session with Voice Life Inc on January 24th at 11 am EST."
"... Listen to @Jack_Zampolin's podcast where he interviews @KevinJYDavis about $Kava, #CrossChain bridges, assets, details surrounding..."
"January Development Update | 1. Testing RenBridge 2 for release | 2. Prepared the next version of RenVM for Testnet | 3. Improvements..."
For the implementation of StakeCube V3 we will have a 4 hour maintenance scheduled for January 23rd.
Deposit/Withdrawal/Trading: enabled.


➡️ Youtube
➡️ Twitter
➡️ Hive
➡️ Publish0x
➡️ UpTrennd
➡️ Read.cash
➡️ LBRY
➡️ Spotify
➡️ Be paid daily to browse with Brave Internet Browser
➡️ A secure and easy wallet to use: Atomic Wallet
➡️ Invest and Trade on Binance and get a % of fees back
➡️ Check out my video on Unstoppable Domains and get 10$ off a 40$ domain purchase
➡️ Get 25$ free by ordering a free Visa Card on Crypto.com using this link or using this code qs4ha45pvh


20% of this article rewards wil go to the @hodl-fund account in order to support HODL Community Initiatives.
Find out more about HODL Community: Crypto Social Community and by following our community account @hodlcommunity

If you would like to delegate some HP to our community and support us; we give you back 90% of the curation rewards on a daily basis ! APR > 12% !
500 HP - 1000 HP - 2500 HP - 5000 HP
Make a good APR Curation by following our HIVE trail here