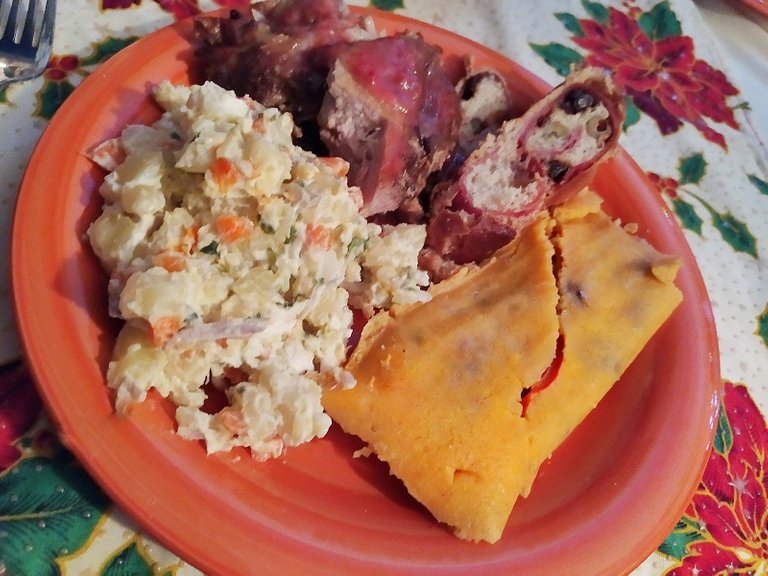 From all the traditional preparations, the Hen salad is my absolute favorite during the holidays. It is very similar to Olivier Salad from Russia. It accompanies Hallacas, Ham bread, and pork leg. This year, I was asked to collaborate in the preparation of this traditional Christmas dinner by making the hen salad for 250 people. I have NEVER made such amount of hen salad before! It was a challenge to keep it fresh while preparing everything just to assemble all the ingredients then. Here is how I managed to do it.
De todas las preparaciones tradicionales, la ensalada de gallina es mi favorita absoluta durante las festividades. Es muy similar a la ensalada Olivier the Rusia. Acompaña Hallacas, Pan de Jamón y Pierna de Cerdo. Este año me pidieron que colaborara en la preparación de esta tradicional cena navideña haciendo la ensalada de gallina para 250 personas. ¡NUNCA había preparado tanta ensalada de gallina! Fue un desafío mantenerla fresco mientras se preparaba todo, solo para ensamblar todos los ingredientes. Así es como me las arreglé para hacerlo.
---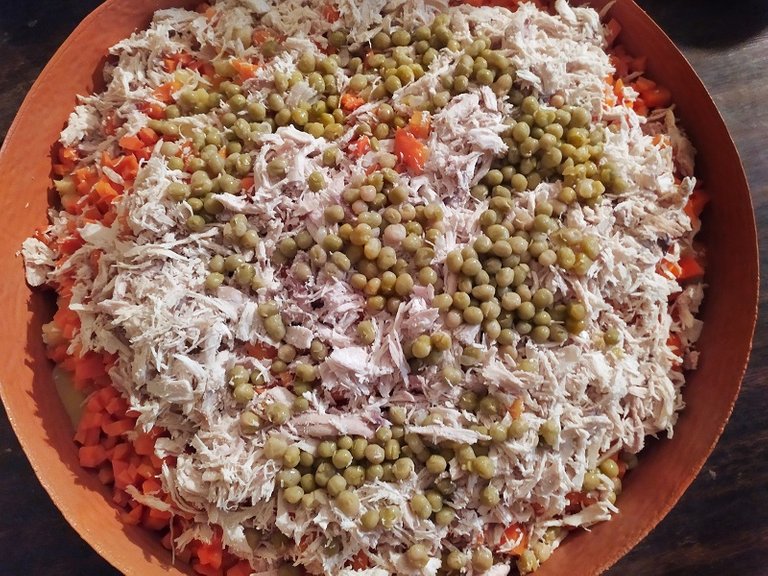 This salad took about the whole day. Most of it was spent cooking 25kg of potatoes, 10kg of carrots, and 14kg of chicken breast (it is used instead of hen breast as it is easier to find). Once everything was cooked, it was time to peal and chop everything. Added to these ingredients we add apples (yellow or green ones) and petit poas.
Esta ensalada tomó casi todo el día. La mayor parte se gastó en cocinar 25 kg de papas, 10 kg de zanahorias y 14 kg de pechuga de pollo (se usa en lugar de pechuga de gallina porque es más fácil de encontrar). Una vez que todo estuvo cocido, llegó el momento de pelar y picar todo. A estos ingredientes añadimos manzanas (amarillas o verdes) y petit poas.
---
| | |
| --- | --- |
| | |
After that, I prepared the salad dressing. It is made using mayonnaise, mustard, vinegar, and salt. I add parsley and chives. I also use the dressing to keep the apples fresh after chopping them. Once the dressing was done I started mixing everything together in the biggest Bowl I could find! this one was 50cm circumference with 10cm high approximately.
Después de eso, preparé el aderezo para ensaladas. Se elabora con mayonesa, mostaza, vinagre y sal. Le agrego perejil y cebollino. También utilizo el aderezo para mantener frescas las manzanas luego de picarlas. Una vez que terminé el aderezo, ¡comencé a mezclar todo en el tazón más grande que pude encontrar! este tenía 50 cm de circunferencia con 10 cm de alto aproximadamente.
---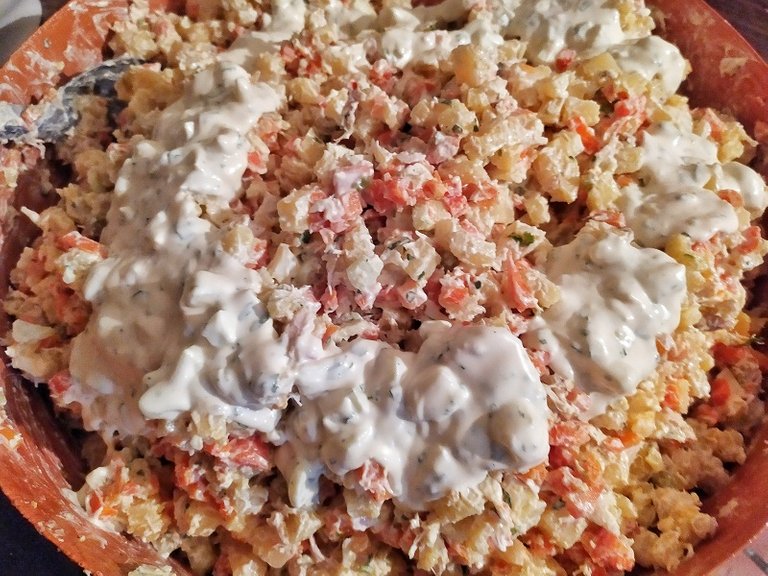 I had to repeat this procedure in this bowl three times to prepare all the salad needed. Then, we placed each salad portion in small containers for about 80 families which received the whole Christmas dinner the next day. It was delicious and it was also satisfactory to accomplish this so other families could have a Christmas dinner as well.
Tuve que repetir este procedimiento en este recipiente tres veces para preparar toda la ensalada necesaria. Luego, colocamos cada porción de ensalada en recipientes pequeños para unas 80 familias que recibieron toda la cena de Navidad al día siguiente. Estuvo deliciosa y también fue satisfactorio lograr esto para que otras familias también pudieran tener una cena de Navidad.
---

@gaeljosser
Redmi Note 7 Camera
Edited with Snapseed