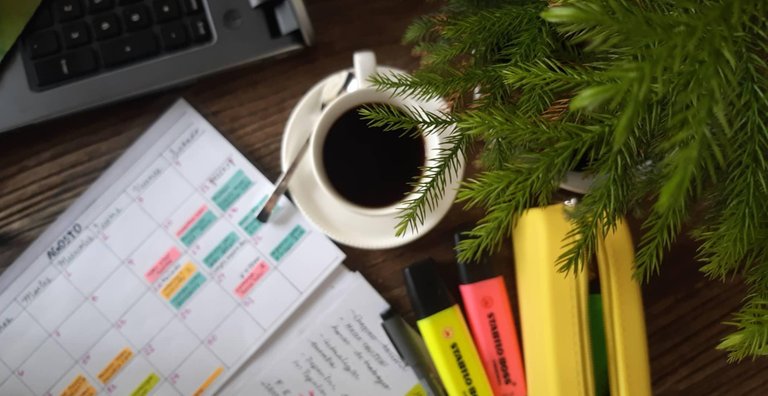 POWER UP DAY
I am always saying and writing about personal motivation and about daring and saying that ¨who doesn't take risks doesn't win ¨ so TODAY TOOK A RISK... I took the initiative of HivePud and made my first 100 Hive Power Up!
I have a time supporting this initiative indirectly along with @starstrings01 since he encouraged me to place 100% of my remunerations of my posts directly to Hive Power for a month, so that in this way my Hive Power rises exponentially, and i followed his advice... besides this he was so kind to take me as his disciple in his initiative to help Hive, placing 3% of his earnings to 5 people who have their remunerations this way and that at least 1 post a day rises (If you are new and want to join his cause do not hesitate to write to him and participate). (My dear friend @starstrings01, this post it's dedicated to you, thanks for your unconditional help and great support!)
Although it sounds little, 100 Hive is a lot for me since i only have two months in the Hive family. And i had never really done Power Up or moved anything from the wallet, so with the help of my friend @starstrings01 who also introduced me to the @swap.app i changed a few Hive Dollars to Hive. And then i did my Power Up.

DIA POWER UP
Siempre me la paso diciendo y escribiendo sobre motivación personal y sobre atrevernos y diciendo que ¨el que no se arriesga no gana ni pierde¨ así que HOY ME ARRIESGUÉ... Tomé la iniciativa del HivePud e hice mi Power Up de 100 Hive!
Tengo un tiempo apoyando esta iniciativa indirectamente junto con @starstrings01 ya que él me animó a colocar al 100% las remuneraciones de mis post por un mes, para que de esta forma se suba mi Hive Power exponencialmente y seguí su consejo... además de esto él fué tan amable de tomarme como discípula en su iniciativa para ayudar a Hive, colocando el 3% de sus ganancias a 5 personas que tengan sus remuneraciones de esta manera y que por lo menos suban 1 post diario (Si eres nuevo y quieres unirte a su causa no dudes en escribirle y participar). (Mi querido amigo @starstrings01, va dirigido a tí, gracias por tu ayuda incondicional y tu gran apoyo!)
Aunque suene poco, 100 Hive es mucho para mi ya que solo tengo dos meses dentro de la familia de Hive. Y realmente nunca había hecho Power Up ni movido nada del wallet, así que con la ayuda de mi amigo @starstrings01 que me introdujo al @swap.app cambié unos cuantos Hive Dollars a Hive. Y luego hice mi Power up.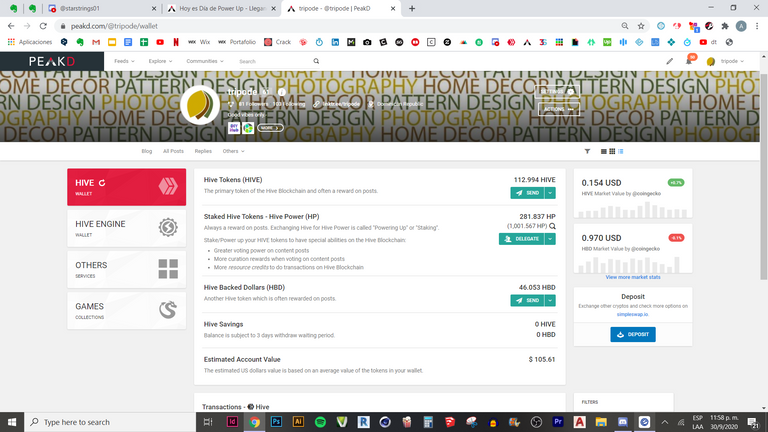 That's how my account was before from Peakd's wallet... and obviously as I was testing I made a first attempt with 1 Hive Dollar.
Así estaba mi cuenta antes desde el wallet de Peakd... y obviamente como estaba probando hice un primer intento con 1 Hive Dollar.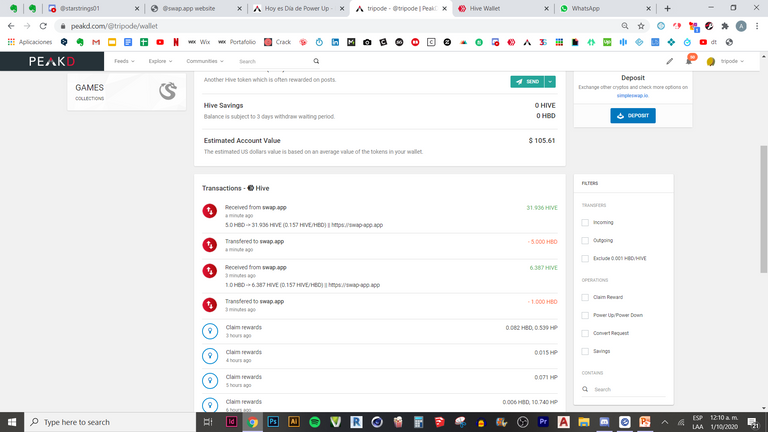 As I saw that it worked perfectly, i bought 5 more HBD's and then went to do 100 Hives Power Up!
Como ví que funcionó a la perfección, compre 5 HBD más y luego acudí a hacer Power Up de 100 Hives!!.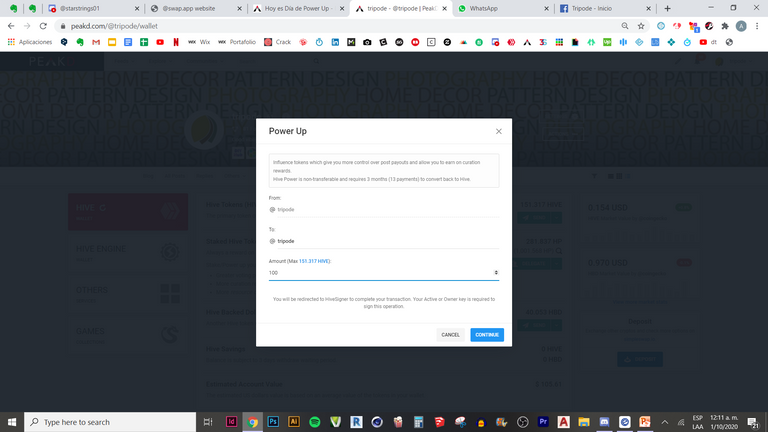 This is a capture of the moment when i was part of history! What a thrill and pride i felt towards my beautiful community of Hive.
Esta es una captura del momento en el que fuí parte de la historia! Que emoción sentí y orgullo hacia mi hermosa comunidad de Hive.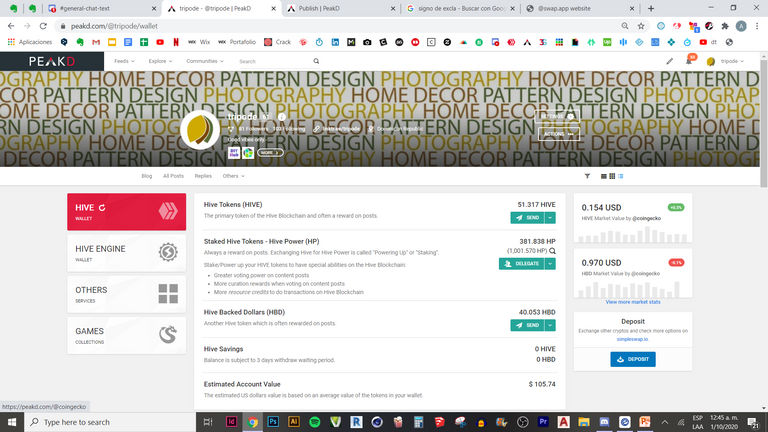 And voila! Power Up ready, i recommend anyone to follow this initiative, i think it will work for me, it is really rewarding and even if it is a very small step it is a very big step for me!
Or as the saying goes: A small step for mankind but a giant leap for man! hahaha okok i changed it a little bit, but you understood me!
Thank you very much for getting here, i hope to see you again soon, have a nice day.
Y Voilá!! Power Up listo, le recomiendo a cualquiera seguir esta iniciativa, de verdad que es muy gratificante y aunque sea un paso muy pequeño es un paso muy grande para mi!
O como dice el dicho: ¡Un paso pequeño para la humanidad pero un salto gigante para el hombre! hahaha okok lo cambié un poquitin, pero tu me entendiste!
Muchas gracias por llegar hasta aquí, espero volverte a ver pronto, que tengas un bonito día.






---
--> Check out our products here <--
---