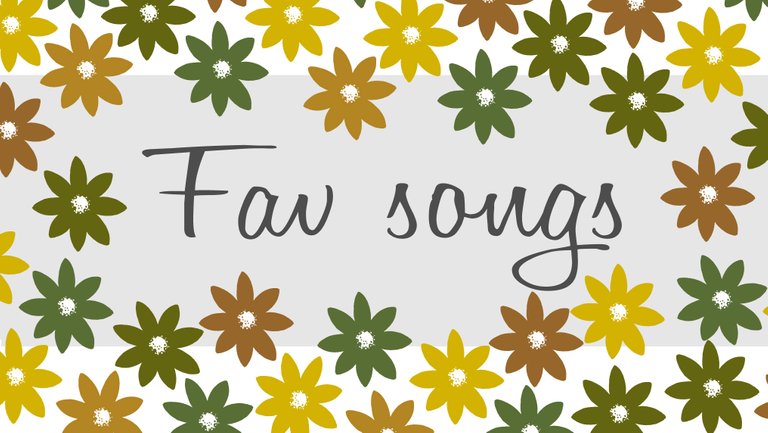 30 days blog challenge
07- 5 favorite songs
Today's challenge is really difficult for me, i really like music and what a pity to have to choose only 5 songs, but i'll leave you with my choice and i'll explain why.

30 días desafío para blog
07- 5 canciones favoritas
El challenge de hoy si que es difícil, me gusta muchísimo la música y que pena tener que elegir solo 5, pero bueno les dejo mi elección y les explico por qué.
---
Café para dos - Sofia Macchi
I really like this song because it is super contrasting, if you do not hear the lyrics you would easily think that it is talking about falling in love and love, but it is quite the opposite ... with the sweet tone of Sofia Macchi (Argentine singer-songwriter) tells us how she tells her ex not to look for her anymore and that she did not know how to value her. I dedicate it 100% to my first ex.
The way i met this singer was very peculiar, she opened one of the concerts of Covi Quintana in my country, she was dressed super pink and at first she looked like a strawberry girl (which by the way was a bad impression for me, because i do not like so superficial people) but i underestimated her very quickly. And when she was about to introduce this song she totally caught my attention saying: How many of you has always wanted to grab your ex's face, and smash it against the table? The audience fell down! And from that moment on i'm a fan of her songs.
My favorite verses are (translated to english):
I want to smash, your whole face
Against the table, so that you understand
That can't be dragged, a heart
To live eternally broken.


Cafe para dos - Sofia Macchi
Me gusta mucho esta canción porque es super contrastante, si no escuchas la letra facilmente te parecería que esta hablando de enamorarse y del amor, pero es todo lo contrario... con el tono dulce de Sofia Macchi ( cantautora argentina ) nos cuenta como le dice a su ex que no la busque mas y que no la supo valorar . Yo se la dedico 100% a mi primer ex.
La forma en que conoci a esta cantante fué muy peculiar, ella abrió uno de los conciertos de Covi Quintana en mi país, ella iba vestida super rosa y a primera instancia pareciera chica fresa ( que por cierto fue una mala impresión para mi, porque no me gusta la gente tan superficial ) pero la subestime muy rápido. Y cuando ella iba a introducir esta canción llamó totalmente mi atención diciendo: ¿Quien de ustedes siempre ha querido agarrar la cara de su ex, y estrellarla contra la mesa? ¡El publico se vino abajo! Y desde ese momento soy fan de sus canciones.
Mis versos favoritos son:
Tengo ganas de estrellar, toda tu cara
Contra la mesa, para que entiendas
Que no se puede arrastrar, un corazón
A vivir eternamente roto.
---
Que nadie se entere - Covi Quintana
Wao, it is difficult to select a favorite song of Covi (Dominican singer-songwriter), I really love her and all her songs are spectacular ... from the most popular "Pegadito", "Bésame suavecito" to the most emotional as "Café de las ocho", "Mi lado del sofá" and "Dile que me quieres".
But this one in particular brings me so much joy and so many good memories that iI chose it as my favorite. She proposes to her lover to forget the love affair they have and start a relationship, to fall in love and get to know each other better.
My favorite part (translated to english):
I don't want to share, i melt for you
no one should know what we do here.
And i remembered the time when i felt in the same position as her and although it didn't turn out the way i planned, i had a wonderful time, the things we can't tell many times are better and they say that "who eats quietly eats when he wants".


Que nadie se entere - Covi Quintana
Wao, que difícil es seleccionar una canción favorita de Covi ( cantautora dominicana ), de verdad que la adoro y todas sus canciones son espectaculares... desde las más populares "Pegadito", "Bésame suavecito" hasta las mas emotivas como "Café de las ocho", "Mi lado del sofá" y "Dile que me quieres".
Pero esta en particular me trae tanta alegría y tantos bueno recuerdos que la elegí como favorita. Ella le propone a su amante a olvidar el amorío que tienen e inicien una relación, que se enamoren y se conozcan mejor.
Mi parte favorita:
Yo no te quiero compartir, yo me derrito por tí
que nadie se entere de lo que hacemos aquí.
Y me acuerda de la vez en que me sentí en la misma posición que ella y aunque no me salió como lo planeé lo pasé de maravilla, las cosas que no podemos contar muchas veces son mejores y dicen por ahí que "el que come callao' come cuando quiera".


---
7 seconds - Dido and Youssou N'Dour
Dido is an exceptional singer-songwriter, she has wonderful songs and quality lyrics i love! This specific song has a pretty good background, they fight for racial equality and all the obstacles that this brings.
My favorite part is:
And when a child is born into this world
It has no concept
Of the tone the skin it's living in
And it's the truth! Why should you discriminate against others simply because they don't have the same skin tone as you? I don't see any valid reason, we are all human and deserve the same rights as everyone else.


7 seconds - Dido y Youssou N'Dour
Dido es una cantautora excepcional, tiene canciones maravillosas y letras de calidad ¡Me encanta!. Esta canción en específico tiene un trasfondo super bueno, luchan por la igualdad racial y por todas las trabas que esto trae.
Mi parte favorita es (traducido al español):
Y cuando un niño nace en este mundo
No tiene ningún concepto
Del tono de la piel en que vive
Y es la verdad! ¿Por qué hay que discriminar a los demás por simple hecho de que no tenga el tono de piel igual que tú? No veo motivo válido, todos somos humanos y merecemos los mismos derechos que cualquiera.


---
Lucky - Jason Mraz with Colbie Caillat
It talks about the love that a couple has for each other and how they fell in love after becoming best friends. The music is very sweet and gives me hope to look for this kind of love in the future, a pure, flirtatious and sincere love.
My favorite verses:
And so i'm sailing through the sea
To an island where we'll meet
You'll hear the music fill the air
I'll put a flower in your hair
Though the breezes through the trees
Move so pretty you're all i see
As the world keeps spinning round
You hold me right here right now
Every time i listen to it, my skin gets bristled.


Lucky - Jason Mraz con Colbie Caillat
Esta habla sobre el amor que se tiene la pareja y de como se enamoraron después de ser mejores amigos. La música es muy dulce y me da ilusión a buscar este tipo de amor en un futuro, un amor puro, coqueto y sincero.
Mis versos favoritos (traducido al español):
Y así estoy navegando por el mar
A una isla donde nos encontraremos
Oirás la música llenar el aire
Te pondré una flor en el pelo
A través de las brisas de los árboles
Move so pretty you're all I see
Como el mundo sigue girando
Me sostienes aquí mismo ahora mismo
Cada vez que la escucho se me eriza la piel.


---
Lamento boliviano - Los enanitos verdes
And this one really doesn't have much explanation of why Ii like it! But i understand that it represents my love for Spanish rock and the classics of that era!
According to what i understand about it, it's about the author's unrequited love for his beloved, i think it has a political background between frontenas because it speaks of a Bolivian lament and the artists are Argentinean, but the truth is that it doesn't call my attention much, i prefer to enjoy the song.
You already know my five favorite songs, how about you dare to tell me which ones are yours. Thank you very much for coming here and for your beautiful visit, i hope to see you soon!