Hive Open Mic Week 147 "Gracias Te Damos" (We Thank You) Cover By @elioe And Her Maracas

Llegamos a la semana 147, o sea, este evento tiene ya 36 meses y 3 semanas siendo punto de encuentro de músicos de todo el mundo. Esta semana con la propuesta de nuestra Artista Destacada
@hopestylist
de traer canciones que nos hagan vibrar con la temática "Un Corazón Agradecido".
Estuvimos buscando entre canciones del ritmo parranda, y recordé una que cantamos como Ofertorio en la misa durante el tiempo de Navidad. Es compuesta por @sayury. Se me vino esa melodía a la mente y comencé a tararearla. Propuse "¿Y si cantáramos esa?" Bueno... la letra no trataba acerca de la gratitud, pero @sayury me dijo "Si te gusta esa la podemos cantar, cambiando su letra. Como la compuse yo misma... nadie va a reclamar por el cambio" Así que se puso a trabajar en una nueva letra para esa melodía que ya conocíamos, la practicamos y nos gustó el resultado.
Esperamos que también les guste a ustedes.
La letra nos motiva a agradecer a nuestro Padre Celestial por los dones maravillosos de los que disfrutamos cada día y que muchas veces no los valoramos, justamente por ser de "uso diario". Nos motiva también a dedicarle a Él, ofrecerle a Él, entregarle a Él todos esos dones y ponerlos a Su servicio y disposición.
Este post es otra producción de la Agrupación Musical "Venezuelan Power" (Nombre ideado por @fernanblog) y enel mismo participaron diectamente:
@gabrieljr Grabación
@hermaryrc Coros, asesoría de imagen
@orlandobello Percusión
@sayury Voz principal, cuatro venezolano, publicación de este post, letra y música de la canción interpretada
Agradecemos el Apoyo Técnico por parte de nuestra amiga @flordi y deseamos que nuestra querida @carmenrivas termine pronto su trabajo de albañilería para que pueda participar nuevamente en las grabaciones




We have reached week 147, that is, this event has been going on for 36 months and 3 weeks as a meeting point for musicians from all over the world. This week with the proposal of our Spotlight Artist @hopestylist to bring songs that make us vibrate with the theme "A Grateful Heart".
We were looking through songs of the parranda rhythm, and I remembered one that we sang as Offertory at mass during Christmas time. It is composed by @sayury. That melody came to my mind and I started humming it. I proposed "And if we sang that one?" Well... the lyrics weren't about gratitude, but @sayury told me "If you like that song we can sing it, changing its lyrics. Since I composed it myself... nobody is going to complain about the change" So she put to work on a new lyric for that melody that we already knew, we practiced it and we liked the result.
We hope you like it too.
The lyrics motivate us to thank our Heavenly Father for the wonderful gifts that we enjoy every day and that many times we do not value, precisely because they are for "daily use". It also motivates us to dedicate to Him, offer to Him, give Him all those gifts and place them at His service and disposal.
This post is another production of the Musical Group "Venezuelan Power" (Name devised by @fernanblog) and directly participated in it:
@gabrieljr Recording
@hermaryrc Choirs, image consultancy
@orlandobello Percussion
@sayury Main voice, Venezuelan cuatro, publication of this post, lyrics and music of the song performed
We appreciate the Technical Support from our friend @flordi and we hope that our dear @carmenrivas finishes her masonry work soon so that she can participate in our recordings again





Integrantes de la Agrupación Musical Venezuelan Power (Nombre ideado por @fernanblog)/Members of the Venezuelan Power Musical Group (Name devised by @fernanblog)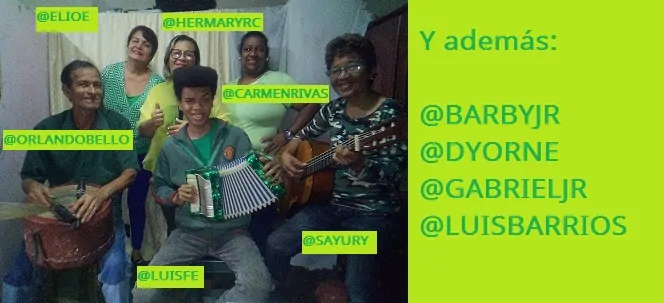 Compartimos nuestra música con ustedes desde Villa de Cura, estado Aragua, Venezuela /
We share our music with you from Villa de Cura, Aragua state, Venezuela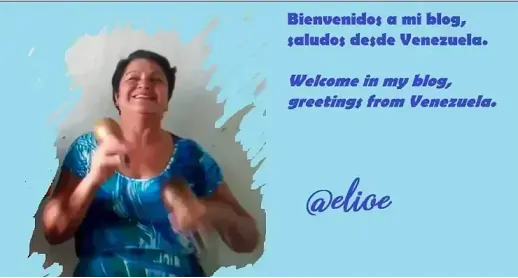 ---
---