Dustin Poirier vs. Conor McGregor: Stay humble before you bleed.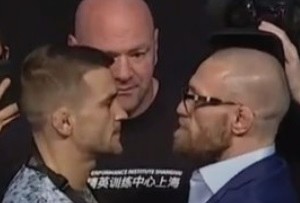 Dustin Poirier vs Conor Mcgregor is the main duel of UFC 257. Both sides praise each other before bleeding!
The UFC 257 match on January 24 at Abu Dhabi's Fete Island is Dustin Poirier's rematch against Conor McGregor. Both fighters took first place in the UFC lightweight category.
Dustin Poirier is currently in second place, and Conor McGregor is in fourth. Both of them are the greatest offensive fighters in their class.
In addition, at the joint event, a duel with Dan Hooker, Dan Hooker (Dan Hooker) ranked sixth in the UFC light field, facing a new income, Michael Chandler (Michael Chandler).
UFC 257 press conference has just been held. Four fighters sit side by side with UFC Chair Dana White.
"I love to fight. My life is fighting," said Connor McGregor.
Dustin Poirier (Dustin Poirier) said: "This is a big duel, winning will be a gold medal, so I'm fighting for this.
Conor McGregor (Conor McGregor), who looks small in a suit, looks calm and calm. No swear words in his mouth, let alone insulting his opponent.
"Famous" is like a good boy. The Irish man often praised Dustin Bolier.
"Dustin has improved, has more experience, and now he is at the highest level. Of course, he is the toughest opponent," said Connor McGregor.
McGrego continued: "So, for career and record reasons, I'm very happy to face it."
Dustin Poirier also respects Conor McGregor. For him, Conor McGregor is strong even in the standings, and Poirier is ranked higher than McGregor.
"I know what it feels like to fight in an octagon. So now I'm just focusing on this. " "Diamond" said.
He added: "This fight is to prove myself. I still want to fight for the championship."
The two of them were equally humble. The two of them respected each other, even though they seemed nervous during the confrontation.
---
---