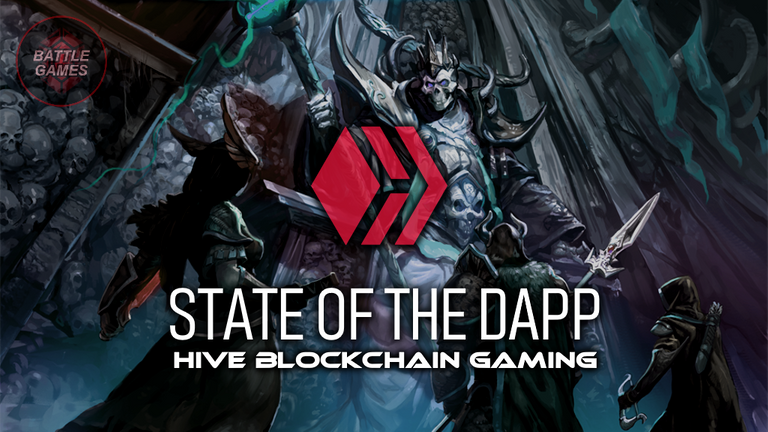 Your Comprehensive Source for Hive Blockchain Game Development Updates.
Find it difficult at times to keep track of all the blockchain games in development across the Hive blockchain, well look no further..
🔥 If you like what we do please consider voting our witness here.

ISSUE #8
---
NFTMart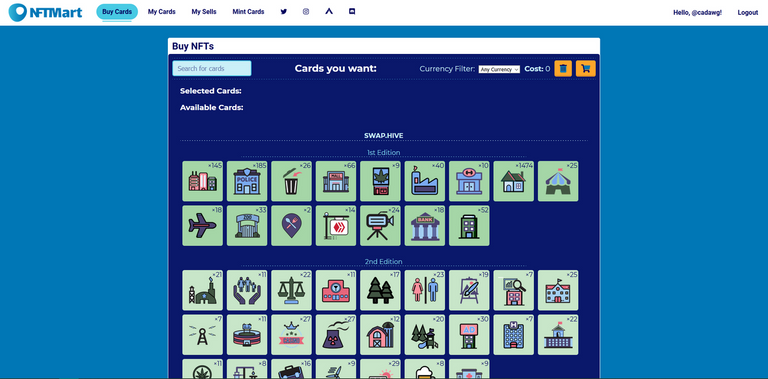 We've got a new addition to the HIVE NFT ecosystem, welcome NFTMart! This group is aiming to be the opensea.io of HIVE, all the best to them.
For starters they have enabled sales of dCity NFT's, and I imagine will be able to implement the other NFT's built on hive-engine shortly. I did read an important comment when I was peaking at their announcement, and that is ...
NFTMart intends to also enable L2 solutions outside of Hive Engine... hopefully more news on that soon.
That's a big deal, because I believe the future of NFT's on HIVE may not run through Hive-Engine, with games like Holy Bread, and Exode already using proprietary 2nd layer protocols.
NFTMart has Hive keychain support right from the get-go which is great to see. The fee's are the standard 5% paid by the seller, the exception is internal orders(hive/hbd), which are 2.5%.
Looking forward to seeing the market place expand into additional offering in the near future. This is great news for the HIVE ecosystem!
Check out NFTMart here!
---
Crypto Brew Master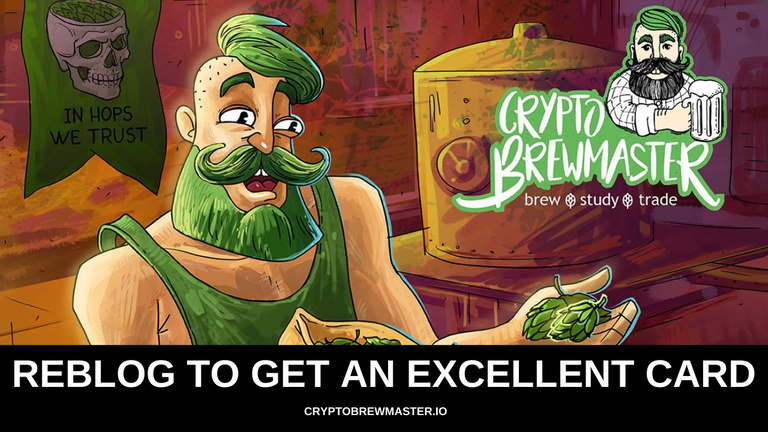 I think the biggest change I've noticed is that the CMB token has officially been integrated with the game. When you sell your beer you earn varying amounts of CBM depending on quality. CBM can then be used to speed up your brewing process and used to buy better quality ingredients. And ocourse you can withdraw CBM from the game and trade it for HIVE.
The video update for Alpha 1.2 is a good one, with lead game producer showing off a fully ulocked world and dropping hints at what to come. This includes even more locations that will allow wine making,and distilling rum, vodka, and whisky!
---
Splinterlands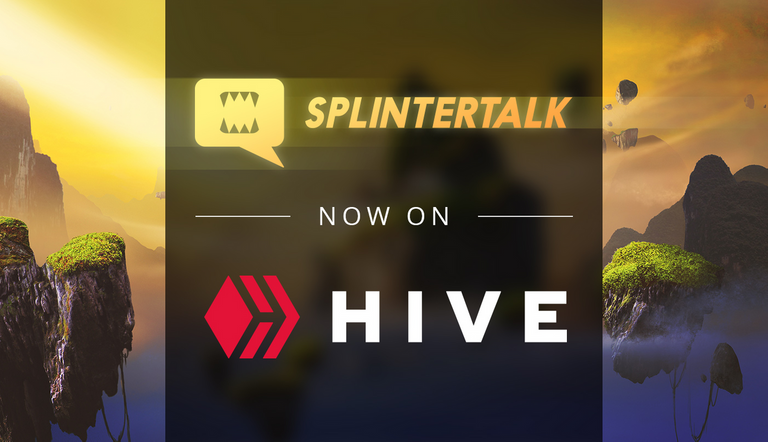 The latest news out of the Splinterlands camp is their SPT token transitioning to the HIVE blockchain. This was announced a couple days ago and we've already seen our SPT tokens airdropped 1 for 1 into out Hive-Engie wallets.
What is SPT? SPT is a rewards token that is earned through publishing content and or curating on the official Splinterlands blogging platform found at https://splintertalk.io.
Included in the news that SPT was being moved to Hive Engine was this little tidbit of information that I think many have been hoping for!
We do plan on allowing Splintertalk tokens to purchase in game loot from a specific store. This raises in priority as we start ramping our scaling efforts.
How awesome is that? Very, and we'll definitely be keeping an eye on what's to come. My guess is that you'll be able to buy addition potions for a small but helpful boost. Potions normally only last a limited amount of time, and as long as its a useful boost players will come back again and again and they may because essential and meta.
---
DCity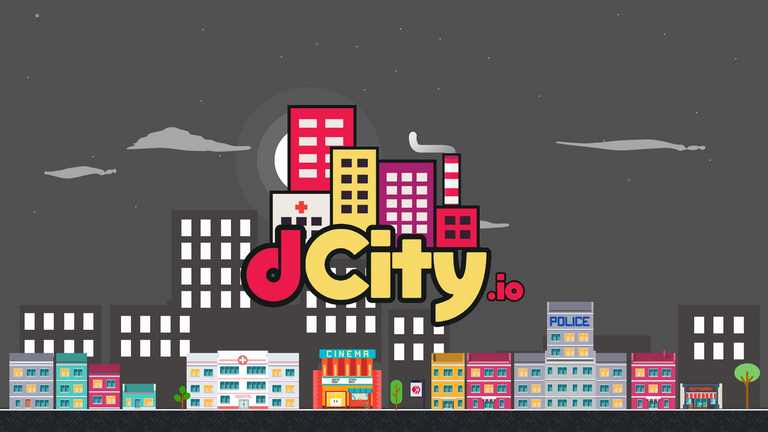 Not a ton of news from the dcity camp, what does this mean? Likely that something fun is in the works. Is it too soon to speculate on the next big update, maybe, but soon!
Instead I will share with you the How to Earn With dCity | Strategic Insights from Top Players! guide that we put out late last month. If you new to the game or thinking of getting in, have a quick and learn some essential strategy from some of the games top ranked players.
Dcity is always innovating and putting out fun and different ways to enjoy the game, we'll be keeping a close eye on them in the coming weeks!
Play dCity today!
---
HolyBread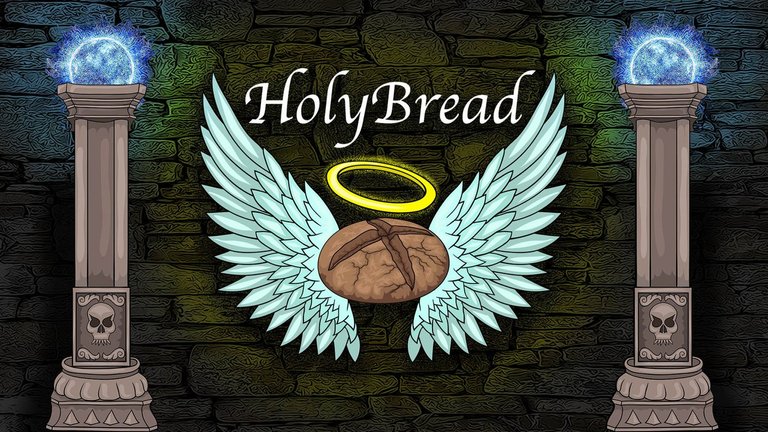 Holy Bread is getting closer and closer to season 1 release which will be a major update for the game, one in which will surely see players jump into the experience with all it's new features.
For the past weeks we've watched a steady flow of innovation as the game becomes essentially optimized for healthy growth in the future. There was a lot of work today, a complete code rewrite for a significant portion of the game. The team is happy report that they're now in a better place was little to no bugs, excellent!
With the season 1 server just a few weeks away now, we continue to see additional elements being incorporated into the game such as powering up the Arena Reward bot. Revenue generated through the purchase Bread is going entirely to powering up accounts to offer more rewards to players and content creators. The team is ambitiously aiming for 50,000 Hive Power and i don't doubt they'll get there!
---
Exode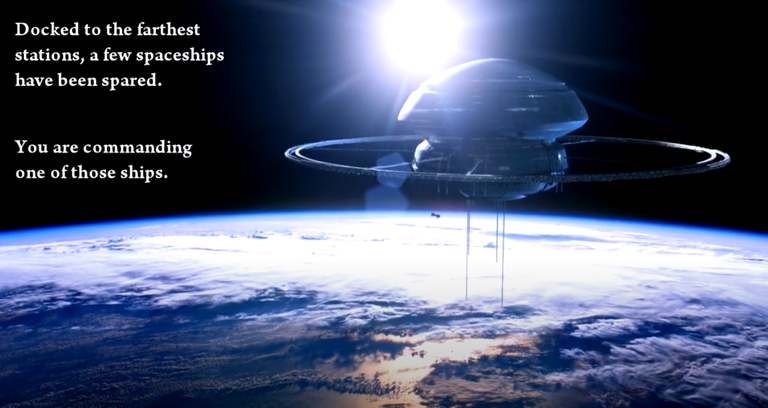 It's hard to keep up with the pace of development at Exode! We're patiently waiting for the game to be released, possibly in the next couple weeks, and while we wait we've seen tremendous improvements to the NFT Market and asset collection pages.
One only needs to pop into their discord and have a glance at the #development-log channel to see the many incremental developments.
I can really appreciate the level of work and detail that is going into the asset ownership experience. The game will obviously centre around your NFT cards and asset collection. To be able to smoothly buy, sell, upgrade your playing cards will go a long way to making the initial playing experience that much more enjoyable, memorable, and addictive!
If you're growing impatient waiting for game release can I suggest you go check out @digital-wisdom's Federal Database Challenge. There's lots of fun and even some prizes to be had. If you miss, don't say I didn't warn you!
Play Exode today!
---
Rising Star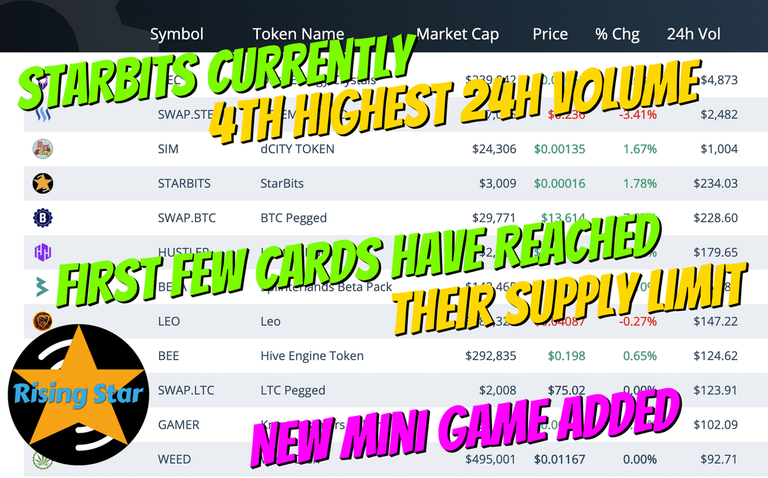 More good news from Rising Star, as their experiencing fantastic growth in new players entering the game. Users are the lifeblood of any game, without them you don't really have a game.
Acquiring new players is often difficult and retaining them even more so! It's great to hear that Rising Star is experience solid growth, as they've put forward a number of positive initiatives in recent times and it looks like the hard work is paying off.
Wrapped up in this update from rising star is a bid of humble brag regarding their STARBITS token which is now one of Hive-Engines higher volume tokens. Personally I love seeing the gaming tokens on the high volume list.
A quick scroll down the high volume list and wouldn't you know it, almost all of the Hive's blockchain gaming tokens are there, DEC, SIM, STARBITS, BETA, GAMER, ORB, CBM. Are you seeing the trend here!
---
Piggericks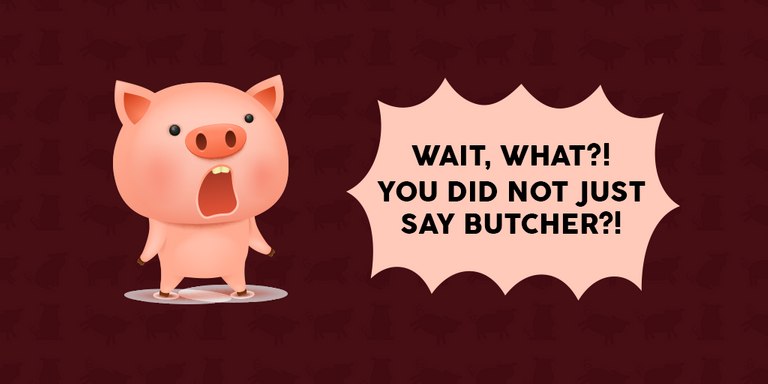 The team over at Piggericks is working hard to listen to fans and forge forward with ongoing development efforts.
In their latest development update published a week or so ago the group spoke of adding a couple of what I would call quality of life updates. This includes added sounds, and a nice change to the way that bonus pigs are renewed.
Previously games must be played in order to hold onto your bonus pigs, a feature I honestly never liked much. Unfortunately there's a limited amount of games being played at certain levels which meant that it was hard for some players to find games in order to keep their pigs. Now all you'll have to do is queue for a game and you pigs will be renewed, even if you dont actually find a game.
For some reason Piggericks decided to use Ethereum for the sale of their digital assets, which has turned out to be a critical mistake. As ethereum gas fees have skyrocketed its no longer feasible for players to sell their assets.
Why they didn't build from scratch one the HIVE I can only guess. And I'll leave that speculation to others. The game will have some significant hurdles to cross in the near future if it continues to utilize ethereum for the sale of its in-game assets. Looking forward to seeing solutions on this front in the near future.
---
IBT Survival Island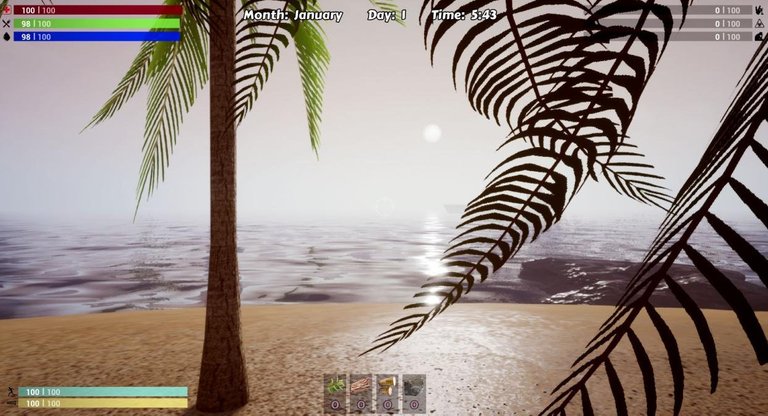 The steady updates continue to roll out of the IBT survival island camp. This is a very positive sign, as we're seeing steady progress towards the eventual release of an open beta. But don't let stop you from trying out the game, as they have a playable demo that you can download from the Team if you pop into their Discord server and say hi.
The latest update we see testing of animation, particularly a chicken, that is being scarified to the AI. What kind of game is this?
Hold up, this is all about testing that core animation and AI is cooperating as the Team plans to release DLC in the future that will contain new characters. This seems like a pretty critical test to see that it all works harmoniously together.
---

25% of All Account Rewards Distributed To Delegators!
Read about our Delegation Rewards Pool program here, and how you can earn by delegating to @battegame!
Help us reach our goal of curating with 15,000 HIVE Power!
25HP | 50HP | 100HP | 250HP | 500HP | 1000HP
👊Thank you to our current delegators👊
---
---
🕹️ Follow @battlegames for Gaming News, Curation, and Community.
---
---