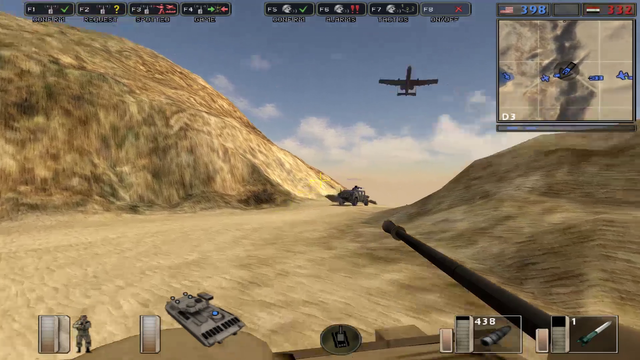 ---
After taking the other capture points, I move onto the oppositions base. Even though I cannot capture it, still fun to raid and kill all of the enemies. We had air support given by the bots I was playing with. They suck at helicopters but pretty good with airplanes. An A-10 showing up right before I cross a valley taking out some enemy armor. Later on a enemy fighter jet shows up to go after the A-10.
This game is well over ten years old, almost twenty.. But its still alot of fun to play. The DC mod makes it worth it, otherwise Id get pretty bored playing with World War II weapons and vehicles.
Battlefield 1942 is abandon-ware at this point so its easily downloaded, a web search will find sites serving it. And the DC mod can be found in the link below.
| Solominer Presents: | Desert Combat 0.7 |
| --- | --- |
| Year | 2004 |
| Genre | First Person Shooter |
| Console | PC |
| Platform | Windows 10 |
If the video has trouble playing, please use my IPFS Gateway instead of D.tube's by following this link
---
| Coin | Address |
| --- | --- |
| BTC: | bc1qhfmvd2gywg4fvrgy2kkkkyqta0g86whkt7j8r7 |
| LTC: | ltc1qdyzm5cwgt8e2373prx67yye6y9ewk0l8jf3ys9 |
| DASH: | XkSqR5DxQL3wy4kNbjqDbgbMYNih3a7ZcM |
| ETH: | 0x045f409dAe14338669730078201888636B047DC3 |
| DOGE: | DSoekC21AKSZHAcV9vqR8yYefrh8XcX92Z |
---
▶️ DTube
▶️ IPFS