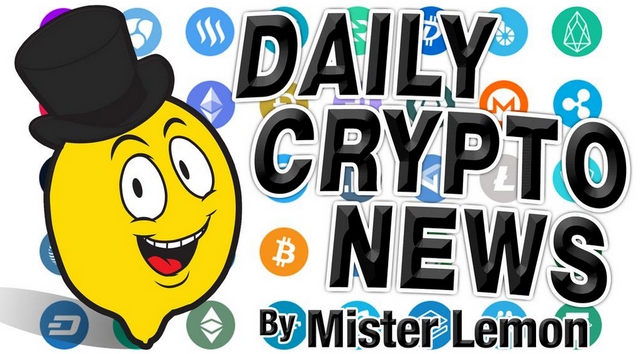 Vitalik Buterin Explains the New Tech Behind Eth 2.0 ;
'Digital Gold' Label Shifts as XRP Correlation to Gold Outpaces Bitcoin ;
Sweden Is Testing Its New Central Bank Digital Currency ;
DeFi Insurance Firm Nexus Mutual Makes Its First Payout Following bZx Attacks ;
Can Bitcoin Really be Censored, Controlled, and Mass Surveilled? ;
🗞 Daily Crypto Calendar, February, 21st 💰
STEEM Trading Update
Welcome to the Daily Crypto News: A complete Press Review, Coin Calendar and Trading Analysis. Enjoy!
Eth 2.0 is the next iteration of the ethereum blockchain, incorporating novel protocol designs such as proof-of-stake (PoS) and sharding. Last December, Buterin released a blog post on ways to speed up the launch of Eth 2.0, which has been in the works for years.
PoS consensus algorithms reward cryptocurrency investors for holding the network's native currency. Holding the currency validates blockchain transactions and protects the network itself. Eth 2.0 scientists expect sharding – a method of grouping ethereum holders together for transaction validation – to improve transaction speed on the network.
Watch the video HERE
Up until the most recent correction, Bitcoin (BTC) price was repeatedly pushing above $10,300 and attempting to reach a 2020 high above $9,500. 2020 started with a strong upward trend and altcoins followed Bitcoin's price action, as thoroughly reported in Cointelegraph.
This aggregate trend leaves the door open for a full bullish period ahead since the last Bitcoin high growth period was between April and June 2019.
The volatile behavior observed since the start of the year may be causing the traditional assumptions associated with Bitcoin and other top currencies to be challenged. One of those assumptions is the belief that Bitcoin is closely connected to gold.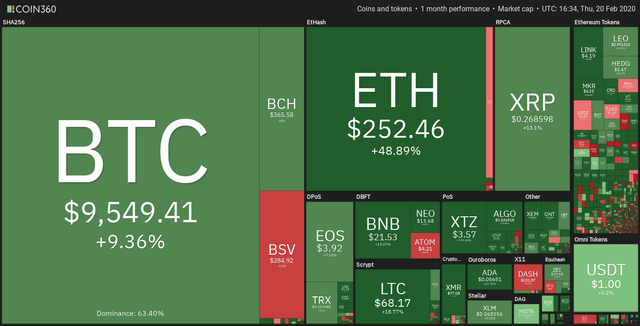 The country of Sweden has begun testing an e-krona, bringing it that much closer to the proper release of a central bank digital currency (CBDC). The pilot program will be in operation for one year, until February 2021.
If and when the e-krona formally launches for use by the public, the idea is that this blockchain-powered currency would drive conventional payments and banking activities throughout the country. Instead of swiping a credit card or spending fiat currency, everyday transacting can move to the blockchain.
CBDCs are a hot topic these days, and Sweden is the second country (after the Bahamas) to unveil what would appear to be a true, working national cryptocurrency. The Bahamas launched a CBDC pilot program in December and plans a full rollout sometime in the second half of 2020.
Insurance works in crypto so far, though it hasn't had many big tests yet.
Not many people had insurance on assets locked up in bZx's Fulcrum, but after a bug yielded an exploit of its smart contract, a couple of accounts that did were covered by Nexus Mutual, the London-based crypto insurance company.
Nexus Mutual is an insurance company that works as a cooperative (as any company with "mutual" in its name does), so there's been lingering doubts that its members would actually pay out against valid claims. But after the post-mortem from bZx came out on Monday, two claims worth approximately $31,000 were paid out, according to the company.
A recent debate in the Cryptoverse has brought forward yet again a number of vital questions concerning the very basis of Bitcoin (BTC) - and crypto in general: how safe is BTC from censorship, control, and surveillance?
The participant in this debate are Kevin Sekniqi, Co-founder and Chief Protocol Architect at blockchain startup AVA Labs, former software engineer at Microsoft on the one side, and on the other, Alex Gladstein, Chief Strategy Officer at Human Rights Foundation (HRF), Vice President of Strategy for the Oslo Freedom Forum, and an advisor to venture capital company Blockchain Capital.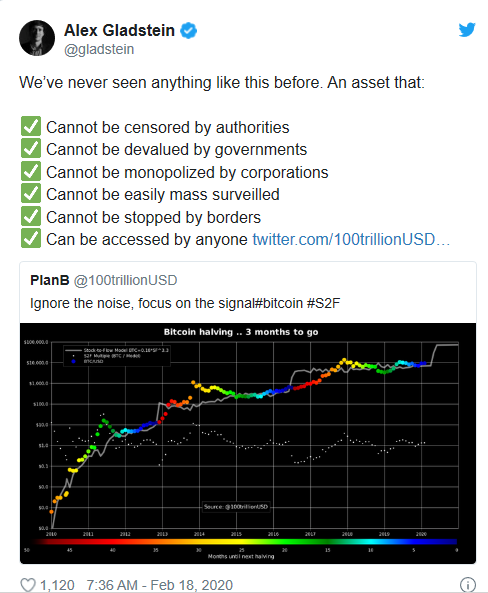 The entire discussion started with Gladstein's take on the benefits of Bitcoin, an asset like none before, as he said, tweeting out a list on February 18:
🗞 Daily Crypto News, February, 21st💰
Indodax lists EM. Deposits open Feb 20th at 2 PM (UTC+7). Trading starts Feb 21st at 2 PM (UTC+7).
Training event with EDC Blockchain and ECRO System teams in Malang, Indonesia.
"The Nebulas team will be host a live #AMA session for the English community on February 21st at 7:30 P.M. Pacific Time (UTC-8)."
"On Feb 21, we will have Telegram #AMA with @HuobiGlobal at 9pm (GMT+8)"
"Bidesk will list Lition (LIT) and open trading for LIT/BTC, LIT/ETH and LIT/USDT trading pairs at 2020/02/21 11:00 AM (UTC)."
"Binance Futures will launch IOST/USDT perpetual contract, with trading opening at 2020/02/21 08:00 AM (UTC)."
STEEM Trading Update by my friend @cryptopassion
Here is the chart of my last analysis :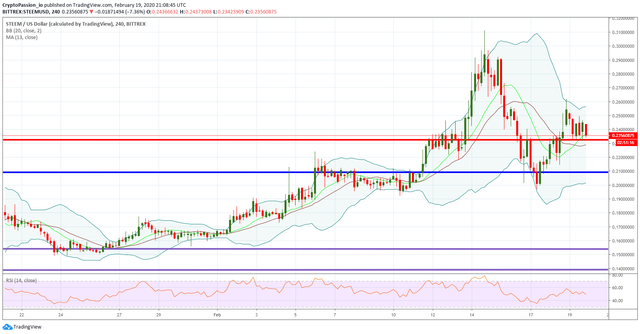 Here is the current chart :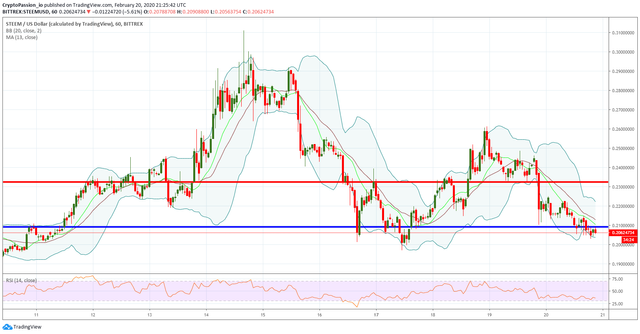 The correction on the BTC brang us on the support line at 0.21$ and we even broke it but we are staying around. It is not a bad sign that we didn't continue the drop after have broken the support line. Even it is broken, we could go back upper very quickly with a simple UP on the BTC. Let's see how the altcoins will move in the coming hours. We could see a new acceleration of the correction and so if it is the case, for sure the STEEM is not immune.
Last Updates

You don't want to miss a Crypto news?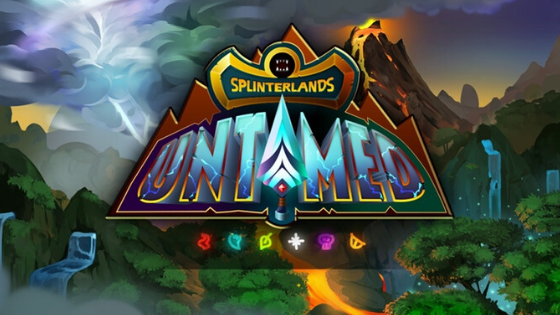 Come try out the new STEEM blockchain game: HolyBread