Rewards on Hive: All You Need to Know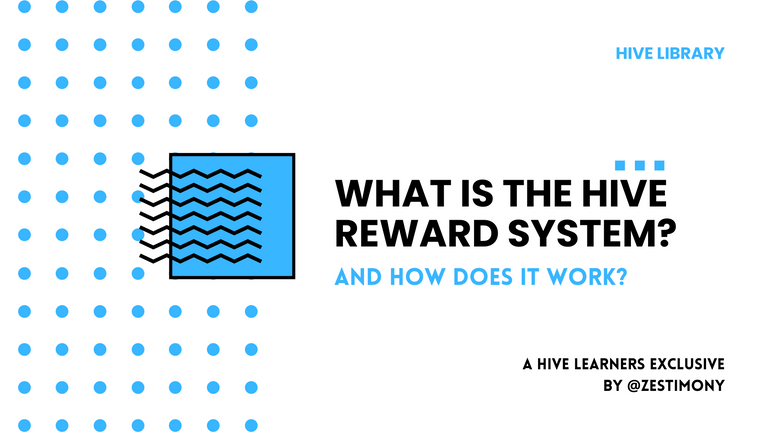 If we are all being honest, most of us were attracted to the Hive blockchain because it promised to be rewarding, a promise sold to us by a friend or family member, and we were like, "since there is nothing to give and nothing to lose, why not give it a try?".
So, we found ourselves on the Hive blockchain, and slow and steady, we could confirm that the Hive blockchain is truly rewarding, and thereafter, our passion for blogging grew over the roof.
Compared to other blogging platforms, the Hive blockchain provides the quickest monetization process, you are basically rewarded for your first blog post.
While these rewards are appealing, there is a need to understand how they work better. So, in the second edition of the Hive Library #HLIB series, we will be discussing extensively on the rewards of the Hive blockchain. Here are some key areas of focus for this #HLIB article:
What are the rewards on the Hive blockchain?
Why don't you get the rewards as you see them?
Where do Hive rewards come from?
What is the role of delegation in the Hive rewards system?
What role does joining a curation trail have in the Hive reward system?
What guarantees how much reward you receive?

What are the rewards on the Hive Blockchain?
There are a lot of rewards that could be earned by engaging on the Hive Blockchain, for simplicity, I'll break them down into four (there could be more):
Author rewards
Curation rewards
Community & Frontend tokens
Benefactor rewards
All rewards on the Blockchain are retrievable only after 7 days from when the reward-initiating activity was performed.
Author rewards
These are simply the rewards you earn by sharing content on the Blockchain mainly in form of posting, but also including rewards earned through comments.
When your posts or comments are shared on the Blockchain and voted, the half of the monetary value of the vote rewarded as an equivalent of both Hive Power and HBD is the author's reward.
Curation rewards
These are rewards earned from the curation process. Basically, one earns these rewards when they upvote posts shared by other users on the blockchain.
Half of the total monetary value expressed in a post is the curation rewards. These rewards go to the curators, in essence, those who upvoted the post, in a manner commensurate with the number of votes applied to the post.
So, if you are fond of upvoting posts, you are more likely to be receiving some curation rewards, especially, when your upvote value is about $0.04 and upwards.
Community & Frontend Tokens
Most communities on Hive as well as some frontends own their special tokens, which along with the author rewards and curation rewards, could be used to reward users who are active in their respective communities.
A common example of this is Leo, which is for the Leofinance community, POB token, which is for the Proof of Brain community, and much more. Most of these tokens are tradable of some decentralized exchanges (DEX), especially, Hive-based DEX and can even be swapped for Hive or HBD.
Frontends like Ecency have their Ecency points which could be used to carry out activities such as promotion and post boosting on the frontend. Most Community and frontend tokens can only be obtained through the use of the frontends, and being active in these communities.
Benefactor Rewards
These are basically shared rewards. When making a post on the Hive blockchain, you could set a user to be a beneficiary. This is commonly done when two users collaborate on content.
By setting a user as a beneficiary, he/she receives a percentage of the rewards as set by the author of the post.

Why don't you get the rewards as you see them?
When you make a post, and you receive votes on them, you may find that your post is let's say, 70 ($70), but at the end of the curation window, that is after 7 days, you may find that the reward for that post when summed up in Hive and HBD is about 35 ($35) or an approximate.
What went wrong? Are there some bad actors trying to steal your rewards?
As I have explained earlier, the sum of a posted reward is usually halved between the author and the curator, with the curator taking the most part. This halving is usually 50:50.
However, you may not find an exact 50:50 equivalent when you calculate. This is because the rewards for a post may go more than between the author and the curators; some frontends have automatically set a percentage value of all posts made on these frontends to go to a specific user as benefactors; so have some communities.
This can be edited and removed, but it is usually an insignificant amount (as little as 1%), so, you may choose to allow it to support the community or frontends. The benefactors are usually considered co-authors, thus, they share the author's rewards.
The table below could give you a picture of how these rewards could be spread
| Post reward | Author reward | Curator Rewards | Benefactors |
| --- | --- | --- | --- |
| 100% | 50% | 50% | Set % shared between authors and curators |
| 100% but 1% for benefactor | 49.0% | 50% | 1% |
Note: I've carefully used numbers and numbers with the dollar sign in a bracket, since the value of your post may not necessarily be and is most often not an equivalent of the US dollar value as expressed in the post.
The dollar sign is most likely used to show that the post has a monetary worth (or reward), and not that the worth expressed is an equivalent in US dollars.

Where do Hive rewards come from?
The rewards on Hive blockchain can come from several sources. However, basically, a user will earn rewards through the curation processes. This is achieved when other users on Hive upvote on your posts, especially, those with significant voting power, and those assigned the role of a curator by communities.
To earn so much voting power, a user must own a lot of Hive tokens (which could be bought with real money or crypto on exchanges), with which he or she can increase their voting power, which is more appropriately termed, Hive Power (HP), through a powering up process.
The more power-ups done, which is in essence more investment and staking, the more the upvote value of the user.
This can go more complicated than as I have presented it, I am just taking a simple approach

What is the role of delegation in the Hive rewards system?
According to the Hive Whitepaper, 2020, Delegation is the temporary lending of one's Hive Power to another user.
The consequence of this is an effective increase in the recipients voting power and more resource credits. Little wonder you find some communities and front ends imploring your delegations, to increase their curation strength.
However, it is important to note that a delegated HP can be retrieved at any time without necessarily obtaining permission from the recipient. But for some reason, a person can be averse to delegating HPs, but still want to support a curation course, here is another option, joining a curation trail.
Note: There are other reasons for delegation other than supporting a curation course.

What role does joining a curation trail have in the Hive reward system?
A curation trail is a means through which the voting power of several users on the blockchain could be brought together as one to increase the overall voting power of a trusted curator.
This means that, once the lead curator in a curation trail votes on a content, you are automatically voting on the same content. This could help you earn more curation rewards; however, there is more to be learnt to help you decide whether or not it will be a worthwhile move for you.
More details on delegation and curation trail will be treated in future editions.

What guarantees how much reward you receive?
I will answer this question with what I will call the four W's of curation rewards:
W1 - Who is being rewarded?
W2 - What is being rewarded?
W3 - Where is the reward coming from?
W4 - Why is a user being rewarded?
The above may not cover all the facts associated with rewards on the blockchain, but it should go a long way.
Who is being rewarded?
This has to do with the author, who is he/she? Is he/she a newbie? Is he or she known in the community through active community engagements?
There is a strong correlation between an individual's status on the chain and the value of rewards being received.
Some individuals who have stayed long on the chain have built a lot of connections, with some users that have even seen them to be worthy of an autovote from them.
Your reputation, your Hive power, and the quality of your engagements and connections will all influence the value of the reward you receive.
What is being rewarded?
Another important factor here is the quality of the post or even a comment. Trash and spam posts, some with very little or basic content, will always earn very little or no rewards (but there is an exception, few times, depending on the who and how habitual this has become).
Posts that are impactful, well formated, and well-articulated usually earn the unsung attention of curators and other users and in effect, earn more rewards.
Where is the reward coming from?
This, first, has to do with the community and how rewards are distributed. Some communities are very conservative with their reward system; some also have micro-communities to which you must belong to before you are eligible for reasonable rewards. Most others, will favour long-standing members of the community than newer members.
Other times, the users voting on the post matters. Users with very high HP will bring in more votes rewards than the combination of users with low HP.
Why is the user being rewarded?
Trending topics and contests may earn more rewards than some organic content. So, you may wish to join more contests as they receive more attention than just posting something in an organic manner.
Also, there is always love for virgin novel contents, so, you may want to go outside the norm sometimes, in a safe way.

Final Words and Outlook
So far, a lot has been revealed about rewards on the Hive blockchain. "A lot" I mean, as there could be more. However, we can all agree that the Hive blockchain is there to reward those who deserve to be rewarded. The more value you add to the blockchain, the more rewards you earn. So, do more than just post, collaborate, engage, upvote, and build, then, your reward is sure on the Blockchain.
In the next #HLIP episode, our focus will be solely on delegations and curation trail. I hope that with the next episode, you will be able to decide whether or not you should delegate or join a curation trail.
---
---
PREVIOUS CONTENTS
---
---
Your feedback is appreciated. Is there something I haven't said correctly? Is there an addition you feel is important? Do you have any questions? Feel free to comment below.
Please, tag your friends to be part of this series. Hopefully, there will be an #HLIB episode weekly.
---
---