CineTV Contest: ER, Emergency Room, my favorite medical drama [ENG/ESP]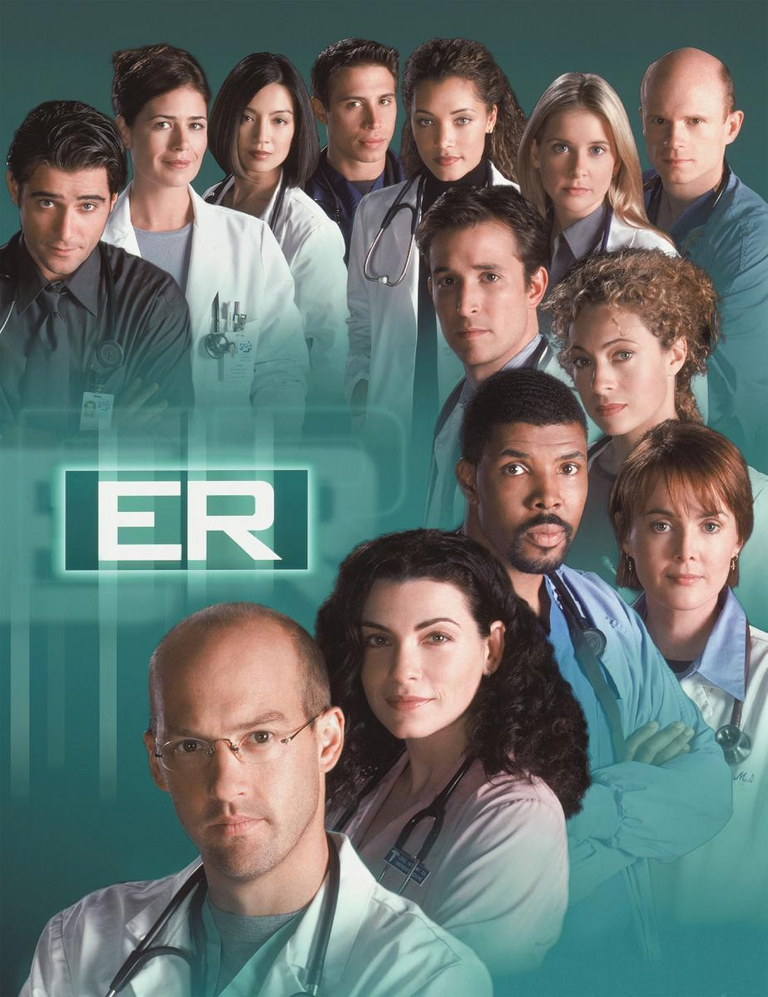 Hello, beautiful people of CineTV!
Medical dramas abound on TV and each one of them with a different approach shows us a perspective of medical life told from the doctors' own lives. In some, it is possible to find memorable characters, incredible medical facts, tortuous love relationships in the style of Cumbre Borrascosas, but all of them, absolutely all, have a special mark that catches us. Particularly, I don't like medical dramas very much, that's why I usually avoid them, however, I have a special memory for ER, Emergency Room.
There were many actors who rose to fame in that medical series. Also the characters that remained engraved in our minds. I don't remember all the characters so clearly now, but I have in my mind Dr. Ross, who loved his career in pediatrics, even though he was a disaster in his personal life. Dr. Carter, who came in quite young and we got to see him grow as a doctor and a person within the series. From his anxiety attacks, to his addiction, to his love affairs, I grew to love this character very much.
I also remember the most hated doctor in this world.... This is Dr. Romano. God only knows how much he repulsed me. This character showed the mercantilist, dry and realistic side of the medical profession. He always sought to accommodate everything to his convenience, but deep down, deep down, he was right in some of his opinions. There are things that cannot be solved from a romantic perspective, sometimes you have to be pragmatic about some things. Only with some things.
In this way, I could go on making a list of all the characters I remember, however, now I want to tell you about one of the characters I liked the most. It is Dr. Mark. This nice doctor went unnoticed by me for a while. Until he became very important in the plot, starring in what would be his whole process with the disease that led him to death. I will never forget that last chapter of his life in the series. That sequence that shows the letter he left and that flies as his soul flew, I will never forget. Really, for me it was such a loss, so much so that I stopped watching the series. After the death of this character, nothing was ever the same again.
I am one of those viewers who tend to love some characters and, therefore, it is difficult for me to let go of them. Does that sound crazy? Sorry, but that's just how passionate I am. It doesn't show much, because I don't like to expose that part of me. Yes, I madly loved that character and her whole process. His struggle and then his decision to leave and die as dignified as possible Wow! Heartbreaking for me. Recently, I saw that they would be rebroadcasting it. I was overcome with nostalgia. I started watching it and didn't finish watching it. My busyness now didn't allow me to.
That said, then, I have no choice but to sum up this post by concluding that for me Er, Emergency Room, is the best drama series I have ever seen and one that I would gladly sit down to watch if I had the time to do so. However, although it is transcendent for me, well, I must admit that times have changed, the viewers, the needs of the producers and now we have serien as Anatomy according to Gray, Dr. House, which was not to my liking, but my sister loved it, The Good Doctor, with the basic script of the medical drama, but with a treatment of current issues more in line with these new times (anxiety, depression, autism, gender ideology) that mark a distance between the series of before and now. The world has changed, gentlemen, and with it all the ways of making and producing series and movies.
A hug, my readers...
Source Principal Image Filmaffinity

ESP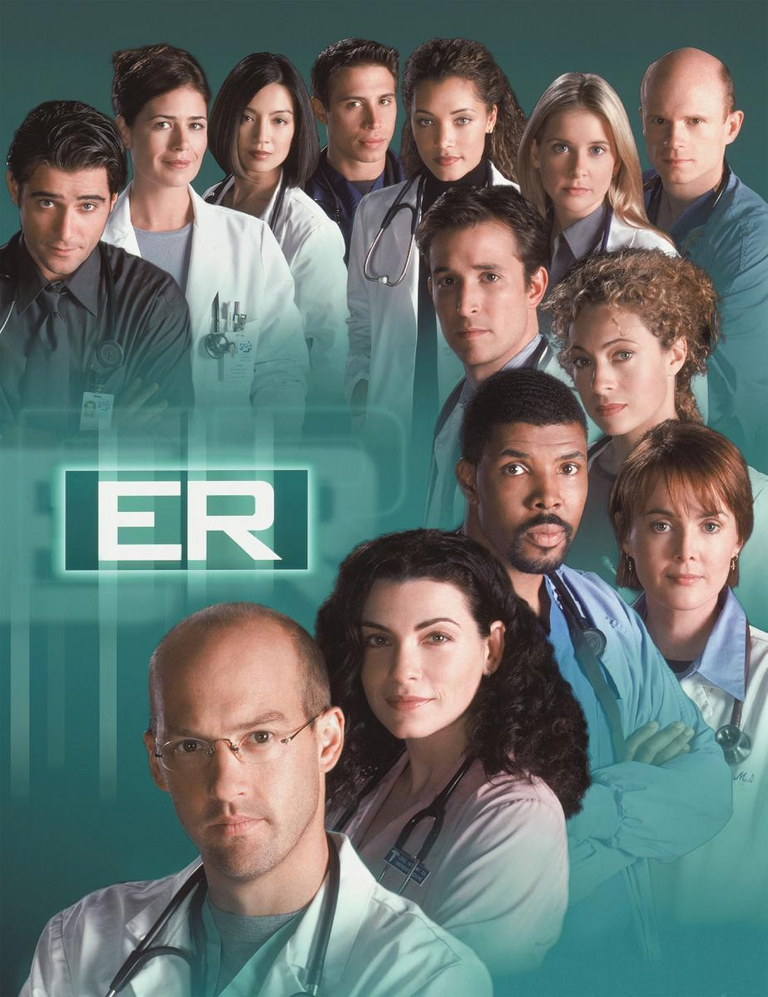 ¡Hola, gente linda de CineTV!
Los dramas médicos abundan por demás en la TV y cada uno de ellos con un enfoque distinto nos muestra una perspectiva de la vida médica contada desde la vida misma de los doctores. En algunos, es posible encontrar personajes memorables, hechos médicos increíbles, relaciones amorosas tortuosas al estilo de Cumbre Borrascosas, pero todas, absolutamente todas, tienen una marca especial que nos atrapa. Particularmente, los dramas médicos a mí no me gustan mucho, por eso suelo evadirlos, sin embargo, tengo un recuerdo especial por ER, sala de emergencia.
Fueron muchas los actores que saltaron a la fama son esa serie médica. También los personajes que se quedaron grabados en nuestras mentes. Ahora no recuerdo con tanta claridad a todos los personajes, pero tengo en mi mente al Dr. Ross, quien sentía amor por su carrera de pediatría, aunque era un desastre en su vida personal. Al Dr. Carter, que llegó bastante joven y pudimos ver cómo crecía como médico y persona dentro de la serie. Desde sus ataques de ansiedad, su adicción, hasta sus amores me llevaron a querer mucho a este personaje.
También recuerdo al médico más odioso de este mundo... Se trata del Dr. Romano. Solo Dios sabe cuánto rechazo me generaba. Este personaje mostraba la parte mercantilista, seca y realista de la profesión médica. Él siempre buscaba acomodar todo a su conveniencia, pero en el fondo, en el fondo, algo de razón tenía en algunos pareceres. Hay cosas que no se resuelven desde una perspectiva romántica, a veces, hay que ser pragmáticos con algunas cosas. Solo con algunas cosas.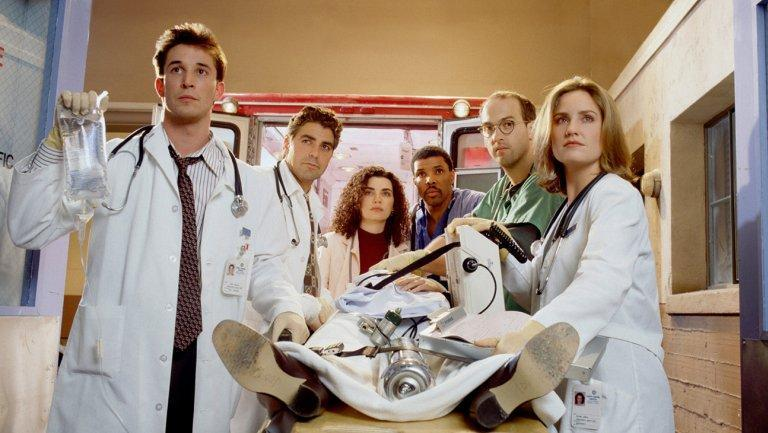 Source
De esta manera, podría seguir haciendo una lista de todos los personajes que recuerdo, no obstante, ahora quiero hablarles de uno de los personajes que más me gustó. Se trata del Dr. Mark. Este simpático médico por un momento pasó inadvertido para mí. Hasta que cobró mucha importancia dentro de la trama, protagonizando lo que sería todo su proceso con la enfermedad que lo llevó a la muerte. Ese último capítulo de su vida dentro de la serie, no lo olvidaré jamás. Esa secuencia que muestra la carta que él dejó y que se vuela como voló su alma, jamás se me olvidará. Realmente, para mí fue toda una pérdida, tanto así que, dejé de ver la serie. Después de la muerte de este personaje, nada volvió a ser igual.
Soy de los televidentes que suelen amar a algunos personajes y, por lo tanto, me resulta difícil desprenderme de ellos. ¿Suena loco? Disculpen, pero es que así de apasionada soy. No se nota mucho, porque no me gusta exponer esa parte de mí. Sí, amé con locura a ese personaje y todo su proceso. Su lucha y luego su decisión de irse y morir lo más dignamente posible ¡Wow! Desgarrador para mí. Recientemente, vi que la volverían a transmitir. Me invadió la nostalgia. Comencé a verla y no la terminé de ver. Mis ocupaciones de ahora no me lo permitieron.
Dicho esto, pues, no me queda más que resumir esta publicación concluyendo que para mí Er, Sala de Emergencia, es la mejor serie dramática que he visto en mi vida y que con gusto me sentaría a ver si tuviera el tiempo para hacerlo. Sin embargo, aunque sea trascendente para mí, pues, debo admitir que los tiempos han cambiado, los televidentes, las necesidades de las productoras y ahora tenemos serien como Anatomía según Gray, Dr. House, que no fue de mi agrado, pero a mi hermana le encantaba, El buen doctor, con el guion básico del drama médico, pero con un tratamiento de temas actuales más acordes a estos nuevos tiempos (ansiedad, depresión, autismo, ideología de géneros) que marcan un distanciamiento entre las series de antes y ahora. El mundo ha cambiado, señores, y con el todas las formas hacer y producir series y películas.
Un abrazo, mis lectores...
Fuente Imagen Principal Filmaffinity
---
---