WHAT ARE MY ODDS OF SURVIVING ANOTHER LOCKDOWN ?
As someone who has lived through two different types of lockdown brought on by outbreaks of diseases like Ebola and COVID, I can categorically state that surviving such a time isn't at all simple. When comparing the two times I was placed under lockdown, I can say that the Ebola lockdown was somewhat brief—it lasted only about a month—compared to the COVID lockdown, which lasted for more than five months. I could periodically manage a meal a day during those times, but what are my odds of surviving if something similar happened again?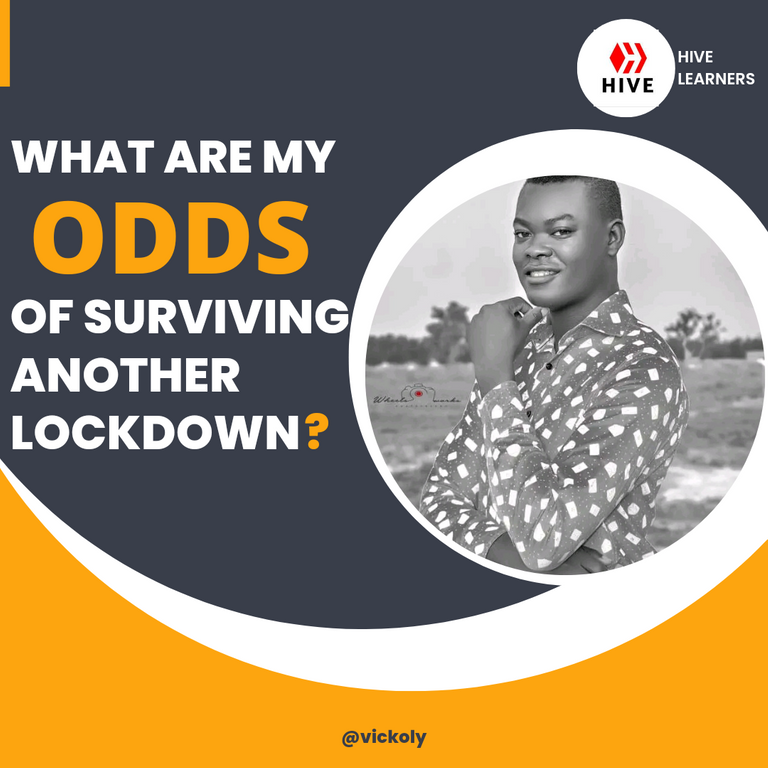 Image design by me on canva
First of all, it's important to remember that before a lockdown is implemented, something terrible or bad is already happening. I don't hope this will become a reality anytime soon, but if it did and I had to survive the storm it brought, I'd have to first conduct a thorough inventory and analysis of the food supplies I have, the available funds, and how long they can last me before surviving becomes something that might be impossible to hold on to.

MY PREVIOUS EXPERIENCE
In the two previous lockdowns I experienced in the past, I was an undergraduate during the time of Ebola and mostly depended on my parents for my basic needs, but then locked down met me in school and I had to do some petty online jobs to earn what I feed on whenever dad can't send something, but during the COVID lockdown it was a different case entirely.
By then I'd already graduated and was working and an independent person, but then I had to sit at home for about a month and the hunger and boredom were second to none. When it got to a particular extend, I had to cut corners and walk to my uncle's place just to survive when my foodstuffs ran out, but fortunately for me, the organization I work with then produces sacks for packing different food items, so when an announcement was made to allow all organizations producing food items to resume, we were also granted permission, and that was how I was able to make ends meet because all our needs were met at the factory throughout the lockdown.

HOW LONG CAN I SURVIVE?
Looking at the food I currently have in my home and calculating how long it would take me to decide to eat only once a day in order to prolong the food's shelf life and my chances of long-term survival, I estimate that the food I currently have would last me for no more than two months.
But when I look past the food supplies and dive into my current cash in my bank account and savings, I don't think those can do much to improve my chances of survival either, because I typically either reinvest my interest and some of my income than to just leave them to lay around without any use case for them. This means selling assets or taking out my investment might take a long time and won't be able to meet my needs before I give up.
The money I have on hand and in my bank account, however, can be used to buy a second round of food items that will likely last me for another one and a half months. When I add this to the number of times the first round of food items will keep me alive, it means that I will have a total of three months of survival before I will have to start looking for ways to earn money and buy more food and essentials.

That's about all I can say about how long I'll survive another lockdown experience if such were to happen again. The write-up was inspired by a topic in the Hive Learners community; you can read through Kronia's post to get more elaborate details.
Thanks for reading, have a blessed and productive day.
---
---