SHOULD I MAKE HAY WHILE THE SUN SHINES OR BE PATIENT?
For some time now I've been thinking about one of the most popular phrases the world renowned motivational speaker uses, and the end result has mostly got me confused and unsure of what to do between them, one of which is "be patient because the patient's dog always eats the fattest bone," while the other is "make hay while the sun shines." Comparing the two will make you feel like they go against each other, but do they?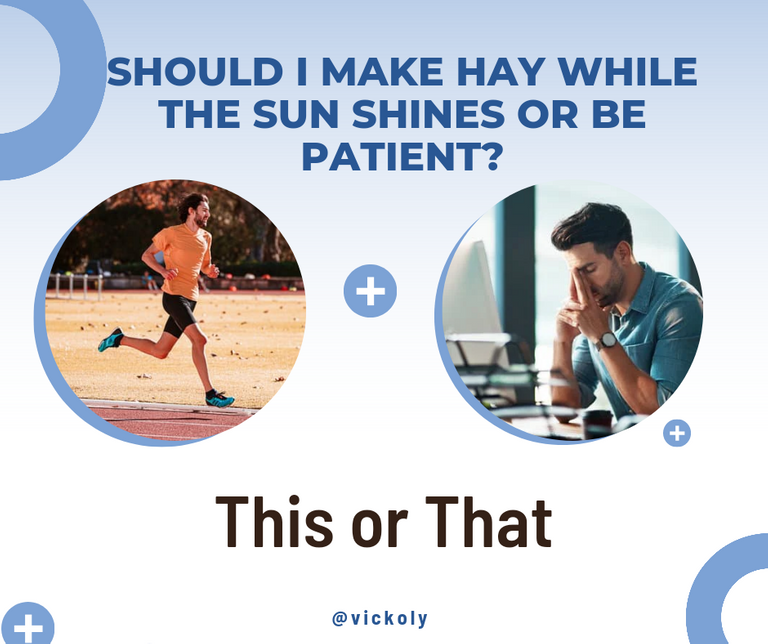 image design by me on canva
When we talk about being patient, then we are referring to a state of being calm and not in a rush. Being patient means to watch things take a turn the way it deems fit before we take a step. This can be good in many ways for people, but in another way it can lead to regret.
Being patient when thoroughly thought about isn't a bad thing; in fact, it gives up the privilege to test the water before diving into it. In other words, the state of being patient should be an avenue to be observant, to do our own research and findings in order to in the long run choose rightly and not fall victim to being wrong due to rushing. But does being patient mean we'll be accurate at all times when we finally take a step?
Personally, I don't think making researchers automatically means we'll get things right always. After making thorough research, many still fail, so failure is part of life and is bold to happen regardless of how many findings we made before diving into it, but it's a good way of avoiding mistakes because while we wait or do our search, others might have tried and failed, and that helps us learn before even trying.

But when we talk about **"making hay while the sun shines," that means we are referring to beginning fast, swift, and ready to take action immediately an opportunity arises. That's why it's commonly said that opportunity comes but once, so when one shows forth many expect to jump into it immediately in order to be the one who grabs it before someone else loots it before their eyes.
Being swift is a good thing to indulge in as we get to enjoy the benefits of what lies ahead when we do. When you do stuff at the right time without giving room for slackness, then you'll be able to attain your desired outcome right on time, but like I said earlier, does making hay while the sun shine really contradict the statement of being patient?
---
In my opinion, both don't necessarily contradict each other; both are great and work in different contexts, and I believe that in a situation where patience is required, like making a tough decision or others, advising someone to jump to conclusions with their response won't be a good idea, and so is the situation of reading prior to an examination; advising someone to be patient and not rush to read would be a disaster as well.
I hope these clear the doubt and confusion in many as it has in me in the past, that when we use each one at the proper and right avenue, the results will be great, but if we use it in the wrong scenario, failure is inevitable, so let's study each context to decipher which is best for all.
---
Thanks so much for reading, have a wonderful week ahead.
---
---