Some more images from British Columbia's lush rainforests
I've been sharing a lot of mountain images lately, so I figure it's about time for more forests instead! I probably sound like a broken record saying this, but they're my most beloved place to go connect with nature.
---
The Colors of Life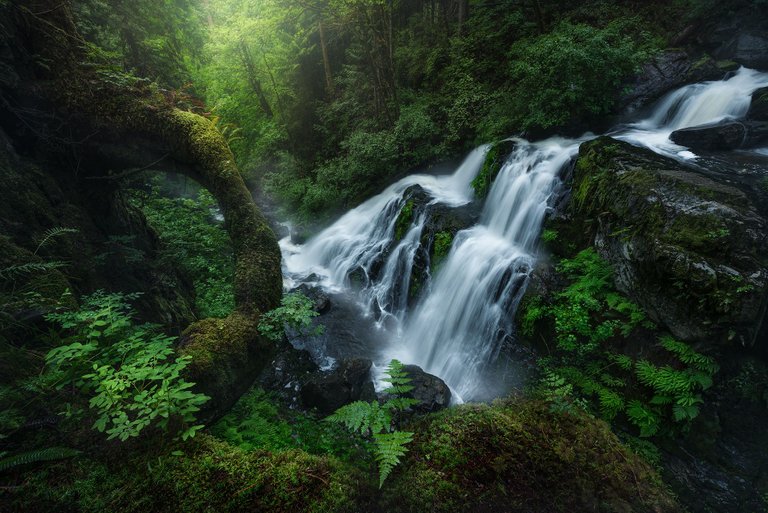 My fascination with waterfalls started when I was a little kid. My family lived in Portland, OR for five years when I was young, and I collected postcards showing Oregon's various waterfalls, all in their glorious long exposure goodness. More than 20 years later, and that silky smoothness is still a look that I love and find myself fascinated with.
I find waterfalls to be quite mesmerizing, both visually and aurally. The ever changing patterns in the cascades, the water hewn rocks, the thundering white noise. I've had horrible tinnitus for as long as I can remember. I don't know what silence is like because my ears are always ringing, loudly. White noise has therefore become very calming for me, whether it be the sound of a waterfall, river, the rain or just a fan blowing. When I visit a waterfall, I always make a point of spending some time sitting, observing my surroundings and taking everything in. The thundering cascades become my silence, and I savor every moment of it.
This little viewpoint was particularly inspiring - I loved how the waterfall was naturally framed by the moss, ferns, rocks and the huge tree root. Usually the best views of waterfalls is from below, but in my opinion, this one is an exception to that rule.
---
Breathe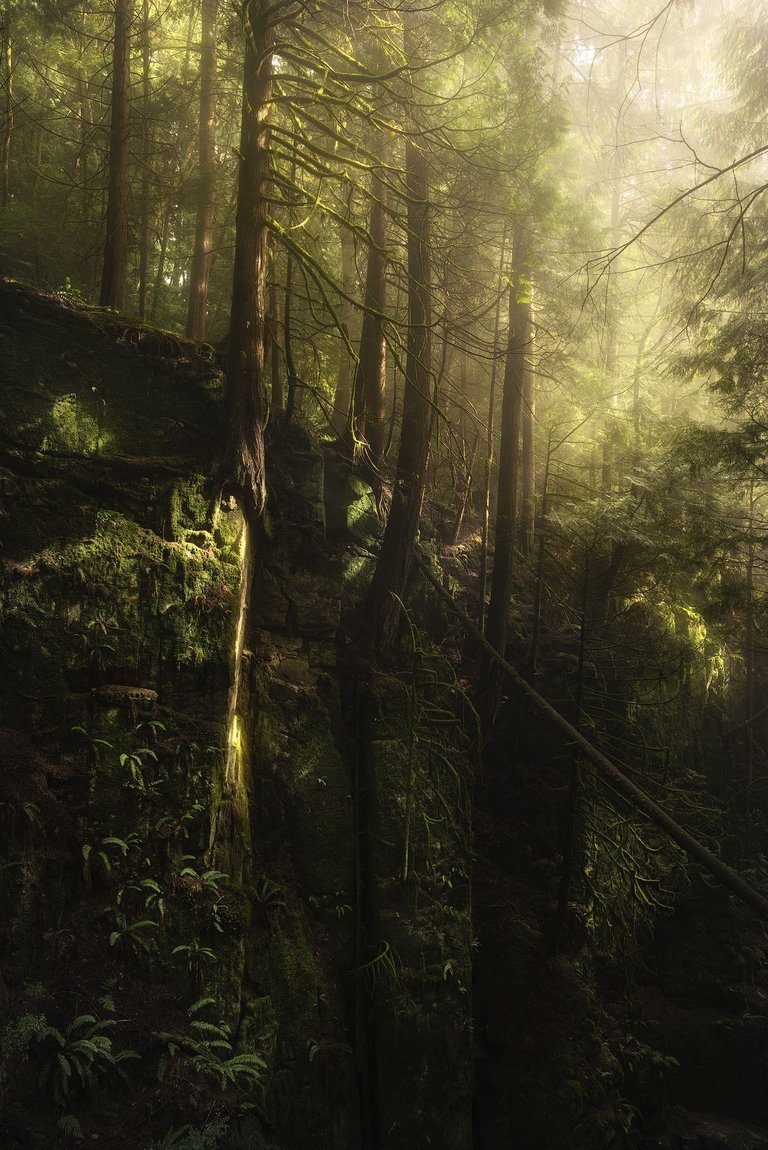 I'm a big believer in having an open mind and listening to the light. The less we preconceive, the less likely we are to be frustrated.
This image is a perfect example of my philosophy. I was shooting in the opposite direction, trying to take an image of a waterfall when this light suddenly came exploding into this mist. Rather than try to make it work with the waterfall, I quickly came up with a composition that played to the strengths and beauty of the light. I loved the way it was catching the edges of the canyon walls and the tree bark. As it often happens in these situations, the light faded within a minute. But it was a beautiful minute, I got my shot and couldn't be happier!
---
Rainy Paradise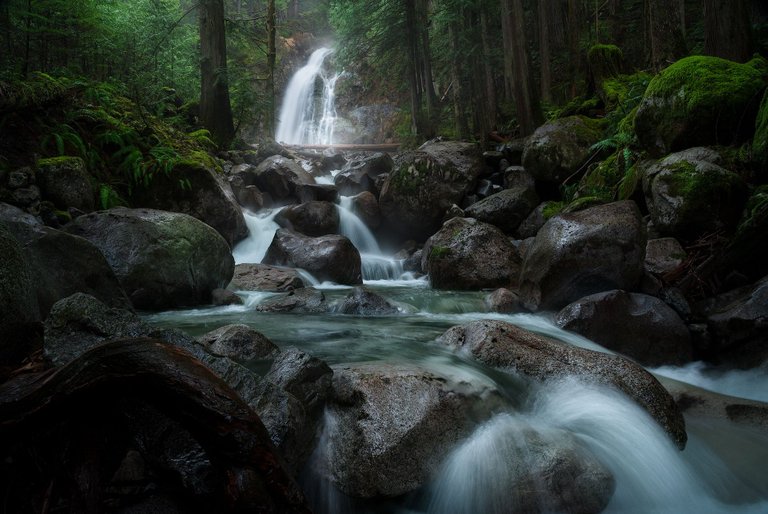 It was a super rainy day and my friend @dyptre and I set out to chase some waterfalls. This was the last one on our list. Already completely drenched, I almost didn't want to leave the car, but it was a short walk in a beautiful forest, which I wasn't about to ignore!
We found a rough path to the bottom of this waterfall and the view was beautiful. Moss-coated boulders, lush trees and roaring cascades. I set up my tripod in a precarious position and began shooting. At the time I didn't have a lens hood for the lens I was using, so I had one hand on the shutter button while the other hand was wiping the lens as quickly as possible between exposures.
The result ended up being one of my favorite waterfall images, which I did not expect. Oddly enough, my favorite element in the image is the wet boulders. I have a weird thing for specular highlights… I often don't like using polarizers for this reason.
---
Fangorn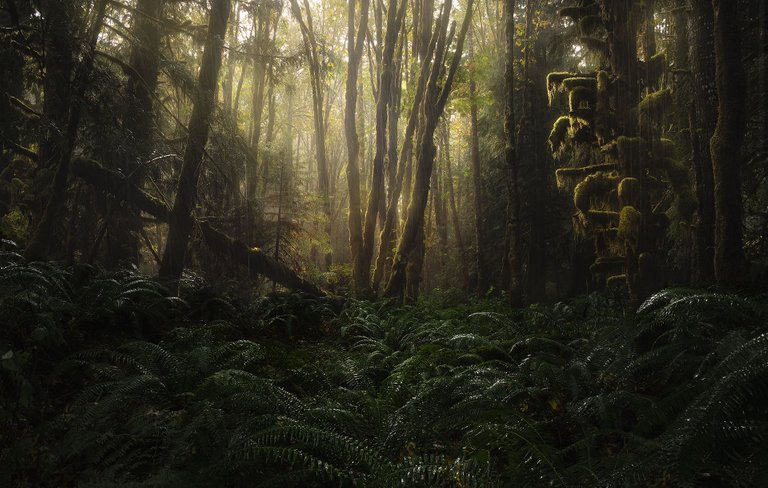 Pouring rain. Blazing sun.
At the same time? Yes, and it was marvelous, creating some of the most unique lighting I've ever seen in the forest. Bursts of light would come and go quite quickly, so I patiently sat there with this composition, waiting for the perfect moment. I almost missed it when it finally came!
Later on that night, the pouring rain was relentless and I learned about a leak in my tent. Worth it!
And I know it's probably cliche to title a landscape image after a Lord of the Rings location, but you know, sometimes you just gotta do it!
---
I hope you enjoyed these images. Let me know if you have any questions!
---
Find me elsewhere on the web:

Website: https://www.tristantodd.photography/
Twitter: https://twitter.com/tristan_todd_
IG: https://www.instagram.com/tristan.todd/

Want to watch me edit my photos? Check out my recently launched Patreon!
https://www.patreon.com/tristantodd
---
---