SUPPORT FOR A PATIENT WITH KIDNEY FAILURE🙏🙏🙏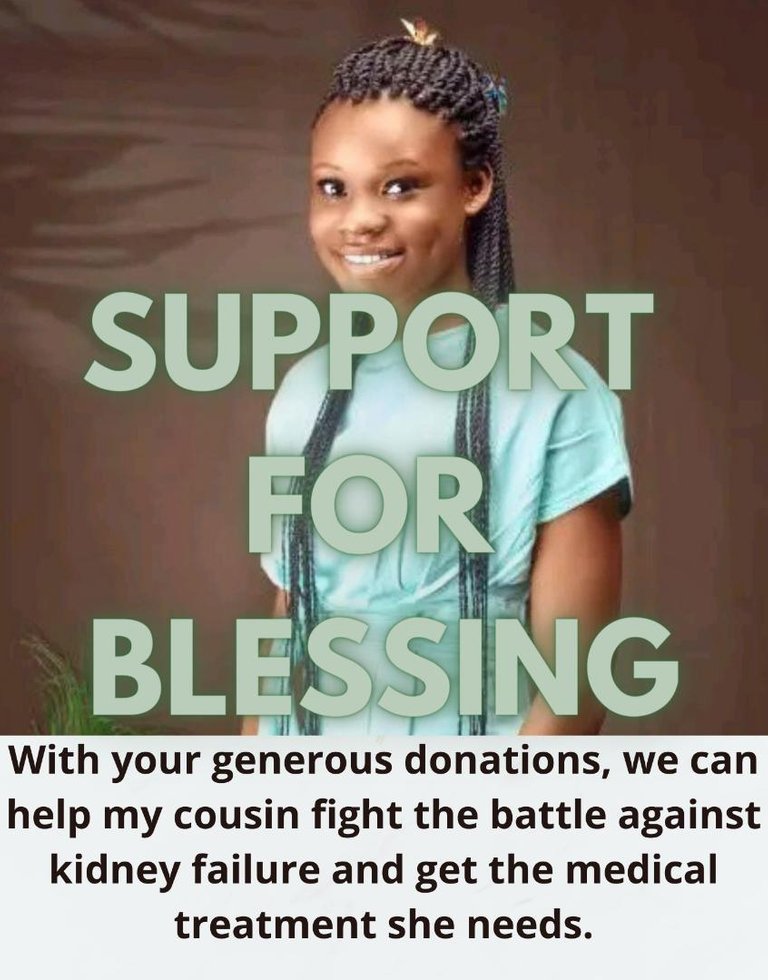 designed on canva
Dear all, I want to quickly say a big thank you to every single one of you who made a contribution to my previous post regarding my cousin's health. We really appreciate everyone's reblogs, and upvotes, as well as those who sent their hives and HBD to assist my cousin, Blessing Leonard.
As well, thank you to those who sent us money through her account. When the money kept being reversed, the senders notified us, so I had to send mine in order to receive the funds that were transferred to her.
The money donated for her health was extremely helpful in paying her hospital bills. I would like to say a big thank you to you, and I pray that God will continue to bless you with joy and laughter. I am deeply grateful to everyone who helped us out in this difficult time and for the generosity, which was essential in getting her the care she needed. Without them, it would have been much more difficult to manage her medical expenses. Thank you so much.
I also received a call from my cousin expressing her gratitude. She had thought she was going to die, due to the financial difficulties of her mother's situation. Even after hearing she was so sick, her father, who had been out of the picture, didn't try to help her out, well,that's another story.
The past week has been tough for Blessing. Although she was in bad shape, the hospital tried to treat her as effectively as it could. Thankfully, with the help of generous contributions from family members, friends, and users on the Hive Blockchain, her medical bills were taken care of. This allowed her to receive the treatment she needed.
However, during the course of her treatment, the doctors noticed that her body was still swollen. So, they recommended dialysis. However, she has not yet undergone dialysis due to financial constraints. In order to pay for dialysis and other medical needs, she's looking for financial aid.
As well as that, the bills at the hospital she was in were insanely expensive. For the hospital ward and bed, as well as for treatments and other fees, she was charged on a daily basis. This was something we had to look into. We were determined to find a way to lower these costs so that she could receive the best possible care without straining our financial resources.
Although with the help of people on the Hive Blockchain and some family and friends I talked to on WhatsApp, we got the outstanding bills paid off, which was over 262,000 naira ($360). All that money was what we had received from people on Hive and through WhatsApp.


Here are images to prove this.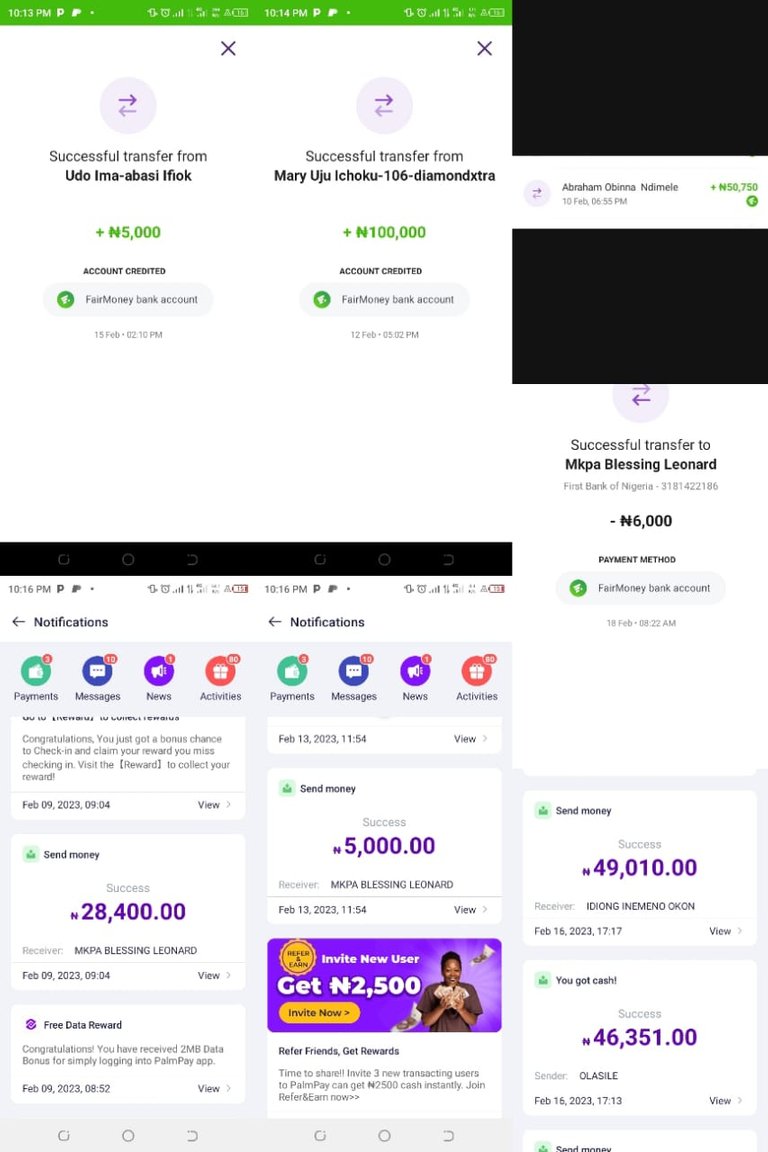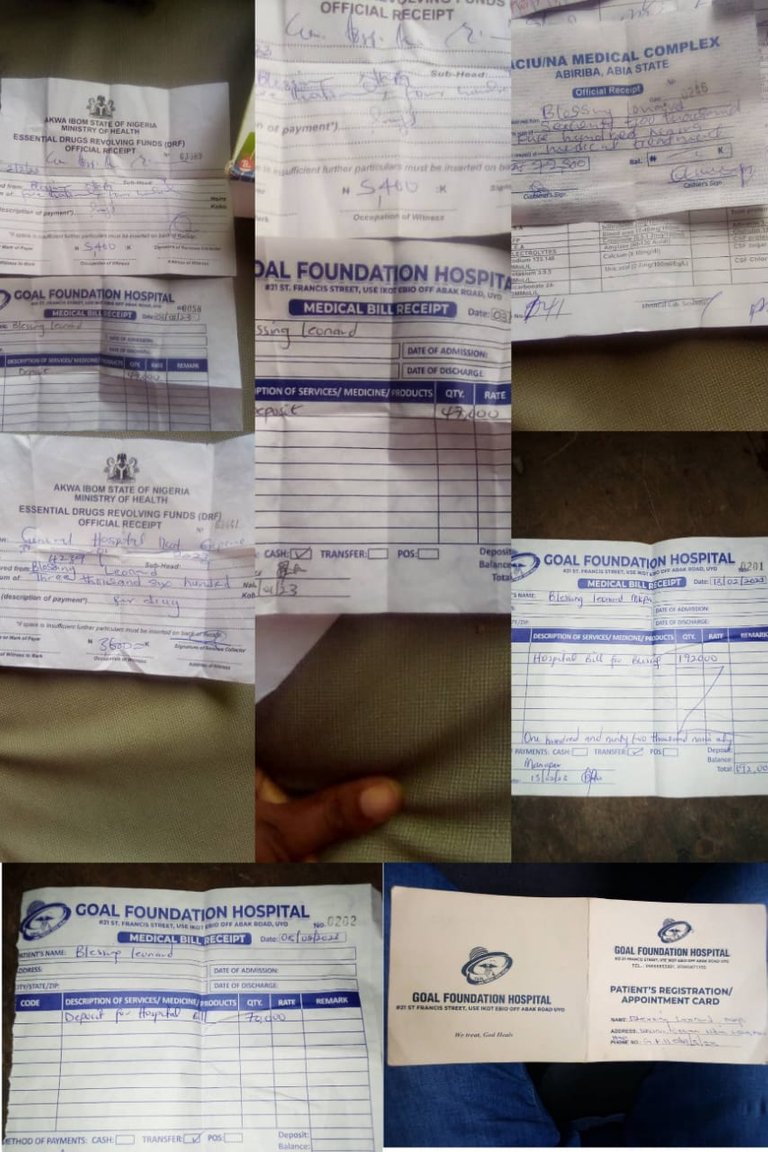 In the week before the bills were paid off, the doctor had already stopped giving her treatments because of the outstanding bills. After we paid them off, we decided she should be taken to the general hospital where bills won't pile up every day.
After she was discharged from the hospital, the doctor gave her some drugs and told her to come back every week for checkups.
Sadly, two days after being home, she was rushed back to a general hospital in their area because she was experiencing difficulty breathing. She could not breathe well, and the swelling in her body started to get more severe. Despite the family's relief of being home, the situation quickly changed, and they had to act fast to get her the medical attention she needed.
Upon getting to the general hospital, she was immediately put on oxygen again to aid her breathing. A nurse from the general hospital told them to go to another clinic. The nurse said the doctor specialized in kidney failure and other chronic illnesses. She was sure he'd be able to help her. With a sense of urgency, they made their way to the clinic, hoping for the best outcome for her beloved daughter.
They didn't spend the night at the general hospital, as she felt much better later that evening.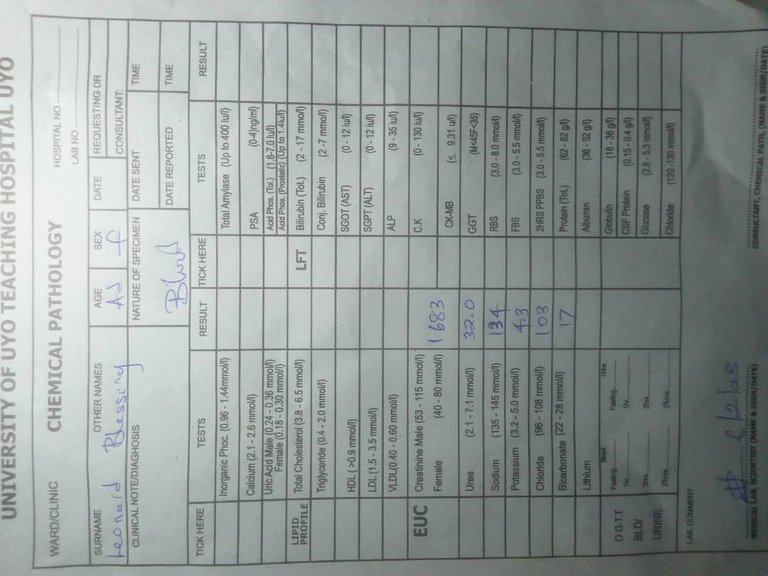 Test result
The doctor examined her again after getting to the clinic, and the results were the same as the previous ones. The doctors said she would be placed on a three-month treatment, which would require a lot of money. This three-month treatment is to help her condition stabilize, and we believe that with a miracle from God, all will be fine with her after this treatment.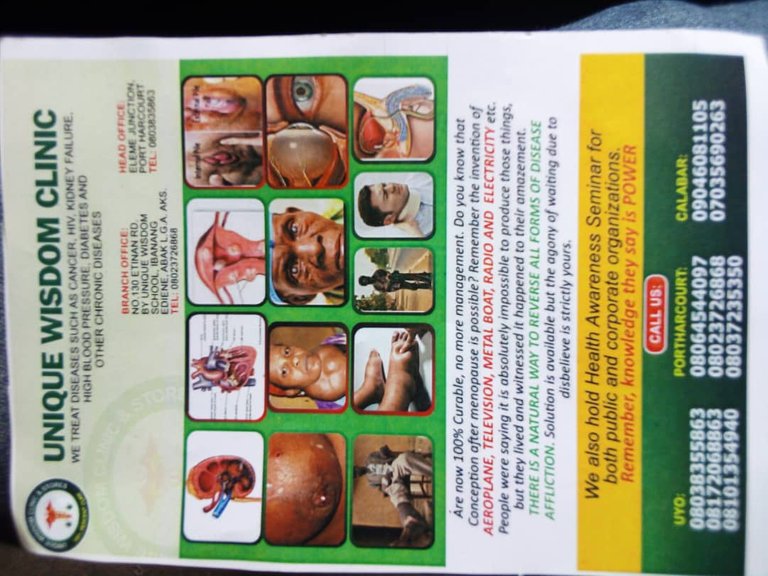 Clinic where she presently is
Blessing is currently in the clinic and undergoing treatment for kidney failure. The doctor was determined to find a solution, and he prescribed a course of treatment that would help Blessing recover from the kidney failure.
For treatment to begin, her mom was asked to make a deposit of N100,000 naira [150 dollars].
However, we were able to transfer N50,000 naira [69 dollars] to the doctor's account from the donations we had received so far, and we asked him to go ahead with the treatment first.
Also, we promised to send the balance to him as soon as we are able to raise It. (The bill for that payment is yet to be written)
Her mom called to let us know she had made progress. She mentioned that the swelling had gone down since she got to the clinic. This was great news.
As well, she was put on a fast, which means only fruits for now, until her condition stabilizes. As fruit here is quite expensive, and we do not know how much she will need, we will have to incur another cost.
This requires an extra financial burden on the family, as we must be prepared to purchase enough fruit to sustain her diet during her recovery.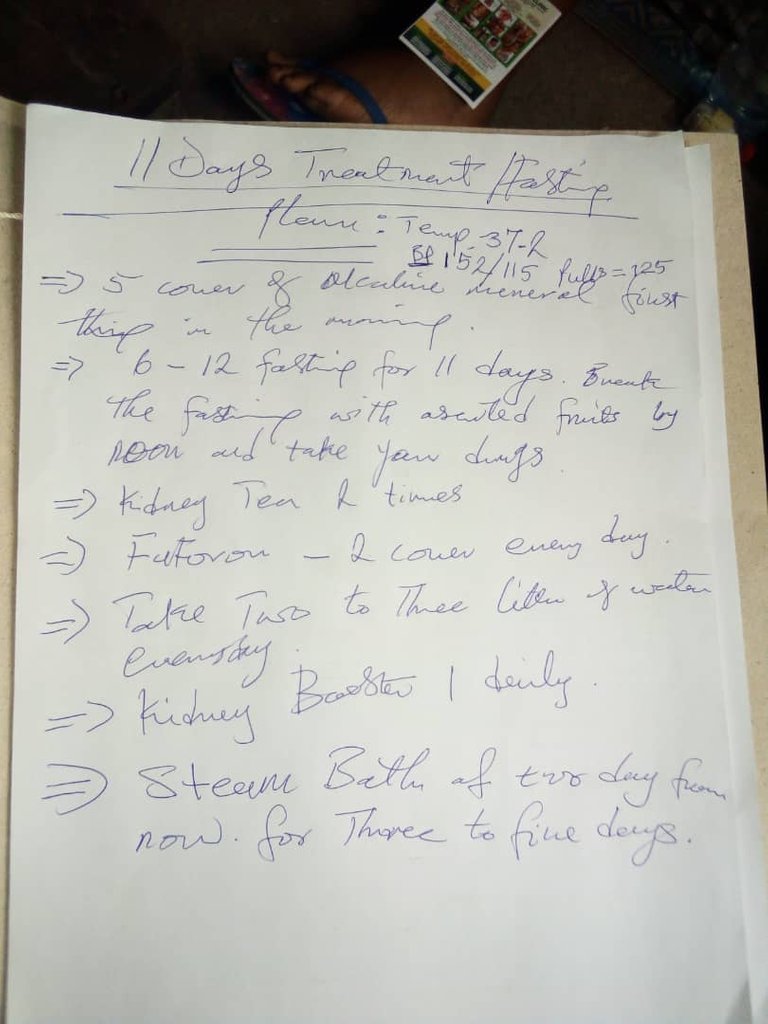 She's been having high blood pressure since Saturday. I got a call from her mom saying she had to be placed on oxygen again because of breathing concerns. Her doctor is closely monitoring her situation and has adjusted her medications accordingly.
Here are some pictures of the drugs and bills we were able to pay. Although we can't do this alone, it is my hope that with everyone's help, we will be able to save Blessing's life.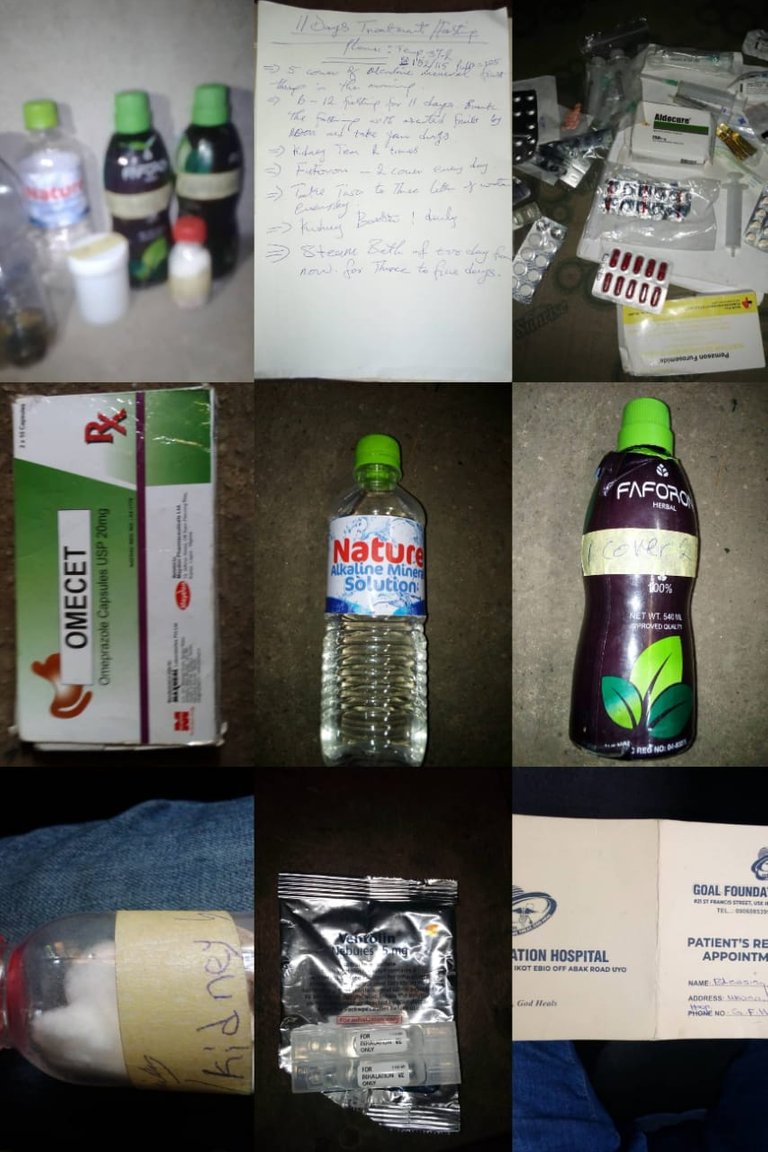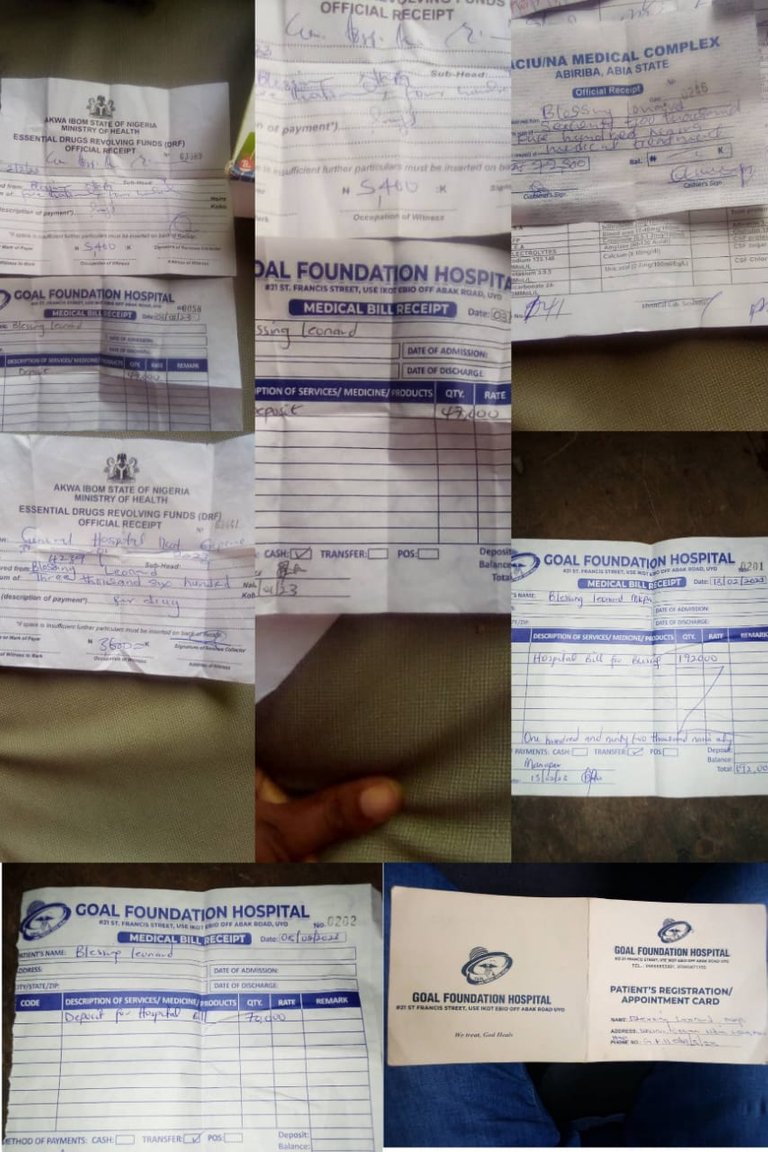 As well, I would like to ask for reblogs, upvotes, and any type of donation you may be able to make. Help save Blessing's life. Help save my cousin's life. God bless you all.
I will attach her account details here for direct transfers to her account.
Currently, there have been issues with some banks in Nigeria. Therefore, I will also be attaching my own personal information in case her's doesn't go through.
3181422186

First Bank
Mkpa Blessing Leonard

---

This is mine: 9024951416

PALMPAY
IMAOBONG TREASURE OSSOM

---

All images on this post are from my gallery and screenshots I took

THANKS, EVERYONE. GOD BLESS YOU ALL.
---
---