Crypto Analysis | Hive/BTC Silverlining
Good day Hiveians!
Join me in analyzing the crypto markets!
The HIVE/BTC chart was clouded in ambiguity
But not any longer, or so it seems... In the last update I pointed to the 1-2-3 pattern, but noted that there was some uncertainty:
The caveat or ambiguity in the chart, however, is if the third wave was truly the 3rd one or still part of the second
I feel now more confident to say that we have not yet completed this pattern. The obvious reason is that the 2nd wave was not lower than the low of the first one. We therefore have to change the chart from this: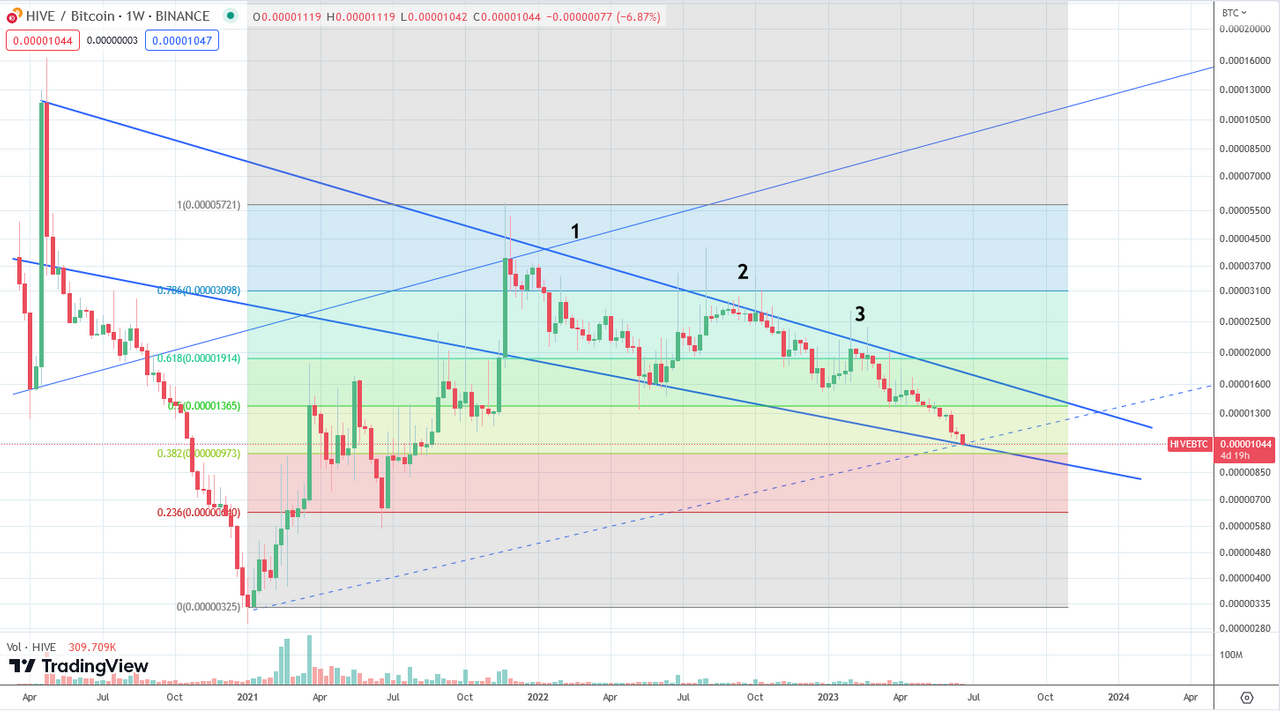 To this: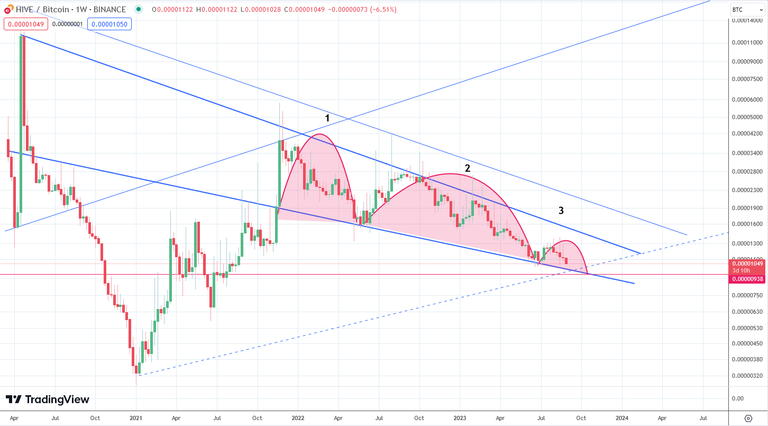 In other words the 2nd wave was much longer than what I previously pointed to. It also means that we haven't finished the 3rd wave and we should finish it by making a lower low. Hopefully this will still be supported by the falling wedge's trend line.
We can see the pattern more clearly when we look at the daily chart. It is one bigger peak with two smaller ones making a lower low. I am expecting the 3rd wave to be completed by around October.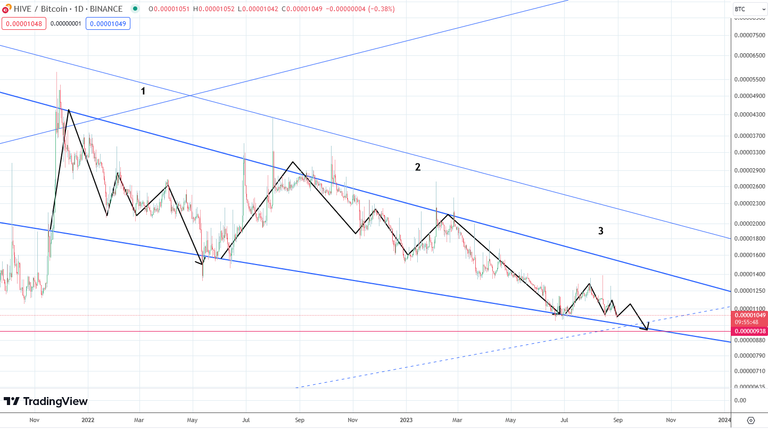 Why the obsession with the 3 waves?
I encourage you to look at this chart in detail. The 3 wave pattern is very salient and has so far shown that price moves with it. If indeed the 3rd wave is now finally coming to an end after 2 years it will mark the beginning of the next impulse wave.
If so, we can expect a strong push upwards over the coming months breaking the resistances of the upper range of the falling wedge. This is the macro outlook: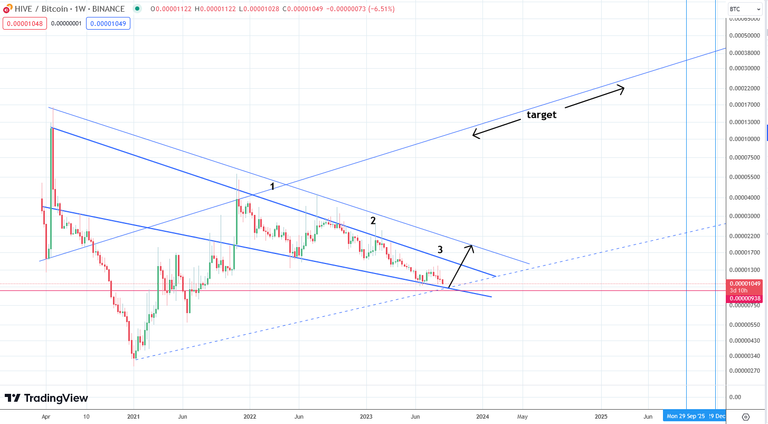 Conclusion
Watching Hive decline against BTC and falling overall in the market has been frustrating to say the least. Especially since this has been a 2 year long process. But I feel confident enough to speculate that the 3 wave pattern is finally coming to an end and with it a potentially new impulse wave. Chances are good that Hive will move up against BTC over the next year and that price can break out of the falling wedge pattern. If we actually do rise towards the marked target the future is looking great indeed and I wouldn't be surprised with everything that is coming to Hive very soon!
---
As a general reminder: Please keep in mind that none of this is official investment advice! Crypto trading entails a great deal of risk; never spend money that you can't afford to lose!

⛅🌦🌧🌦🌧🌨☁🌩🌦⛅🌧☁🌤🌥🌪🌧🌨🌩⛅🌦☁🌤🌥🌤⛅🌤⛅🌦⛅

⛅🌦🌧🌦🌧🌨☁🌩🌦⛅🌧☁🌤🌥🌪🌧🌨🌩⛅🌦☁🌤🌥🌤⛅🌤⛅🌦⛅

---
---