MAGIC OF CHRISTMAS LIGHTS IN ITALY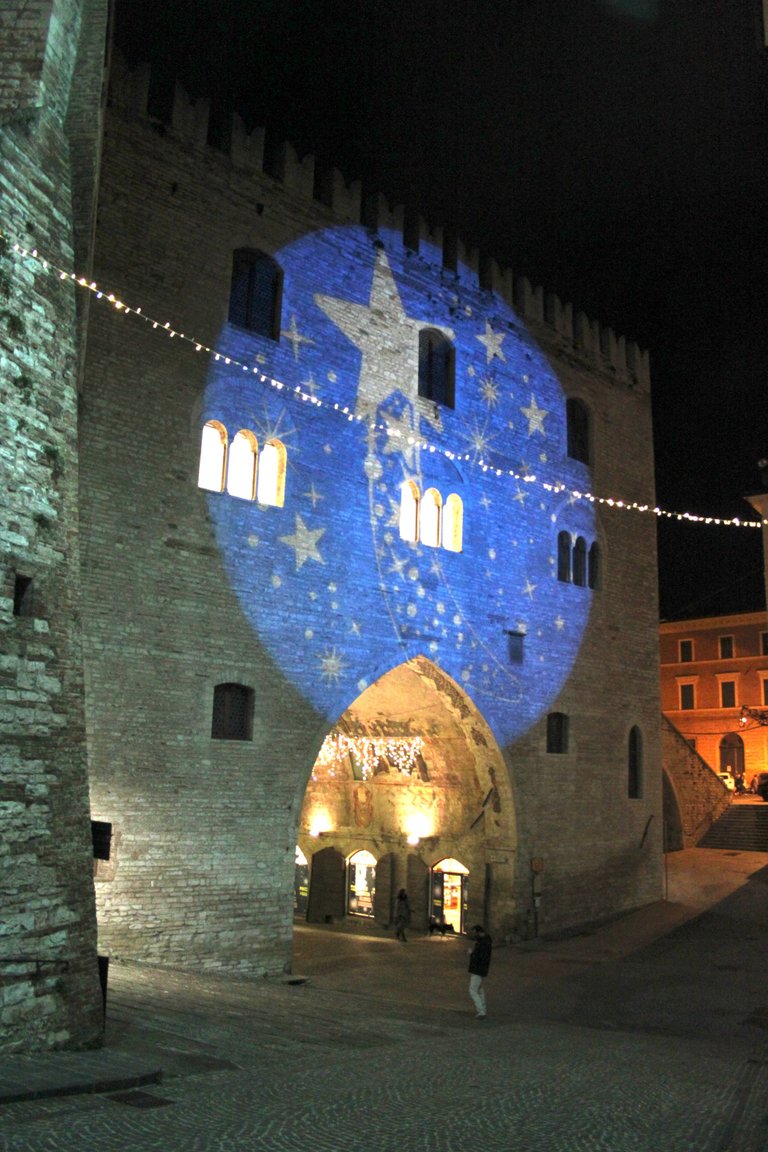 Palazzo del Podestà - City of Fabriano
Happy New Year everyone, my dear hive friends,
the Christmas holidays have passed, this year I had a lot of fun taking pictures with my camera.
Every weekend my husband and I visited many villages in our area in search of the most beautiful and evocative Christmas lights and special nativity scenes.
I photographed severl cities: Fabriano, Moresco, Ascoli Piceno, Macerata, Tolentino, Civitanova Marche, S.Elpidio a Mare, Riccione, Ancona, Gubbio, Arcevia.
Buon anno a tutti, miei cari amici di Hive,
le vacanze di Natale sono passate, quest'anno mi sono divertita a fare foto con la mia macchina fotografica.
Ogni fine settimana io e mio marito abbiamo visitato tanti borghi della nostra zona alla ricerca delle più belle e suggestive luminarie natalizie e di particolari presepi.
Ho fotografato diverse città:Fabriano, Moresco, Ascoli Piceno, Macerata, Tolentino, Civitanova Marche, S.Elpidio a Mare, Riccione, Ancona, Gubbio, Arcevia.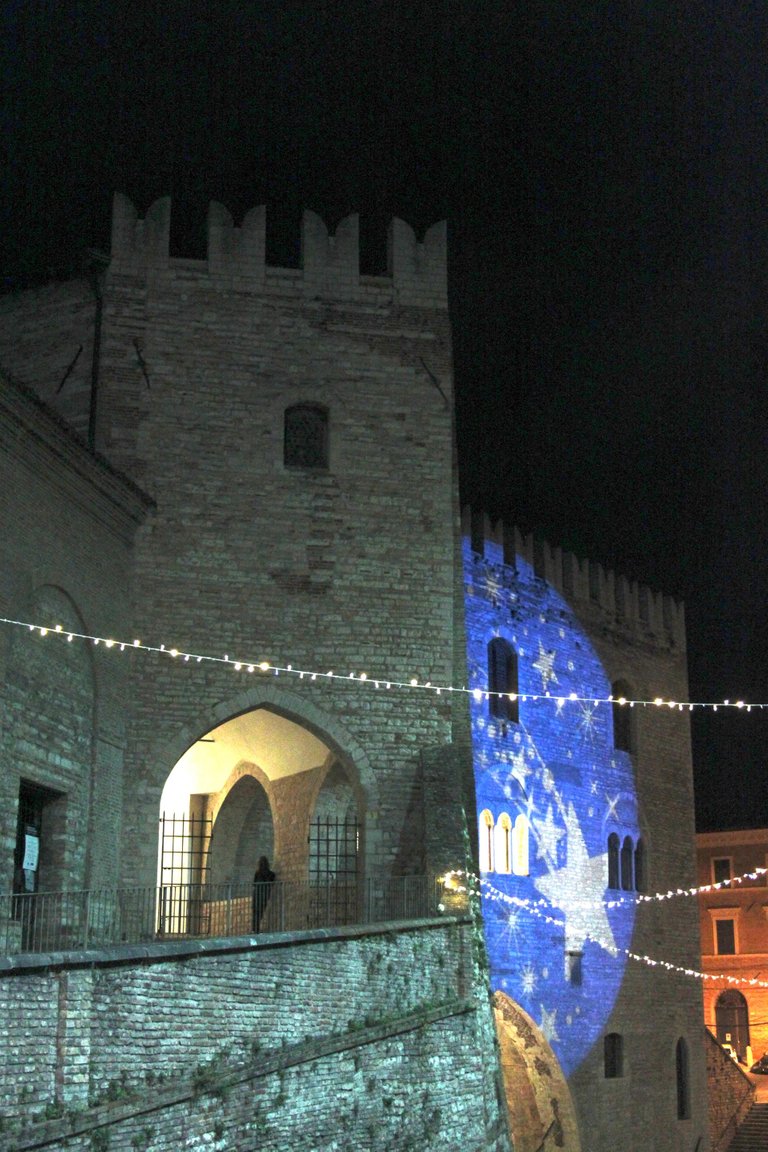 Fabriano city of medieval origins with its beautiful Palazzo del Podestà, the famous city of paper.
Like every year at Christmas time all cities are transformed, there is a magical atmosphere in the air, especially at night when all the lights go on.
Fabriano città di origini Medievali con il suo bel Palazzo del Podestà, la famosa città della carta. Come ogni anno a Natale tutte le città si trasformano, c'è un'atmosfera magica nell'aria, specialmente di notte quando tutte le luci si accendono.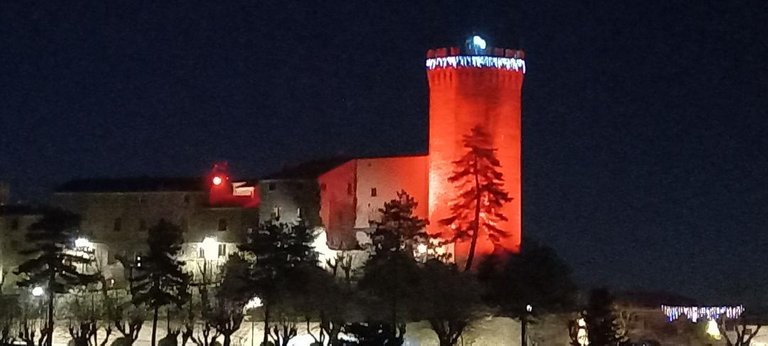 Heptagonal Tower - Municipality of Moresco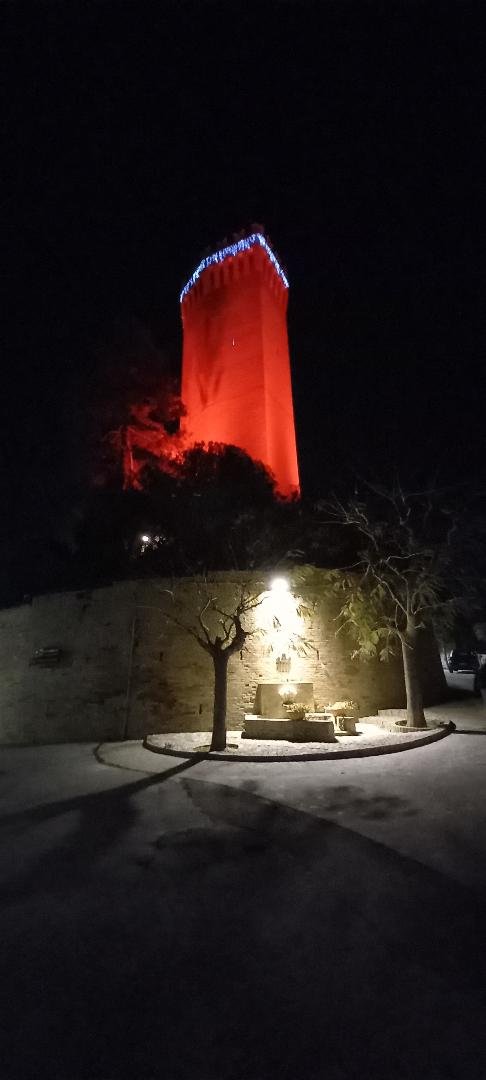 Moresco ancient medieval village with its stupendous heptagonal tower illuminated in red, home to important art exhibitions by emerging artists
Moresco antico borgo medievale con la sua stupenda torre eptagonale illuminata di rosso, sede di importanti mostre d'arte di artisti emergenti.
---
Each city has a different lighting, specially designed for its morphology, to highlight its strategic points such as historic buildings or commercial buildings, to make it more beautiful, festive and inviting.
Ogni città ha un'illuminazione diversa, appositamente studiata per la sua morfologia, per evidenziare i suoi punti strategici come edifici storici o edifici commerciali, per renderla più bella, festosa e invitante.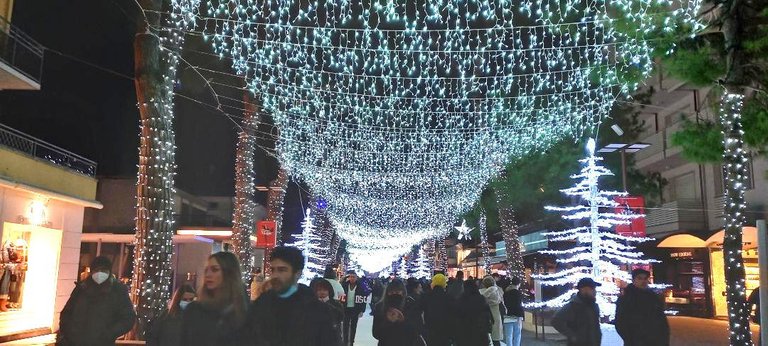 Viale Ceccarini - Riccione City
This is Riccione famous shopping city, located on the Romagna Riviera, with this cascade of lights over people's heads
Questo è Riccione famosa città dello shopping, situata sulla riviera romagnola, con questa cascata di luci sopra le teste della gente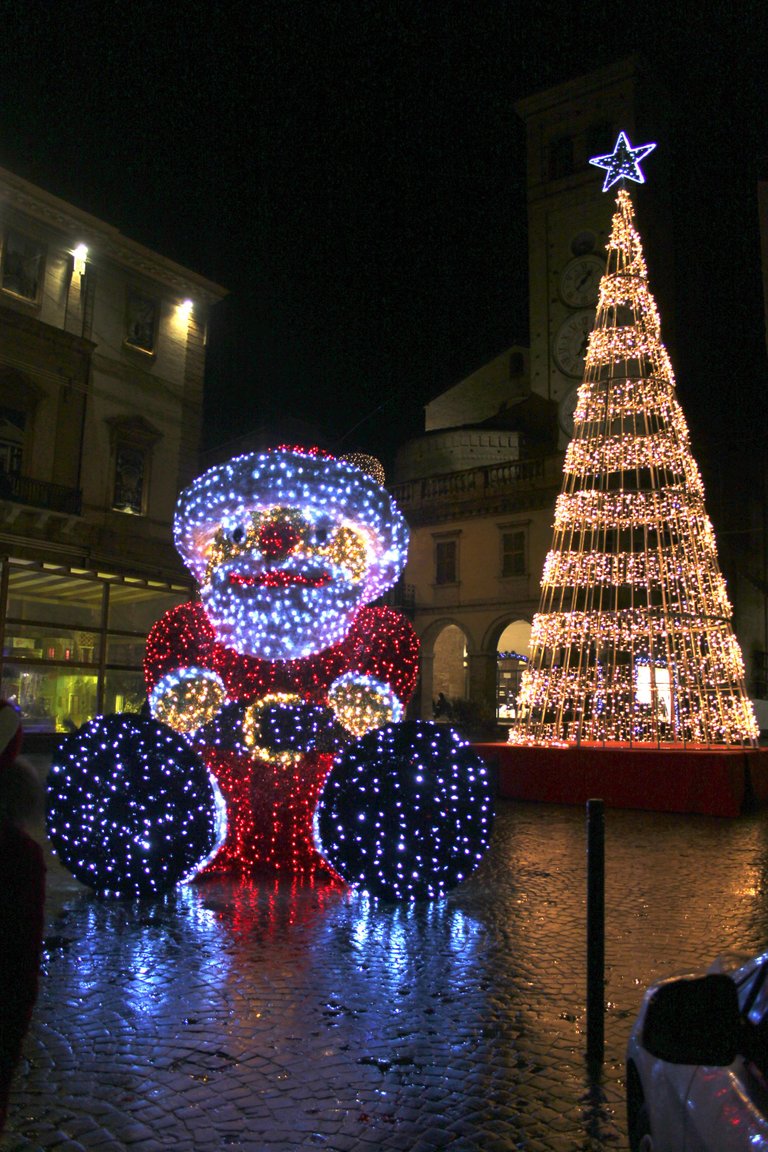 Liberty Square - Tolentino City
Tolentino, a small town in the province of Macerata, this year has chosen Walt Disney characters for its lights
Tolentino piccolo paese in provincia di Macerata, quest'anno ha scelto i personaggi Walt Disney per le sue luminarie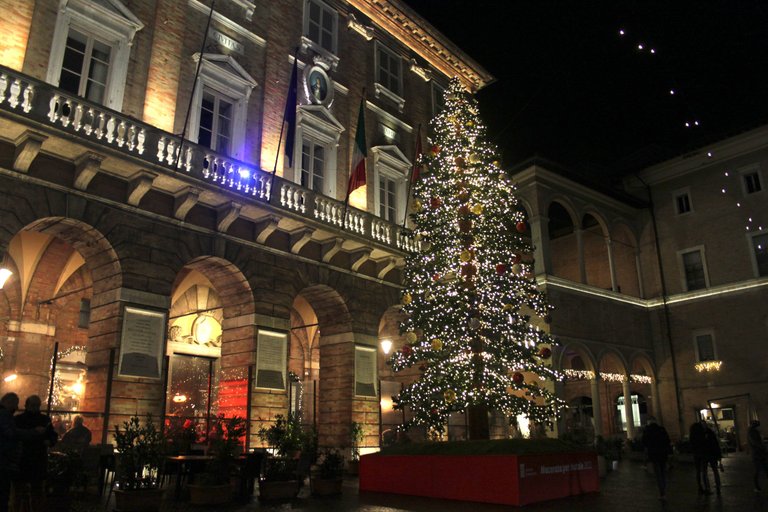 Town Hall - Macerata City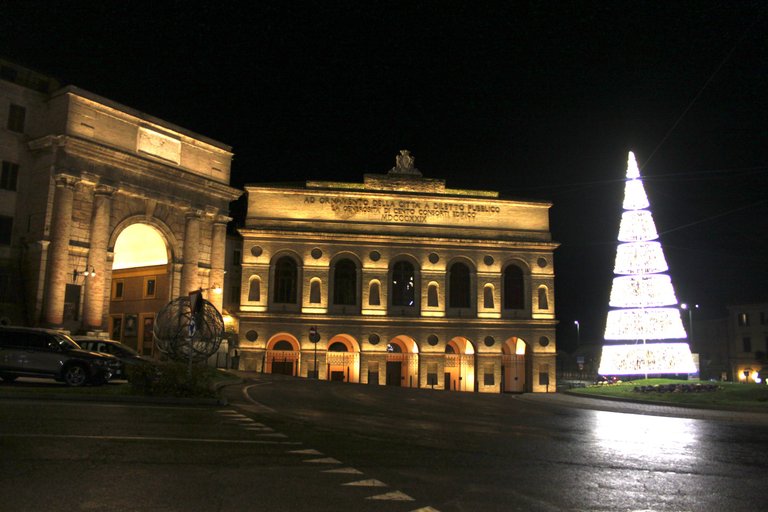 Sferisterio arena of Macerata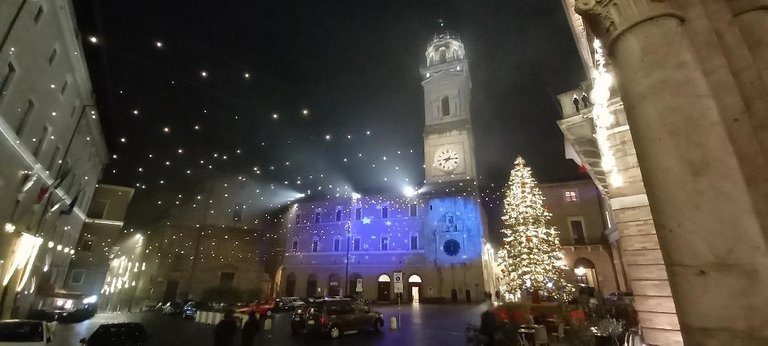 Liberty Square - Macerata City
Macerata quiet university city, has chosen video projections of stars on historic buildings
Macerata tranquilla città universitaria, ha scelto le proiezioni di video di stelle su palazzi storici
---
I had a lot of fun taking pictures with my Canon EOS 500D, I took the photos at night by setting time - aperture and ASA, with supplied EFS 18-55mm lens... great exercise !!!!
I worked without a tripod, the machine set to manual 100%.... hahahaha.....
I also took pictures with my mobile phone, in fact you can see the difference.
Mi sono divertito molto a scattare foto con la mia Canon EOS 500D, ho scattato le foto di notte impostando tempo - diaframma e ASA, con obiettivo in dotazione, EFS 18-55mm... ottimo esercizio!!!!
Ho lavorato senza cavalletto, la macchina impostata su manuale al 100%... hahahaha....
Ho fatto foto anche con il mio cellulare, infatti si nota la differenza.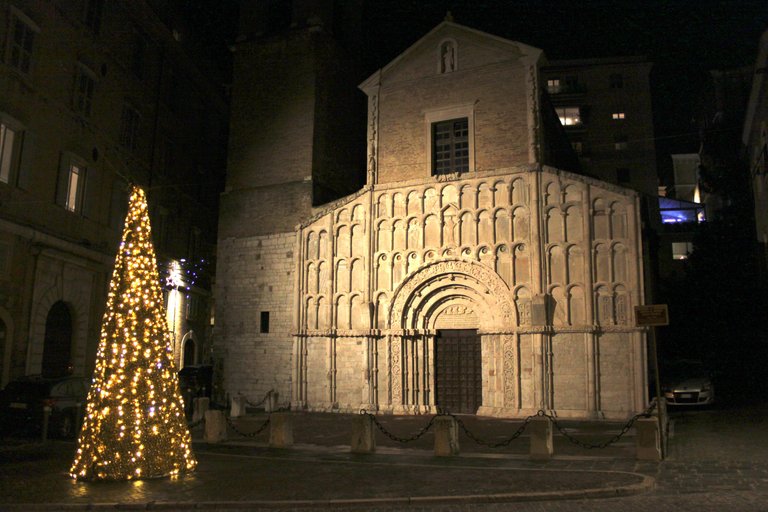 Church of S. Maria della Piazza - Ancona City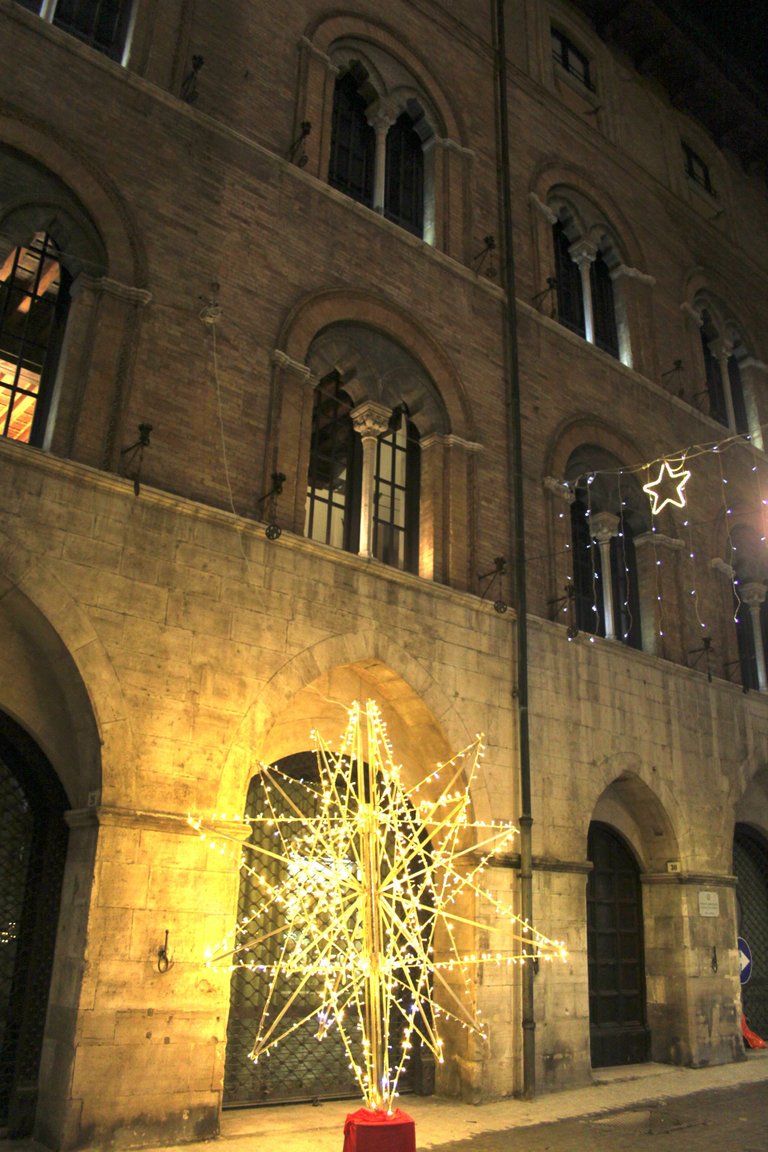 Loggia dei Mercanti - Ancona City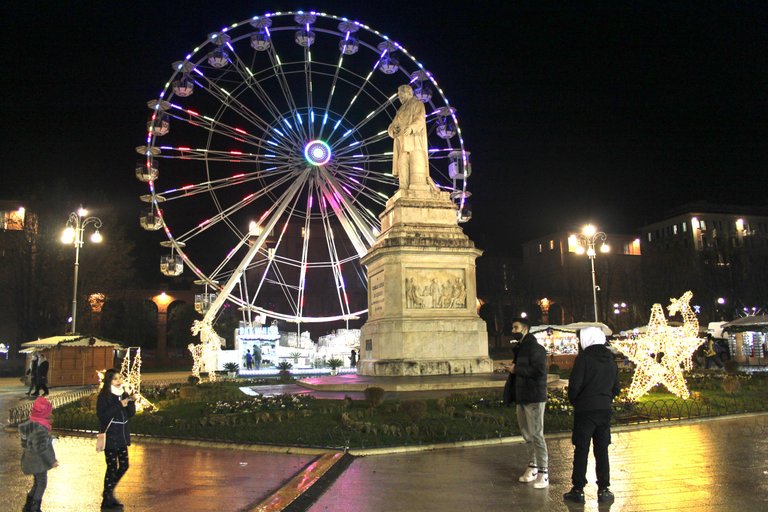 Cavour Square - Ancona City
Ancona the regional capital of Marche has installed a large Ferris wheel in one of its squares and illuminated historic buildings
Ancona capoluogo della regione Marche ha istallato una grande ruota panoramica in una sua piazza ed illuminato palazzi storici
---
Well... I'll be honest !! Then I corrected everything a bit with Gimp, it seems to me that they turned out quite well, what do you think? I am not a professional !!!!
Beh...sarò onesto!! Poi ho corretto un po' tutto con Gimp, mi sembra che siano venute abbastanza bene, che ne dite? Non sono un professionista!!!!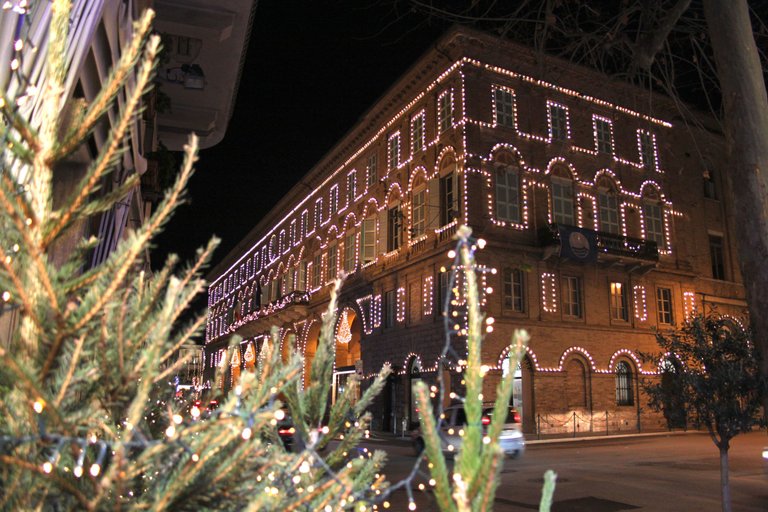 Sforza Palace - Civitanova Marche City

Square 10 September - Civitanova Marche
Civitanova Marche like every year, Palazzo Sorza has illuminated his town hall, unfortunately, in some cities there is still no limited traffic center rule.
Civitanova Marche come ogni anno ha illuminato il suo palazzo comunale Palazzo Sorza, peccato il parcheggio in piazza, purtroppo ancora in certe città non esiste la regola del centro a traffico limitato.
---
As you know in Italy, the villages all have medieval roots, and the Christmas lights make them even more magical and fascinating.
Come sapete in Italia i borghi hanno tutti radici medievali, e le luci di Natale li rendono ancora più magici e affascinanti.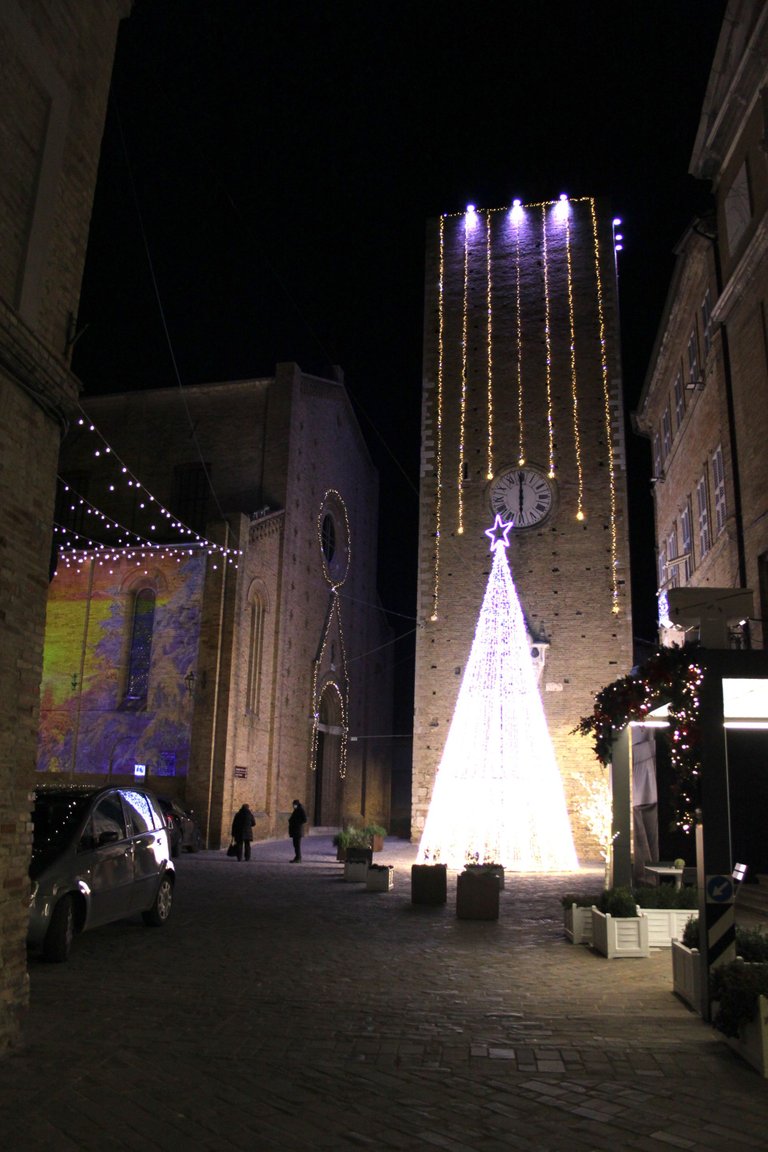 Matteotti Square - S.Elpidio a Mare
S.Elpidio a Mare beautiful medieval village in the Fermo province, with its imposing Torre Gerosolimitana and the Nativity scene
S.Elpidio a Mare bellissimo borgo medioevale in provincia di Fermo, con la sua imponente Torre Gerosolimitana e il Presepe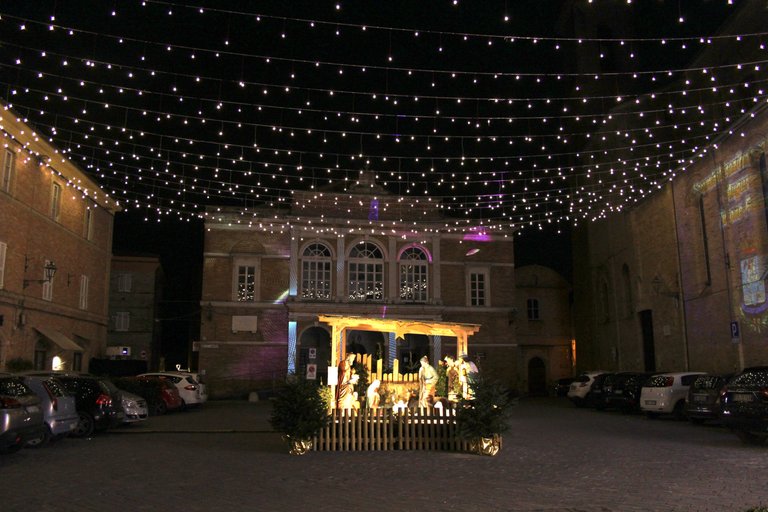 Nativity scene
I'm not very good with the camera yet, I know I still have to learn a lot, but I don't have much time to devote to this unfortunately
Non sono ancora molto bravo con la fotocamera, so che devo ancora imparare molto, ma purtroppo non ho molto tempo da dedicare a questo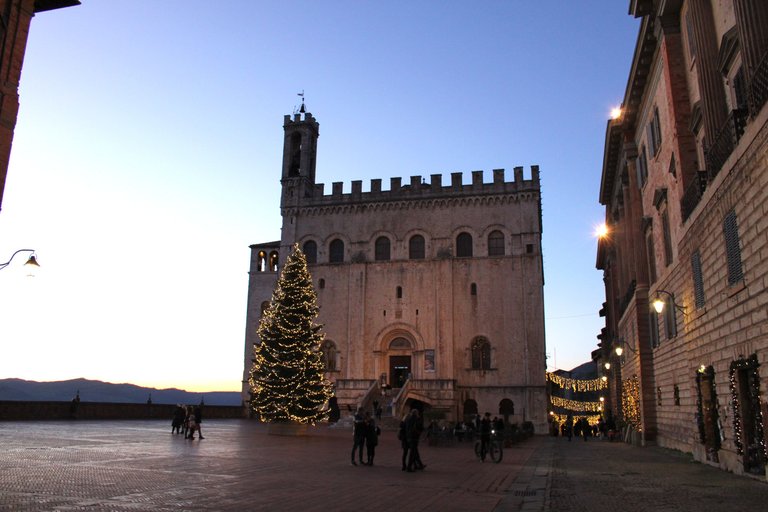 Palazzo dei Consoli and Civic Museum - Gubbio City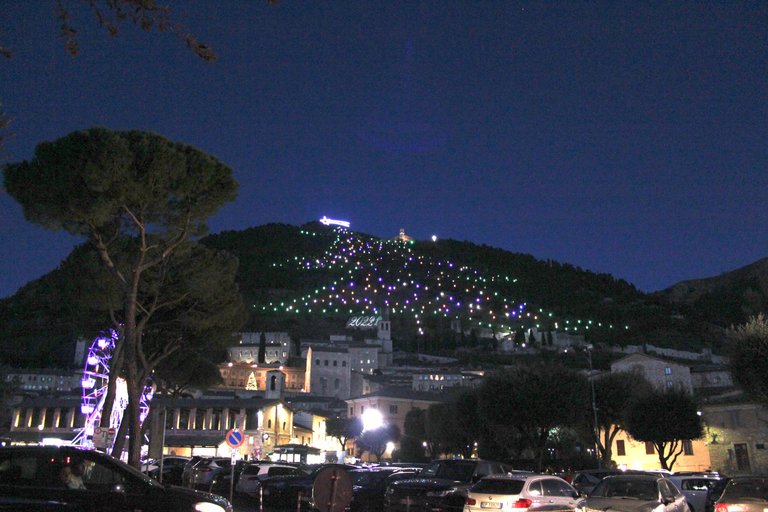 The big Christmas tree on the hill of Gubbio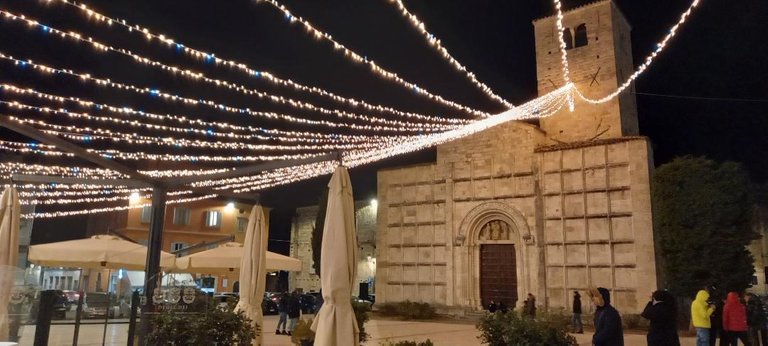 S.Vincenzo and Anastasio church - Ascoli Piceno City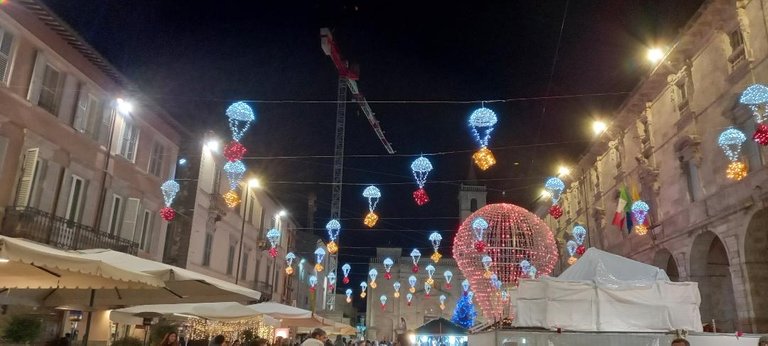 Arringo Square - Ascoli Piceno City
As I have already said we have also visited and photographed several nativity scenes and in these medieval villages there are many and particular ones. As in the castles of Arcevia where each house has one between the cracks of the external walls....very special!!!
Come ho già detto abbiamo visitato e fotografato anche diversi presepi, e in questi borghi medievali ce ne sono tanti e particolari. Come ai castelli di Arcevia dove ogni casa ne ha uno tra le fessure delle mura esterne.... particolarissimi!!!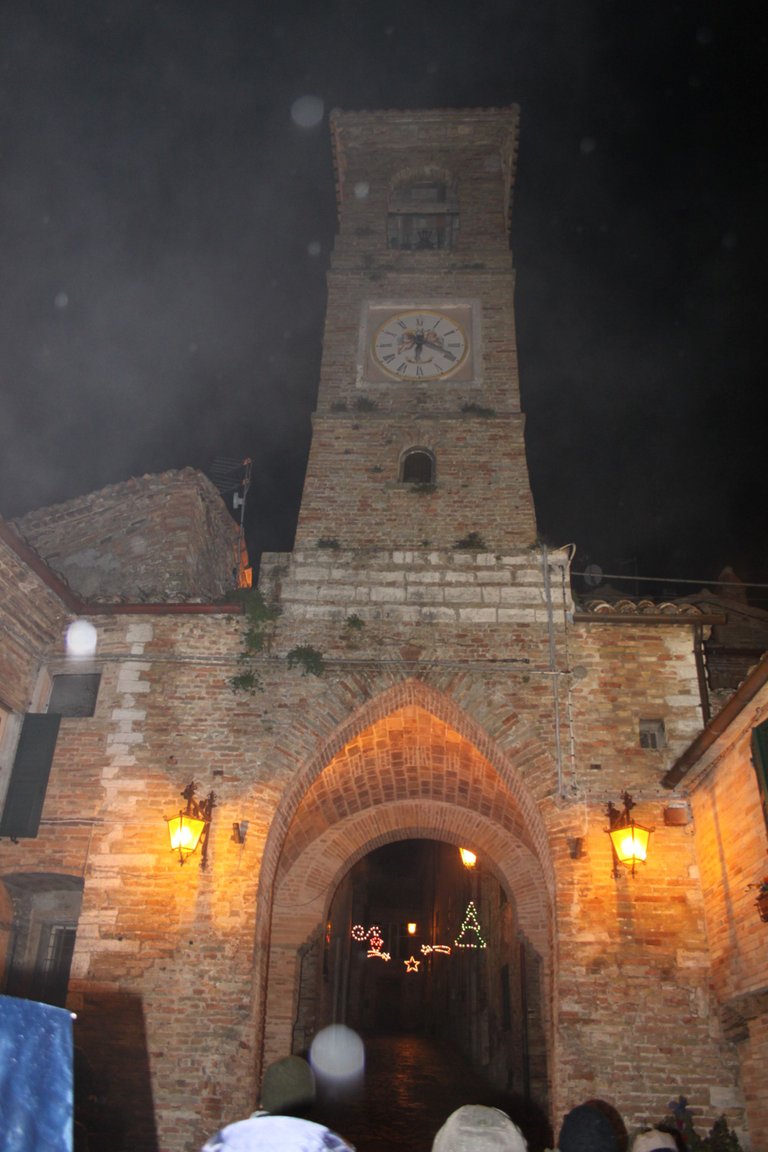 Piticchio Castle - Arcevia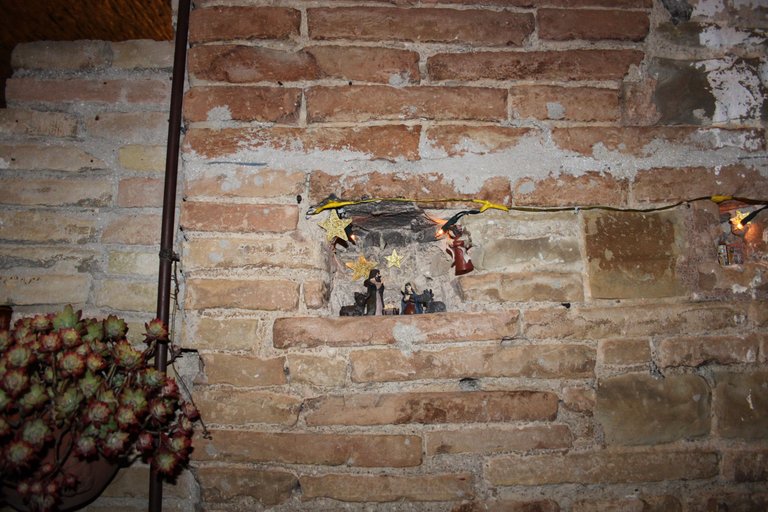 Small Nativity scene - Arcevia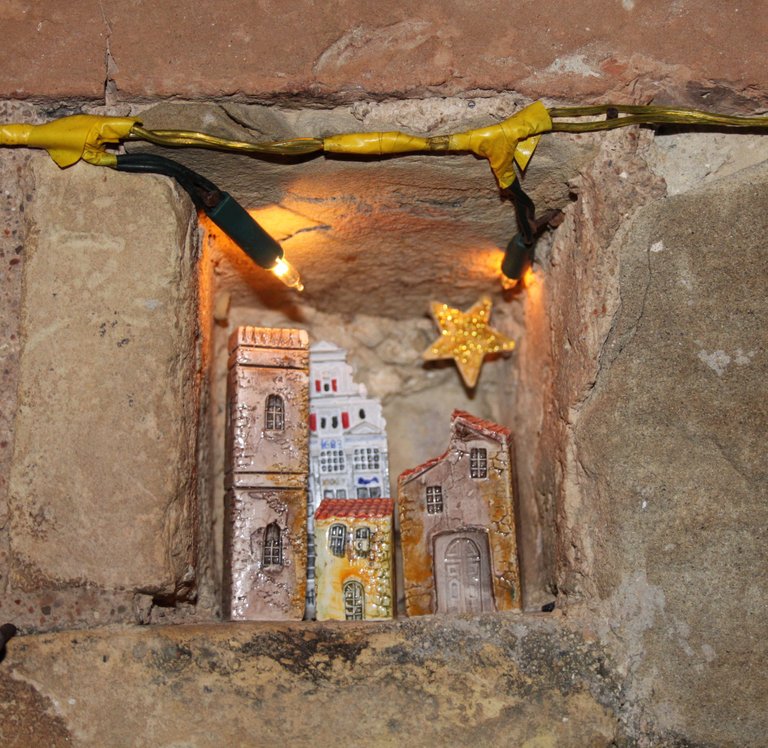 Detail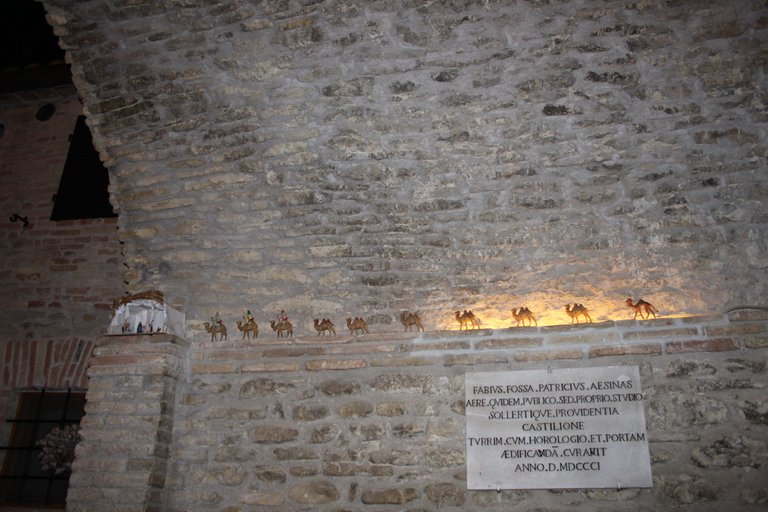 Visit of the Magi

Shepherd with sheep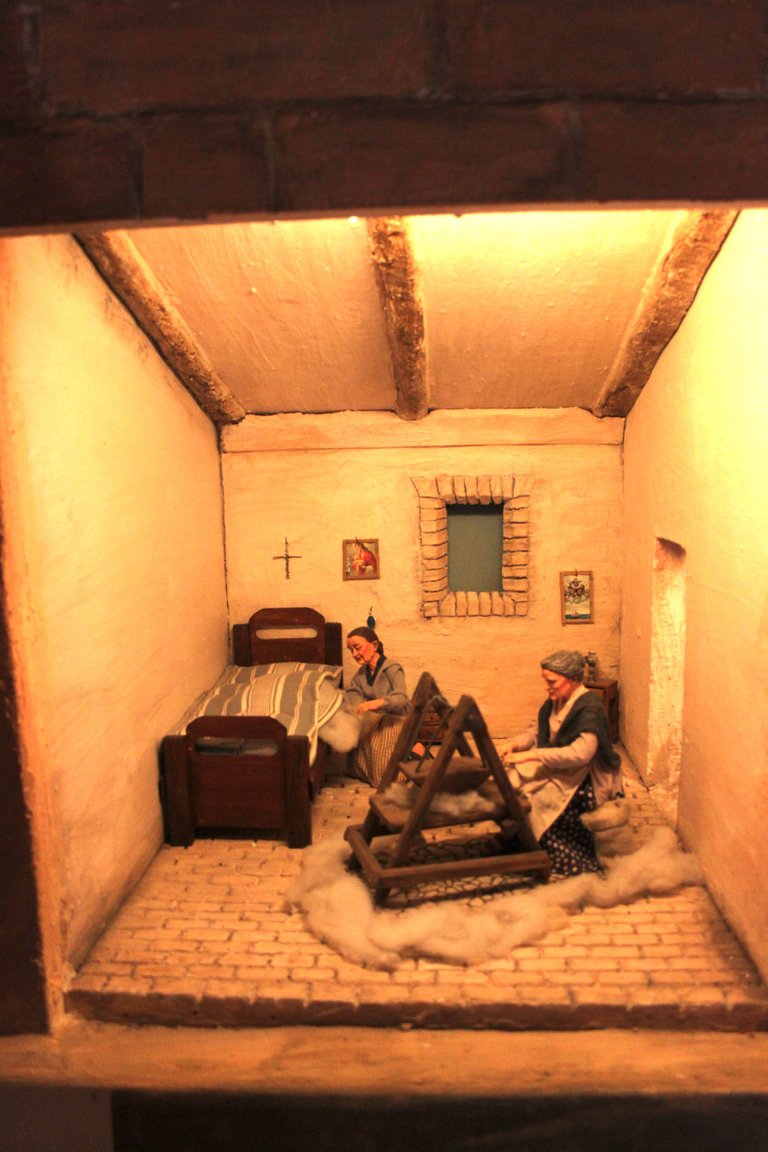 Mattress workers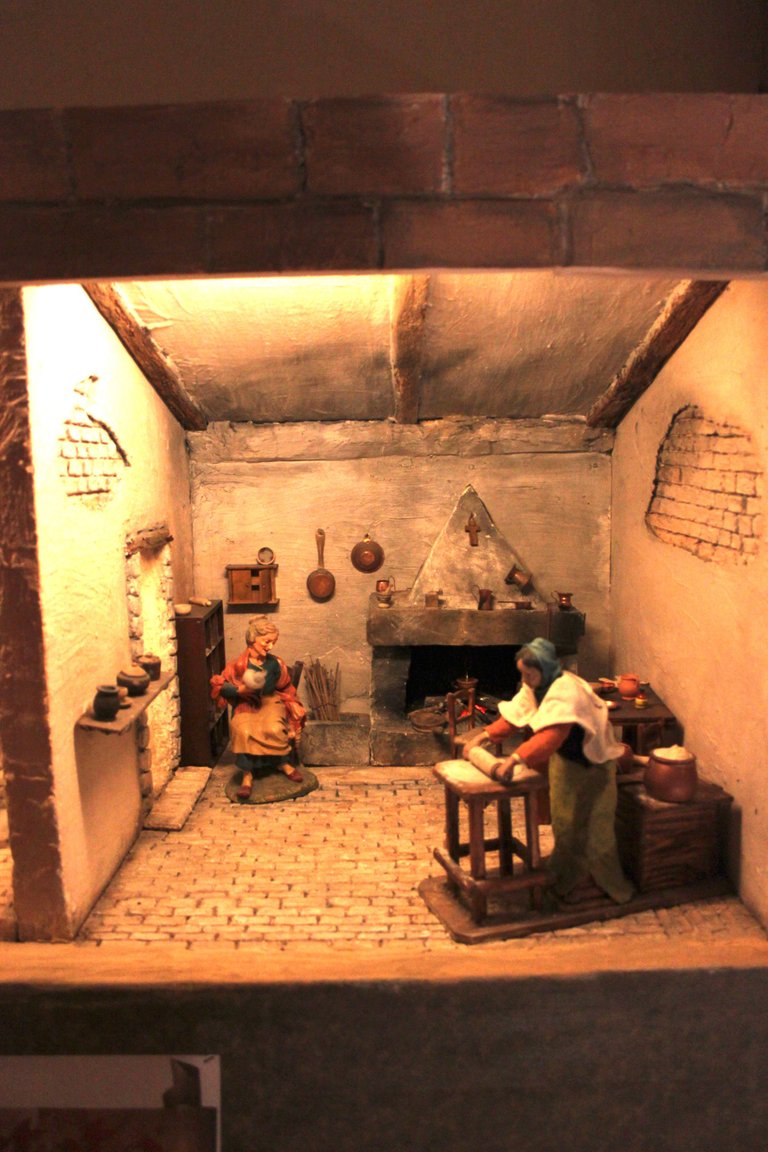 Housewives making pasta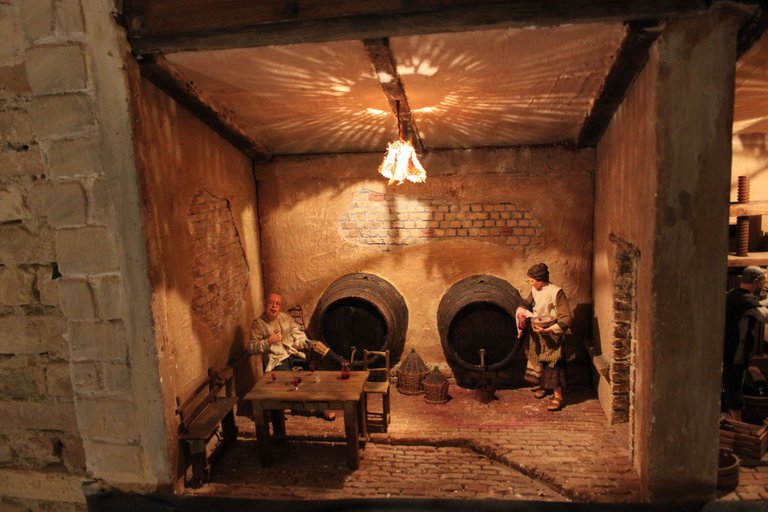 Wine cellar
Inside the crib we also use ancient crafts as you can see. Visiting these ancient villages during the Christmas period is fantastic, believe me !!!
Well ... I just have to say goodbye and wish you the best for this new year, I hope you like these photos, bye to you soon !!!
All'interno del presepe noi usiamo mettere anche antichi mestieri come potete vedere. Visitare questi antichi borghi nel periodo di Natale è fantastico, credetemi!!!
Be... non mi resta che salutarvi e augurarvi il meglio per questo nuovo anno, spero che queste foto vi piacciano, ciao a presto!!!
---
---