Hive Minecraft - Getting Started Tips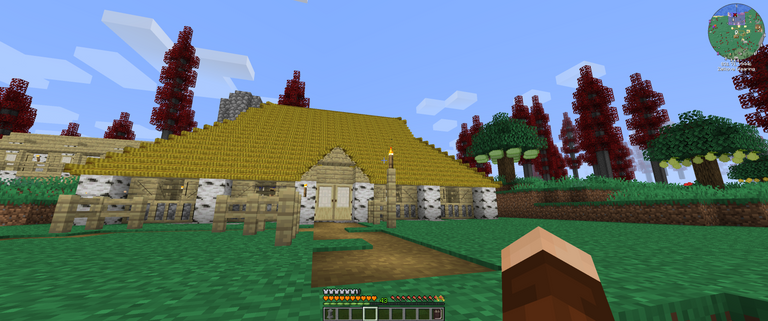 I am going to go over some starting tips for getting started with Hive Minecraft.
You will first need to get Minecraft configured for Hive Minecraft. You can follow the my preparation post to get started. Once you are all setup, you can start a single player world to make sure everything is running good on your machine before joining the Hive Minecraft server.
I recommend joining Blockhead Games Discord Server to keep in touch with other Hive Minecraft players.
---
Getting Started Tips
Many players might be used to Vanilla Minecraft or a modpack with far fewer mods. All the Mods is a massive modpack with a steep learning curve. I'm going to give some tips to help you get started and make your experience a little better.
Food
Food is a big thing in Minecraft, it is an even bigger deal in All the Mods 6. In vanilla Minecraft you can eat any type of food and get the same benefit reguardless of how much you eat. In modded Minecraft there are limitations and penalties for eating the same type of food over and over again. There are also massive bonuses for varying your diet.
By varying your diet you can get bonus hearts to greatly increase your health. After eating many different foods from various biomes you can easily double your health like this.

This encourages trying as many different foods as you can. Once you have had 50 different types of food, you will have a max of 20 hearts, twice the standard 10.
If you switch up your diet, you will also have to eat less food, the more you stick to the same food the harder it gets to get full health.
Focus on getting some farms up quickly so you have food growing while you work. You will quickly find yourself with little food when you are most active, be prepared!
I highly recommend focusing on three crops initially, wheat, hemp, and sugar cane. Wheat can be turned into bread, hemp can become string and even wool, and sugar cane can be used for paper and sugar for baking.
So get out there and explore and try new things!
---
Fast Travel

Teleporting is disable on Hive Minecraft, so you will need to use Waystones and other technology to move around the world. Every player starts with one free Waystone with more scattered across the world you can collect for free. This allows all players to teleport freely between Town and their base.
You can set your own base Waystone to be public if you want to allow players to freely visit your base. Just click "Global" when setting the name of your Waystone. You can always take down your Waystone and place it again if you change your mind.
There is one command that is allowed, /rtp, this will teleport you randomly somewhere on the map and will allow you to take a chance when finding your starting area.
---
Spawn and death
When you die, you will be teleported back to town unless you put down a bed and reset your spawn location. It is recommended to quickly find some sheep to gather 3 wool to make your first bed or loot one from a village to set your spawn at your base. This should be your first obective when joining the server.
---
Gear
The first thing you want to do is get to Stone tools. I recommend looking into a Paxel, this will allow you to have one tool for all your basic jobs.
Create a stone axe, pickaxe, and shovel and a couple of sticks and you will have a stone paxel. While techically it isn't a lot better than either of them, it makes your life a little easier.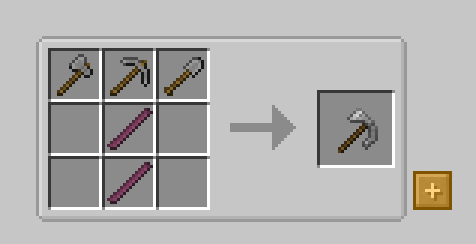 You will be using stone gear for a little while until your Iron supply is good enough to support iron tools. Once you start mining deeper, you will come across Rubies and Saphires, these don't have much use outside of being used for tools and decent armor without wasting iron. I highly recommend taking advantage of these gems early on to save your iron for better uses.
I recommend looking into Tinker's Construct or Silent Gear to build more advanced tools outside of your basic Vanilla Minecraft tools.
---
Housing
Building a house is not a requirement, I frequently live outdoors for a long time before building a house. I typically will explore during the day and mine at night.
If you do build, make sure you claim blocks prior to building.
---
Claiming Land
When you start out on the Hive Minecraft server you will be given the rank of Minnow. This allows you to claim 50 chunks of land that are protected from other players.
After one day of play, you will get an additional 50 land claims and finally 250 total claims after 2 weeks of play.
To claim land hit your inventory key and look in the top left for the map icon.

From here you can claim chunks and set waypoints.

When you click Claimed Chunks, you can see all the chunks claimed in the area and claim/unclaim your own chunks. You can also see your claim quota in the bottom right.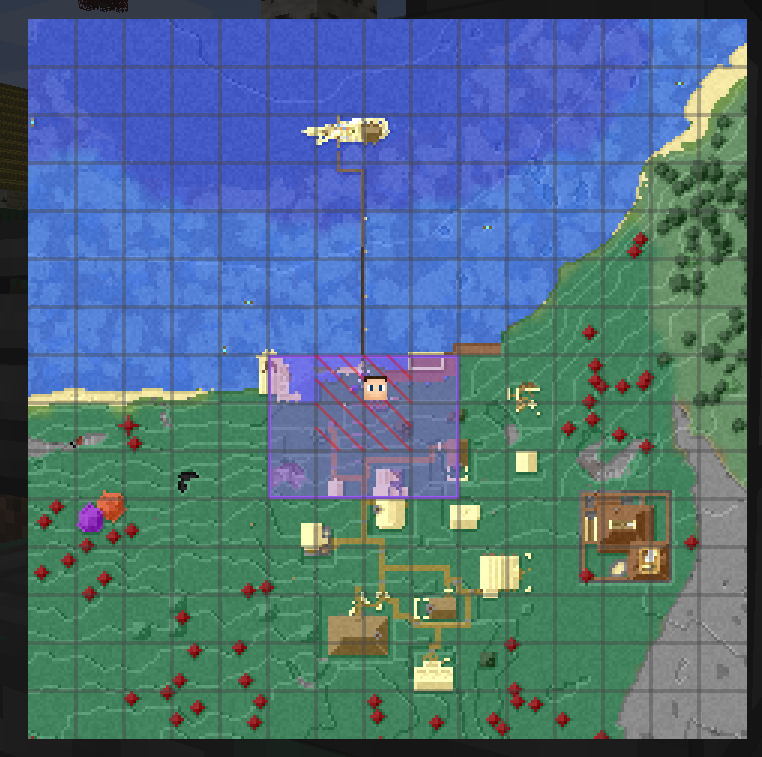 Frequently check your claims to make sure all your structure and belongings are within your claimed chunks.
---
Teams
I highly recommend teaming up. Hive Minecraft has a great teaming system where you can share claimed lands and work together. You can use the /ftbteams create command to create a team and then invite other players using /ftbteams invite.
If you are playing as a team, the team leader has to claim lands to ensure all players can use them. You can also use /ftbteams msg to talk within your team.
---
Voice Chat
I highly recommend joining Discord and hoping on the World Voice Chat, this allows everyone to chat and makes it easier to get started and work together.
---
Akasic Tome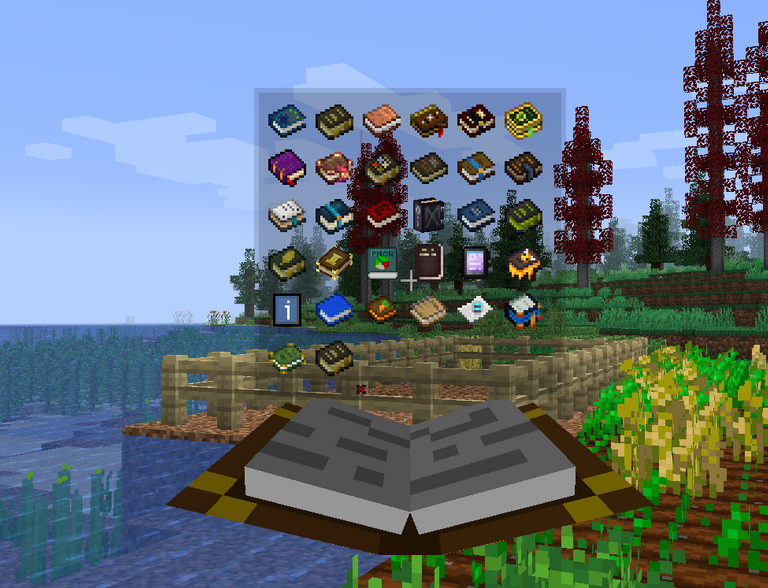 Akasic is an amazing mod that keeps all your manuals in one slot. All manuals you gain throughout the game you can add to your tome for easy access. Many are added when you join the server with many more you can discover and craft and add to your tome.
This will help learn many mods in the game.
---
Quests
There are lots of quests in ATM 6.
Look up in the top left of your inventory for an exclaimation point to see if you have some pending rewards.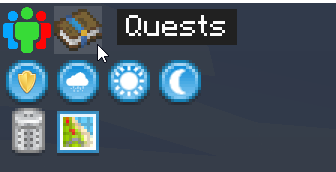 On the left border you can expand to see all the available quests. This is a great way to learn new mods.

---
Explore!
The best items in the game can only be found by exploring. All chests on the server spawn loot for each player individually. Explore together and you can both loot all the chests you find collecting your own personal loot.
Many powerful trinkets can be found in the world offering unique abilities.
---
There are other worlds than these
The Overworld is not the only place you can explore. As you advance in many mods you will find new dimensions and worlds to explore and take advantage of. The Nether and End is not the only place you can travel to.
---
Share your experience
I'd love to see players of Hive Minecraft writing posts sharing their experience. I have found a couple so far, if you do don't forget to use the tags #hiveminecraft and #minecraft for easy discovery.
Don't forget to join Discord and hop on chat. Stuck on something? Feel free to ask in the world text or voice chat.

---
---