R.I.P. Midnight / Gorgeous 😢
My cat died. He was at least seventeen years old, maybe more, which is quite advanced in cat years. No one knows how old he actually was, as he was in a "rescue" situation long ago. The woman who took him in and became his owner caregiver looked after him for many years until she died. The cat then became the charge of my sister-in-law (late-husband's sister) for a time. He came to my home about two-and-a-half years ago.
Except for a "kitty cold" that gave him sneezes and a runny nose for a week or so, he has been in good health, all in all, since he has been here. However, almost a week ago, he went downhill very rapidly. He lost interest in going outdoors, which was always one of his favorite things. He started spending his time curled-up in a large cardboard box I keep for paper to be recycled (old newspaper, user manuals for old appliances, etc.). He lost interest in going to his litter box and started relieving himself in the box of papers where he slept. Every time he got up to eat or drink, I would check the box and dispose of the top layers of papers on the side where he did his business. I tried giving him some different foods, lots of fresh cream, and hoping he would bounce back, but to no avail.
On Thursday morning, June 30th, he went to the back door by himself again for the first time since his downhill decline. I was hoping some fresh air and sunshine might help him recover. In the back of my mind, though, I wondered if he wanted to go out for one last 'hurrah' of sorts. Turns out, that's what it was, and he wanted to go to his 'happy place' to pass to the next world.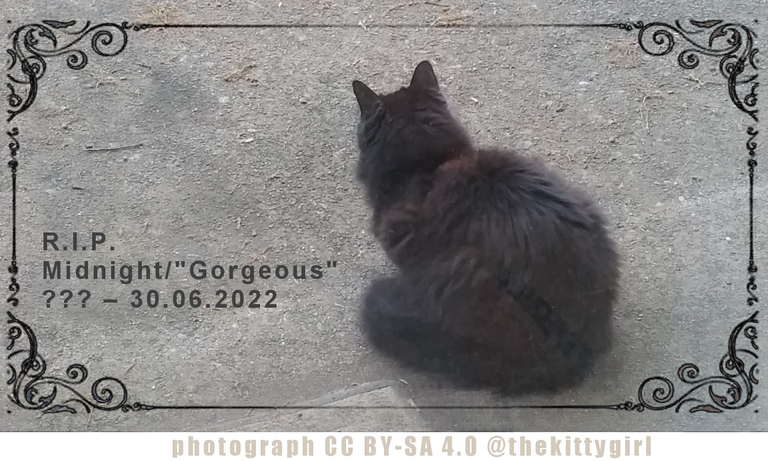 The woman who rescued him named him Midnight, obviously due to the darkness of his coat. She cared for him many years until her own health began failing. She had quite a number of health issues near the end of her life, most notable among them were cancer and Renal Failure. When she passed away, my late-husband's sister assumed his care. She began to call him "Gorgeous" instead of Midnight because he was, indeed, such a gorgeous kitty. So, we gradually began to transition his name. He didn't care what we called him, as long as he was fed. I also had little nicknames for him, such as "Outdoor Cat," since that is where he preferred spending most of his time. After coming inside to eat, he would sometimes return to the back door and perch on the arm of the recliner, ready to 'launch' himself outside again like a rocket, so "Rocket Cat" became another nickname. 😂
His breed was Turkish Angora. A characteristic of that breed is a chestnut-colored undertone to the fur closest to the skin. Over time, that color can become predominant in patches throughout the coat, leading to bands and splotches of bronze intermixed with the black, such as exhibited in the below photo. At those times, "Chocolate Cat" or "Color Cat" were more appropriate nicknames. It was fascinating to observe the changes in color over time, from black to bronze and back again. I never quite figured out whether the changes were due to his time outdoors, his diet, the state of his overall health, or some other factor.
Regardless of the color of his coat at any given time, it was always very thick and soft. Or "floofy" as one of my girlfriends likes to describe it. His long fur did require frequent attention to keep it manageable. Sometimes when I brushed him, it almost seemed like enough loose fur was collected that I could build a second cat from it. 😂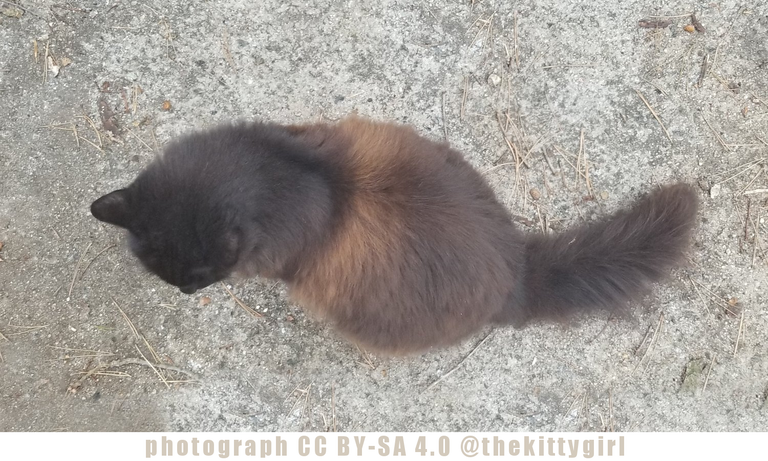 He was a kitty that loved chicken, and I often bought a big piece of chicken from the deli inside my local market and shared it with him. He liked Chicken Salad, too, with a bit of mayo, itty bits of diced pickle relish, and seasonings. He loved spicy Cajun Chicken, too, as I learned when I shared a bit of chicken from my Spicy Chicken Sandwich with him! He enjoyed the occasional beef meatball, although he seemed to prefer chicken over beef. He also liked bits of egg omelettes, even if I put oregano and other seasonings in them. He also liked drinking the juice from cans of black olives, and it seemed to help him when he had small bouts of digestive distress. Of course, he loved his fresh cream (actually 'half-and-half' like I use in my coffee) or melty ice cream in a little dish.
He liked scritches behind the ears and on top of his little head, places he could not reach so easily. Due to his age, though, he didn't really "play" very often, like a younger cat would do. He was very chill most of the time, like a wise, old Buddha that took things in stride. His energy harmonized well with mine, as I am not a very loud person and definitely not so active as I was in my younger days.
One of the most endearing things he did was the way he twitched his tail. His tail didn't usually move when he was asleep — although it sometimes did! — but was often in motion when he was awake, even when he was eating! I took two photos of him with my cellphone and meshed them into a single animated GIF image, which I like watching, especially since he's no longer here to do it for me, himself.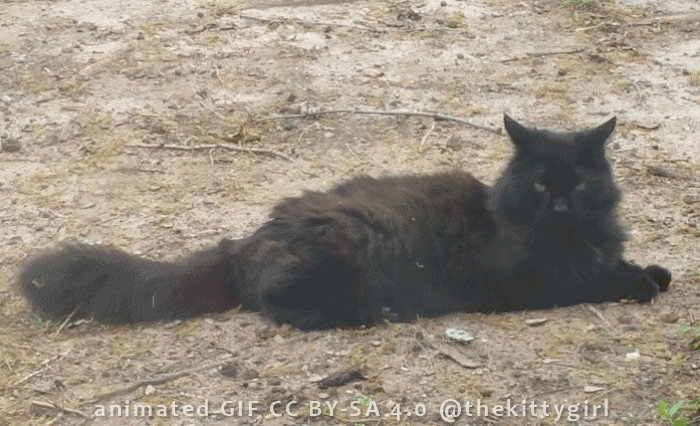 One day earlier this year, I stepped outside onto the concrete patio behind the house and heard Mr.Cat meowing behind and above me. I turned to see him standing on the roof of the house, looking down at me! 😮 Surely, he had gotten up there and became stuck, unable to make his way back down. I spent the better part of an hour trying to coax him down in various ways, but to no avail. I was finally left with no alternative but to go inside and wait to see if he could find his own way down again.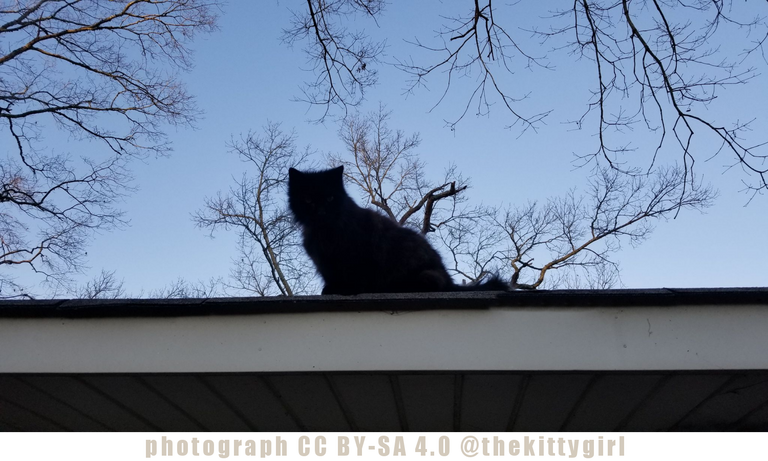 Sure enough, only a little more time passed before he was at the back door, announcing his desire to come in and eat. I tried to keep my eye on "Roof Cat" and discovered his climbing route. There is a fig tree behind the house with many branches, one of which makes a nice little "ramp" leading straight to the edge of the roof. The roof then became his new "Happy Place" where he could survey his demesne. I made a very short video with my cellphone, which you can watch, below.
• video by me •
When the leaves returned to the trees, I made another video, thinking it would be "prettier" with the greenery. However, the leaves rather obscure the view of his climbing, but it is certainly is prettier!
• video by me •
So, he was in his "Happy Place" on the roof when he passed, which was a beautiful thing for him. It certainly made my work more difficult in getting to him. I won't go into the gory details of the story, but suffice it to say that it was a dicey and unsettling string of events.
So, Rest in Peace, Midnight/Gorgeous, wherever you are. I hope you realize how loved you were and how much joy you brought to the lives of several women! You will be missed! ❤️

 😊

banner made by me with a free clipart image from PNGio.com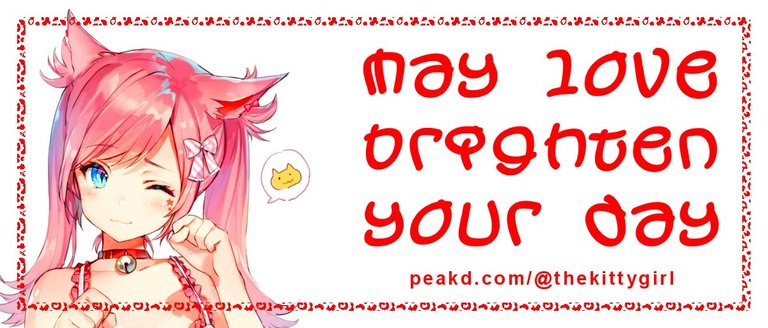 05-Jul-2022
---
---