PIZZA Discord Referral Contest | Win liquid HIVE, PIZZA, & SPL Cards!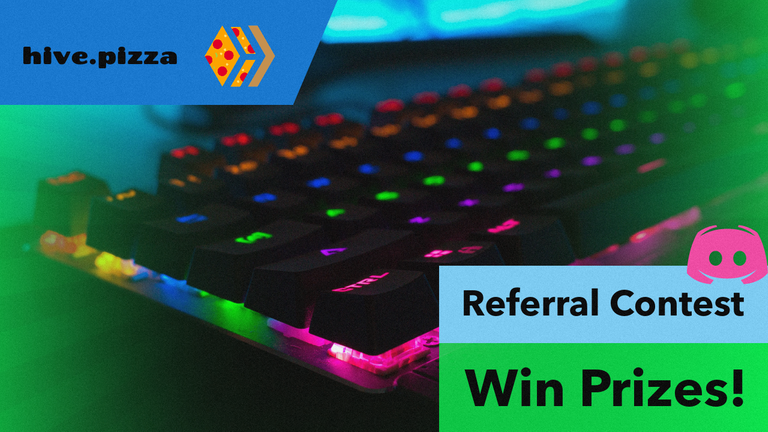 Hey everyone!
We hope you had a wicked Halloween and for those who spent it with us here in the Discord (or caught the treats in time), we hope you enjoyed the Trick 'r Treating activities we had yesterday and all of the airdrops! Holidays are awesome at PIZZA!
With that being said...
Welcome to November! There is quite a bit to celebrate this month such as No Shave November (or also known as 'Movember', but this is every day for me lol), Christmas decorations for the festive pizzaheads, or depending on where you live, lots of delicious Turkey! But it sure does start getting cold around this time of year for some of us!
So! We thought we'd heat things up a bit for everyone by kickstarting the month with another event and more prizes!


Beards Birthday Bash - Discord Referral Event


That's right! This was also my birthday weekend and we're going to extend the festivities into the week with some prizes and fun!
Starting now until 11:59PM PST on Saturday, November 6th all invites will be tracked for the Discord.
Each day we will award the community members with the most invites a prize!
There will be a Primary prize that can be unlocked by hitting a certain threshold. If the threshold is not met, the runner-up prize will be used instead!
Prizes range from PIZZA tokens to liquid Hive, and even some Splinterlands Cards!


To participate, all you have to do is:
Make sure you're in the Discord! Join our Discord by clicking here
Invite other REAL people to our Discord! The bot does look for duplicate, alternate, and VPN based accounts, so make sure they're real people!
Make sure you and the invitees stay in the Discord until all of the winners are announced on Sunday
Do not use our vanity URL! Make sure you directly invite them by right clicking their Discord ID or right clicking on the channel you wish to create an invite for, and clicking INVITE USER.
They do not need to have a HIVE account but they will be required to create one in-order to receive prizes themselves!
If you have friends who need to create a HIVE account, bring them! We can help as we have account creation tokens! :slight_smile:


That's it! Let's get started with Monday's first place prize!


Monday
Primary Prize - 15 HIVE + Secondary Prize
Threshold - At least 5 Invites
Secondary Prize - 25 PIZZA tokens


You can check the leaderboards in #🤖|bot-commands using the command -leaderboard invites
We will reset the leaderboards and log daily winners every night at 11:59 PST!
Join our Discord by clicking here

DELEGATE TO PIZZA
You can also delegate your HP to our @hive.pizza curation account and farm your share of the daily $PIZZA rewards pool! The reward pool increases 10 tokens every 10k HP that is delegated to the account!



You can also check out the HIVE.PIZZA website here.
Buy $PIZZA
Leodex
Tribadex
Hive-Engine

Join the Discord and $PIZZA NATION

Join our curation trail here
Vote for us as Hive-Engine witness here
Vote for us as HIVE WITNESS HERE
---
---