HIVE.PIZZA Witness Update, Project Update, & Rewards!
Hello everyone!
We've seen an explosion of growth over the past week and we have quite a few new faces hanging out in the PIZZA community! We've even started working with HIVE users in the Spanish community to help us translate our message and introduce more folks to the awesome-ness that is PIZZA! If you're in the Spanish community, we want to welcome you to our Discord as well where you can chat with myself and HiveTrending as well as other users in Española!
Reminder! Our Spanish speaking friends can use the (!)ESPIZZA command (without the parenthesis) to use the bot in Spanish!
I would like to formally invite @eddiespino and @victoriabsb to our Discord or to a DM conversation around how PIZZA can be attractive for the Spanish community! Let's talk!
Witness Update
Our Hive witness node continues to run without issue and our ranking continues to climb. Our HIVE witness is currently ranked top 100 and we're fighting hard to get into the top 50! If you have a vote to cast, please consider giving it to PIZZA team!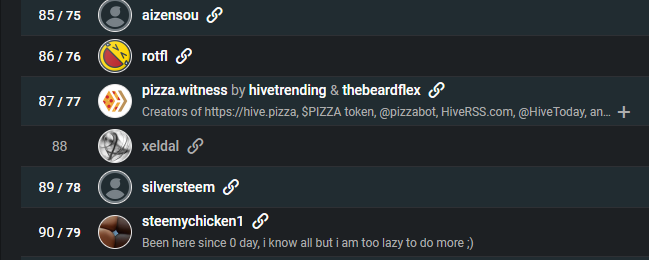 We're excited to announce that our Hive-Engine witness node is now ranked in the top 20 HE witnesses and continues to grow! Thank you everyone who have voted!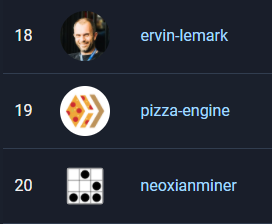 Rising Star Partnership
As many of you know, you can already purchase Rising Star packs using your tasty PIZZA tokens! The @risingstargame team has done an amazing job and we're so incredibly excited to announce the new exclusive hive.pizza Rising Star NFT! This will be a limited run NFT that is only purchasable via PIZZA tokens!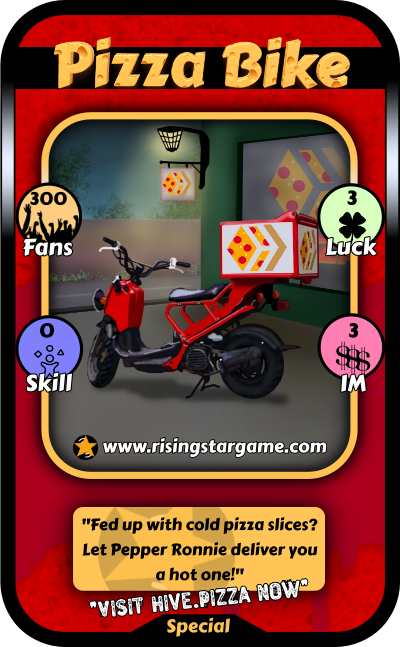 PIZZA:STARBITS Diesel Pool
It's no secret that our pool rewards have been pretty sweet. Well, they just got sweeter! We've seen around 17 MILLION STARBITS deposited into the pool as folks jump in to claim their part of the rewards pool and there is no slowing down!
We deposited another 2 MILLION STARBITS into the rewards pool this week essentially doubling the STARBITS daily payouts!



If you're not taking advantage of the PIZZA:STARBITS Diesel Pool, we highly recommend you check it out! I have received many pings asking about the APR. I do not have a simple way to determine APR without jumping through quite a few hoops. We I do recommend doing is, add a little liquidity and then in the POOLs page on TribelDex, click on the 'YOUR LIQUIDITY' tab and it will display your expected daily earnings on the right. You can now calculate your expected APR.


PIZZA Discord Bot Updates
More Gifs! We're continuing to work with community celebrity @stickupboys to build a vast arsenal of gifs that work with our random gif command!
Pizzabot is now being used in multiple servers and has been updated to be a bit more customizable to meet the needs of server owners. Feel free to join our Discord and let us know there are any requests!
Rising Star Stats - We've added the !rsplayer [name] command so players can quickly check their Rising Star stats! This is also now being used in the Rising Star discord!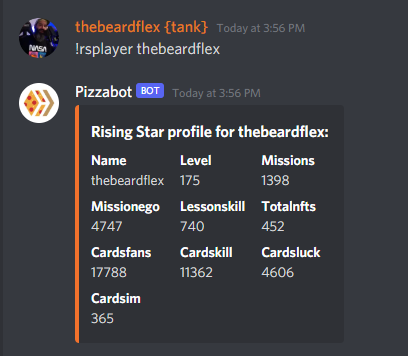 Video Game Store
We've added another batch of video games to the HIVE.PIZZA video game store! You can get more great games like No Man's Sky at great prices using your PIZZA or HIVE backed dollars! We're excited to announce that we've uploaded out 100th video game title to the shop! Thank you everyone who has purchased and an extra thank you to those who use HBD! That goes directly back into securing more games! Half the PIZZA tokens we receive we burn!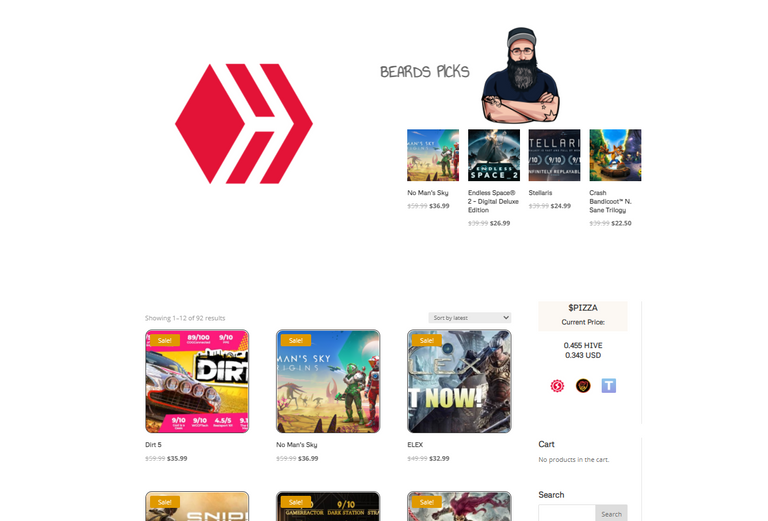 Game Repository
In an effort to help our gamers find all of the awesome HIVE blockchain games that the PIZZA community enjoys together, we've built an easy to use game repository to help you find games easier! Simply navigate over to our Blockchain Games page and check it out! If a game is missing, or if you'd like to discuss advertising your game to our community and on our website, reach out!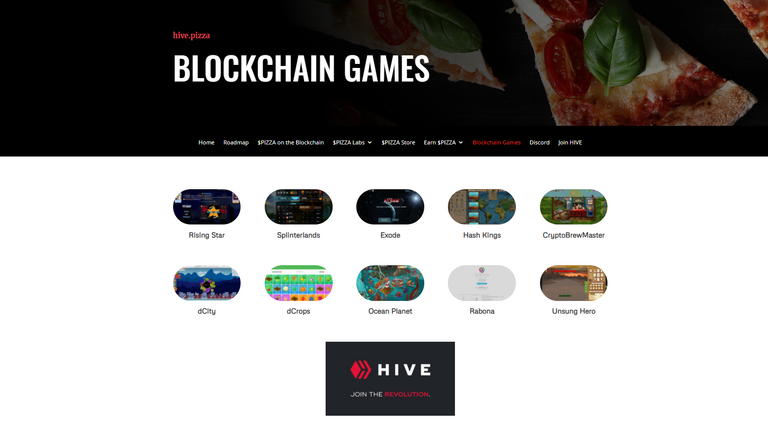 PIZZA BURN
This week the PIZZA team burned over $7,000 USD of za, removing it from circulation! We salute thee, tasty 'za!
Splinterlands
Our Splinterlands guild is continuing to kick ass and take names! It's grown so much, we've actually launched a second guild to help grow our roster of SPL Champions! We're now introducing, Pizza 1: The Stuffed Crust and Pizza 2: The Deep Dish 😋 🍕
Check out our recent most recent BRAWL ranking!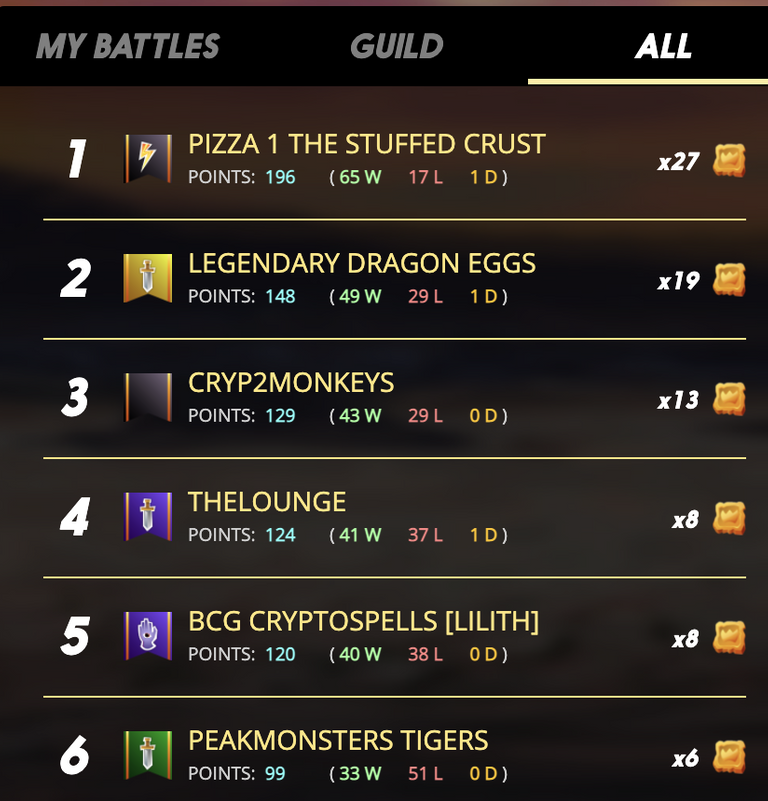 CURATION OPPORTUNITY
We will be heavily curating posts that promote the PIZZA token and highlight the amazing things and ways to earn that we offer. If you'd like to see that sexy 100% upvote from the hive.pizza curation account, make sure you tag @hive.pizza or include the #hivepizza tag!


Delegation Update
We're very quickly nearing the 70k delegation mark! We're currently at just over 61k which means we're only ~8k delegation away from adding another 10 PIZZA tokens to the daily rewards pool for delegations! We have something special planned for the 100k delegation mark!

TOKENOMICS
| Circulating Supply | Staked | Burned | Max |
| --- | --- | --- | --- |
| 426,380.6 | 277,151.60 | 744,619.40 | 100,000,000.00 |
---


Wallet Status


4351 wallets hold $PIZZA
0352 wallets hold >= 20 $PIZZA (bot access level 1)
0060 wallets hold >= 200 $PIZZA (bot access level 2)
0029 wallets hold >= 1000 $PIZZA (badass level)
0008 wallets hold >= 10,000 $PIZZA (baron level)


PIZZA / VIBES GIVEAWAY WINNERS
We recently ran an awesome giveaway with the MusicForLife community and are excited to announce the winners!
1st: @zonadigital21
2nd: @regeneretta
3rd: @gr33nm4ster @cooperclub Vadem @thaishps
1st place receives 300 VIBES and 10 PIZZA tokens
2nd place receives 100 VIBES and 10 PIZZA tokens
3rd place receives 25 VIBES and 5 PIZZA tokens
Thank you for participating and if you have not already, come join us at PIZZA! We are building so much at HIVE!
Discord Submission
We love Pizza, it's a fact! Pizza is the bond that brings us together. In the Discord we encourage our $PIZZA family to share photos of their pizza creations or of 'za they are trying throughout their day.
This week, we are choosing THREE winners from the Discord!



First Place
Submitted By: @shauner
Award: 15 $PIZZA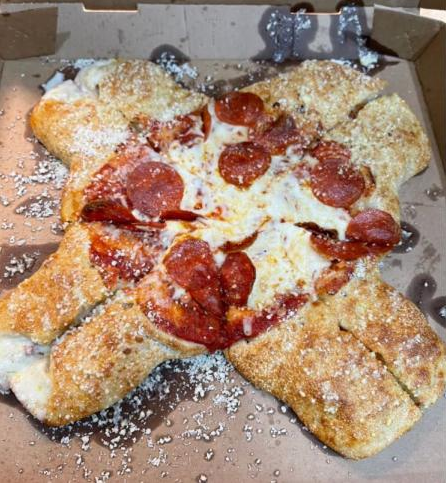 Second Place
Submitted By: @shmoogleosukami
Award: 10 $PIZZA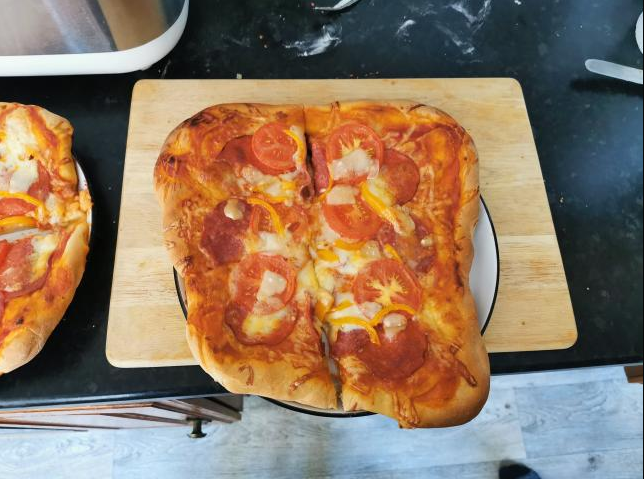 Third Place
Submitted By: @dartan
Award: 5 $PIZZA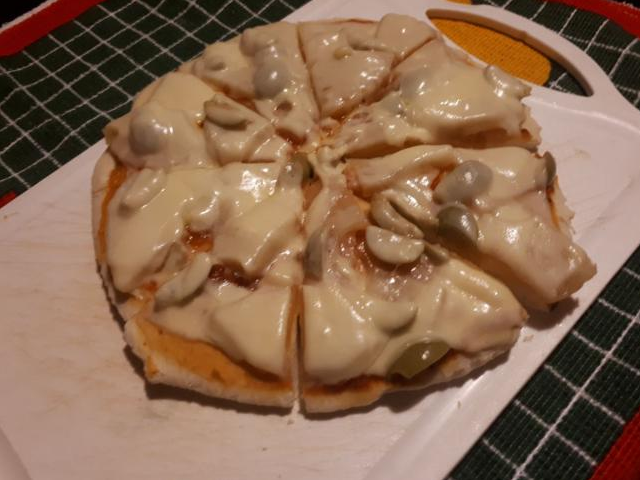 Thank you for your participation and enjoy your tasty $PIZZA tokens!

REWARDS
Top 10 Staked Leaderboards


Date: 9/05/2021
Token: #PIZZA
This weeks bonus: 8%



Want to get in on the action and secure your own weekly bonus rewards?
You can buy $PIZZA on LeoDex, TribalDex, or Hive Engine!
You can earn up to 10% back in the form of $PIZZA and other tokens by knocking our current leaders out and claiming your spot among the top!
@pizzaconnection @cooperclub @stickupboys @dadspardan @dibblers.dabs @fireguardian @shauner @hivetrending @pockettrader @brofundholdings
Lucky 5 Weekly $PIZZA Holders
(randomly chosen weekly from all holders with >= 1 $PIZZA in their wallet)
These lucky winners have won 3% of their staked $PIZZA holdings value back!
Remember, the more you have staked the more you can increase your lottery winnings! You can also secure guaranteed weekly winnings by being in the top 10 staked holders list! The rewards are up to 10% back weekly for our top 10!
@amico.sports @automaton @dbroze @traciyork @trumpman
BONUS 5 Weekly 500 $PIZZA Holders
These 5 bonus winners are drawn from holders with >= 500 $PIZZA
Remember, the more you have staked the more you can increase your lottery winnings! You can also secure guaranteed weekly winnings by being in the top 10 staked holders list! The rewards are up to 10% back weekly for our top 10!
Congratulations and thank you for locking up your tasty za! Enjoy your bonus rewards of 3%!
@creodas @hykss @kaelci @eirik @ciderjunkie
Daily Winners
Congratulations! You have won 5% of your $PIZZA holdings back in additional $PIZZA!
@naythan @pixelfan @atexoras.pub @khan.dayyanz @pixiepost @marshmellowman @tribesteemup

DELEGATE TO PIZZA
You can also delegate your HP to our @hive.pizza curation account and farm your share of the daily $PIZZA rewards pool! The reward pool increases 10 tokens every 10k HP that is delegated to the account!



You can also check out the HIVE.PIZZA website here.
Buy $PIZZA
Leodex
Tribadex
Hive-Engine

Join the Discord and $PIZZA NATION

Join our curation trail here
Vote for us as Hive-Engine witness here
Vote for us as HIVE WITNESS HERE
d
---
---