These Damn Fords Are At It Again.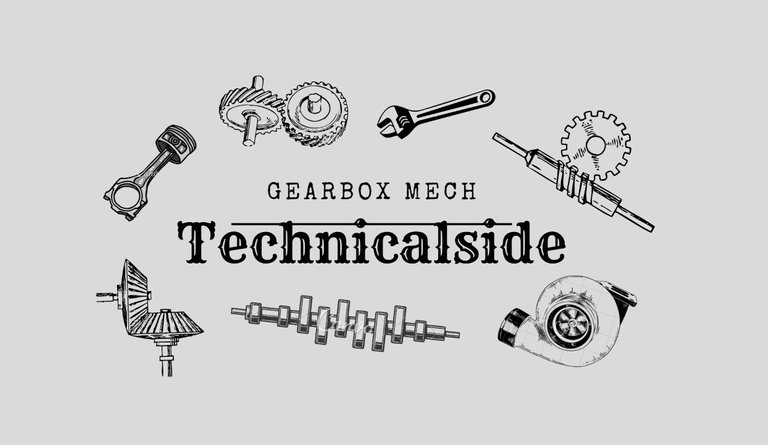 Well Hello There Fellow Technicians And Hivers
What a day today was! Waking up hot, going through the day hot, and well getting into bed tonight hot!
This immense heat is a killer! I suppose that's why I am working on a Ford transmission today. I suppose it also decided to go pehhhh with this immense heat!
Let's start from the beginning, So bossman told me to give this transmission a teardown but since it was an oily and greasy mess I decided to give it a wash with the WAP. I didn't even close the breather holes or anything since I am going to open it up now. It's going to be quite a job just to replace one bearing inside, the input shaft bearing.
A full out teardown for one bearing. Nice.
The filth ridden transmission.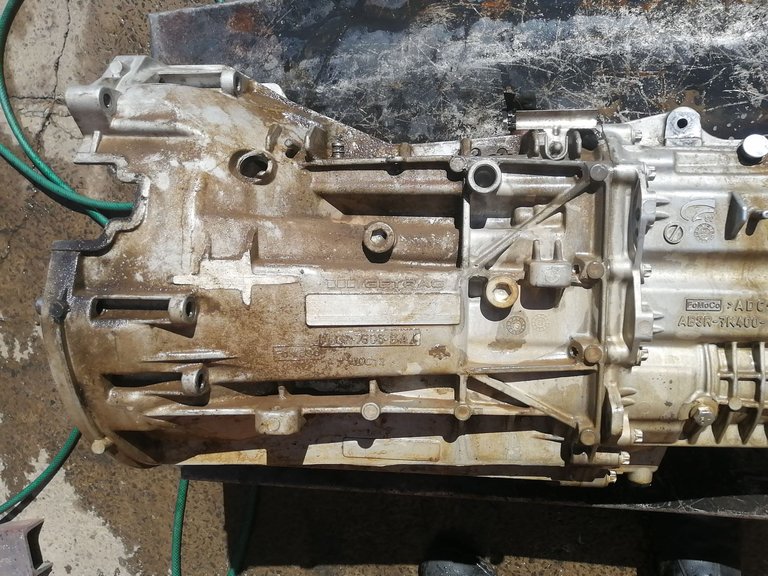 Now even I was surprised at how clean it came out, I didn't even have to wash it twice, it came clean the first round.
What bothers me is that the client says he bought the pickup brand new but by the looks of it, it seems to me that the transmission has already been rebuilt before. I noticed a few replaced parts along with some stripped bolts, it's funny how people can never be honest and open about the history on their vehicles.
Nice and clean, as it should be.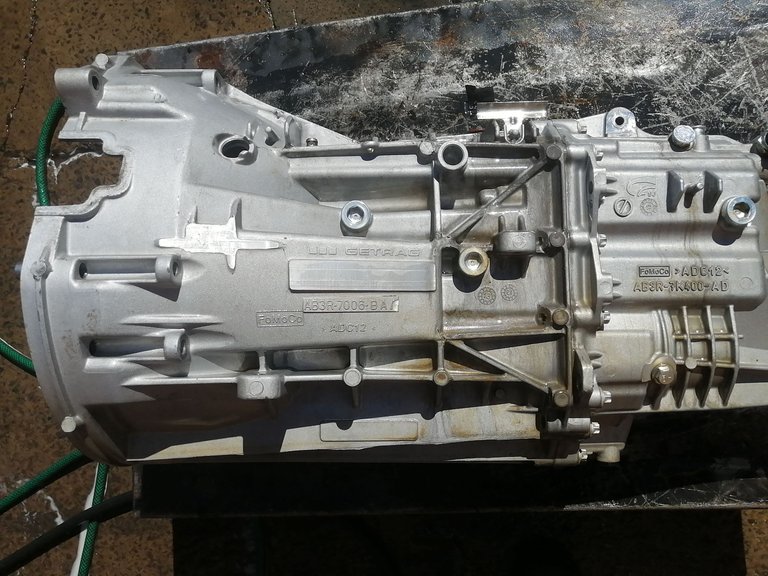 Even the bell-housing came silvery clean! And those are usually the part of the transmission that struggles the most to get clean! Mainly because of the crank seal leaking small amounts of oil and then the oil gets mixed up with the clutch dust and well it makes a thick grimey paste. If I had any wits left in me I'd say that this transmission was rebuilt less than a year ago!
Such a beautifull sight.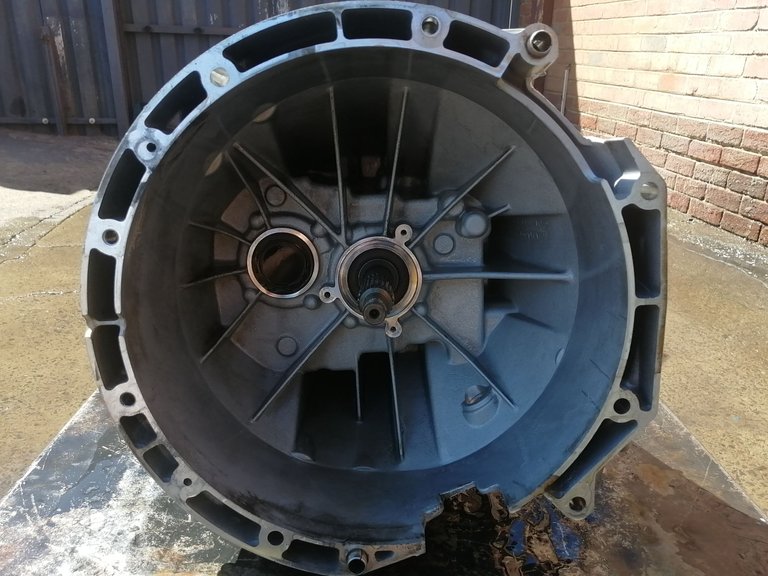 I mentioned earlier that the owner of the transmission said he bought the vehicle brand new, now this bolt driven through in the picture tells me otherwise. Now it might be true, it might be that he took the vehicle in for a clutch replacement and the technicians did some damage and scurried into a easy fix.
Well that easy fix gave us hell with the removal, the gearlink mount bolts onto the bolt shown in the picture, and it was an immense struggle to get is loose! As a matter of fact I wonder how my old man got it loose.
Never been worked on they say. Sure I said.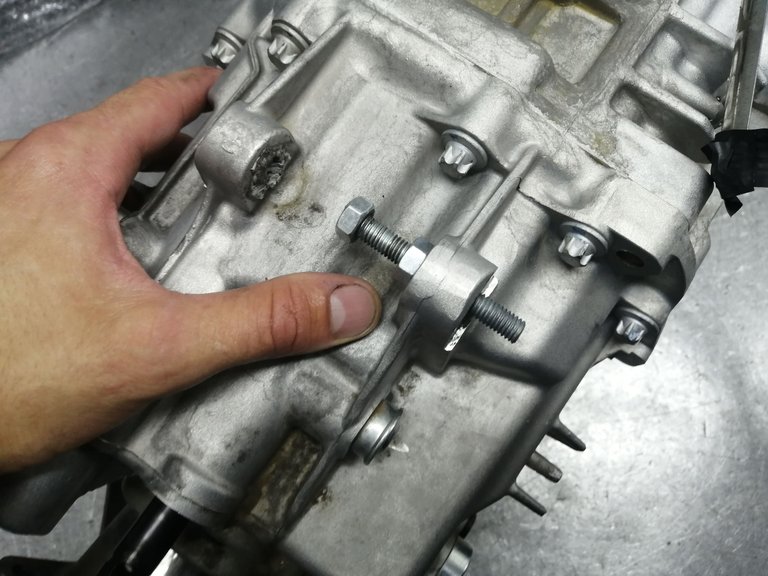 These are never the easiest transmissions to pull apart, however if you did it once I am sure you'd be able to do it again. However without a little bit of guidance from someone who has been through a tear down on one of these, either the six speed or the five speed they both can be a bit tricky and going in blindly... well... that can be problematic in some ways.
Basically what I am trying to say is you are bound to break a lot of stuff if you pull it apart on your own with no prior knowledge about the transmission.
Already splitting apart.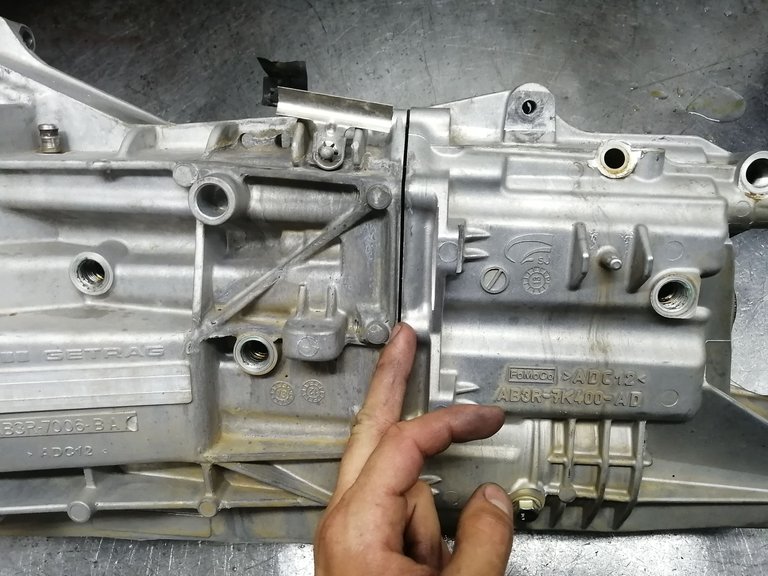 Whelp, it seems to have a lot of dirty grime inside the transmission, now draining just the oil you would think nah this is still good to go, and to be honest it is still good to go, except for the input bearing.
Luckily most of that grime gets trapped at the bottom of the transmission where the magnet resides. But still if I happen to buy a second hand vehicle I would surely pull the transmission and give it a thorough cleaning even though it won't be necessary. It's all about knowing it's clean inside and if I know it's clean I'll feel more at ease.\
For those who have seen a few of my posts, I am going to refer back to a specific one where I shared some stuff around an automatic transmission. Go check it out and take a good look at how clean the automatic transmission looks inside even though it's completely buggered! The Plan For The Problematic Problem check out the difference. The automatic is as clean as it will ever be and this manual is filthy. Now that's because ATF (Automatic Transmission Fluid) has additives to keep the grime from sticking to the casings and keeps it flowing in the oil.
She's filthy inside I can tell you that much.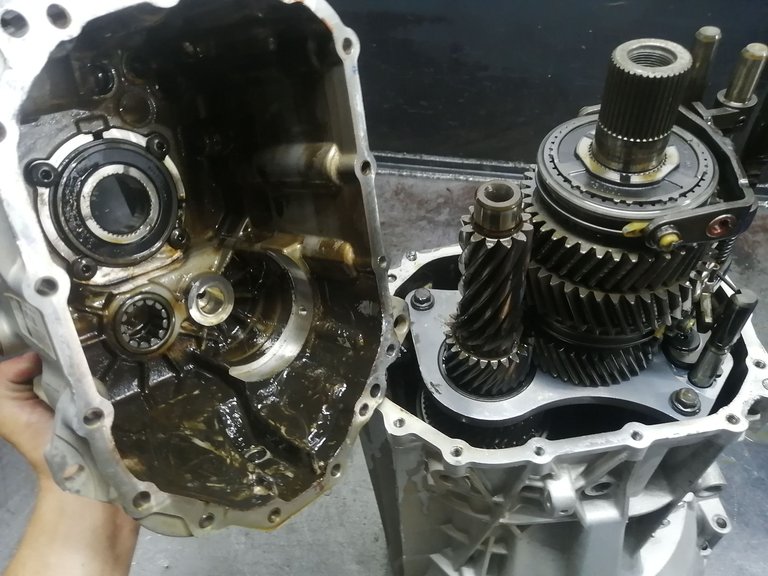 Even though it's hella dirty inside, I can admit that I have seen a lot worse, and I mean A LOT worse.
Notice all the metal shavings sticking to the magnet?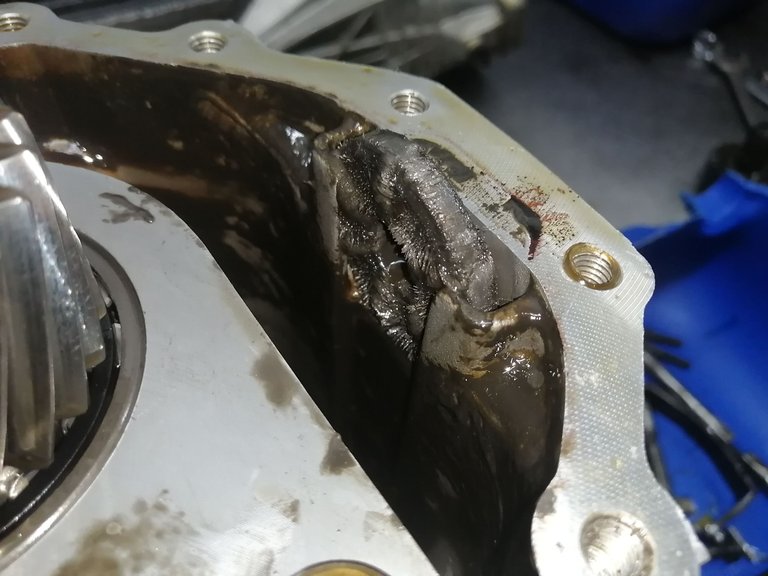 The hardest part about the tear down on this transmission is to get the gear shifters out, they have a specific way to pull them out and well it can be somewhat brain crunching. Breaking them is not an option as these are parts that rarely have to be replaced. I'm not even sure those are parts that one will be able to buy, well at least not in my country.
It's those yellowish white tips that tends to break.
The troublesome gear links!
It's safe to say that you can't do a proper tear down of this transmission with the simple and basic everyday household toolbox. You need some proper bearing pullers to get some of those gears off.
First I used the smaller puller to remove the first set of gears and sliding hubs. If we didn't have air tools or pullers I would have been struggling all day!
Pulling the first set of gears.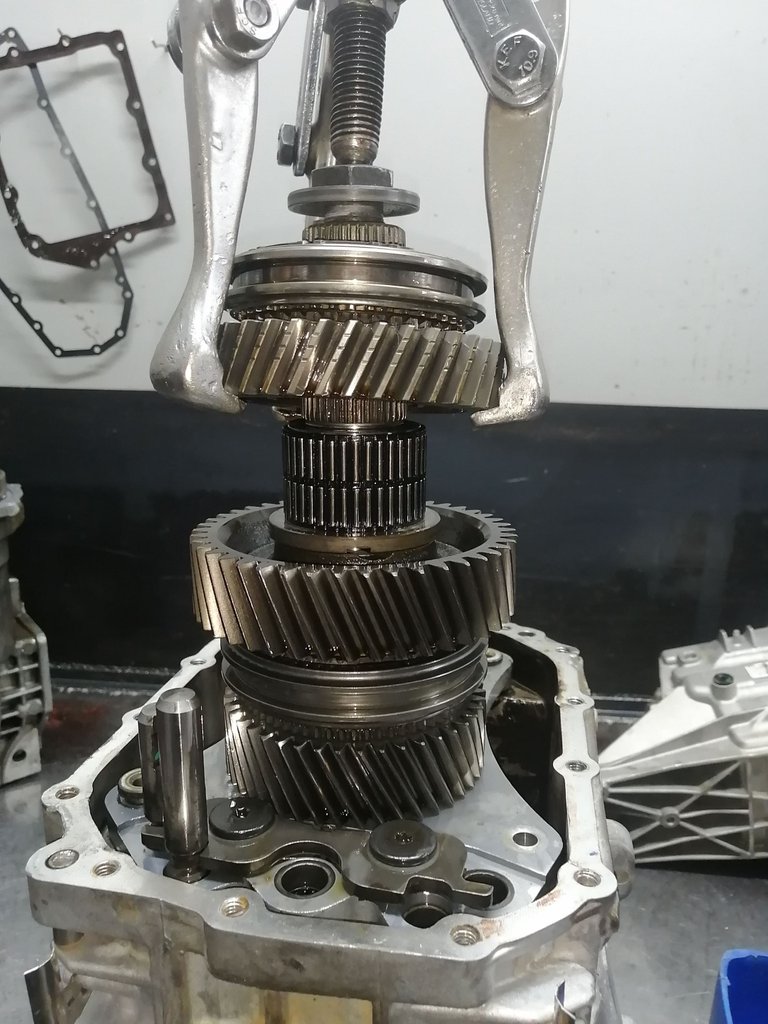 After pulling the first set I can now get the mother of all pullers and well remove the final gear and sliding hub. Needless to say but I used the air tool to get that one removed, you know something that packs a nice shock and awe!
Pulling the second set of gears with the biggest puller we have. It made for easy work!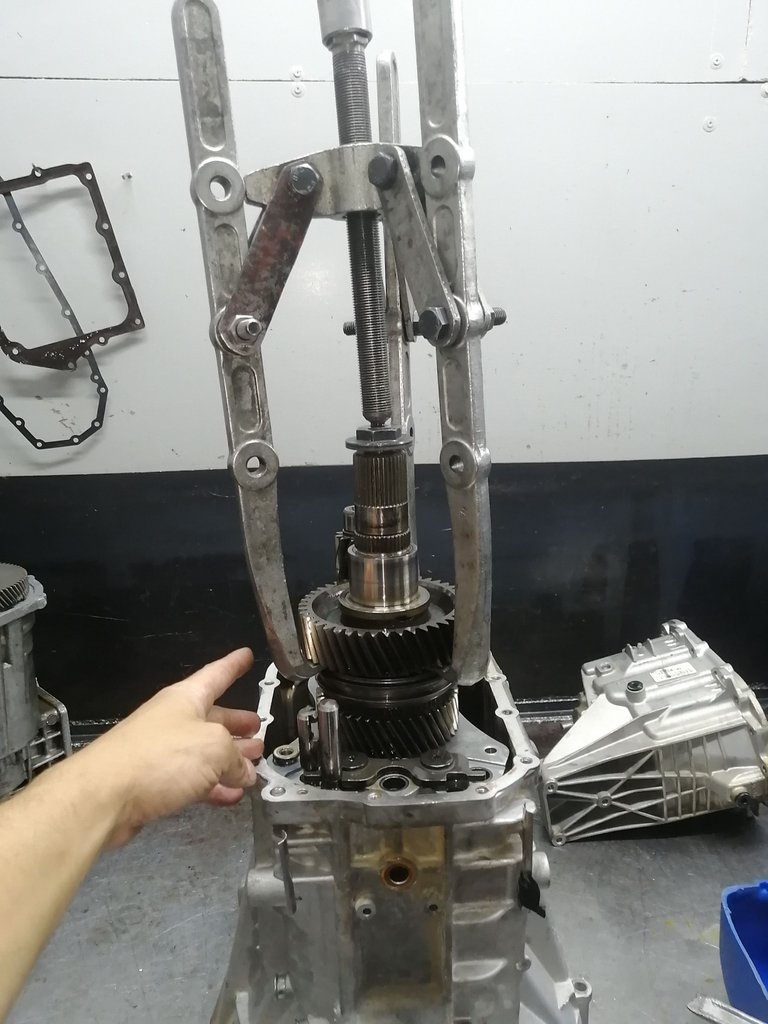 Once the gears are removed I can now easily remove the mid plate of the transmission, most would notice that this mid plate is built into the transmission and isn't actually apart of the casings as most other transmissions. This midplate that's located inside the transmission is what makes this one so difficult or rather complicated to strip. It's very easy to tear it down the thing is you just have to know and once you know it's almost like muscle memory, it just happens.
Wondering what Ford thought when they introduced this mid plate into their designs.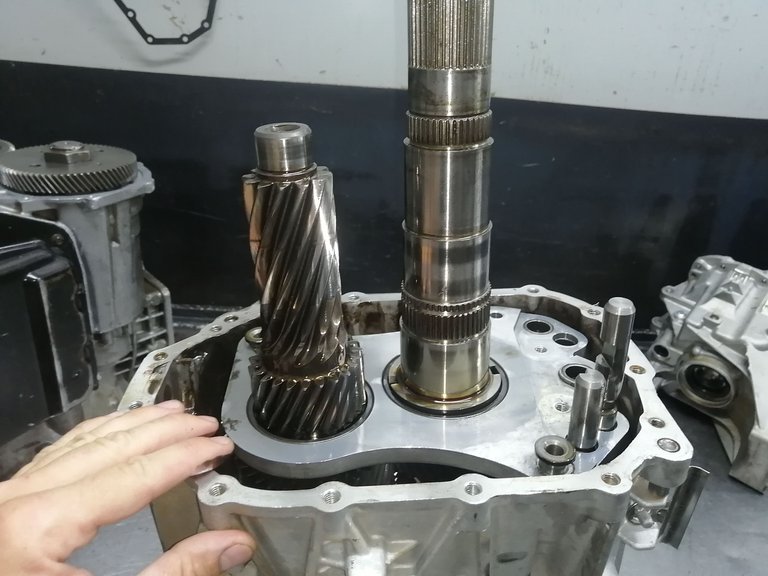 Once the mid plate was removed I was able to reach down and remove the rest of the gear forks that remained in place from here on it should be simple work to remove the main shaft and the cluster shaft.
Only the two shaft remaining and then that's that, kind of simple ey?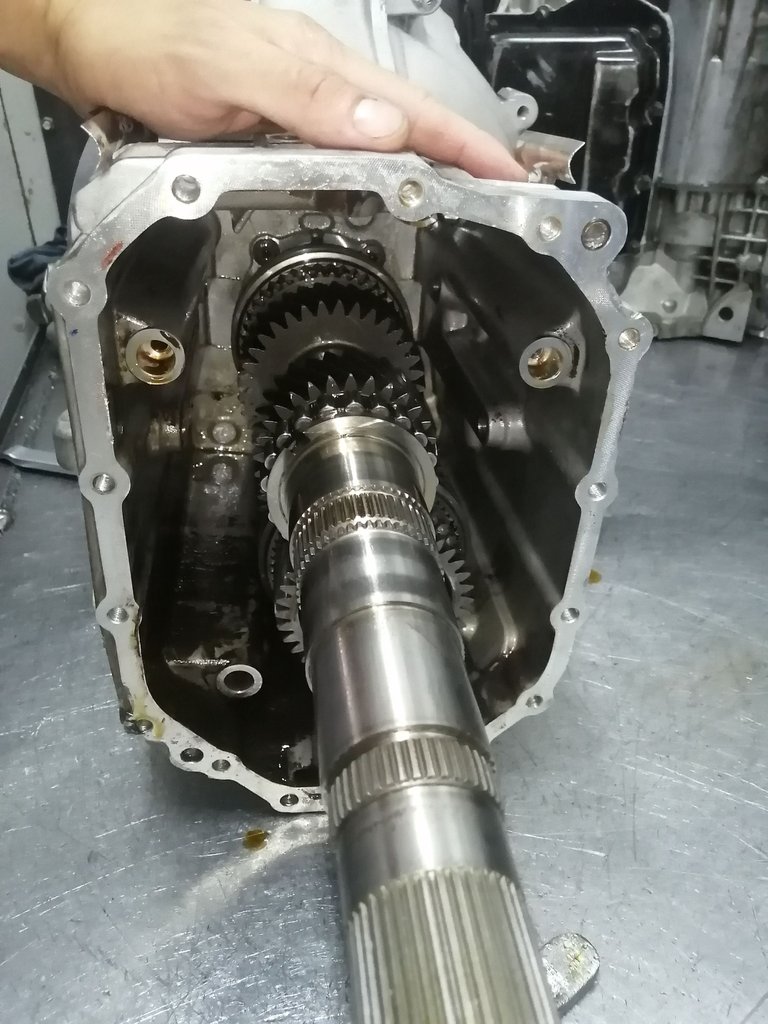 Different angle from the photo above.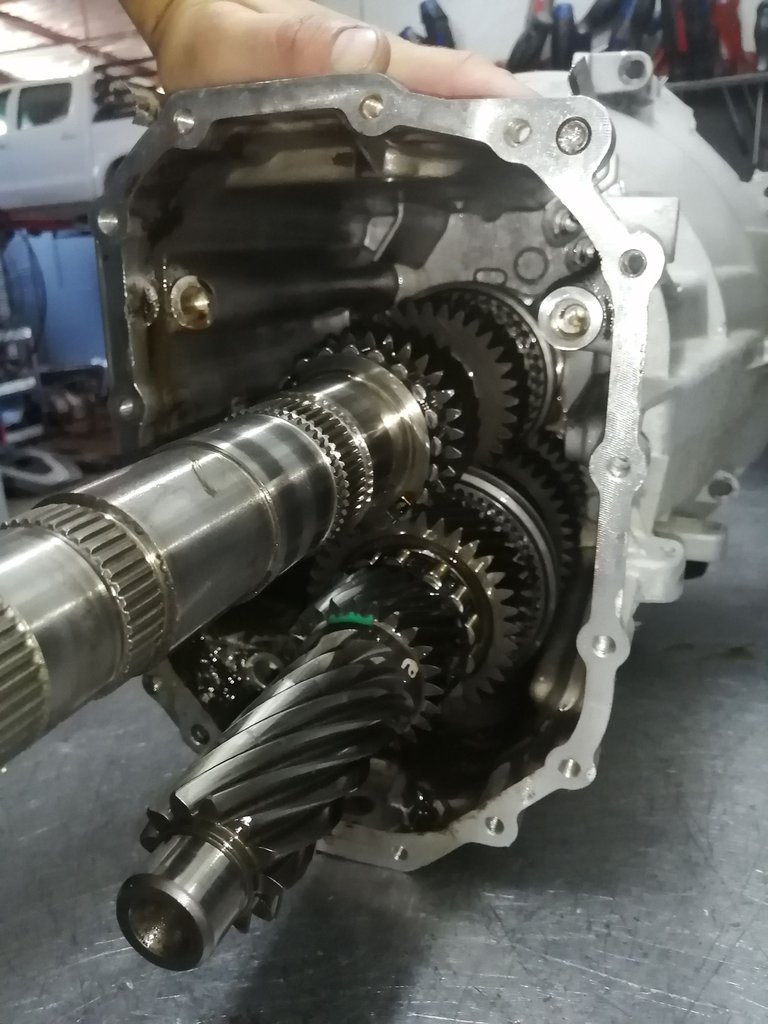 We wont be tearing it down much further than need be ey, the client only wants the most necessary replacements done on the transmission and when it brakes again in the near future it will be treated as a completely new job.
All done and waiting to be thoroughly cleaned before stitching her up together again.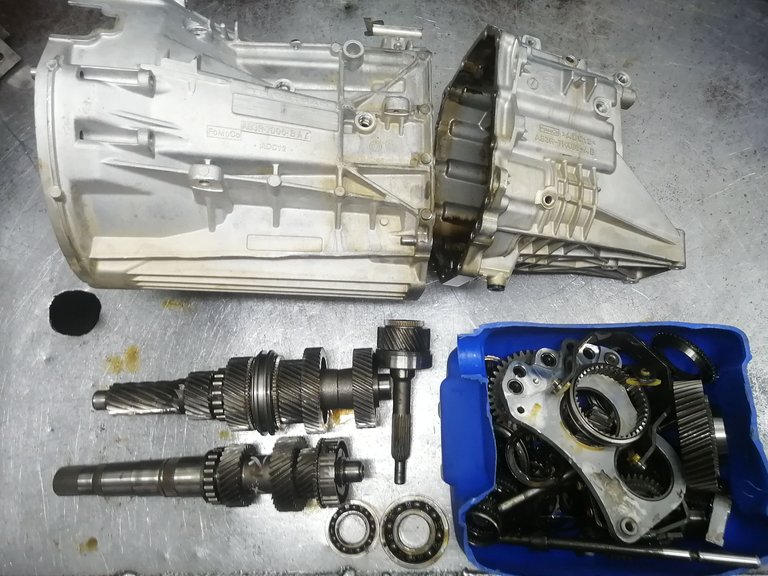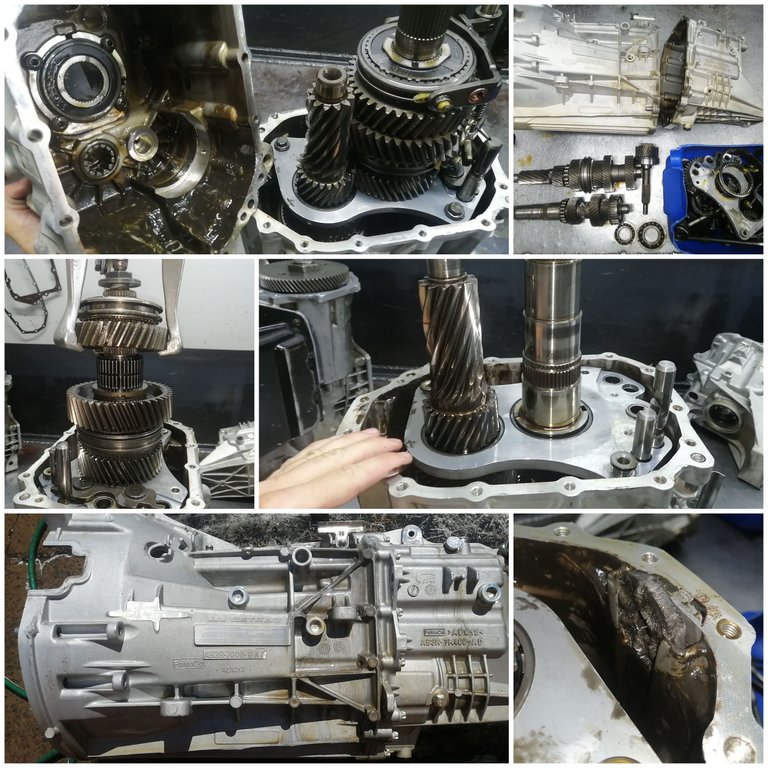 Dated 16/01/2023

To everyone who made it this far into my post Thank you for the read and the support.
If you found this entertaining or educational please consider a re-blog and up-vote.
Most of all please leave a input in the comments below, whether is good or bad critic I would like to know, whether its your opinion or your way of doing things in a different manner I would like.



Connecting the people of #HIVE across South Africa. #hive
---
---