Oven Baked Fusilli, With Spinach And Chicken 🍽 Using Leftover Ingredients
After baking my version of Potato Au Gratin, I had some ingredients left, that had a short window before expiring. Knowing that I also had half a package of fusilli left in my pantry and some complimentary ingredients, I decided to try out my oven baking skills one more time.
---
For this recipe I again used butter, cornstarch (if available all purpose flour could be used instead), whole milk, shredded cheese and salt and pepper to taste for the roux (read When Going The Extra Mile Is Worth It 🍽 My Take On Potato Au Gratin for exact measurements).
For the rest of the oven baked fusilli a piece of chicken breast, 250 g fusilli, lasagna sheets, spinach, fresh basil and oregano were used. Because I already had an open jar of black olives, I decided to add those (a handful) as well. The olives are optional though.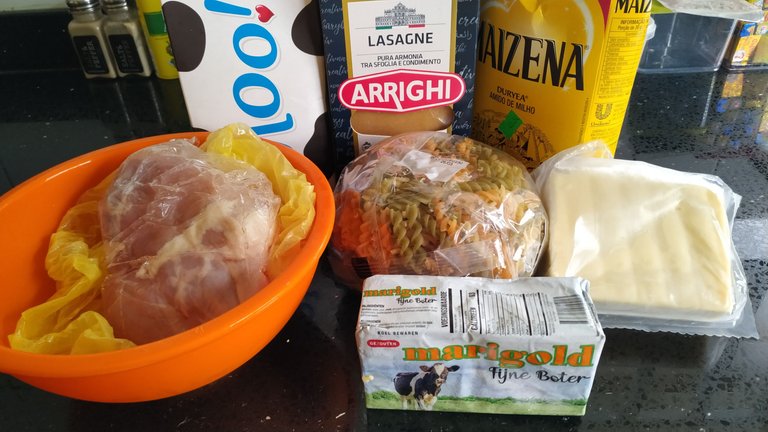 Allocated time is approximately two and a half (2.5) hours of which one and a half (1.5) hours is needed to bake in the oven (depending on the oven and one's pace during preparations).
Cooking the pasta usually doesn't start at the beginning of the process, but as I was already boiling the chicken (with a pinch of salt) on the stove, I decided to do the same for the fusilli and to place the lasagna sheets in warm water.
While the chicken and pasta were cooking, I harvested some spinach, basil and oregano from the yard and washed the vegetables in water with a little bit of salt. After that, I chopped the herbs into smaller chunks and cut the spinach into thin strips. The cheese (there was Gouda left) and chicken also needed to be grated and pulled into thin slices respectively.
It was then time to start on the roux (read this post for the exact steps) and after the base of the sauce was done, salt and pepper were added to taste. Before the herbs and spinach were thrown into the mix (1), I removed one ladle spoon of the roux and set it aside. Then the chicken was added (2) and after that the fusilli and olives (3). Kept mixing the ingredients in between.
1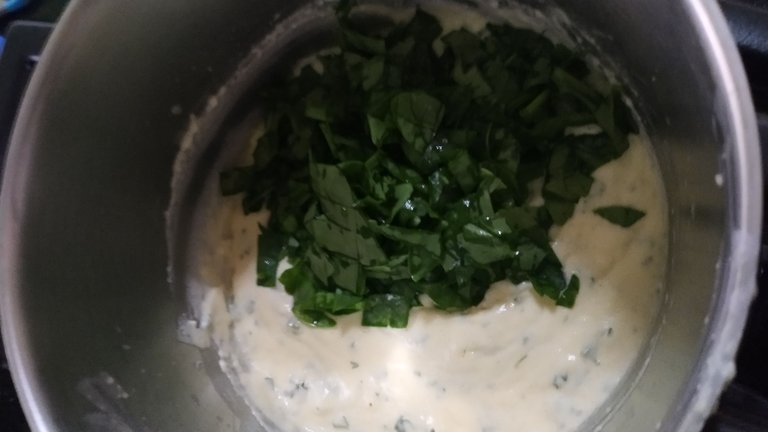 ---
2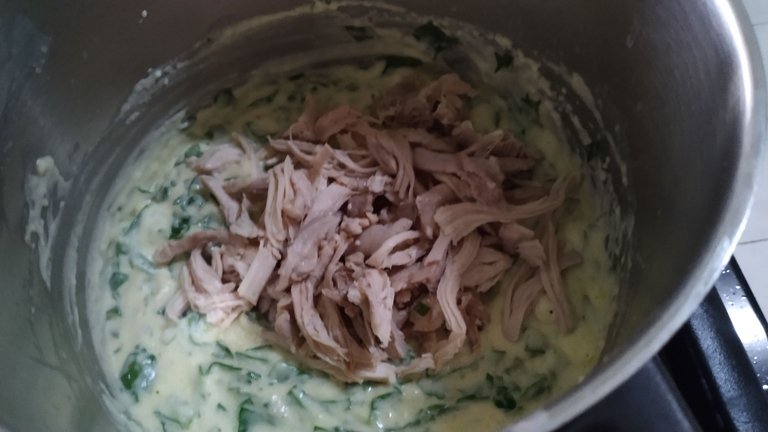 ---
3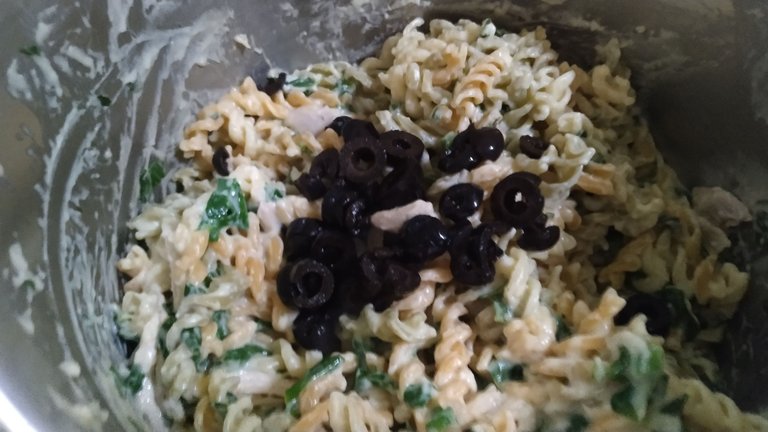 It was around this time that the oven got preheated at 400° F. When all was mixed in well, the pasta blend was evenly distributed on the buttered casserole (4). Then I placed the lasagna sheets on top, with the ladle spoon of roux brushed evenly over it (5) and the last (1/3) cheese got sprinkled on it (6). Foil was then placed over the casserole, which was then put into an aluminum baking sheet with a little water to bake evenly and in the oven it went.
4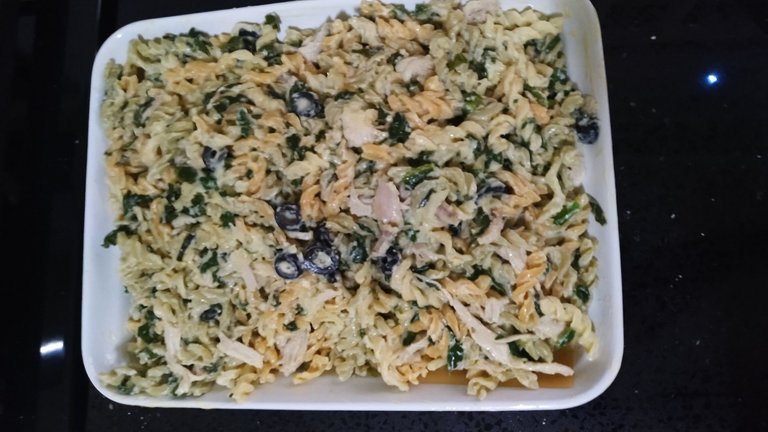 ---
5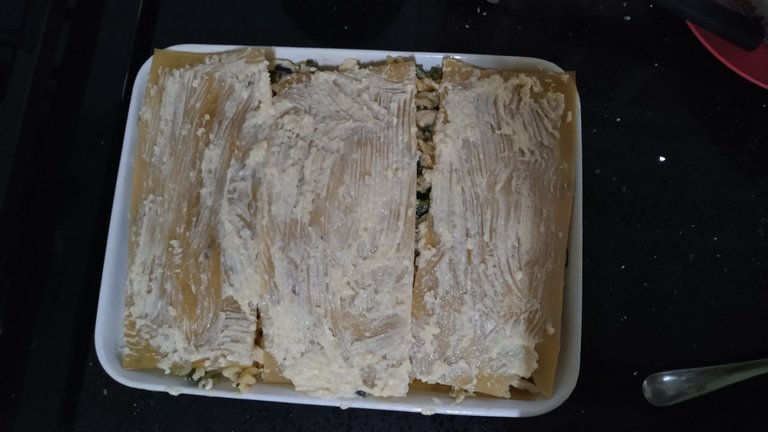 ---
6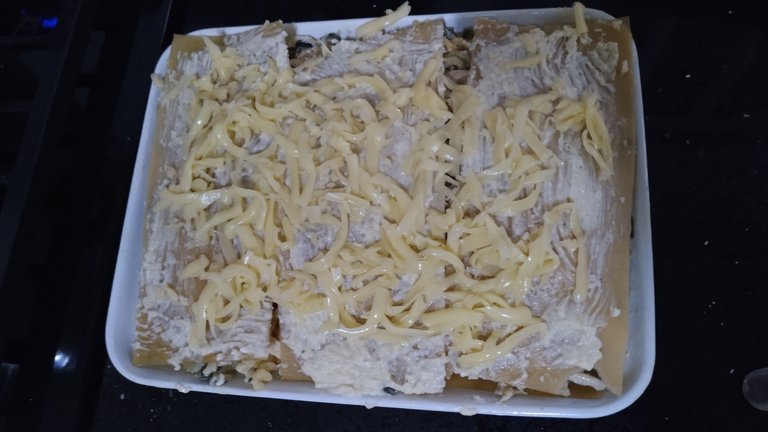 The oven fusilli dish baked for 1.5 hours in the oven and I checked it two times to verify it not getting burned. The tin foil was removed when there was only ten minutes left, so that the top could get that beautiful golden brown color. It could then be served with some vegetables and a meat or fish on the side, but having it on it's own is also an option as it has enough vegetables and chicken in it. The spinach flavor and herbs came through with a hint of cheese after.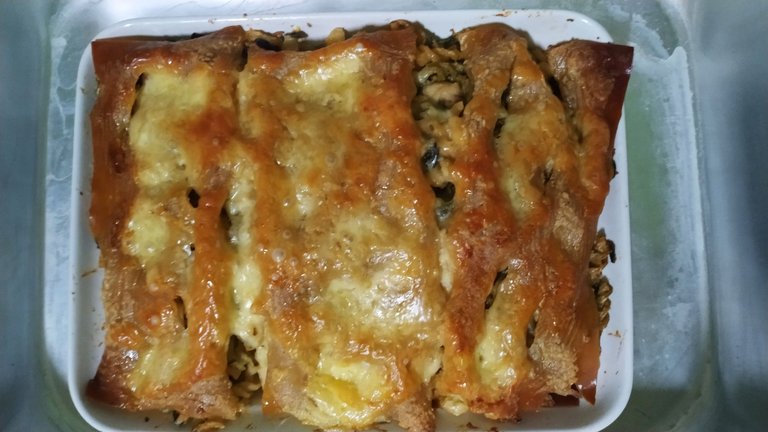 Though preparing this oven baked fusilli had taken quite some time, it was all worth the effort, because I not only got to enjoy it for a couple of days - i.e. not having to break my head over what to cook next - I also got to surprise some people with it. What recipe took the most time for you to prepare or follow? Let me know in the comments below 🤓.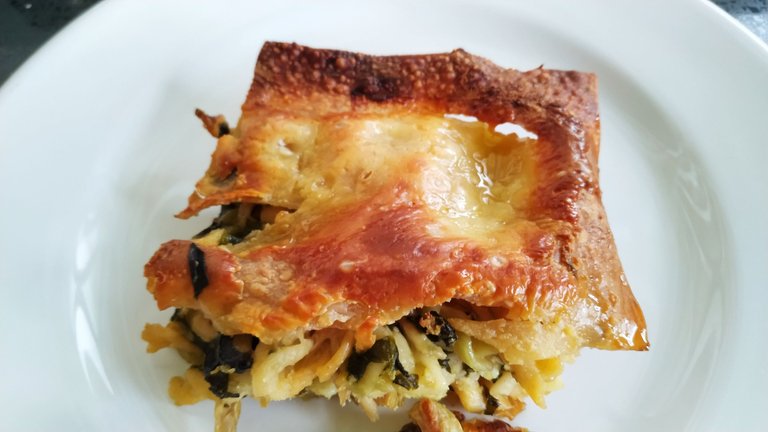 ---
Chasse into the backstage! 💃
---
---