Follow Friday: How many shopping days?
The News
It seems to have been a good week for Bitcoin, which generally means other coins may not do so well. $HIVE is still keeping a healthy lead over 'the other coin'. It is certainly a lot better than it was not too long ago. SPS is also doing well and you can use it to buy the new Chaos Legion packs on @splinterlands, even if you cannot open them just yet,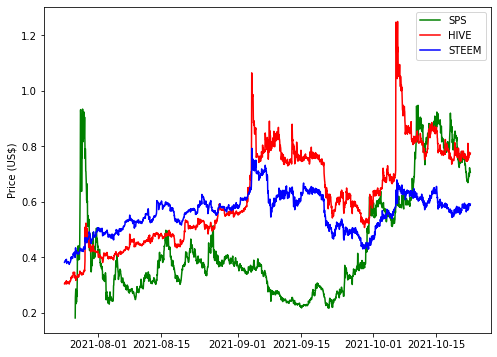 Plotted from @coingecko data
Seeing this post by @hive.pizza reminded me that we can spend what we earn here even when we do not have an easy route to fiat. On their store you can buy all sorts of games. At checkout you can opt to pay with $PIZZA or $HBD.
Another place you can buy and sell things is via @hivelist. There are NFTs listed there, but also physical items.
Friday Followables
I will feature people I find in these posts, but anyone can do a #FollowFriday post to help others build their following.
The Doghouse
I have seen so many people just chasing votes from various bots and tribes. You can get those automatically by using tags, but it really does limit how well you can do. It is much better to build a following of actual humans who will respond to your posts. What is the point of creating them if nobody will see them? I have seen some buying votes from one of the big dapps, but that may not be very profitable and is unlikely to increase their following.
My @proofofbrian bot is finding a few posts where people mis-spelled a tag when trying to earn tokens. It leaves them a comment to let them know. I have updated it to look for more variations.
The End
We are rapidly heading for the end of a year when so much has happened for Hive. I expect lots of people have targets of where they want to get to and I hope they can achieve them. Investing money and/or time in any crypto project has risks, but you can find a lot to enjoy here. It is not just about moving money around. Hive is people.
Hive five!
---
---