Tales of the Urban Explorer: Lofthouse Hill Golf Club
On June 1st, 2021 a devastating fire swept through a disused golf club torching over 80% of the buildings.
That is what the report says. We had to see it for ourselves. 20% of the buildings would be acceptable if they were not locked tight.
'Lofthouse Hill Golf Club' was closed around November 2019. Well over a year of being boarded up was always going to attract the local fire starters.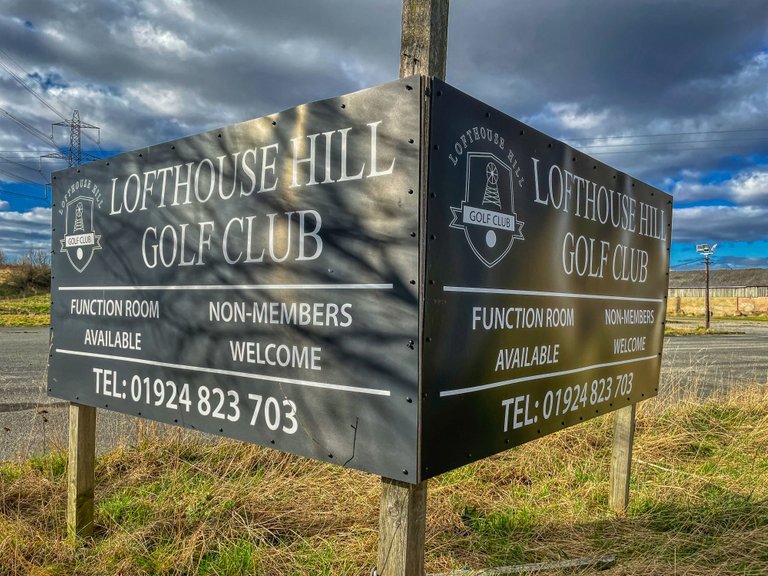 I used to play golf so have more sympathy than usual for what I was about to encounter. I am surprised the surrounding land has not been claimed by a property developer.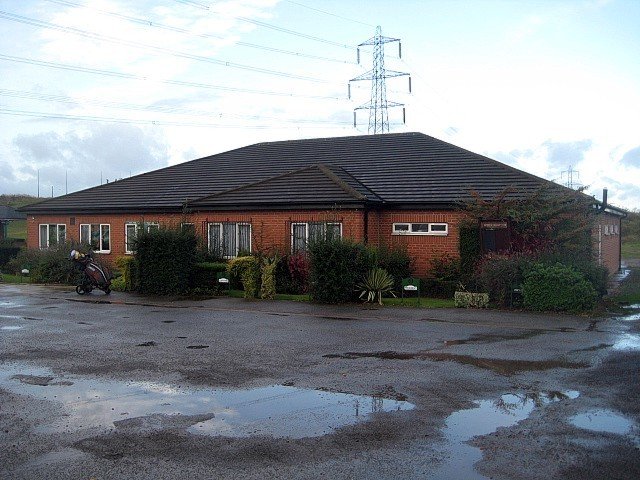 …'The Lofthouse Hill Golf Clubhouse in happier times, on a rainy day'…
Source

We had little problems breaching the gates, in fact, there's a public footpath complete with dog-walkers going right past the clubhouse.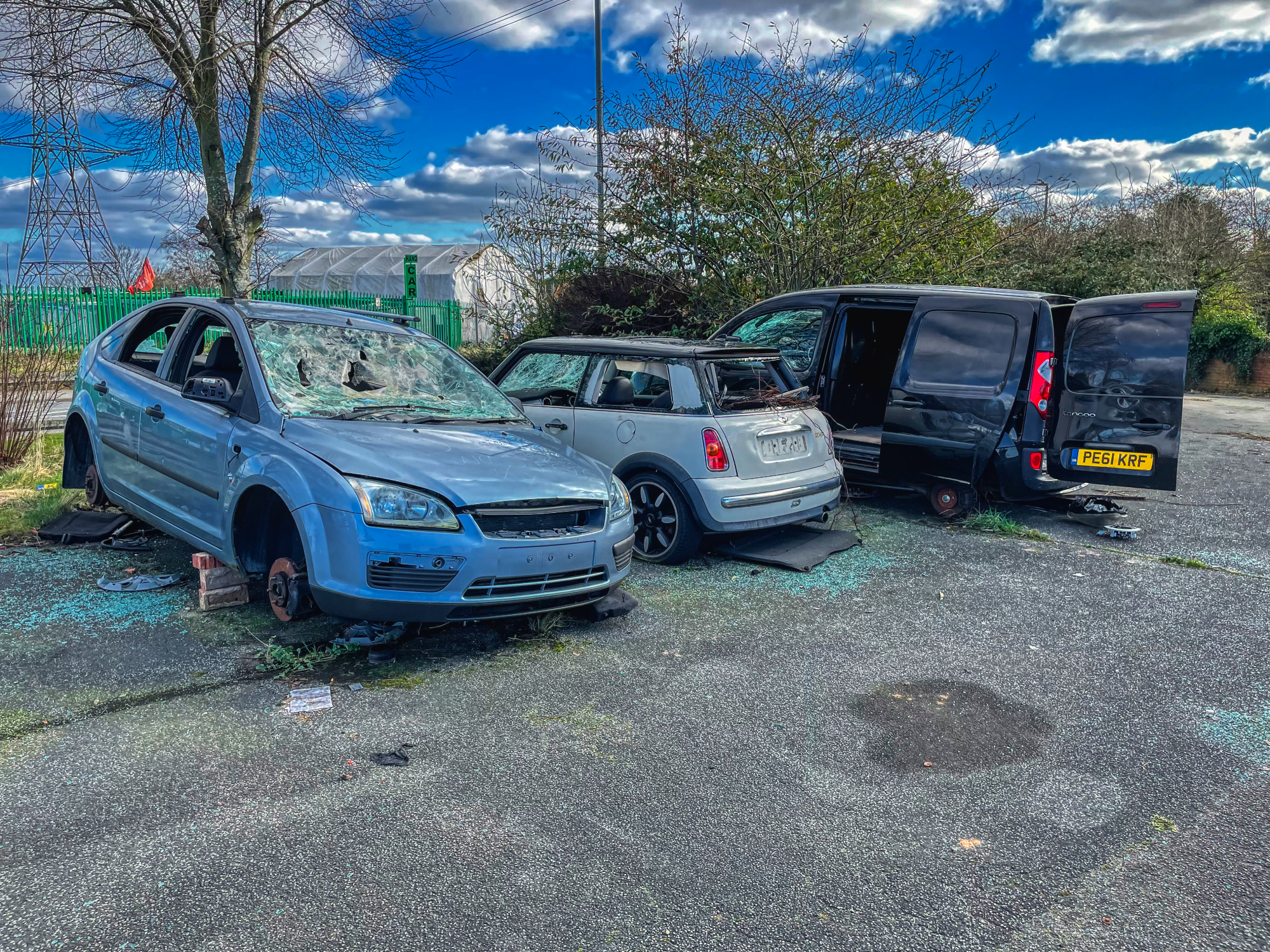 I noticed at once that the car park housed several car wrecks. Why is it that derelict buildings attract similarly derelict vehicles?
It's like they drive themselves onto the car parks in some kind of sympathy crusade.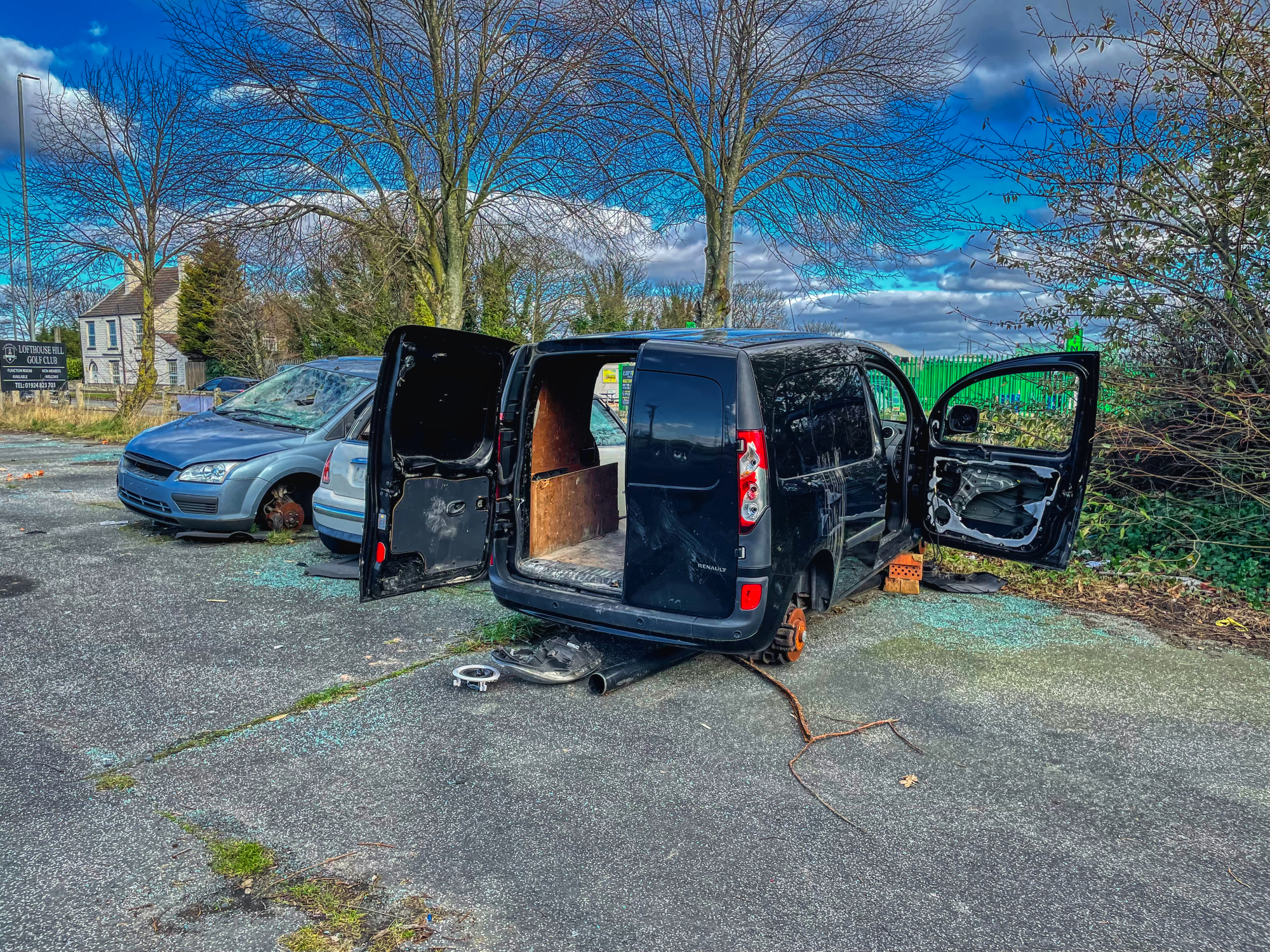 A couple of teenagers were scouring the vehicles but quickly left seeing us approach. We don't bite, contrary to popular myths.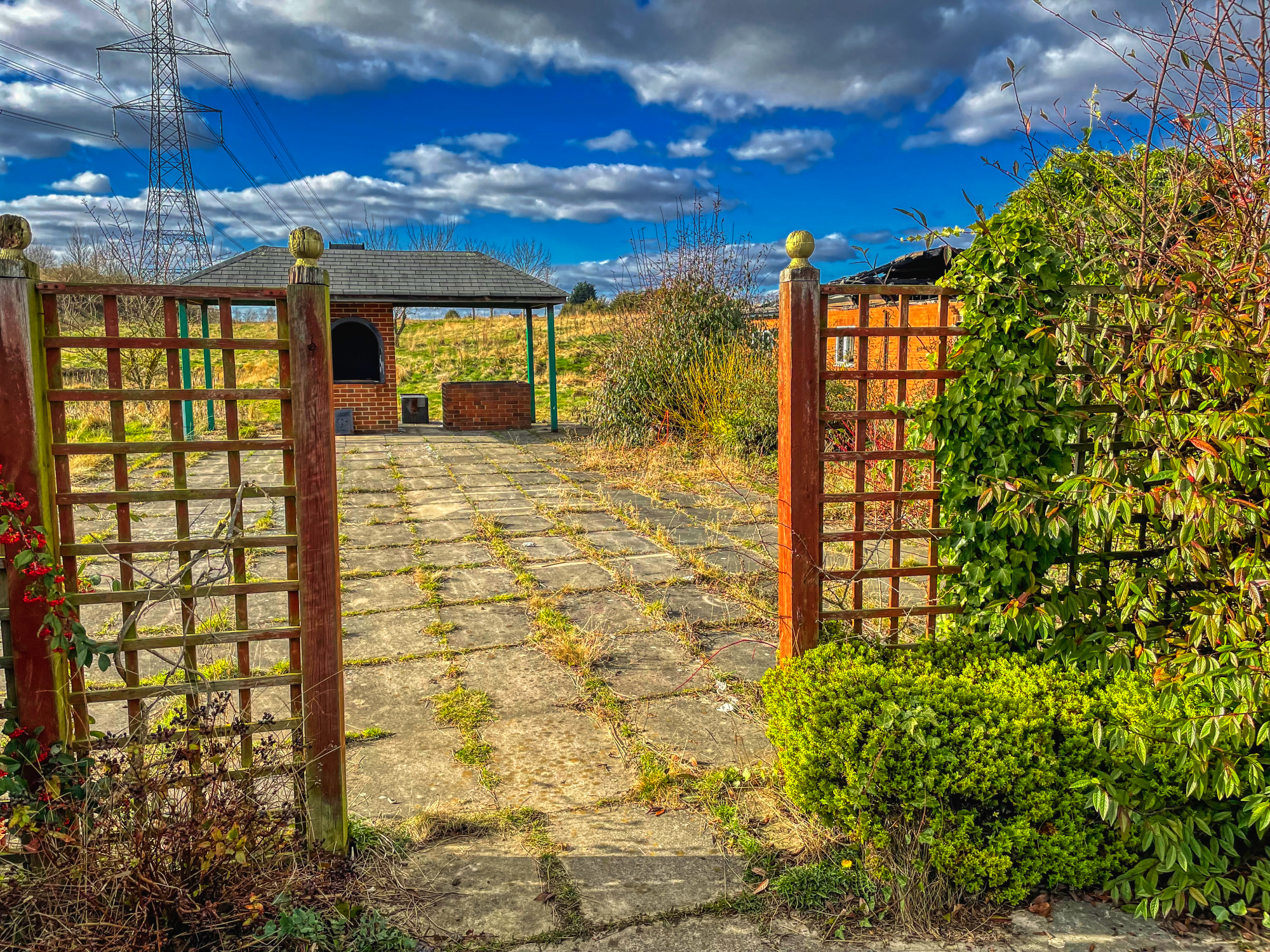 I am not one for fucked up cars unless they are vintage and so strode past them up to what was left of the clubhouse.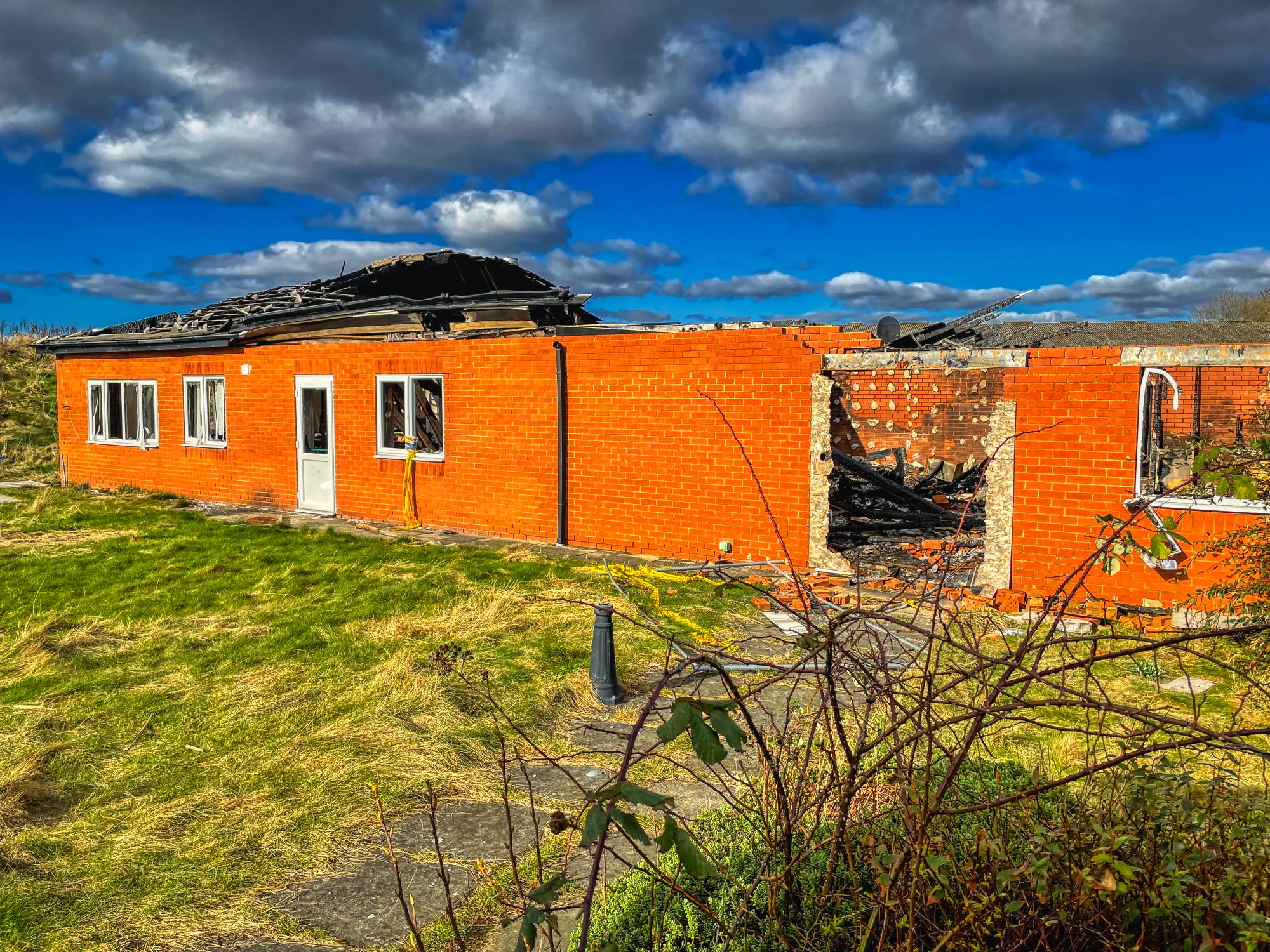 "We won't have any access issues here", I noted to @anidiotexplores who was already wading in through what was left.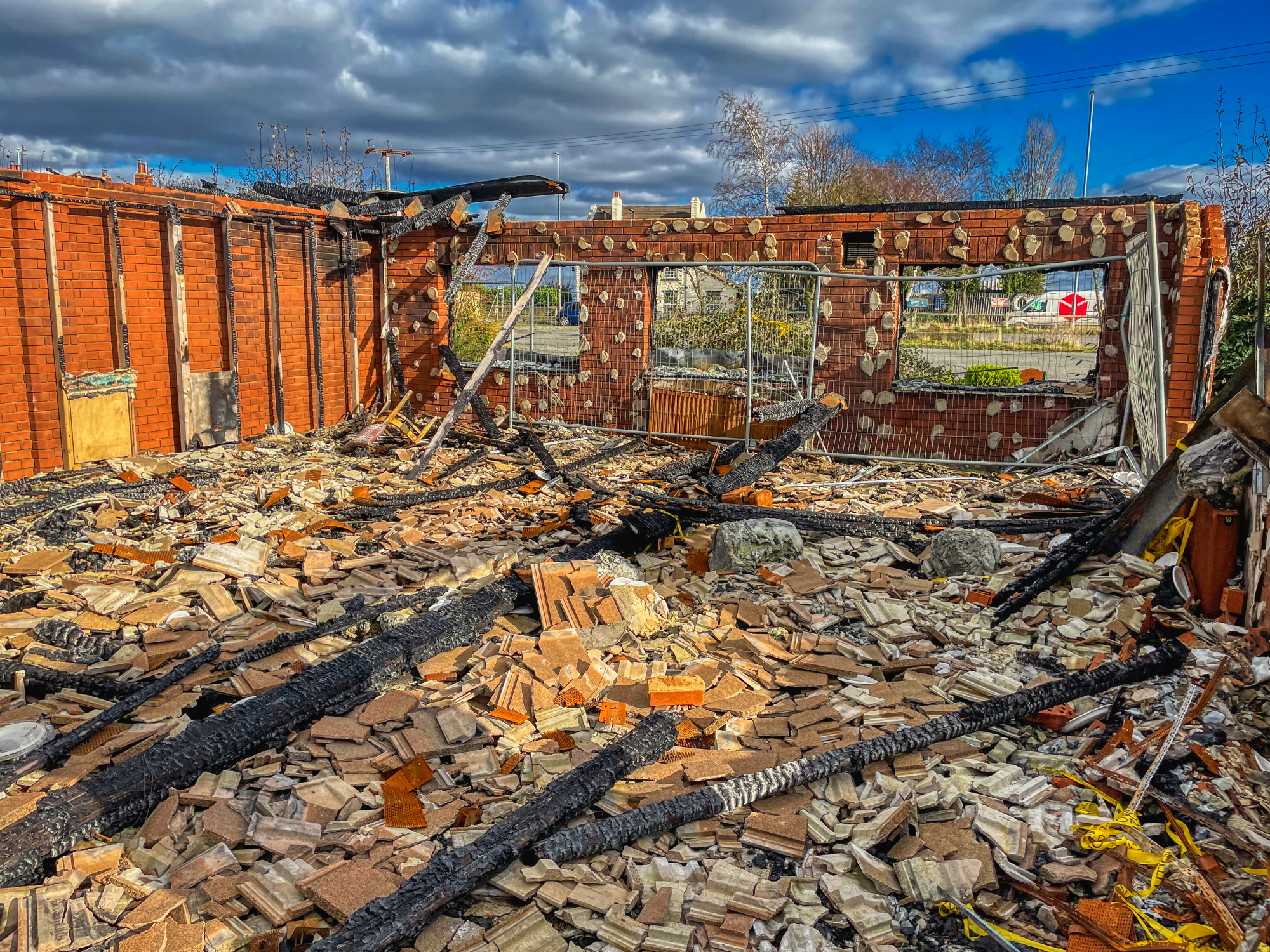 Through the big hole in the wall, I saw a mostly roofless scene and some utterly useless anti-climbing fencing.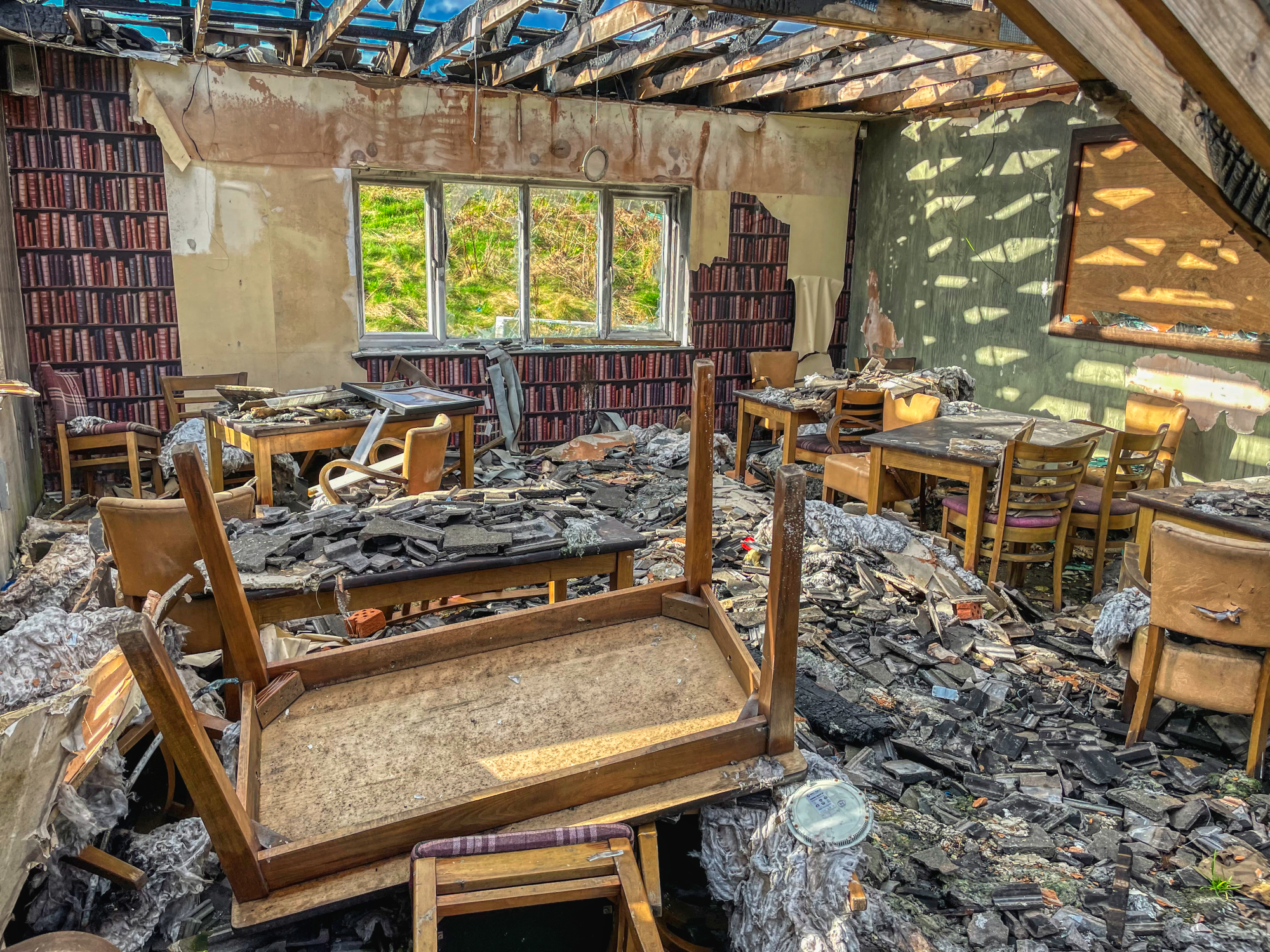 Looking in the other direction I spotted the 'fake books' wallpaper noting a little more roof had survived here.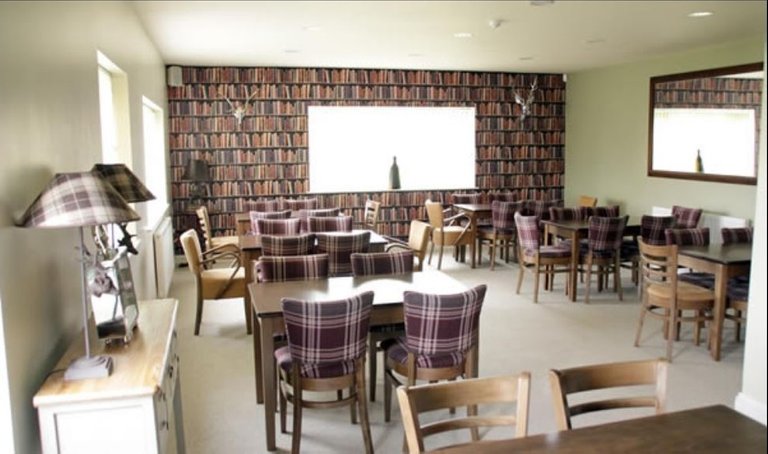 …'the same room in 2014 when all was well at Lofthouse Golf Club, those chairs had no idea what was coming to them'…'
Source

There were plenty of ways into Lofthouse Hill Golf Club via the windows, but it was unnecessary.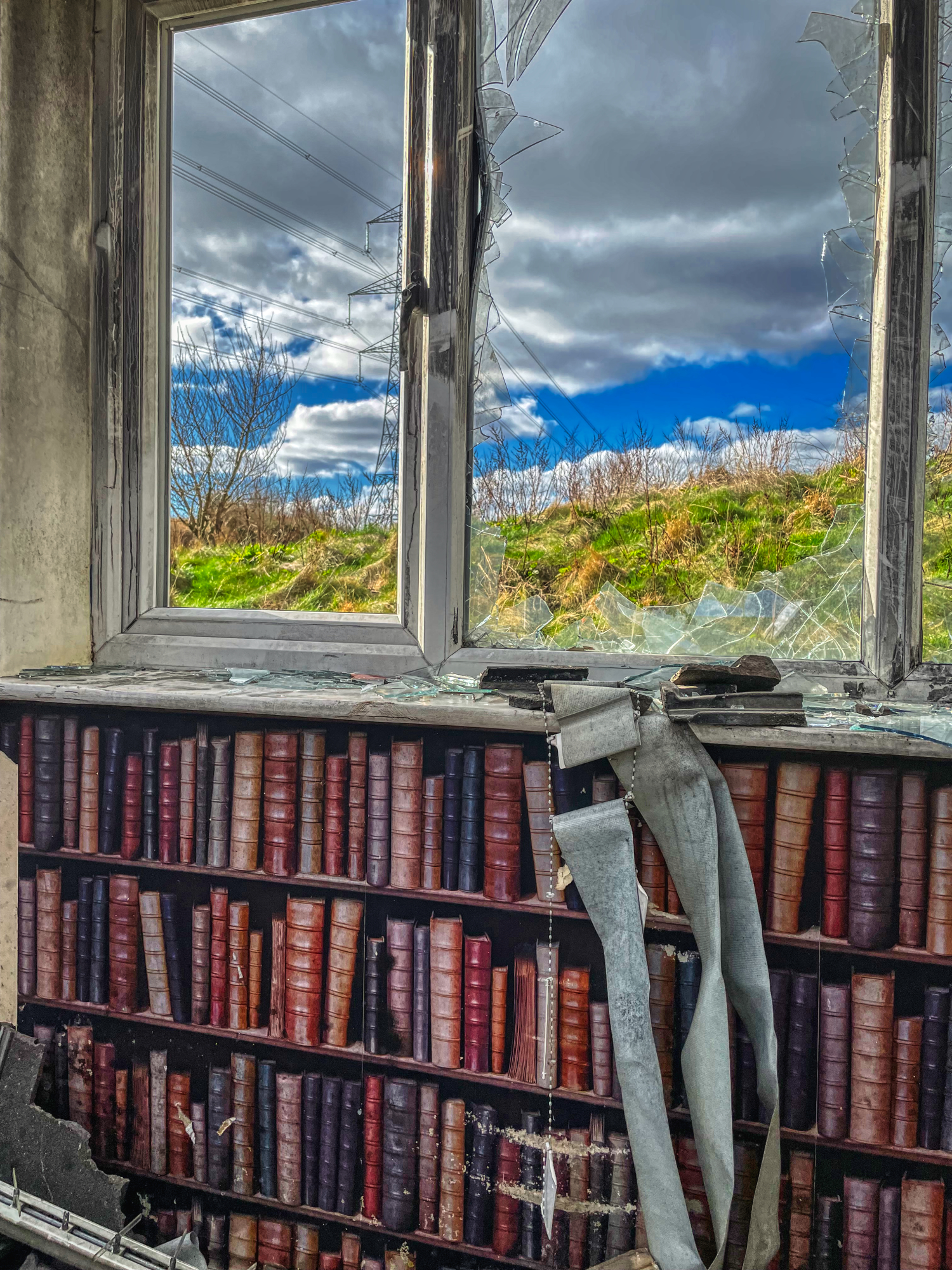 This end of the building may have escaped somewhat. The tables and chairs may be charred but not destroyed.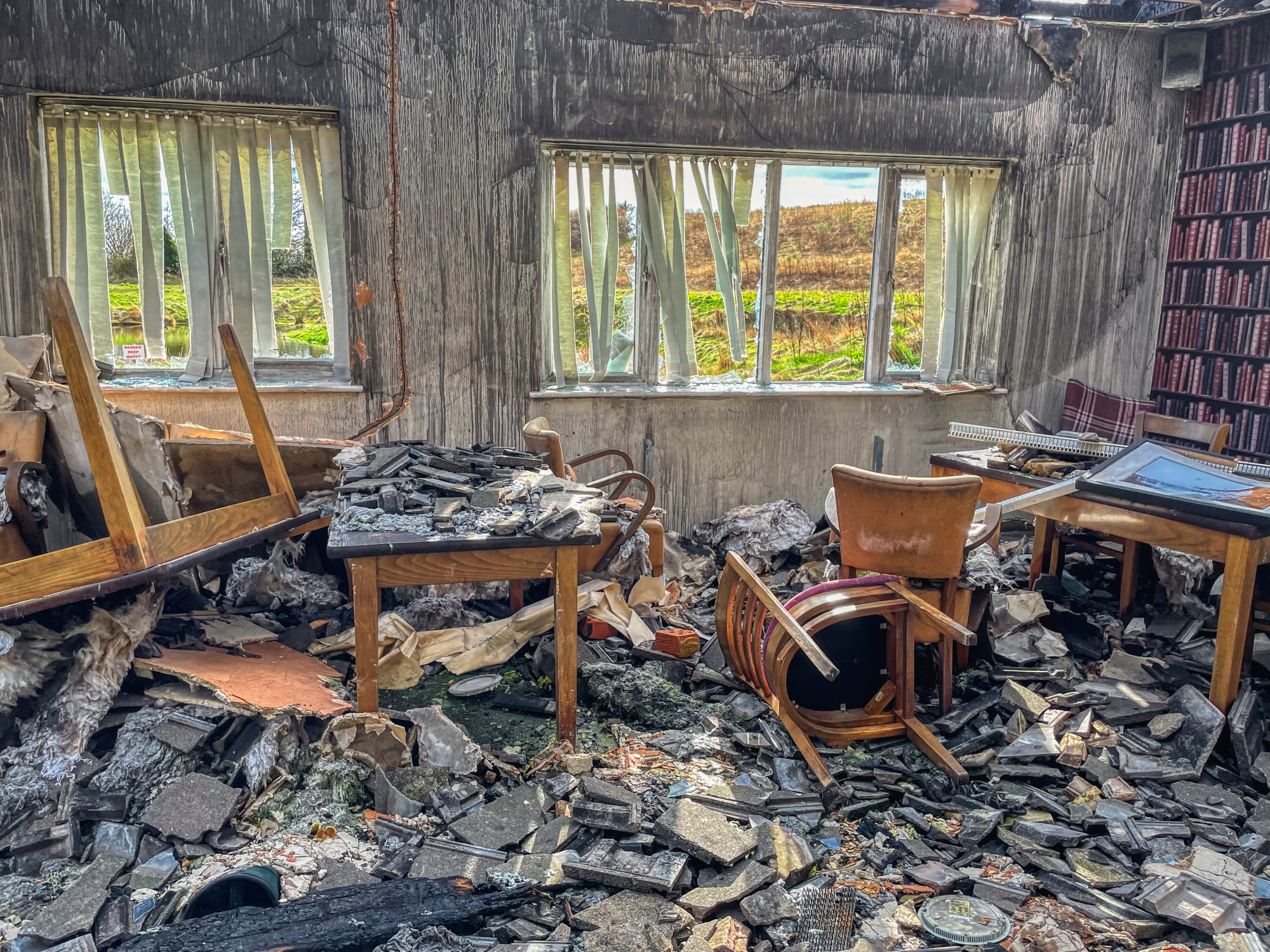 There was a breeze and what was left of the blinds were rattling around and creating persistent noise.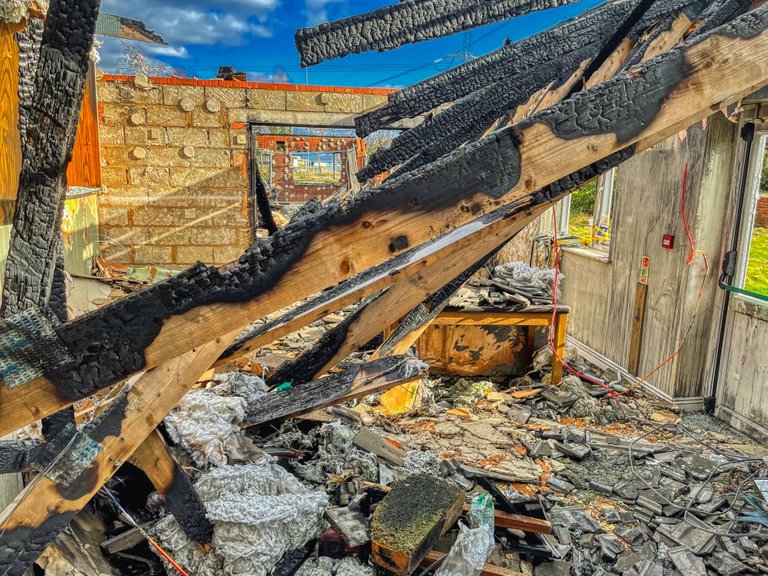 I am quite accustomed to ducking under large beams to make my way through buildings. These ones were hardly taxing.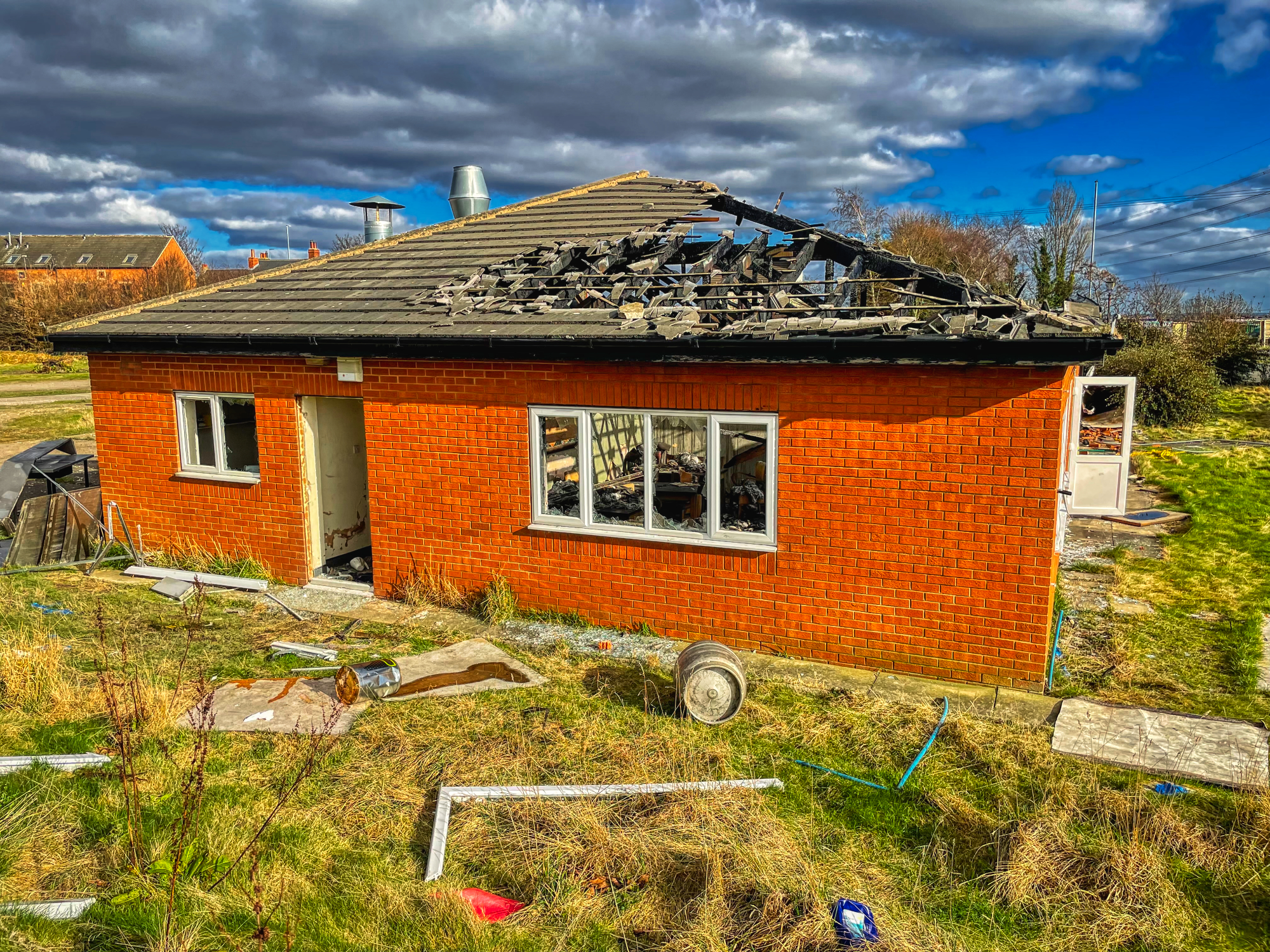 The best end of Lofthouse Hill Golf Club. Look, there's even some roof left up there.
We wandered through the open door and found a makeshift kitchen.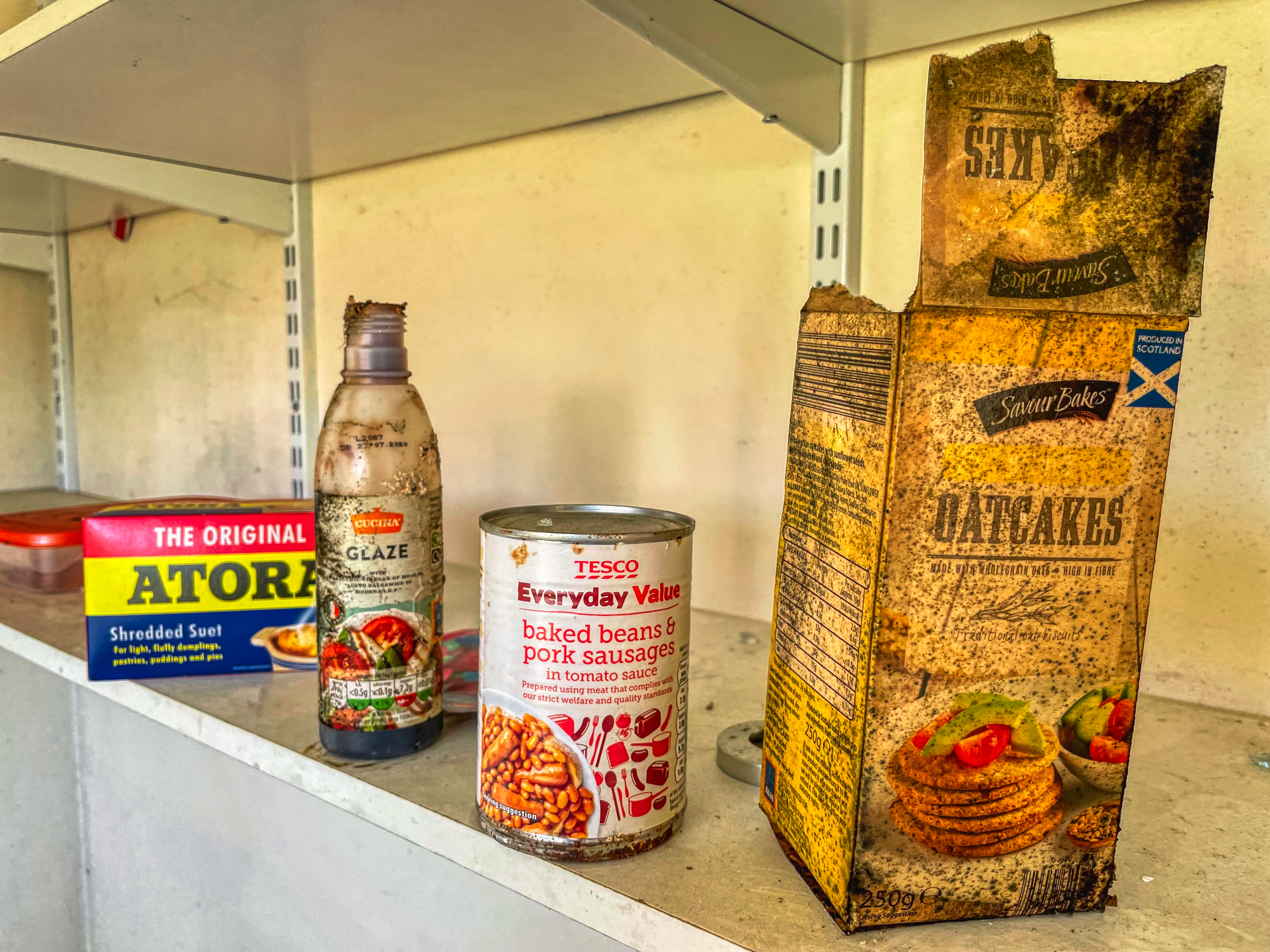 While the Oatcakes should be left well alone, someone starving to death could pry open those extra-cheap Baked Beans & Pork Sausages with their bare teeth and feast heartily.
Raw suet is best left alone, though it looks in pristine condition.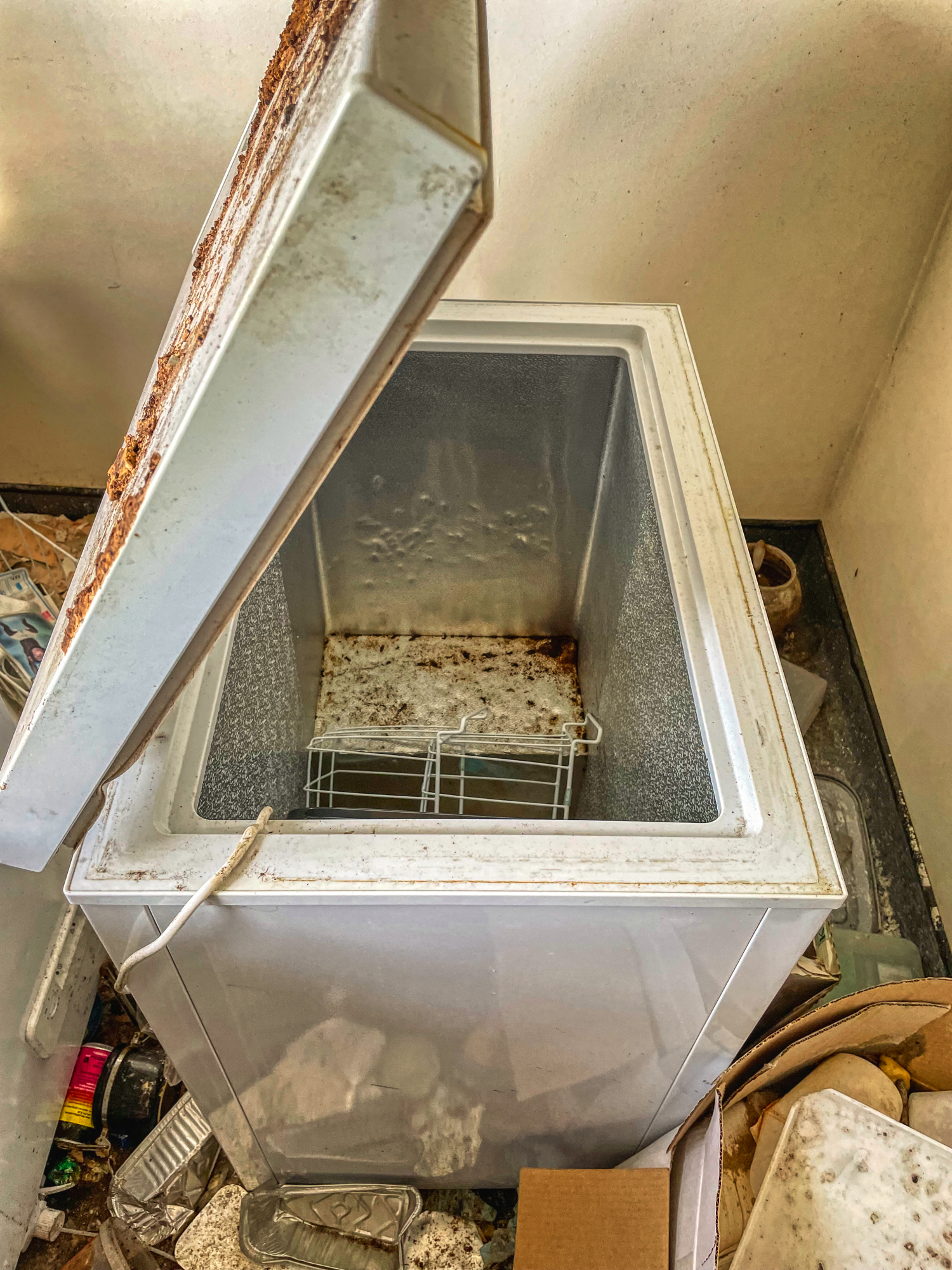 Against my better judgment, I opened the fridge and survived the encounter. It lacked disemboweled human body parts or even stinking rotting lamb chops. We had been fortunate again.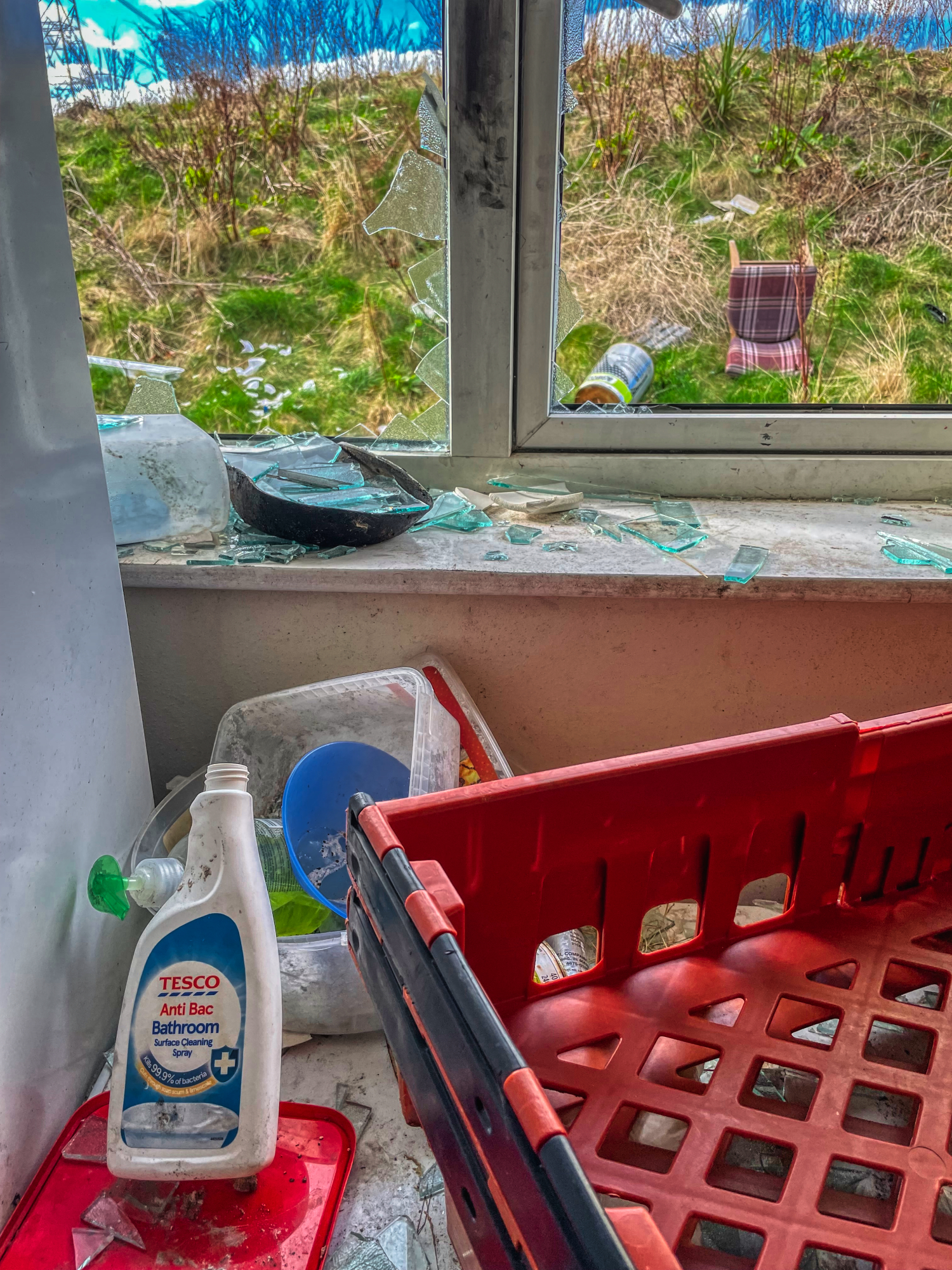 The kitchen was well equipped, complete with cleaning fluids. Some scrubbing could bring it back to life in a jiffy.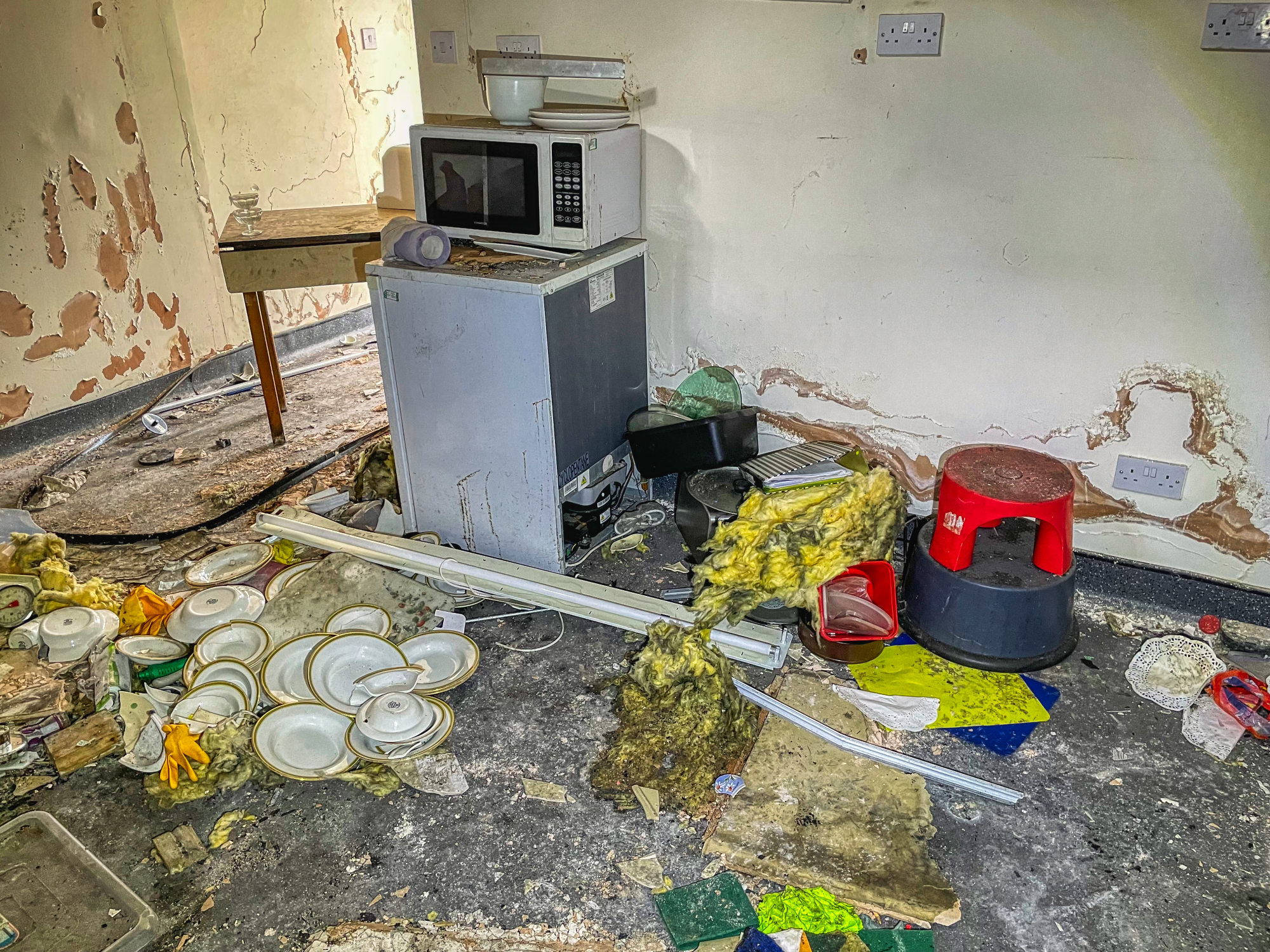 A few of those plates could be salvaged and everyone leaves microwaves behind.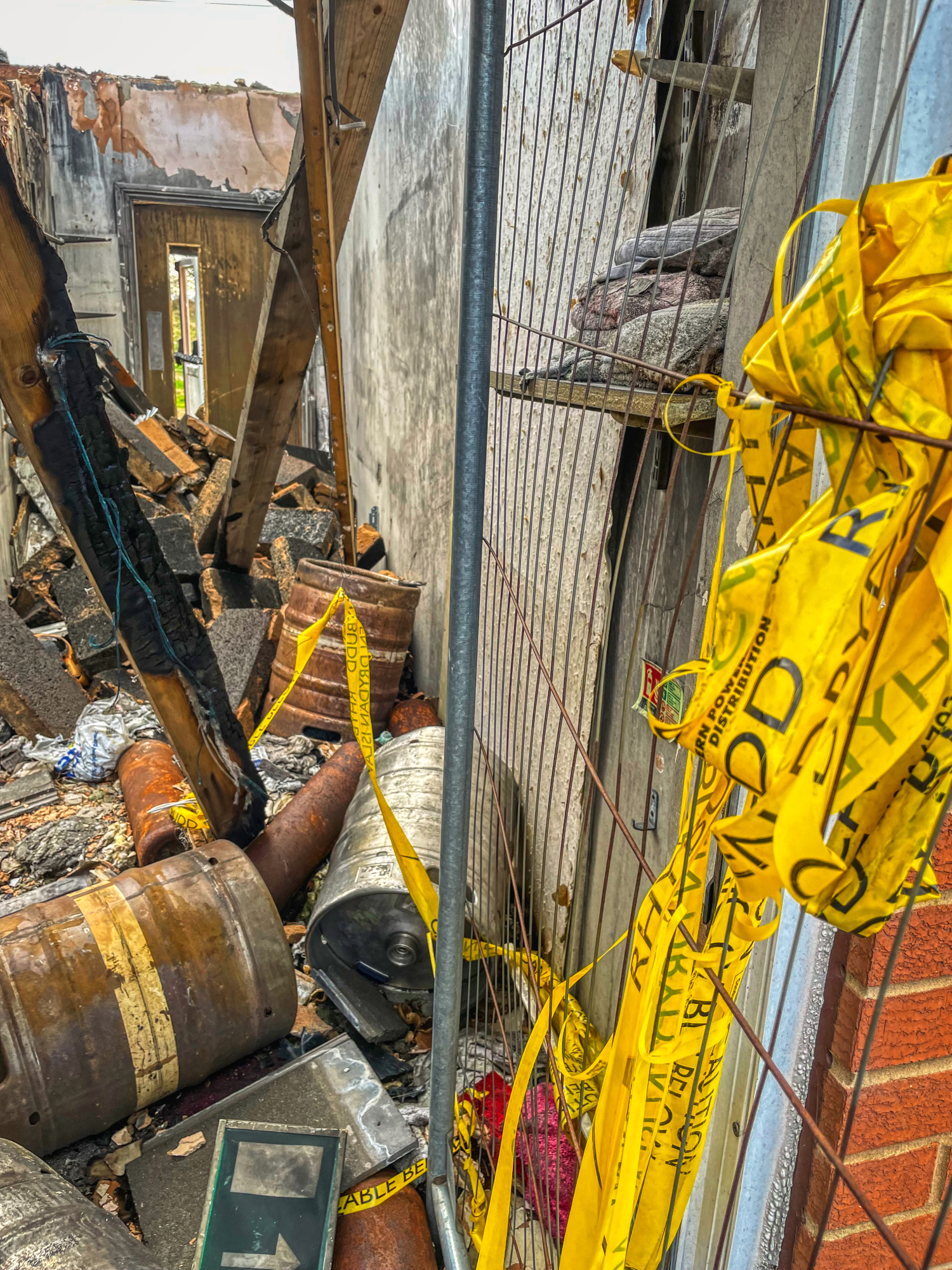 Moving out of the kitchen and unable to open a jammed door we entered from the dog-walkers side via yet another entrance.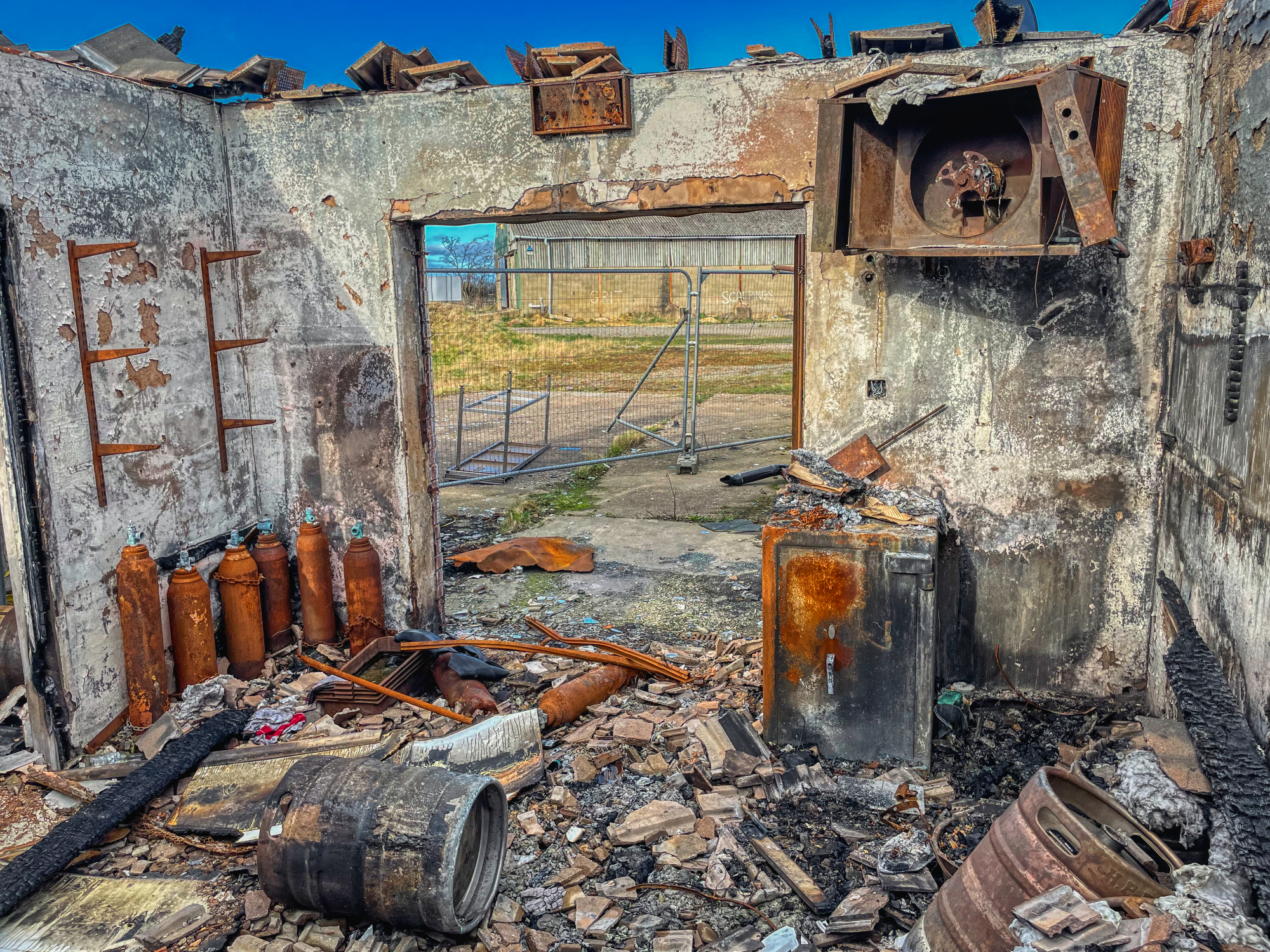 Had those gas cylinders exploded during the fire? That would not have helped much.
It was good to see golf memorabilia. I lost my wood covers long ago, you need to tie them to your golf bag.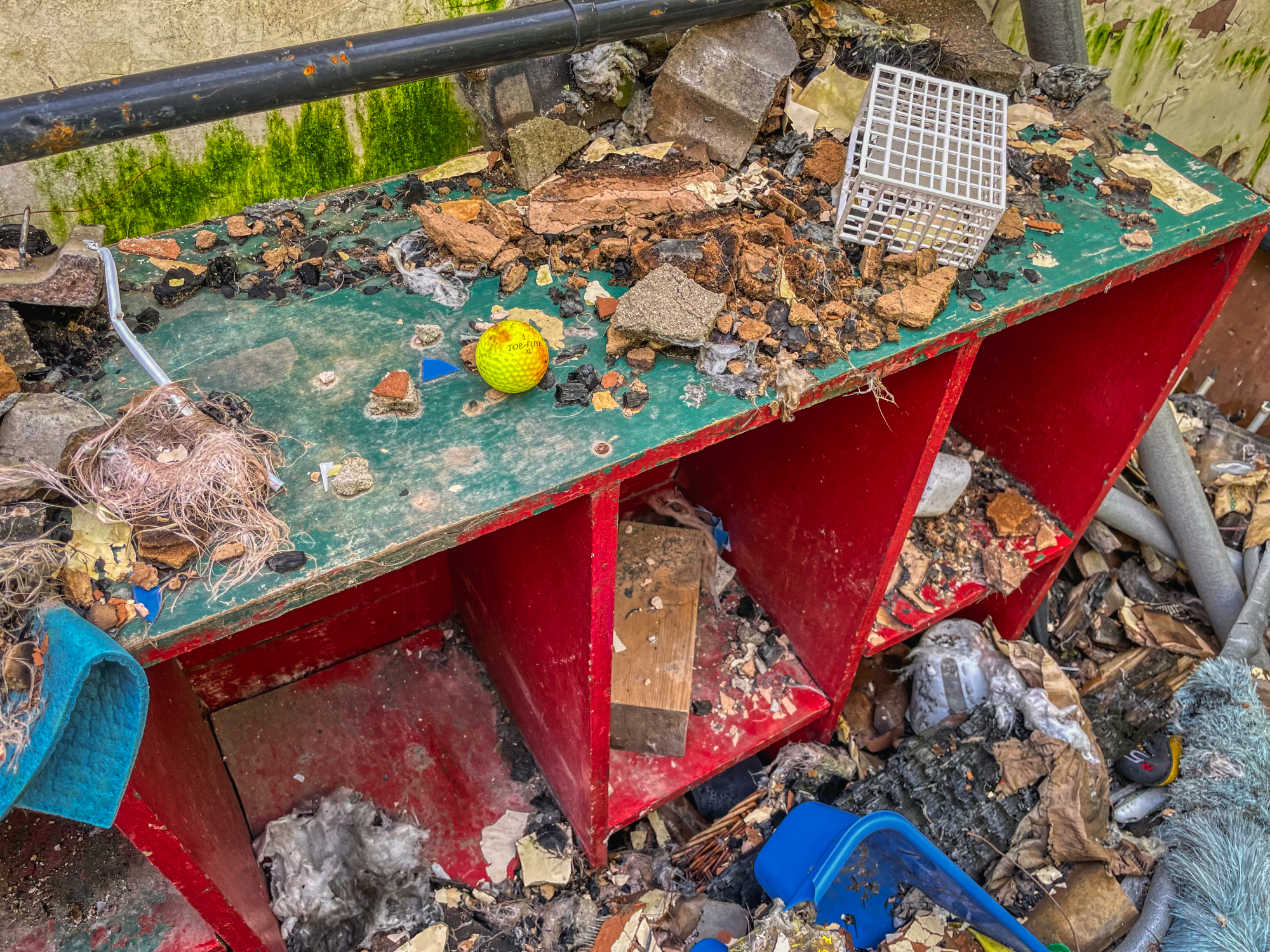 I couldn't possibly take that ball, there was only one to be seen.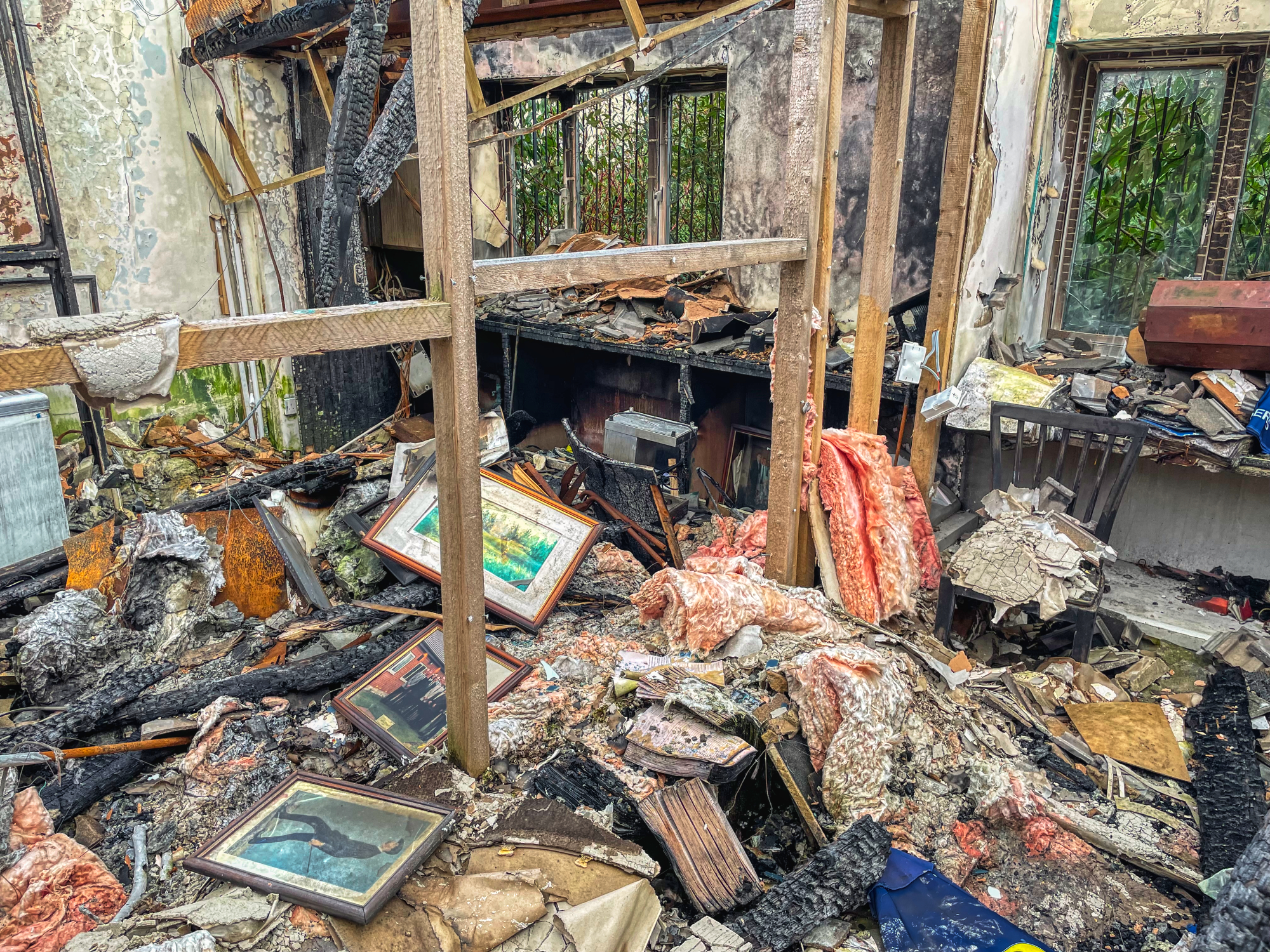 This room looked in terrible shape and yet some items had miraculously survived.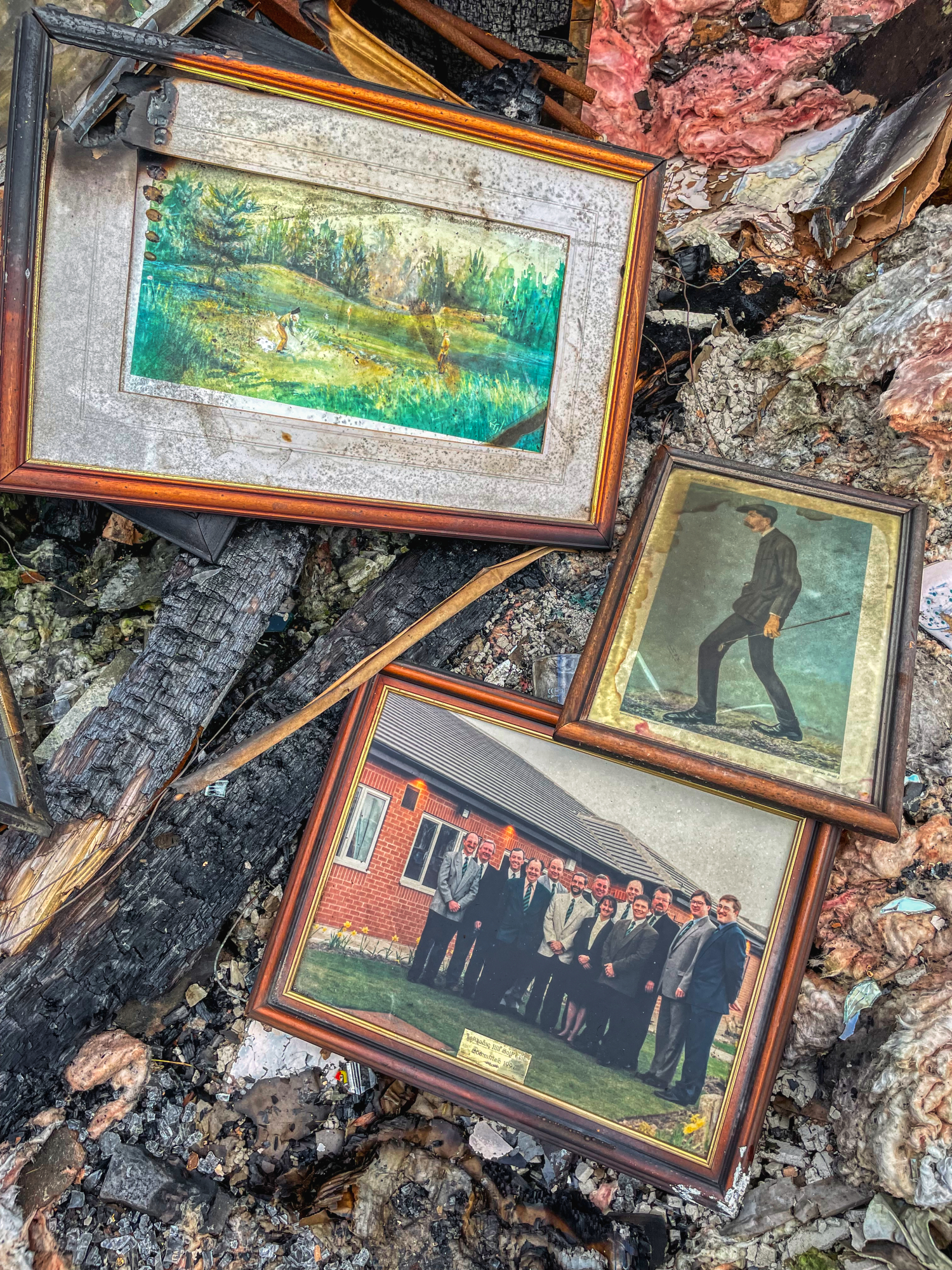 The Golf Committee all dressed in their Sunday best. It is a snobby wealthy sport, a fact that irritated me when I was a long-haired teenager and just wanted to play without some affluent middle-aged fat cunt challenging me about 'sneaking on'.
All that was long ago, and I barely play in more recent times.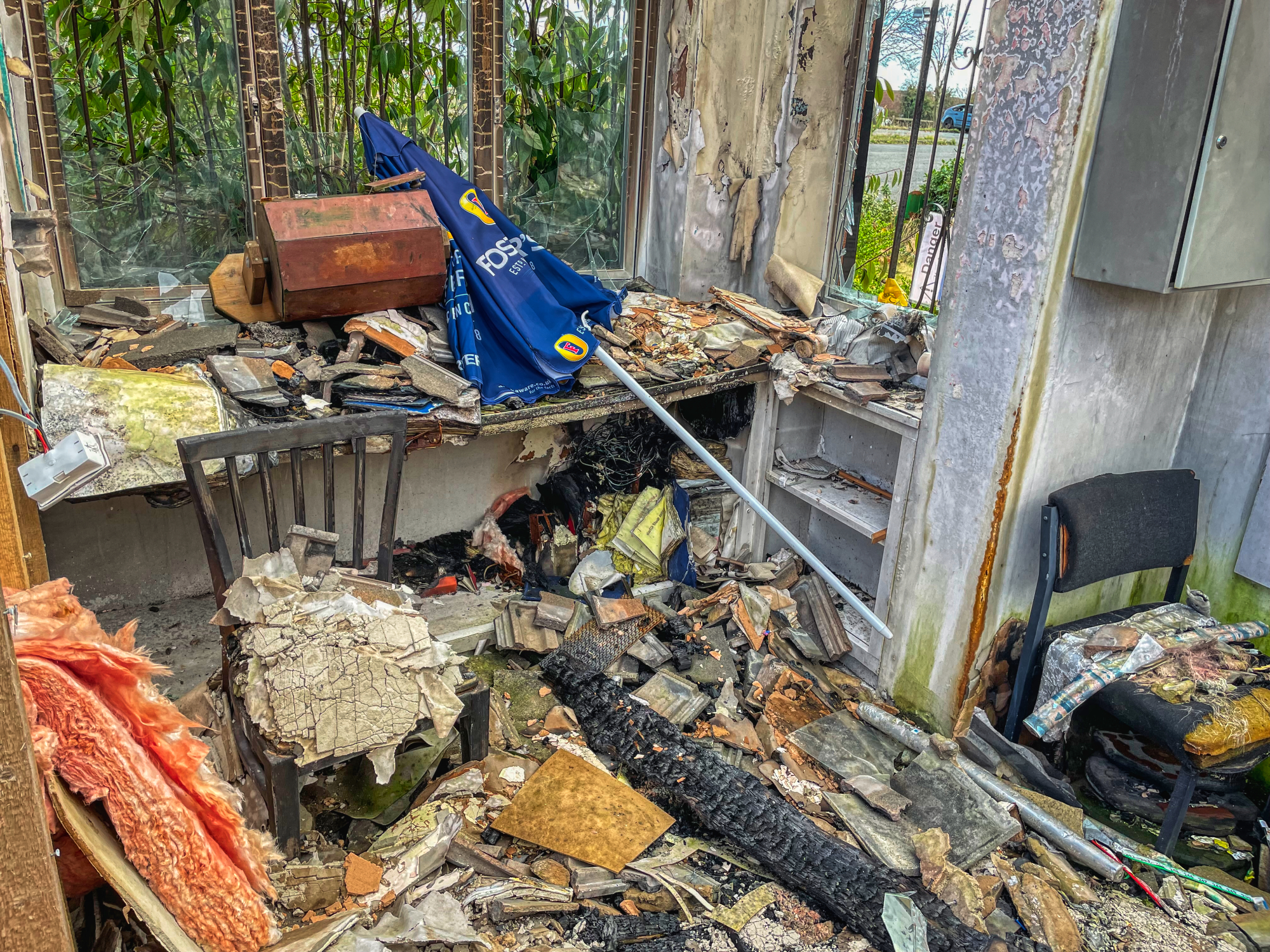 There must be some other relics that have survived. I started poking around the burnt floor looking for anything of interest.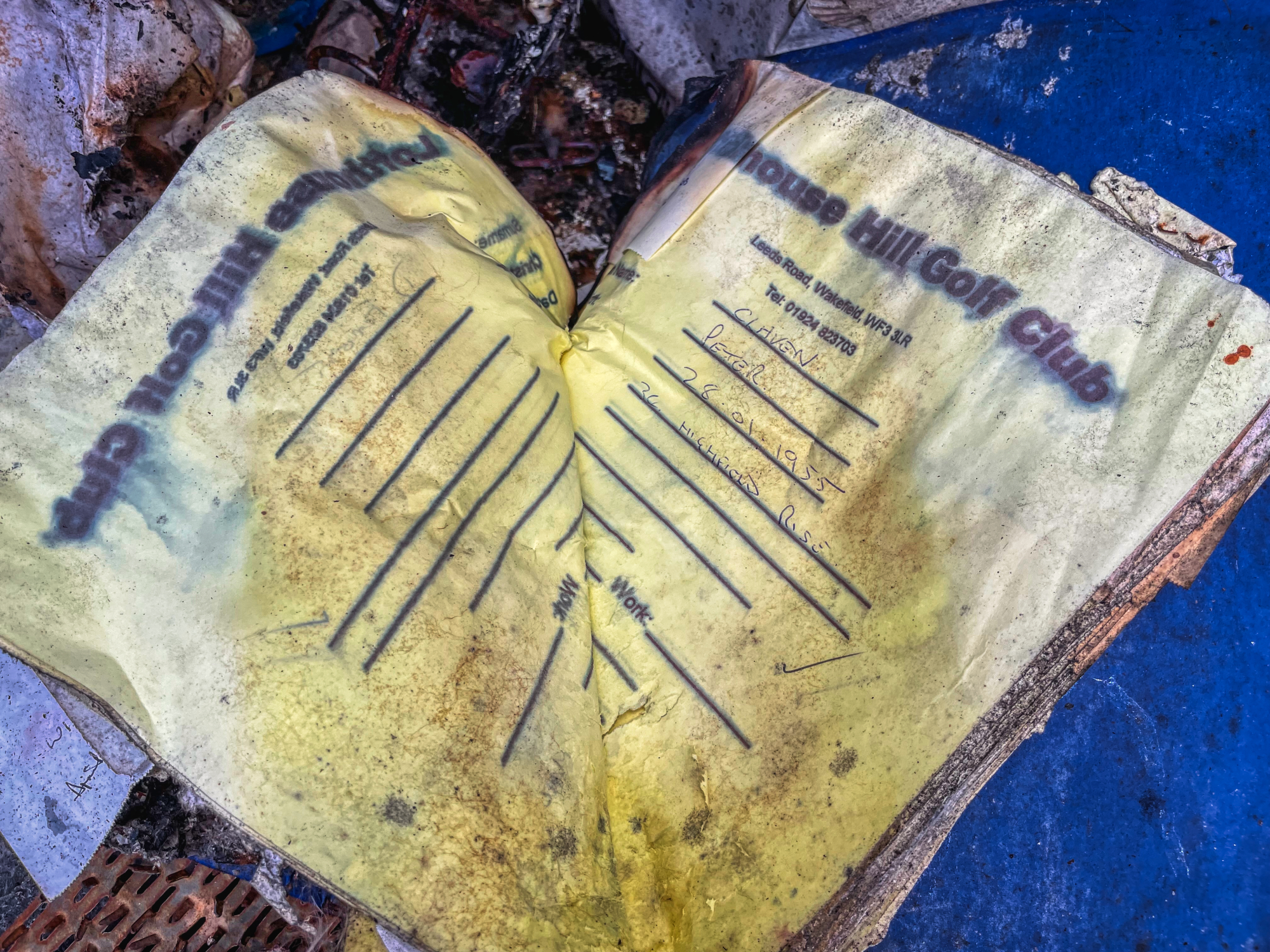 Peter Claven, your days are done here so you better find another club.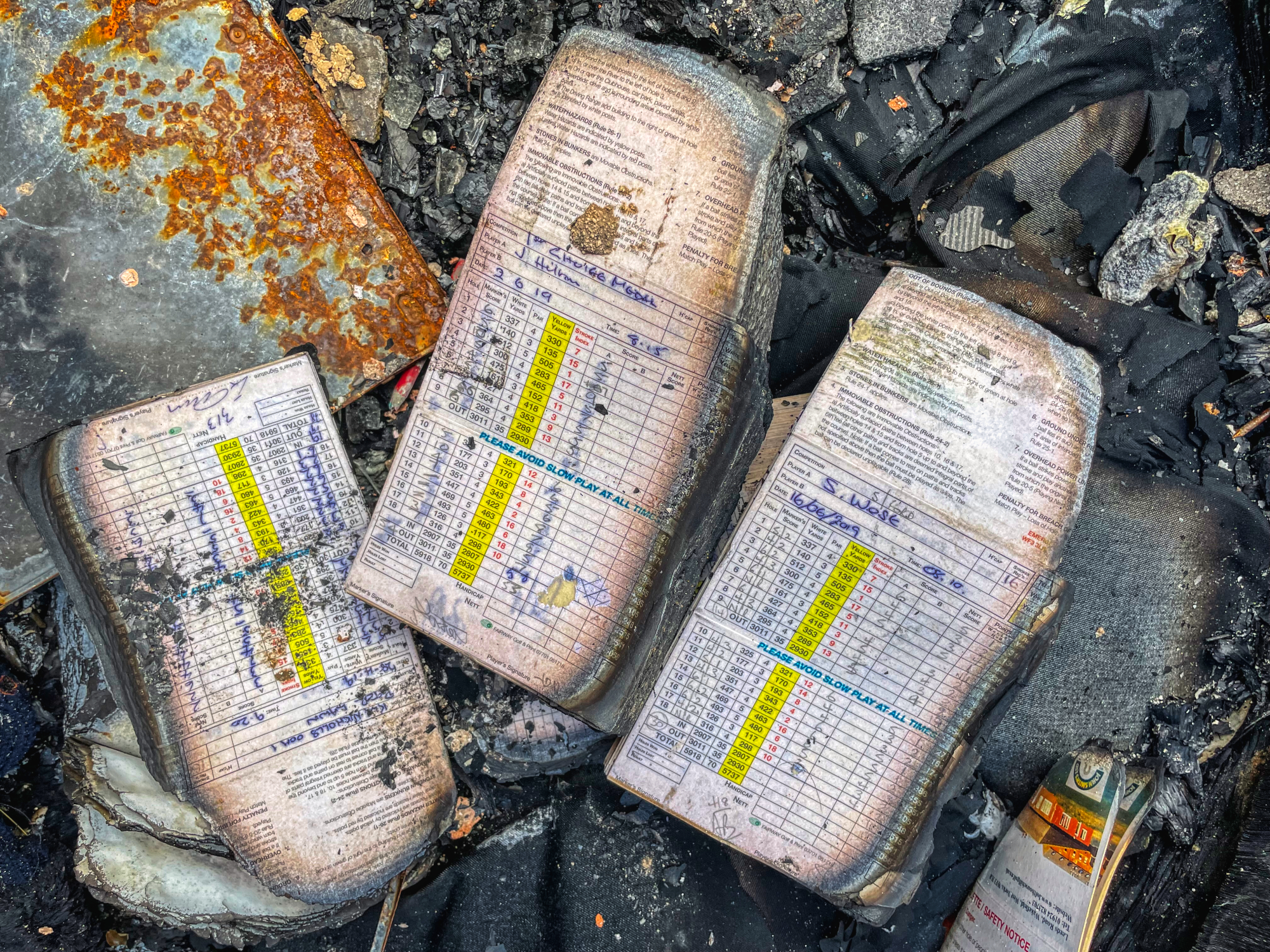 Scorecards from competition players, mostly over par on each hole with the odd 8 or 9 on some holes. About as competent as I was!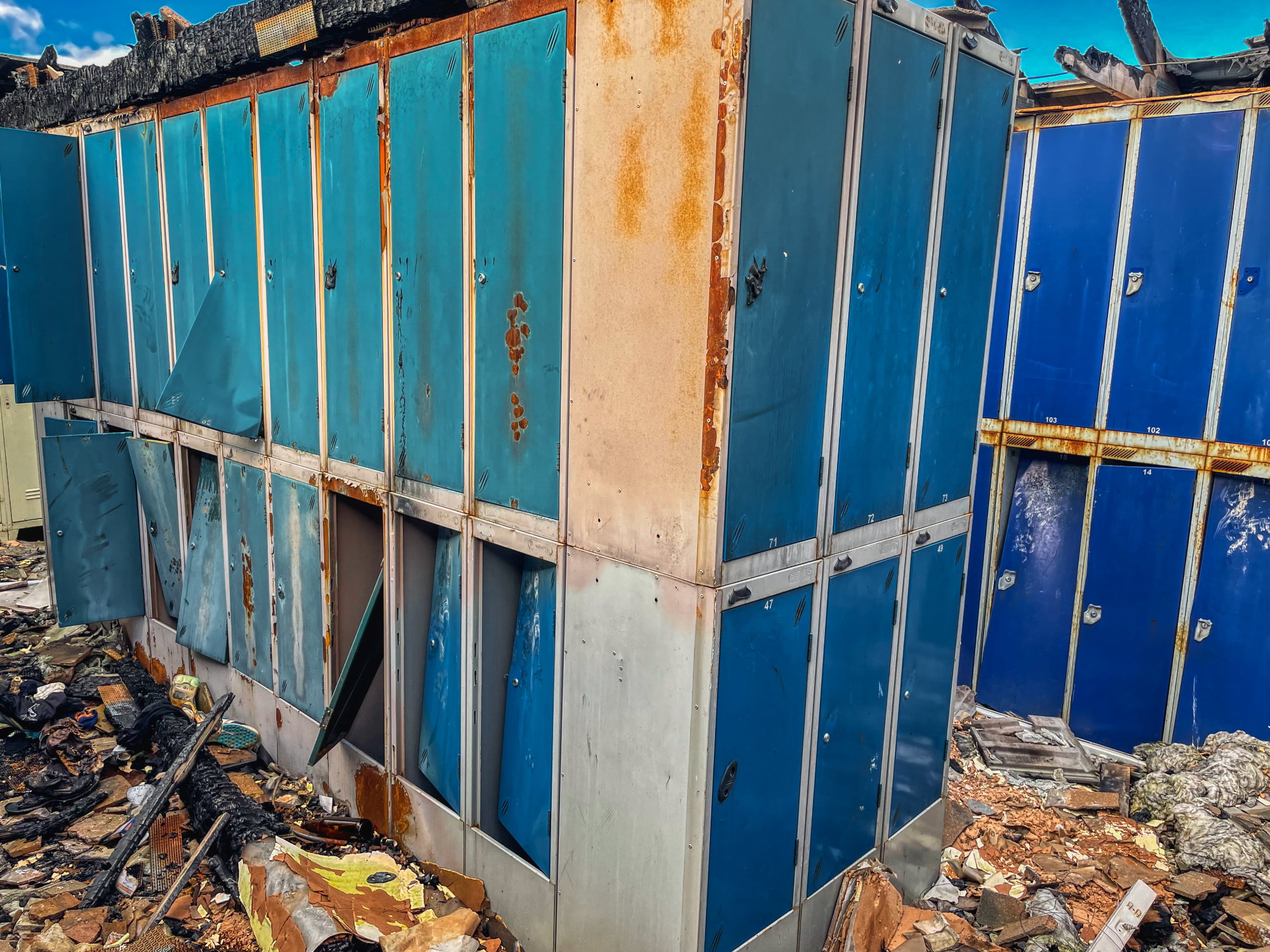 Next was the locker room with many locked ones. Some had been broken into but contained little besides sweaty old trainers.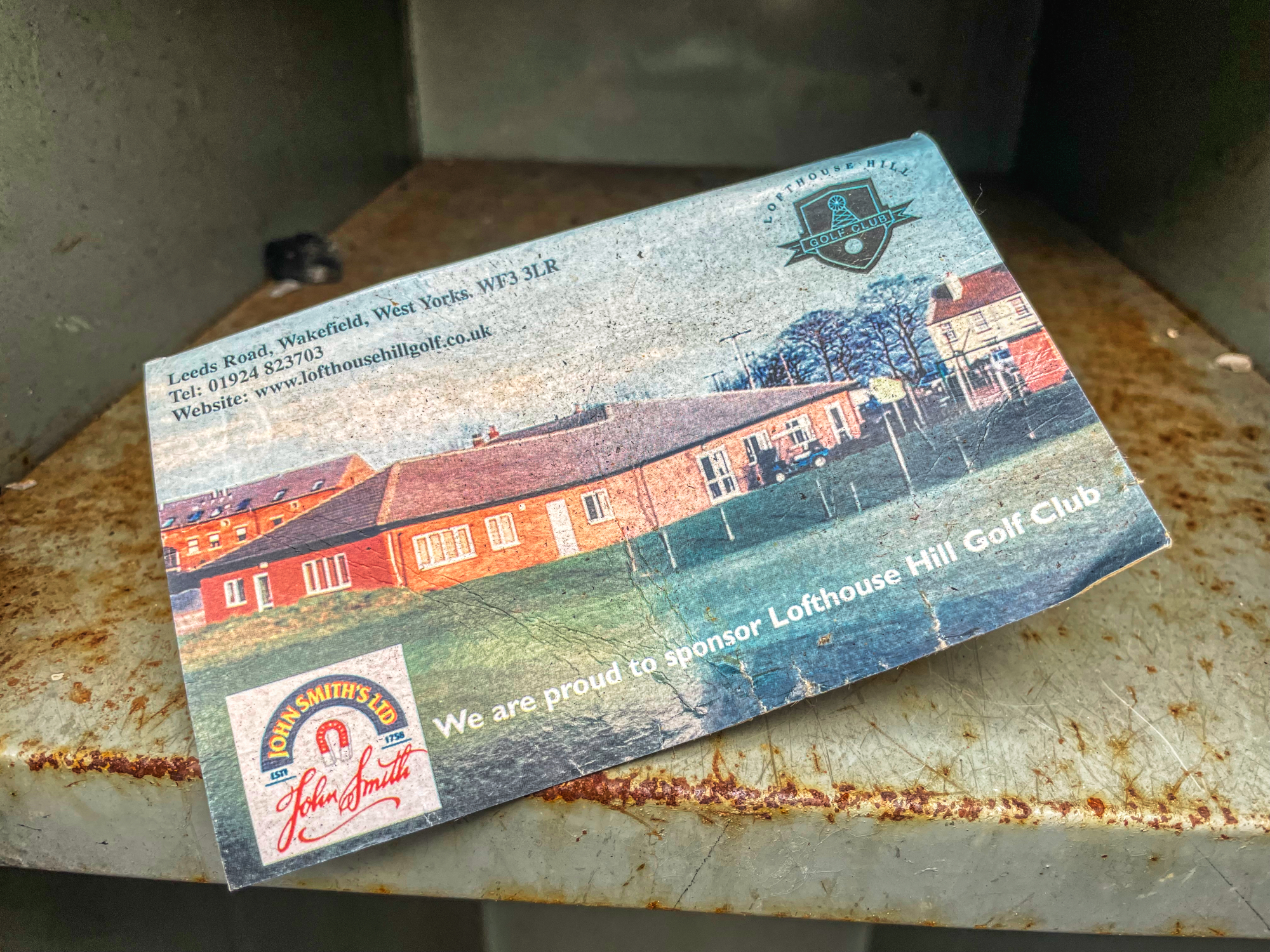 Scorecards often yield an image of the course reverse side. I am amazed any paper products survived.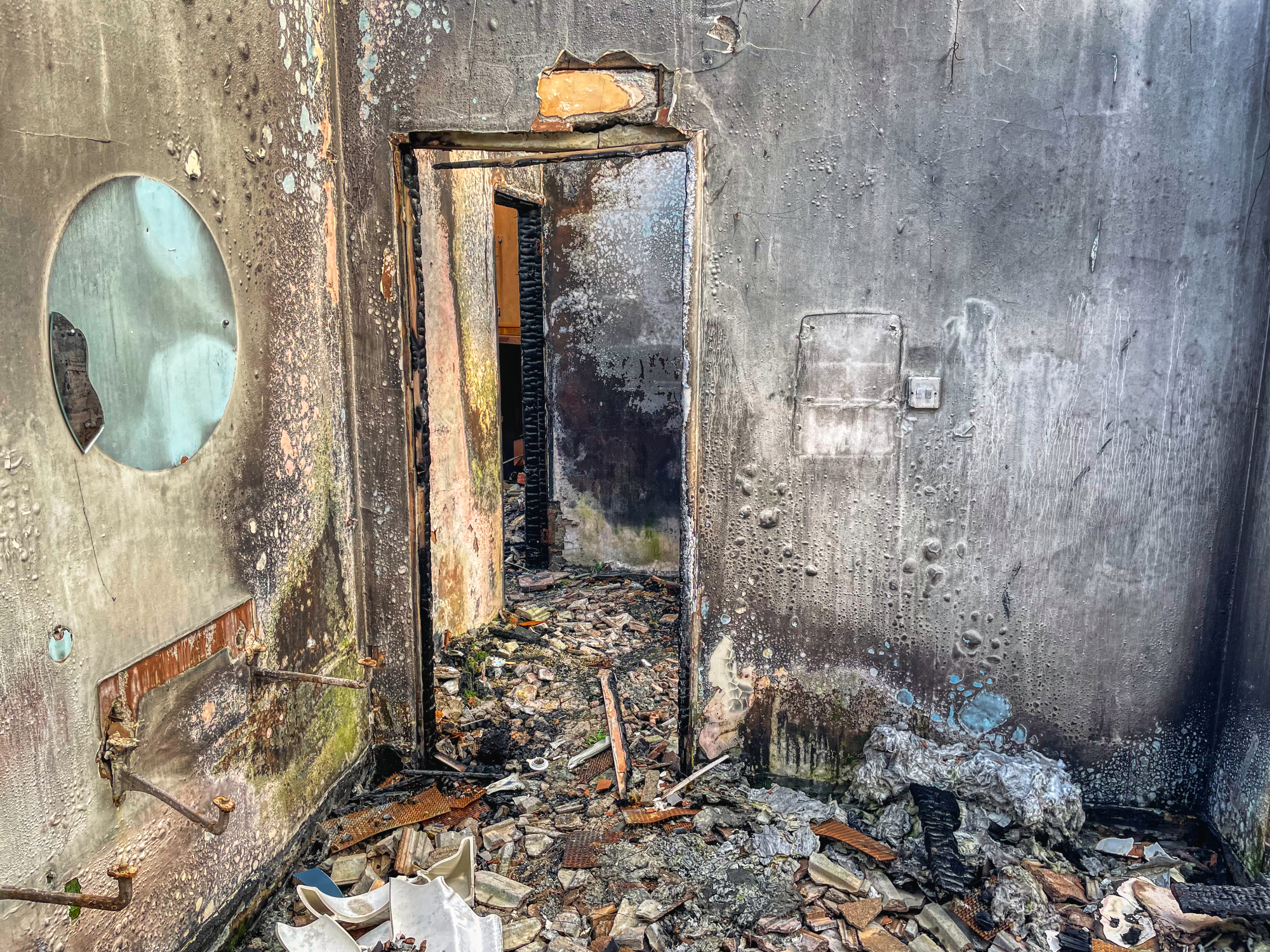 Even the sinks succumbed to the intense heat here.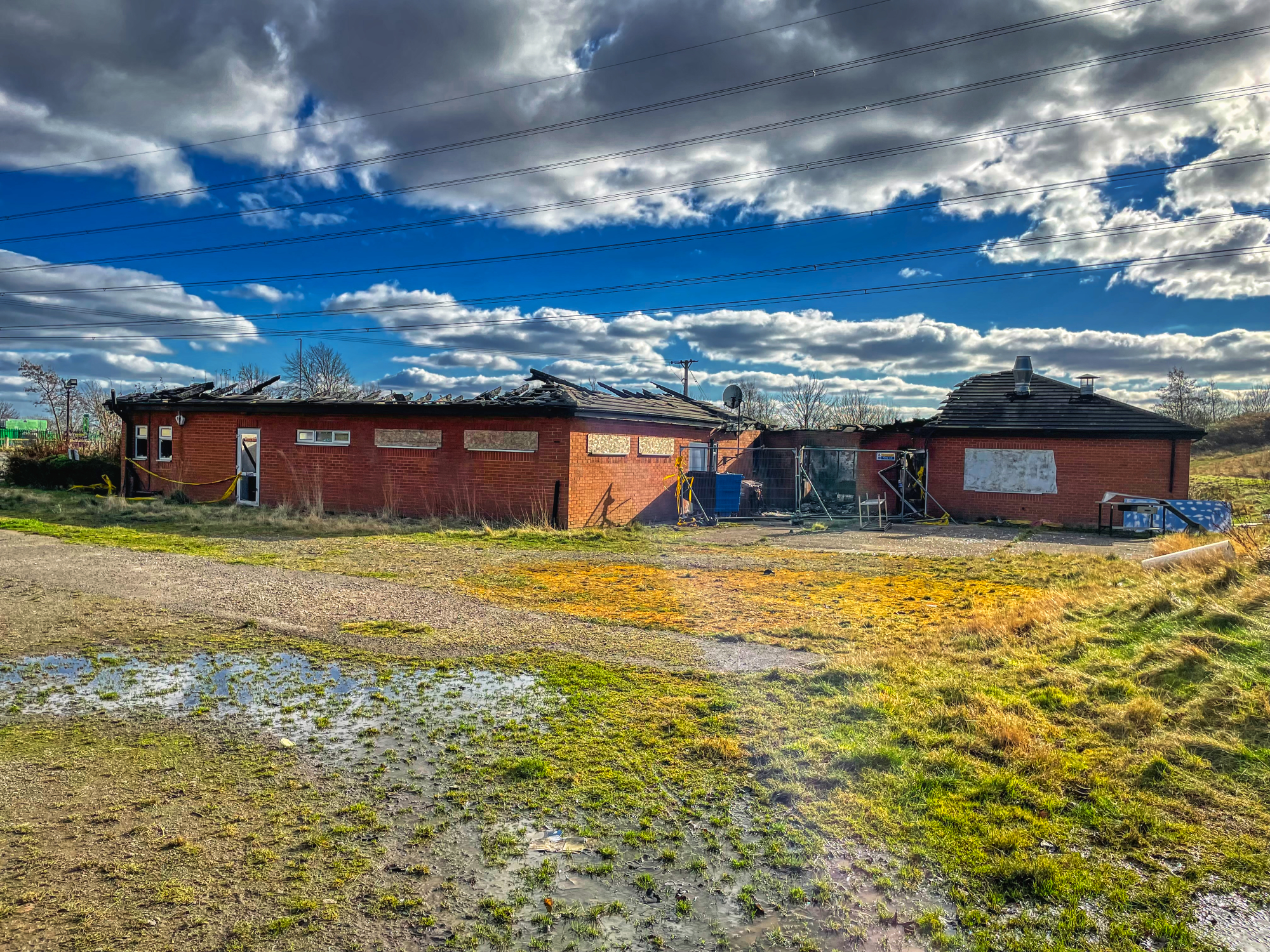 A nearby building was securely locked. I am guessing it housed the buggies. One was sitting outside, had lost a wheel, and was looking forlorn.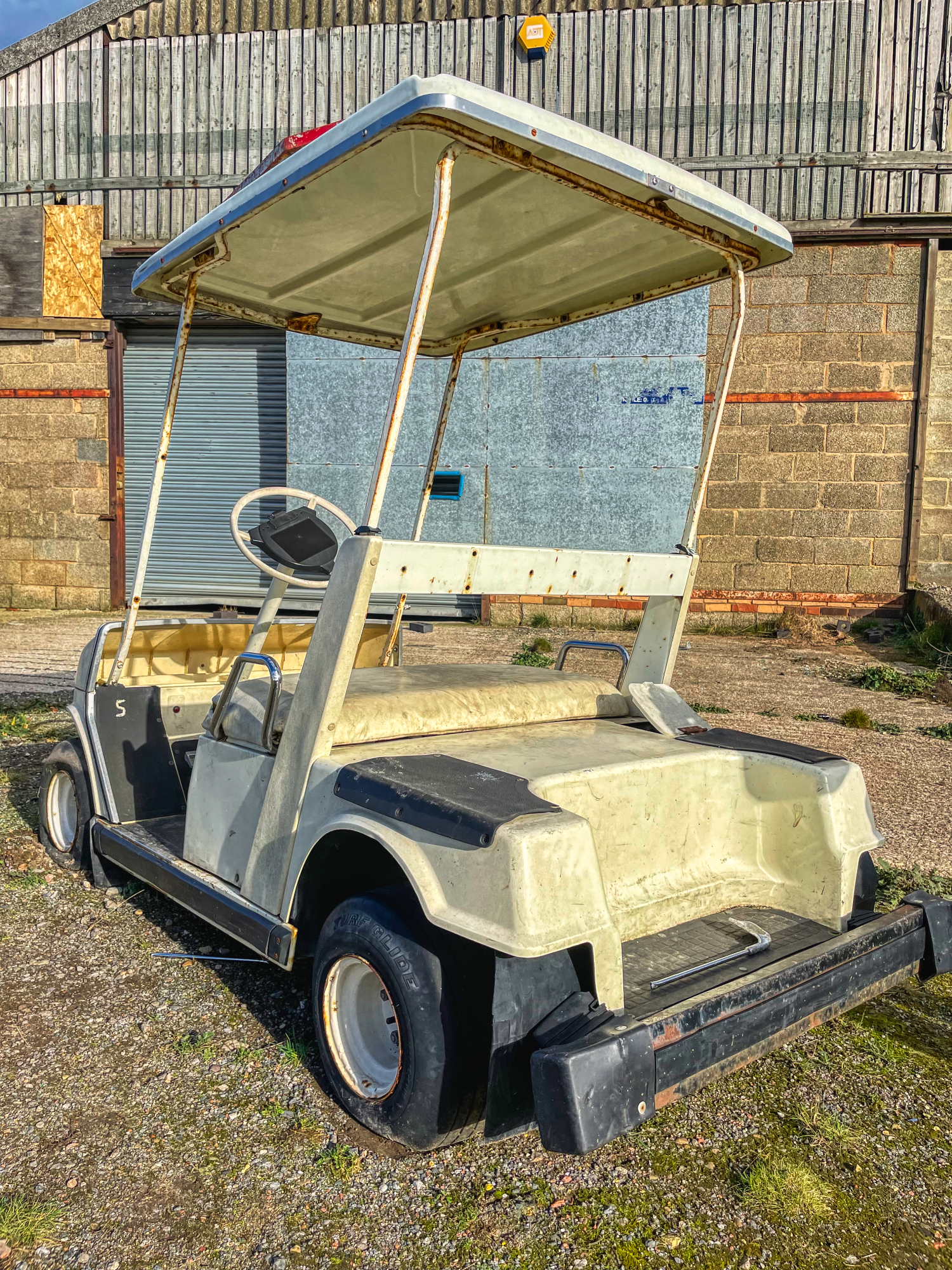 Buggies were great fun, especially doing handbrake turns on the stone paths. I was a terror driving them, and occasionally the battery would die mid-round which was frustrating.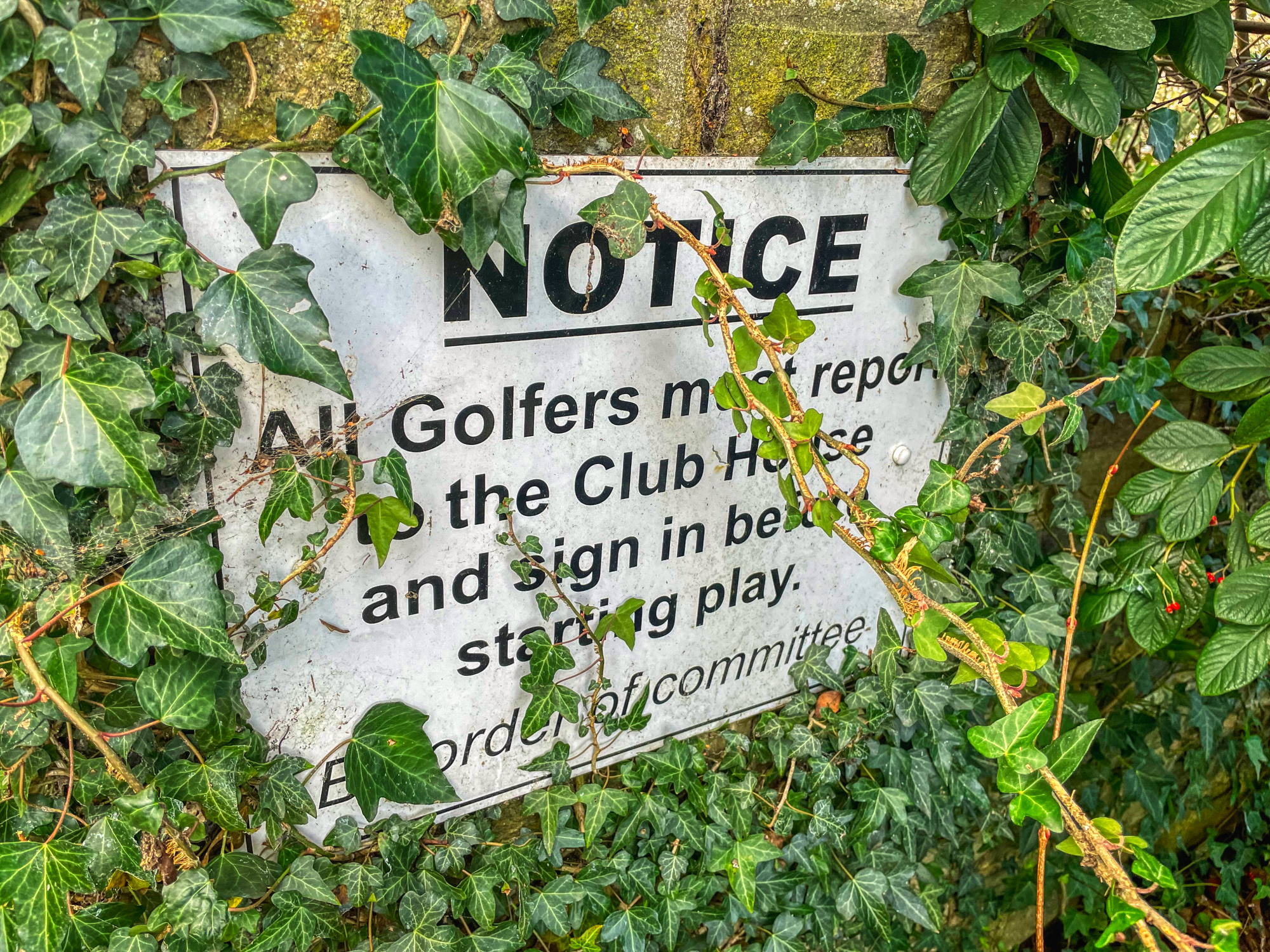 We made our way to what was the first tee, past a sign that was threatening to disappear into the surrounding foliage.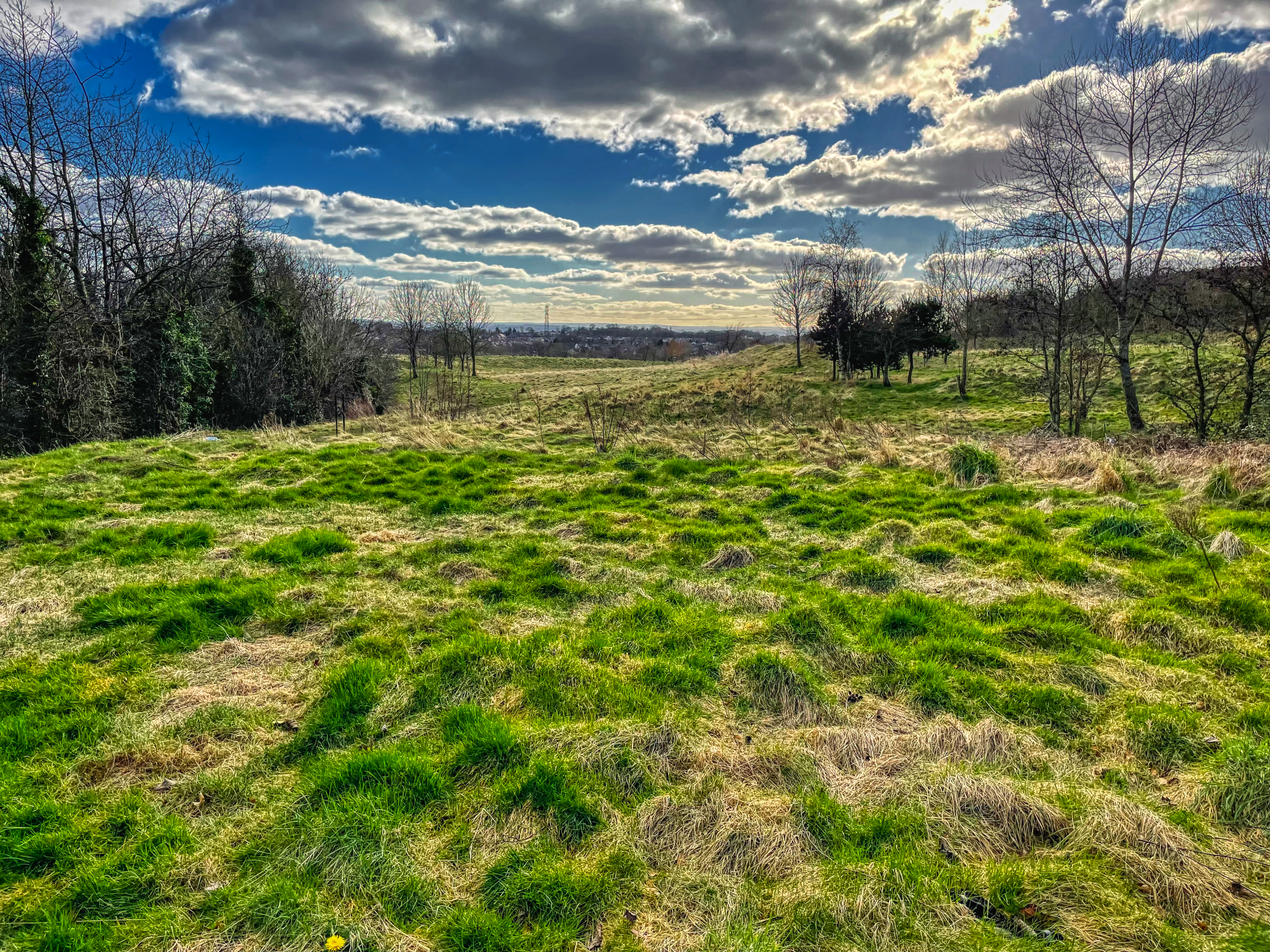 It would have been a nice start once. Hit your ball now and say goodbye to it.
What a waste of a good course. More pictures of what 'Lofthouse Hill Golf Club' used to look like can be found here.

Do you like posting your Urbex content and photography for FREE on Facebook and YouTube? I like to get some form of reward for my work and every time I create I do just that. Take a look at The Urbex Community on HIVE.
If you want to keep creating for FREE then ignore what you are reading. If you want to be like me and gain something other than BUGGER ALL for your work then click here and learn about posting on the HIVE blockchain.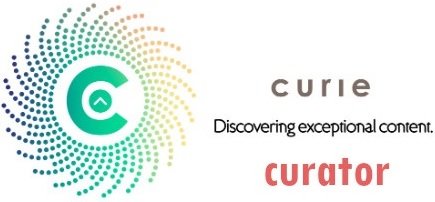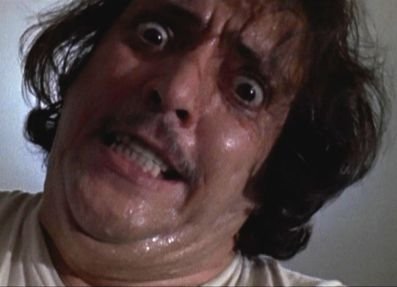 If you found this article so invigorating that you are now a positively googly-eyed, drooling lunatic with dripping saliva or even if you liked it just a bit, then please upvote, comment, rehive, engage me or all of these things.
---
---