Astral Entities Daily Pack Opening 1/9/22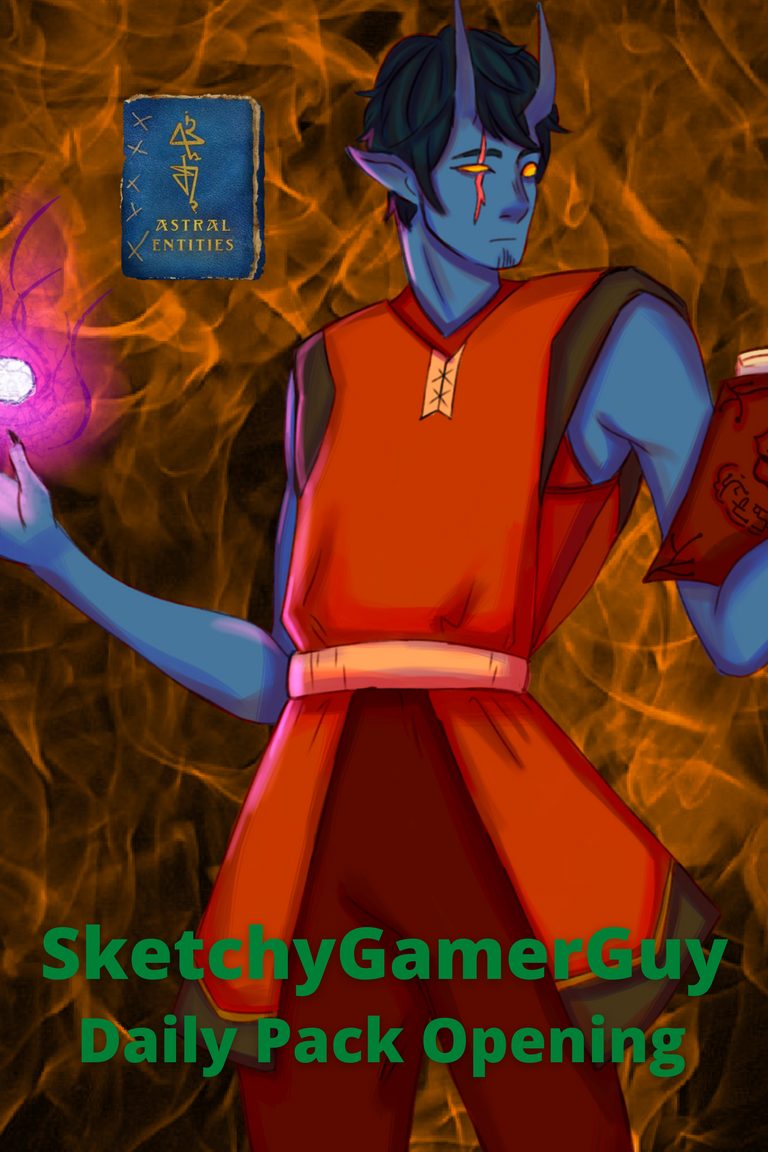 All Images property of Hella Rad Games unless otherwise noted.
What to Expect from the Daily Pack Articles
Each of these Daily Pack Openings is about 450 words in the template for explaining what Astral Entities is and where to find more information on it. I will discuss every single card I pulled in today's pack in detail making my best, uninformed guesses at how the card will be in the Astral Entities Universe. If you are new to the universe, read below to find out more. If you're already familiar with Astral Entities, scroll on down to What I pulled today for the 500-800 word discussion on today's pack. I hope you enjoy reading this, as I am so excited about this game universe and these beautiful NFT's!!!
What is Astral Entities?
Astral Entities is a universe of games in development by Hella Rad Games @cryptoreaper and @tanzofett that will use the same NFT's available now at https://www.astralentities.com for all their games in the Astral Entities Universe. The purpose of Astral Entities is to release several games with cohesive lore all utilizing the same NFT's. Developers will also have the option of creating in-network official titles and unofficial titles using the NFT's.
There are three games currently in development:
Taergyn
Taergyn is like playing Go with D&D-inspired Fantasy characters with an array of stats, classes, and an epic depth of lore. This is the flagship game of the series and is expected to launch in Q1 2022.
Discordant Adventures
Developed by @kiokizz, is a text-based adventure on Discord. Alpha testing for the program is live now on the discord server, but there is no cryptocurrency attached yet. This will be the first game released with a goal of Q1 2022.
The Hunter's Guild
The Hunter's Guild will be a Gamified staking game with an emphasis on the Gamified. On timed adventures, you will be forced to make several hard decisions that could take twists and turns in this choose your own adventure.
Many, many more games are planned for release down the line with options being developed for developers to create their own unofficial or official games.

Today's Pack
Pack Odds and Colors
67% White= T1 Common 173 Attribute Points
25% Green= T2 Uncommon 175 Attribute Points
5% Blue= T3 Rare 177 Attribute Points
2% Purple= T4 Epic 182 Attribute Points
1% Orange= T5 Legendary 190 Attribute Points
T6 Not available in Founder Packs.
Alpha Founder Pack Odds will be higher than Alpha Premium packs at launch.

What I pulled Today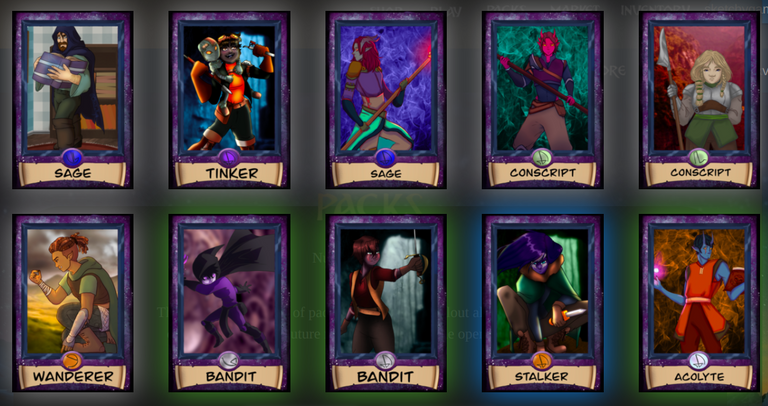 Daemon Acolyte
The Wicked and Calming Daemon Acolyte is a T2 Priest with 58 Physical Stat Points, 60 Mental Stat Points, and 56 Sensory Stat Points. His strongest stat is 14 Intelligence, and his weakest stat is 10 initiation. I enjoy his 14 Intelligence, but I do worry the rest of the stats are too bland with most of them being 11 and 12, but that could be my specialization min/max bias coming out! This card may be amazing when the games come out, and that generalized cards with even stat spreads could reign supreme! Only time will tell.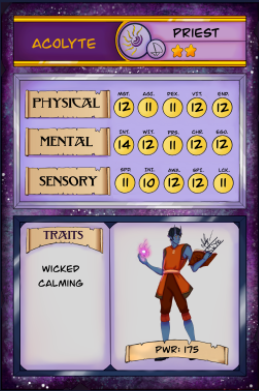 Shadowborne Stalker
The Stealthy, Agile, and Eagle-Eyed Shadowborne Stalker is a T3 Hunter with 60 Physical Stat Points, 57 Mental Stat Points, and 60 Sensory Stat Points. His highest stats are 14 Agility, 13 Dexterity, 13 Ego, 13 Speed, and 13 Awareness. This seems like quite the interesting hunter card! A stealthy and agile hunter does seem quite good to me! Without seeing him in action, it sure is tough to tell, but I like him!!! Can't wait to play with this card!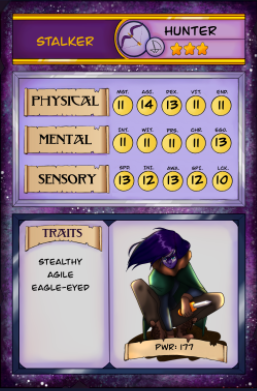 Shadowborne Bandit
The Stealthy and Quick-Fingered Shadowborne Bandit is a T2 Thief with 56 Physical Stat Points, 60 Mental Stat Points, and 58 Sensory Stat Points. His highest stats are 13 Agility, 13 Perseverance, 13 Ego, and 13 Initiative, and his weakest stats are 10 Vitality, Endurance, and Luck. Stealth and Thievery tend to go well together, so I'm quite optimistic!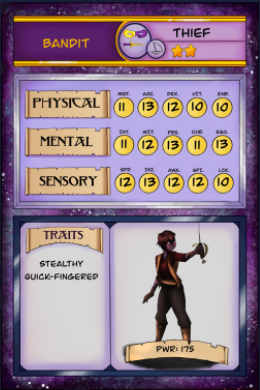 Gnome Bandit
The Nosey and Quick-Fingered Gnome Bandit is a T2 Thief with a very interesting spread of stats. I'm not quite as optimistic of this build as I am of the Shadowborne Thief. I am intrigued though! He has 14 Dexterity, 14 Wit, 14 Awareness, and 13 Agility, yet I somehow expect the stealthy thief to have an edge over his better stats. This is such a fun time to speculate and dream about how these cards will play! Then when the game is out, testing, testing, and testing! Let's GO!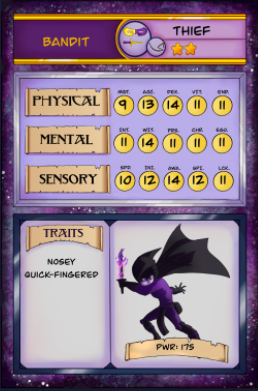 Orc Wanderer
The Furious and Agile Orc Wanderer is a T1 Hunter with 14 Speed, 13 Might, 13 Agility, 13 Vitality, and 13 Awareness. I'm not as optimistic about Orc Hunters compared to Elf Hunters or Shadowborne Hunters, but I do like the idea that he's a fast scout who hits hard. I'm certain we can find some uses for this character tree at some point! He certainly seems Furious and Agile to me!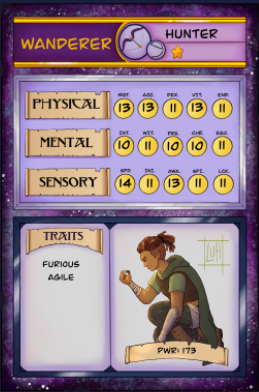 Dwarf Conscript
The Sturdy and Stalwart Dwarf Conscript is a T1 Defender with 14 Vitality and Endurance. He has 61 Physical Stat Points, and they are all focused on the Vitality and Endurance Stats. Might, Agility, and Dexterity are set to their base 11. He also has 58 Mental Stat Points and 55 Sensory Stat Points for a very decisive lean into Physical Stat Points. This is a character tree I am very excited about, and I am drooling for a T5 copy of this card!!! Fingers Crossed! Wish me luck in the comments section!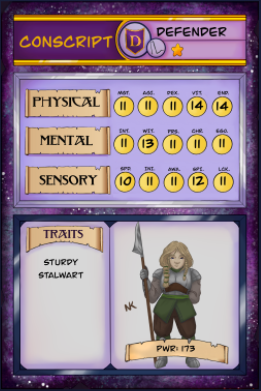 Daemon Conscript
The Wicked and Stalwart Daemon Conscript is a T1 Defender with 60 Physical Stat Points, 58 Mental Stat Points, and 55 Sensory Stat Points. I like the Daemon Defenders, perhaps not as much as the Dwarf Defenders, but I appreciate a tank that can hit hard too. I count my lucky stars that I pulled the T5 version of this card, and I Can NOT wait to try him out on the field of battle!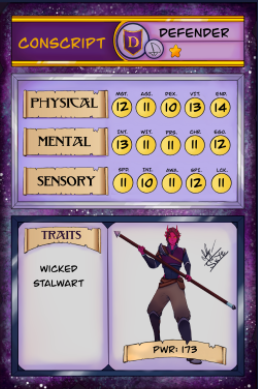 Daemon Sage
The Wicked and Studious Daemon Sage is a T1 Mage with decent physical defense stats. She has 14 Intelligence (BOOM!), 13 Vitality, and 13 Endurance. This strikes me as a character line that can take a beating, and give it back in spades! I'm pretty excited about the Daemon Mage line, and I do hope to get a T5 of this line!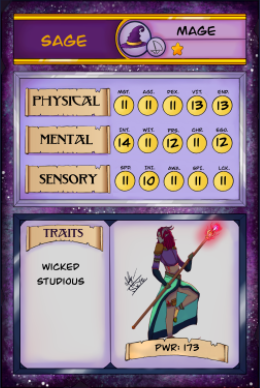 Shadowborne Tinker
The Stealthy and Distracting Shadowborne Tinker is a T1 Trickster with 54 Stat Points, 61 Mental Stat Points, and 58 Sensory Stat Points. The Shadowborne Trickster does seem to be a fair bit more specialized in the mental stats compared to the Gnome Trickster-- I like both races for this class though. Time will tell which will rise to the occasion!
Human Sage
The Versatile and Studious Human Sage is a T1 Mage with 55 Physical Stat Points, 61 Mental Stat Points, and 57 Sensory Stat Points for a pretty decisive Mental lean. His highest stats are 13 Perseverance and Sprint, and he has 12 Vitality, Intelligence, Wit, Charisma, Ego, and Luck. I'm very excited about the T5 variant, the Archmage! Even the name sends shivers up my spine!!!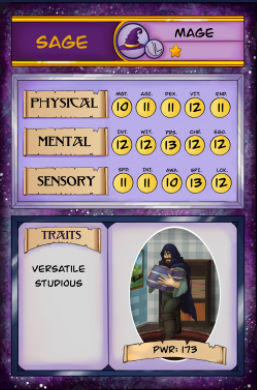 Where to Buy Packs?
https://www.astralentities.com/shop or on the wax market. Please don't pay more than 6$ while they are still in stock at the shop. Gold Foiled Sets can also be purchased through the Alpha Presale channel on their discord, and they are also for sale on the wax market above the official sale price.
For more information, please check out their official discord https://discord.gg/u5p5Dzz7Vc and https://www.astralentities.com.
Thank you all for spending time with me today. I always love chatting with everyone, so I hope to see you in the comments. I hope to see you again tomorrow for the next pack!!!
---
---