MULTIPLE USERS AUTOMATIC HAND SANITIZING MACHINE
INTRODUCTION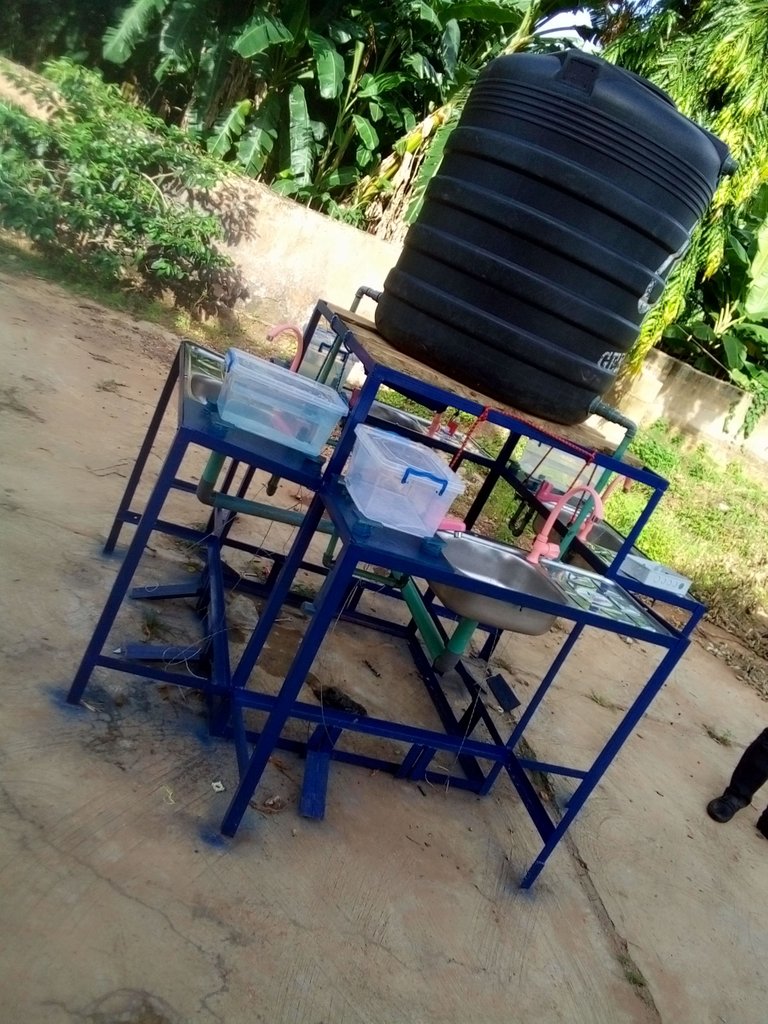 Due to the increase of COVID 19 virus in the world, it is necessary for us to ensure the safety of lives and properties of our people within our jurisdiction by stopping the spread of the deadly coronavirus. One of the critical measures provided by the World Health Organization (WHO) is constant washing of hands with liquid soap /alcohol-based hand sanitizer under running water. In order to carry out this above-stated operation, we need to develop a system that can be operated without the use of human hands.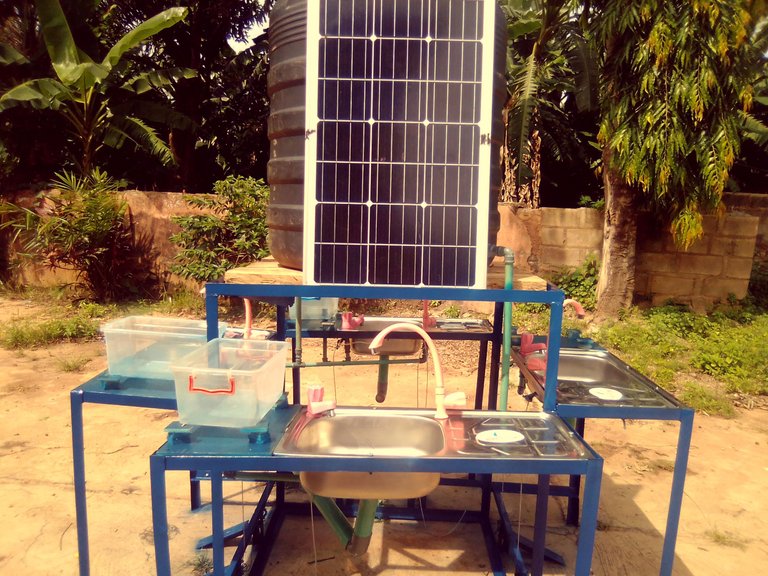 The currently available system is purely mechanical and can only serve one person at a time. I look inward and we came up with a seasonal solution that can serve four users at a time and can be operated manually(mechanically) or electrically. The system is suitable for highly populated areas and can be backed up using solar energy.
FEATURES OF THE SYSTEM
2500 liters of water storage tank

500 liters soap/ alcohol-based solution tank

Ergonomic free

Durability

Multiple users at a time minimum of four people at a time

Programmable time for washing and rinsing of hand

It is modular

Easy to use

Solar backed up in case of a power outage

MANUALLY / MECHANICAL OPERATED SYSTEM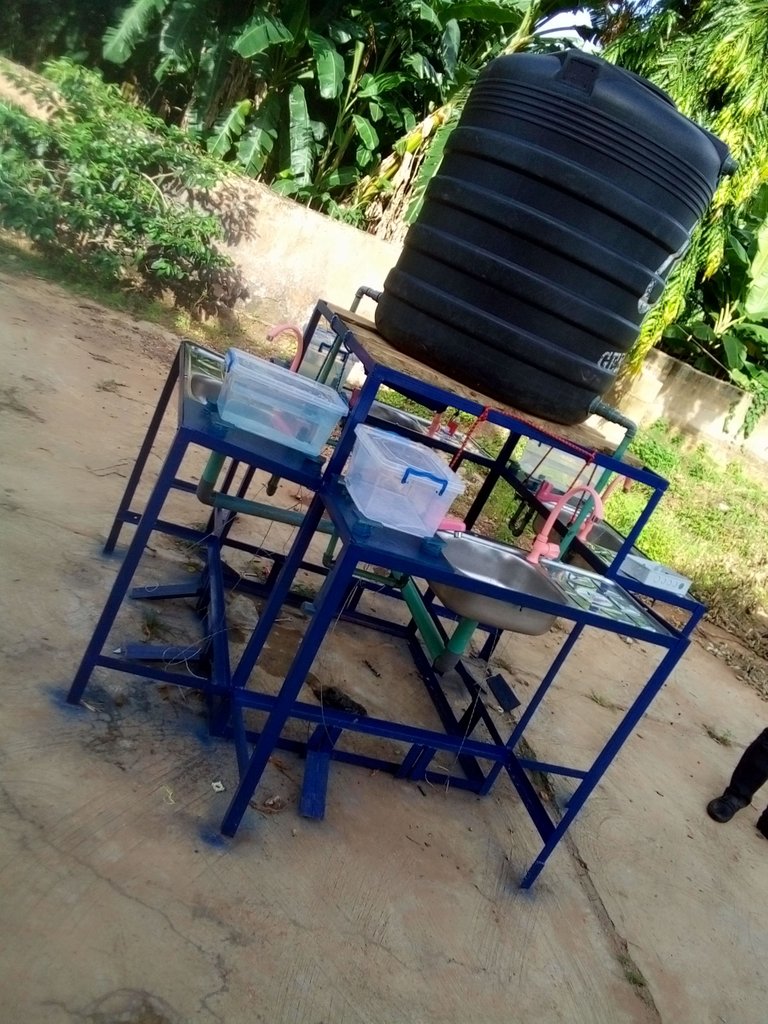 This system utilizes a complete mechanical linkages arrangement in form of wire, ropes, and a pedal system to operate a mechanical valve responsible for opening and closing water and liquid soap. The user utilizes his/her hindlimb(foot) to press the pedal which thereby opens the needed valve. Each used have its own individual pedal and as long as the pedal is pressed the required fluid keeps rushing down under gravity.
MATERIAL

Stainless steel kitchen sink

Plastic water storage tank

Plastic liquid soap tank

Lift the water control valve

2mm thick angle iron

Mechanical rope system

PVC pipe

Pipe fitting

Plastic waste water storage tank

SERVICE OPERATION

WELDING

PLUMBING

DESIGN AND FITTING

SOLAR BACKUP ELECTRICAL SYSTEM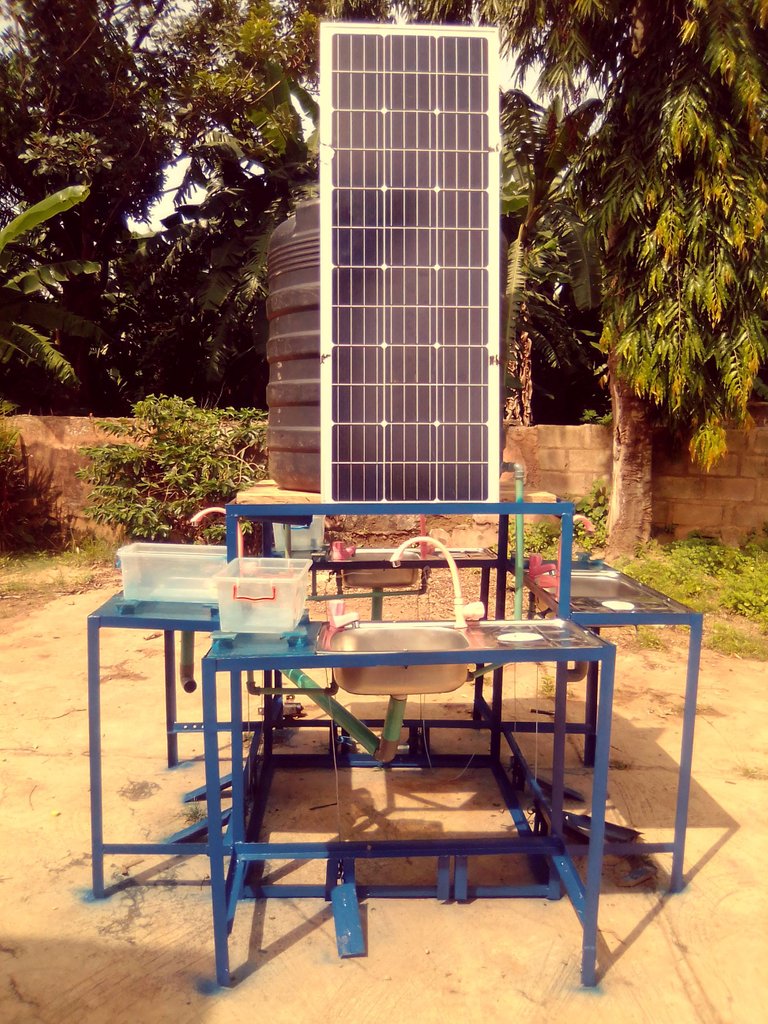 This system utilizes an infrared sensor in detecting the presence of the user's hand close to the washing basin. This resulting signal is then used in triggering the flow of the required fluid. At the start the liquid soap/alcohol base hand sanitizer flows for forty-five (45) seconds, thereafter the water begins to rush after 30sec of stoppage for the liquid soap / alcohol-based hand sanitizer. The water rushes for 120 seconds and stops automatically. If the hand of the user is still present the system cycles the process again. Peradventure the user removes their hand the system automatically senses this and stops any ongoing process and shut off the valves until the presence of the hand is detected again.
Due to inconsistent power supply, we decide to power this system using abundant solar energy and a backed-up battery in case of solar power outage though this system is expected to work during the active solar hours of the day. All the specification as regards the mechanical system holds for this system also.
SERVICE OPERATION

WELDING
PLUMBING
DESIGN AND FITTING
Electrical fixing
MATERIAL 

Stainless steel kitchen sink
Plastic water storage tank
Plastic liquid soap tank
2mm thick angle iron
PVC pipe
Pipe fitting
Plastic waste water storage tank
Liquid pump
Infrared sensor
Arduino Uno
Relays and circuitry components
Power supply for Arduino
100W solar panel
32AH Lead Acid battery
Wires and circuit breaker
Solar charge controller
DEVELOPMENT STAGES
MACHINE DESIGN ON SOLIDWORKS
SOLIDWORKS is a world leader in 3D solutions that help millions of engineers and designers succeed through innovation. SOLIDWORKS, a solid modeling computer-aided design, and computer-aided engineering program is one of the most popular software options for mechatronics engineers.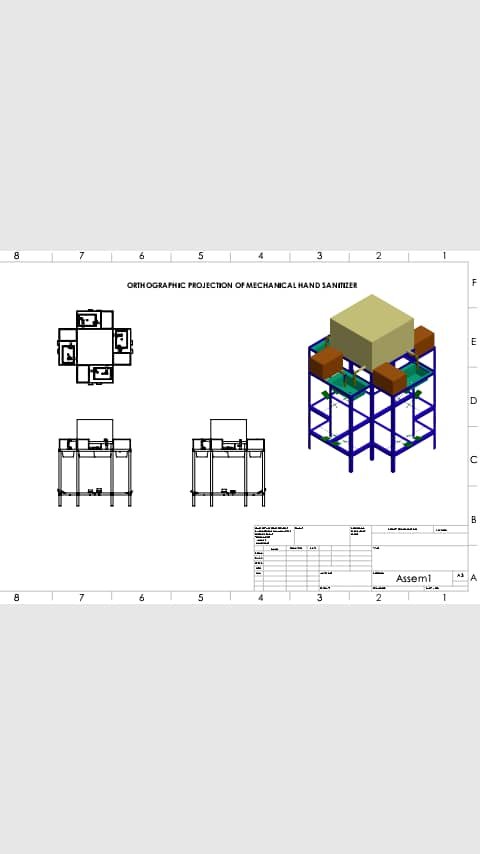 2 MATERIAL PROCUREMENT AND FRAME WELDING
All the necessary materials were procured from a quality shop and welding of the angle profile steel was done by me.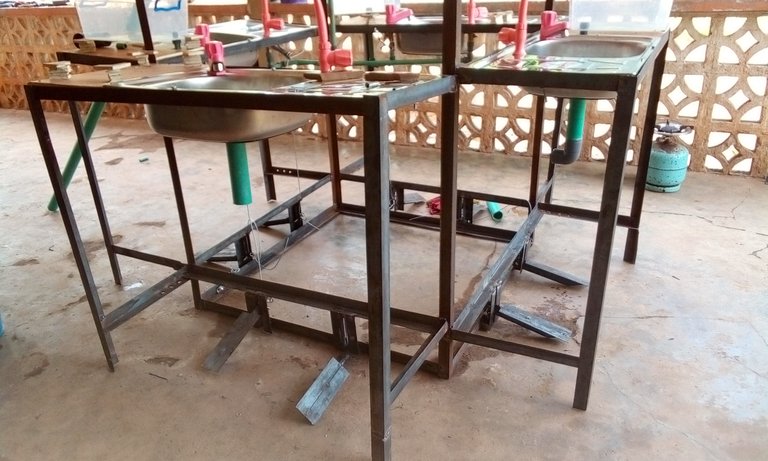 3 ASSEMBLY OF ACCESSORIES
Kitchen sink, Tap , water tank and all other needed equipment was assembled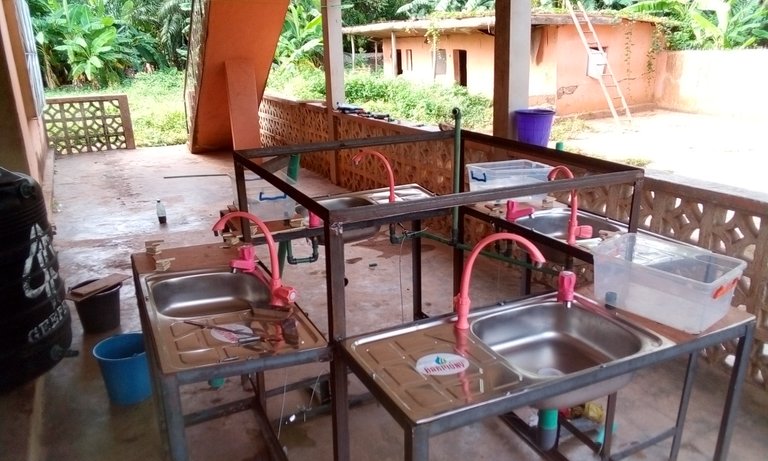 4 PEDAL SYSTEM CONSTRUCTION AND TESTING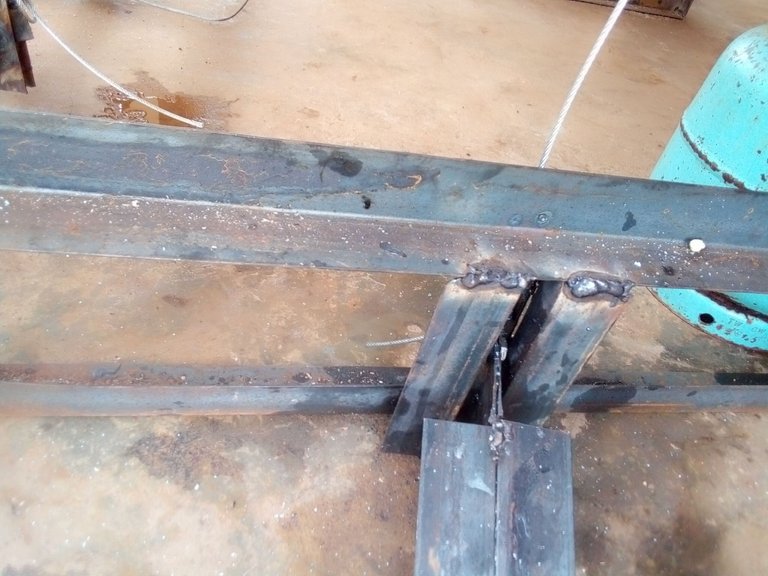 5 PAINTING
All the assembled accessories was removed and I hired the service of a professional painter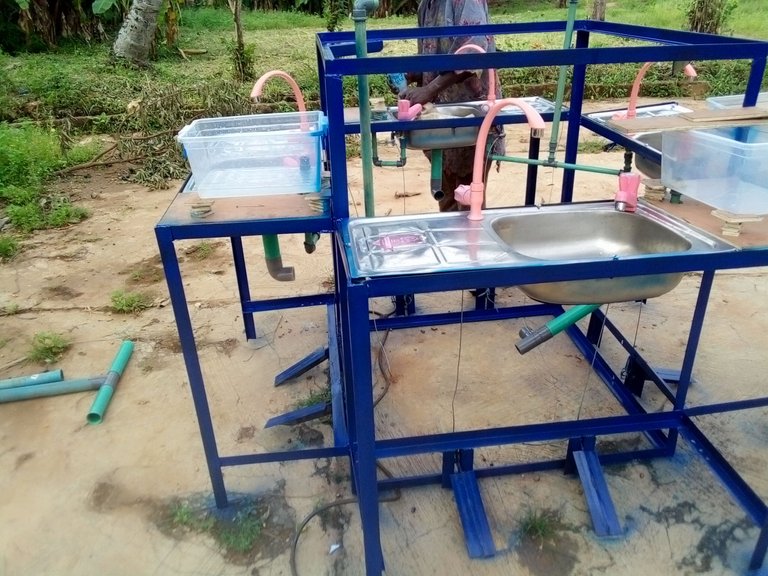 6 PLUMBING INSTALLATION AND FINAL COUPLING (MECHANICAL)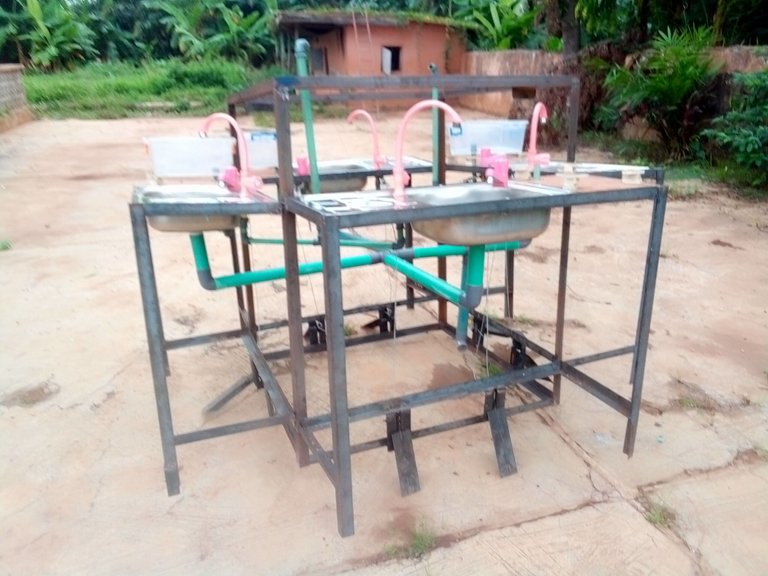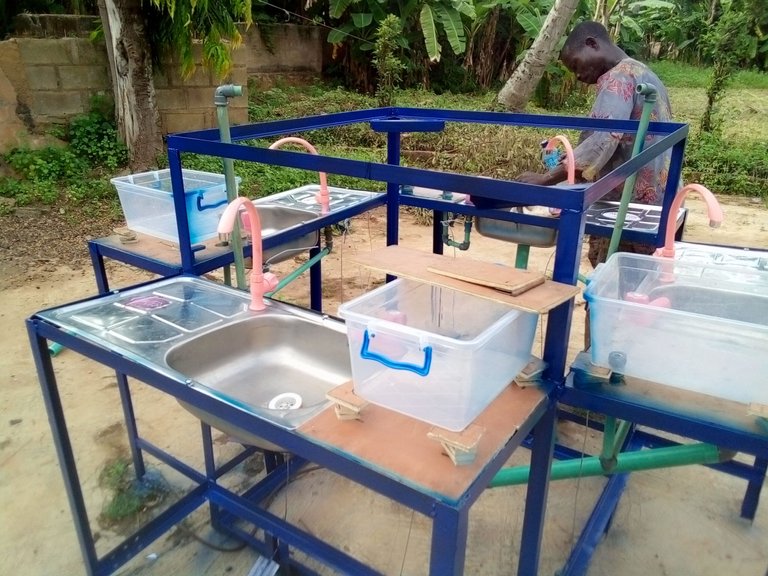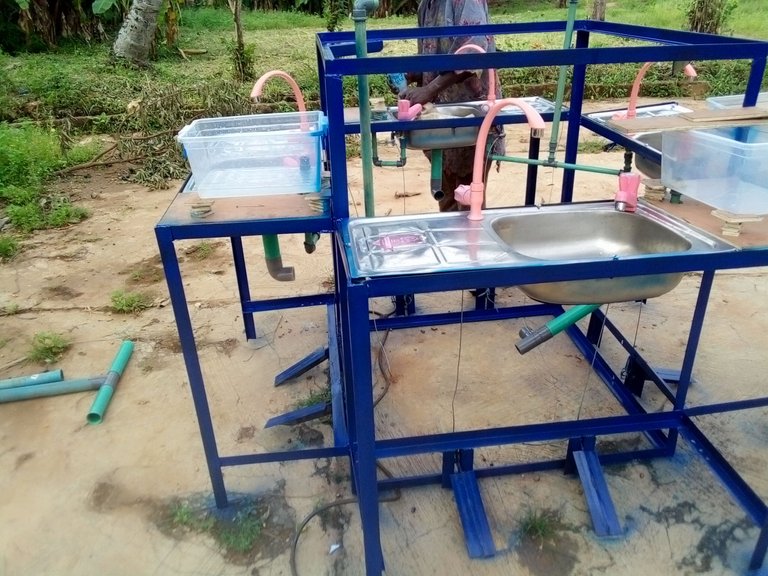 ELECTRICAL CONNECTION AND CODING
The infrared sensor was used to detect the presence of the user and 12Vdc motor is used to manually open that tap.Arduino was used to control this whole system , here is the Arduino code for the machine
int HBRIDGE=3;
int MOTOR1=4; // SOAP MOTOR
int MOTOR2=5; // WATER MOTOR
void setup() {
// LOW OF HBRIDGE SMOTOR IS CLOSING THE VALVE WHILE HIGH IS DOING CONTRARY
Serial.begin(9600);
pinMode(HBRIDGE,OUTPUT);
pinMode(MOTOR1,OUTPUT);
pinMode(MOTOR2,OUTPUT);
}
void loop() {
// put your main code here, to run repeatedly:
// SOAP RUNNING OPERATION
int state= digitalRead(2);
while ( state==HIGH){
digitalWrite(MOTOR1,HIGH);
digitalWrite(MOTOR2,LOW);
digitalWrite(HBRIDGE,HIGH);
Serial.print("clockwise");
delay(400); // the time taken for the screw thread to max position
digitalWrite(HBRIDGE,LOW);
Serial.print("Anticlockwise");
digitalWrite(MOTOR1,LOW);
delay(2000); // the time taken for the soap to keep position
digitalWrite(MOTOR1,HIGH);
digitalWrite(HBRIDGE,LOW);
delay(400); // the time taken for the screw thread to RETURN position
digitalWrite(HBRIDGE,LOW);
digitalWrite(MOTOR1,LOW);
delay(2000); // the time taken for the user to wash his(her) hand
// WATER RUNNING OPERATION
digitalWrite(MOTOR2,HIGH);
digitalWrite(MOTOR1,LOW);
digitalWrite(HBRIDGE,HIGH);
Serial.print("clockwise");
delay(500); // the time taken for the screw thread to max position
digitalWrite(HBRIDGE,LOW);
digitalWrite(MOTOR2,LOW);
delay(2000); // the time taken for the soap to keep position
digitalWrite(MOTOR2,HIGH);
digitalWrite(HBRIDGE,LOW);
Serial.print("Anticlockwise");
delay(500); // the time taken for the screw thread to RETURN position
digitalWrite(HBRIDGE,LOW);
digitalWrite(MOTOR2,LOW);
delay(2000); // the time taken for the user to wash his(her) hand
return;
}
//digitalWrite(HBRIDGE,LOW);
//digitalWrite(MOTOR1,HIGH);
//digitalWrite(MOTOR2,HIGH);
//delay(1000); // the time taken for the screw thread to RETURN position
digitalWrite(MOTOR1,LOW);
digitalWrite(MOTOR2,LOW);
}
Here is the complete project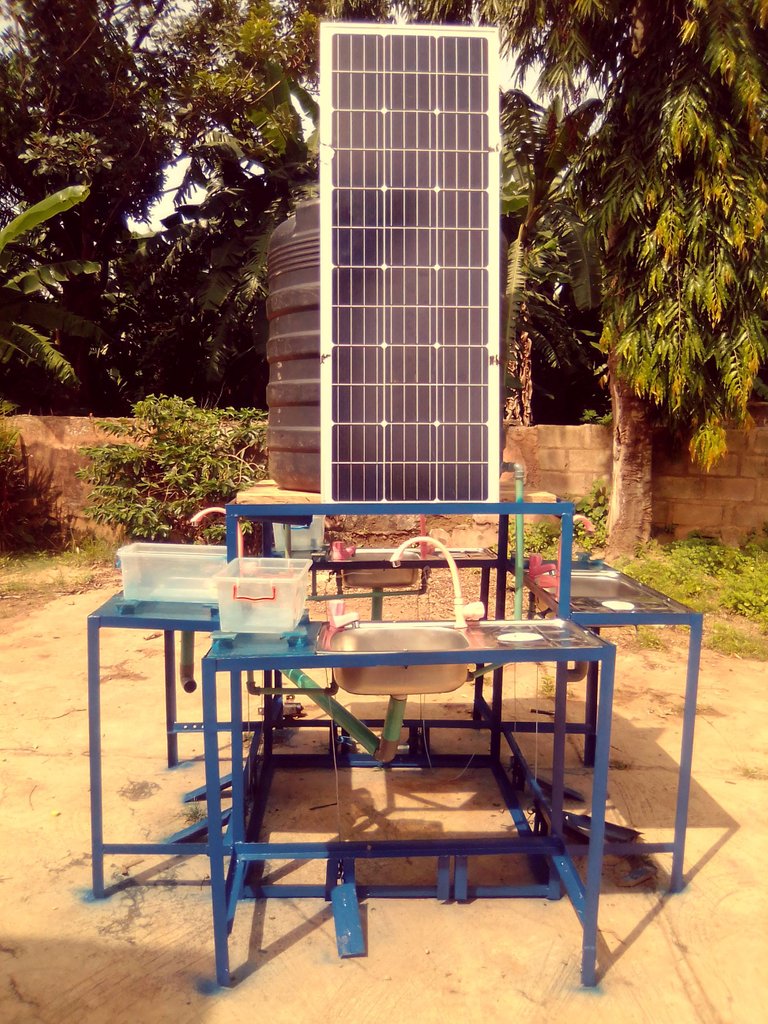 ---
---