Rising Star, Journey Progress #22
⭐Hello My Friends⭐
Today I will show you my progress, facing the quest to reach level 75. As I said in my quest #21, I put into practice my strategy of switching between skill and starbit quests. Shall we see how I do?
⭐My Current Status⭐
There wasn't much change: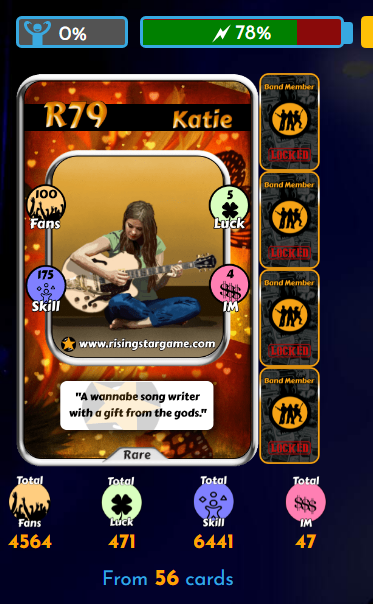 At the time of this post I have:
4564 Fans: Where 4096 are from cards and 468 are temporary.
471 Luck.
6441 Skill: 5137 skill points from lessons and 1304 from cards.
56 cards in total
I'm at level 55, missing 202 XP for level 56 and 22760 starbits.


Yesterday I managed to complete 3 Local Mini Tour Support missions and 1 Radio Studio Session. As I explained in my previous post (there's a link to journey #21 at the end of this post), I had the 2 pieces of pizza from the booster, so I managed to do the 3 100% missions and I still managed to fit one of 65% .
My career gains on October 28th were:
2,006 + 1,718 + 1,458 + 251 = 5,433 starbits


Today (October 29th) will be the day to focus on skill, so I can find a piece of pizza and get a little more XP today. Finding the piece of pizza, tomorrow I will do 3 times the missions that require 100% energy. This is going to be the cycle I'm going to try to keep.
⭐Next Goal⭐
Reach level 56 which is very close and continue doing my mission cycle with the strategy I set up. In this first test, in which I got the value of 5,433 starbits in day, I can say that I get 10k for a pack in 2 days.
A detail that I hadn't mentioned yet is that with this cycle strategy, for now I won't do the routine of opening a pack of cards on one Friday and skipping the other.
Now that I'm in a more comfortable situation, I think about trying to help the community in some way, doing giveaways, for example. In summary, I am happy with my career at Rising Star, I believe it is well underway!



If you want to know my work better, follow my last three posts:
[EN / PTBR] Do you know what parsimony is? / Você sabe o que é parcimônia?
Rising Star, Journey Progress #21
Evening in Goiânia



If you want to learn more about HIVE games, you can start playing:
👨‍🌾DCROPS👨‍🌾
⭐RISING STAR⭐
🐲SPLINTERLANDS🐲



Footer Designed With Canva


---
---