The never ending search for the perfect cardigan | First Monday Needlework Monday Live Chat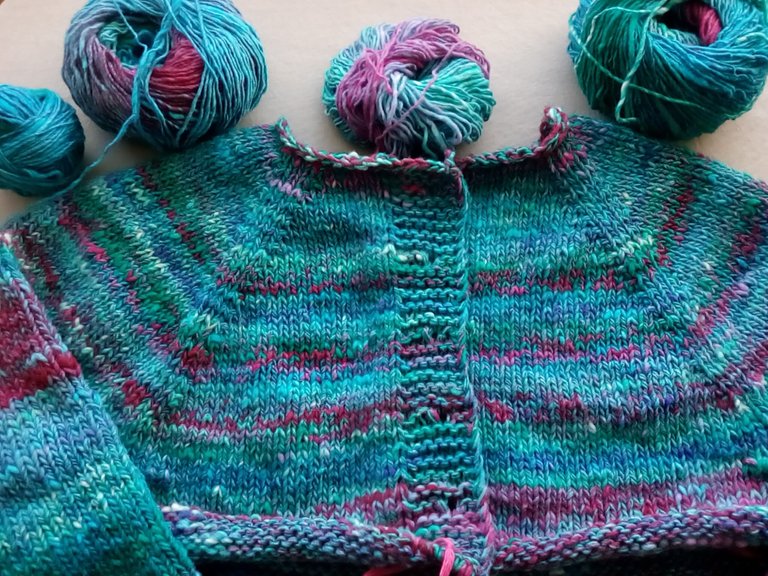 Here's my latest cardigan, knit using Noro Kureopatora a multi-coloured, thick and thin yarn with beautiful colours. I bought this several years ago, I really wanted Noro Silk Garden, a similar multi-coloured yarn, but a blend of wool and silk and a lighter weight. I have knitted several swatches, according to the label, but I never liked any of them. Recently I saw another knitter who only liked knitting with chunky yarns and needles and that inspired me to try swatching with the thread held double. I liked it!
I'm returning to my original top-down raglan cardigan pattern, but using some new techniques I picked up from the Cocoknits Sweater Workshop review. So far, I really like the fit of this cardigan and it is very cosy. I'm completing the sleeves before I finish the body because I want to try and balance the matching in the striping on the sleeves and then use what is left for the body. I might also do the collar before finishing the body - something like the Caroline brioche cardigan.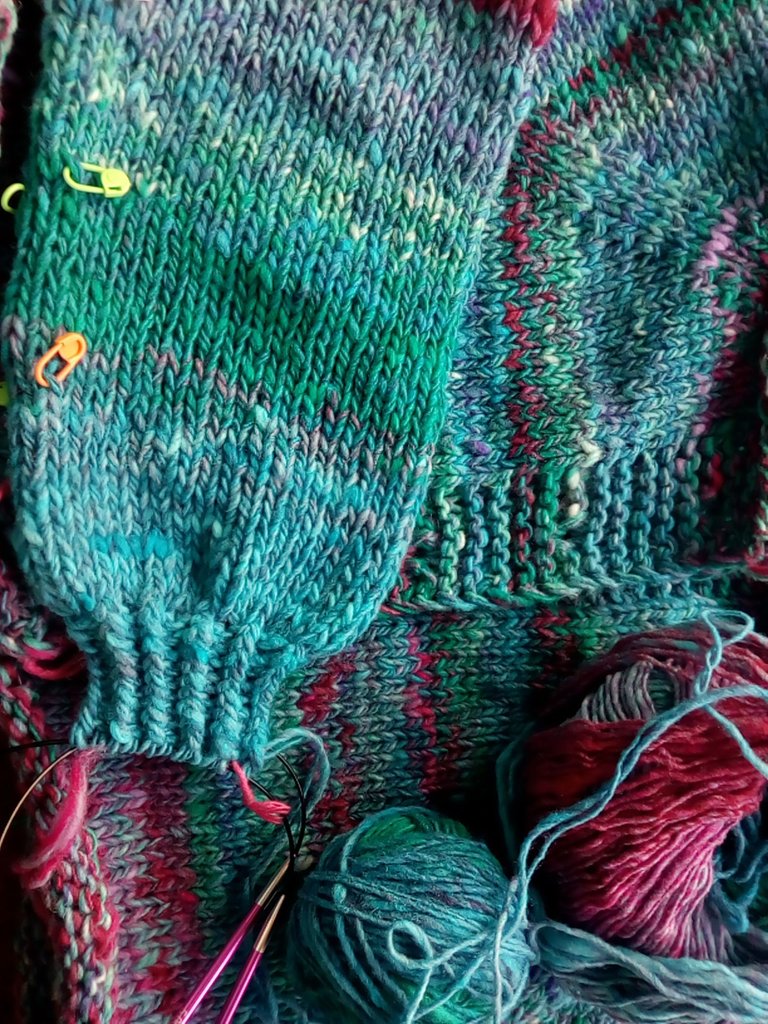 I am making a change to my usual sleeve. Generally, I like 3/4 length sleeves with a wide cuff, sort of 1960s style. This one I have made full length and kept some of the fullness to the wrist to create something of the balloon style which is popular now, coming into a close-fitting cuff. I really like the twisted 1x1 rib, I like the look of it, and the added structure at the wrist. I'm not sure how long to make the ribbing ... maybe 3cms, maybe longer.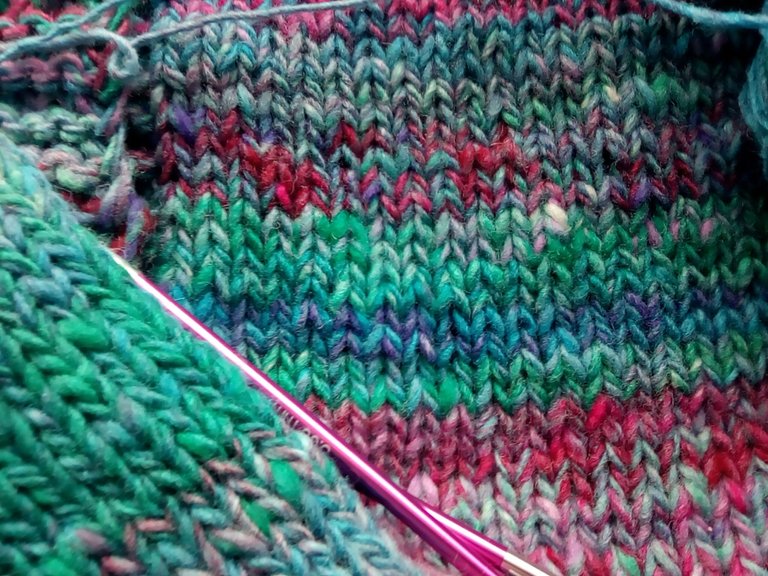 I'm enjoying seeing the different colour combinations as they emerge while I'm knitting. I especially like the two rows of blue and lilac in amongst the green. I find the small dots of white disconcerting, though, they look like holes in the fabric!
I have also started knitting the Cocoknits Emma sweater again, only this time I am adapting it to a round necked cardigan, rather than a v-neck jumper. I undid the previous version, which I thought was too small, and I've steamed, dried and re-wound the yarn, ready to go again. This time round, I've used the larger measurements (size XL) for the shoulders, as I thought they were too small in the first version. But they still don't seem to me to be large enough to reach across the width of my (very small) shoulders. I'll finish the neckline and knit a bit more of the yoke before deciding whether to finish the garment.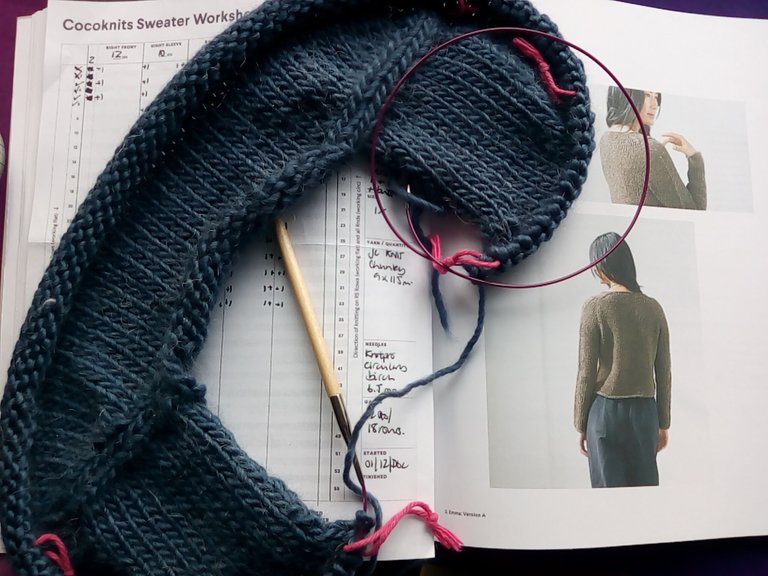 I've used yarnovers to increase stitches in the back yoke - there are increases in every row, knit and purl, and I found this made the fabric very tight. There is still some puckering showing in the picture, but I think this will smooth out when the garment is steamed. I do like the shoulder construction and it would be good to get a good fit - there are two selvedges in the construction creating firm stable seams. These would make a great foundation for embellishments - ruffles and fins.
Reminder: First Monday Needlework Chat
Monday 6 December 2021 at 7pm UTC - link to the Zoom chat in the Needlework Monday Discord.
See you there!

Saturday Savers Club
I run a savings club every Saturday over on the @eddie-earner account. We're aiming to save £670 ($800) by the end of the year using the 365 day savings challenge. YWe share savings tips and there's a free giveaway every week. There will be a new 365 day savings challenge starting on 1 January 2022.
First Monday - NeedleWorkMonday Community
Every First Monday of the month, I host a Live Chat for an hour from 7pm for the Needlework Monday Community. Bring your knitting, sewing, crochet (or nothing, that's okay, too), a nice cup of something, and join us for a relaxing hour of chat. Find our more in this post
Three things newbies should do in their first week and, for most things, forever afterwards!

---
---