8 colorful ChickHen ladies moved into Fuerte Pollo 🐔 [EN/DE]
EN
Good evening dear Hive Community :)!


In the last post you were introduced to the newest member of THE gang - Valeria. The last few weeks more ladies have found their way into Fuerte Pollo, which I would like to introduce to you today.
I also came across these hens, how could it be otherwise, on "Ebay Kleinanzeigen".
Since I am a friend of diversity, I have decided to 3 other breeds, flower chickens, Araucana and Königsbergers.
DE
Einen schönen guten Abend liebe Hive Community :)!
Im letzten Beitrag wurde euch ja das neuste Mitglied DER Gang vorgestellt - Valeria. Die letzten Wochen haben allerdings noch weitere Damen Einzug in Fuerte Pollo gehalten, diese möchte ich euch heute vorstellen.
Auch auf diese Hennen bin ich, wie solls auch anders sein, auf Ebay-Kleinanzeigen gestoßen.
Da ich ein Freund von Vielfalt bin, habe ich mich für 3 weitere Rassen entschieden, Blumenhühner, Araucana und Königsberger.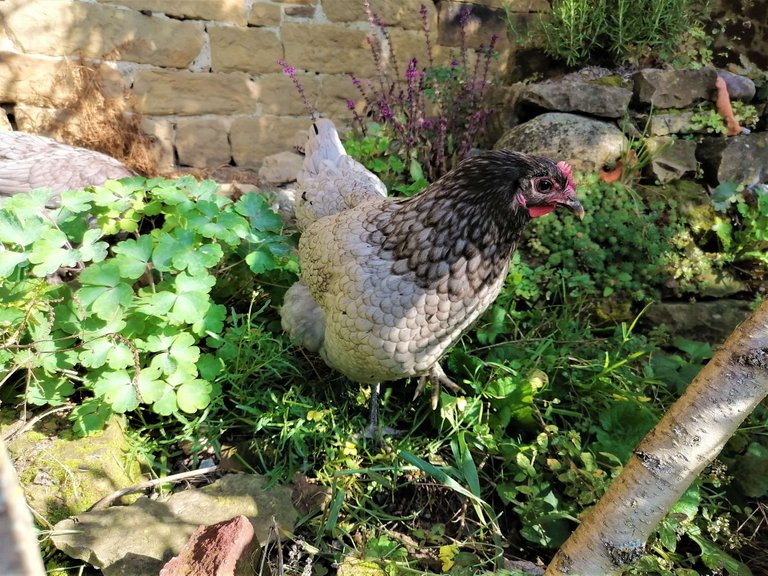 The picture above shows a Königsberger hen, the animals have a very beautiful pattern and a stately size, to be exact, they are the largest chickens in the barn.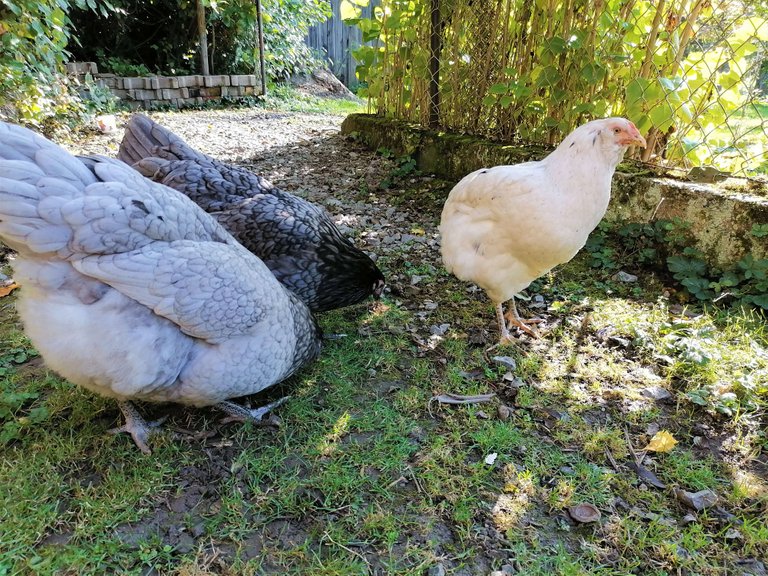 With the 2 Königsberger ladies, which we can see here next to a white Araucana lady, you can wonderfully recognize the typical pattern of this breed, as well as their tail feathers.
The animals have as said a stately size, but are very peace-loving and curious - one of the hens I would describe after the short period of time almost as hand-tame. Contrary to my expectations, these giants are very good flyers and manage a fence of 1.90m very well : D.
Since we have the white Araucana on these pictures, we continue directly with this breed :).
Auf dem obigen Bild ist eine Königsberger Henne zu sehen, die Tiere haben eine sehr schöne Musterung und eine stattliche Größe, um genau zu sein, sind es die größten Tiere im Stall.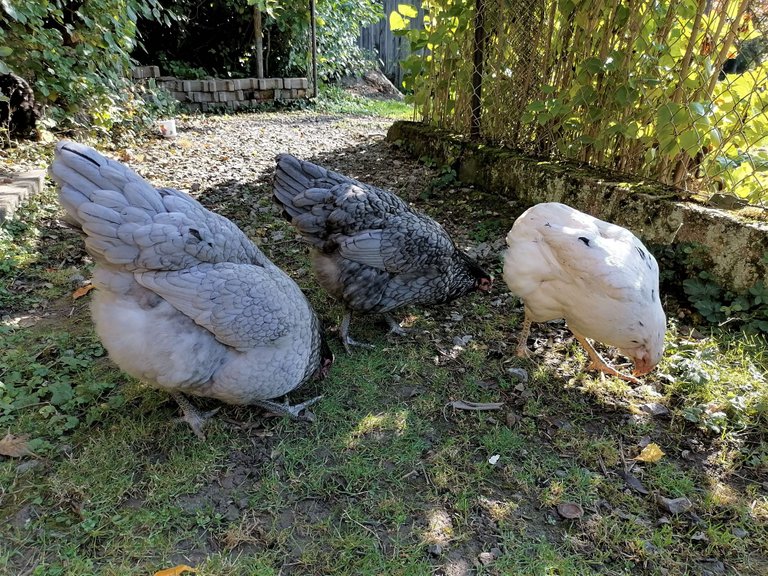 Bei den 2 Königsberger Damen, welche wir hier neben einer weißen Araucana Dame sehen können, lässt sich wunderbar die typische Zeichnung dieser Rasse, wie auch deren Spitz zulaufendes Schwanz-Gefieder zu erkennen.
Die Tiere haben wie gesagt eine stattliche Größe, sind aber sehr friedliebend und neugierig - eine der Hennen würd ich nach der kurzen Zeit schon fast als handzahm beschreiben. Entgegen meiner Erwartung sind diese Riesen allerdings sehr gute Flieger und kommen mit einem Zaun von 1,90m wunderbar zurecht :D.
Da wir auf diesen Bildern gleich die weiße Araucana mit drauf haben, machen wir doch direkt mit dieser Rasse weiter :).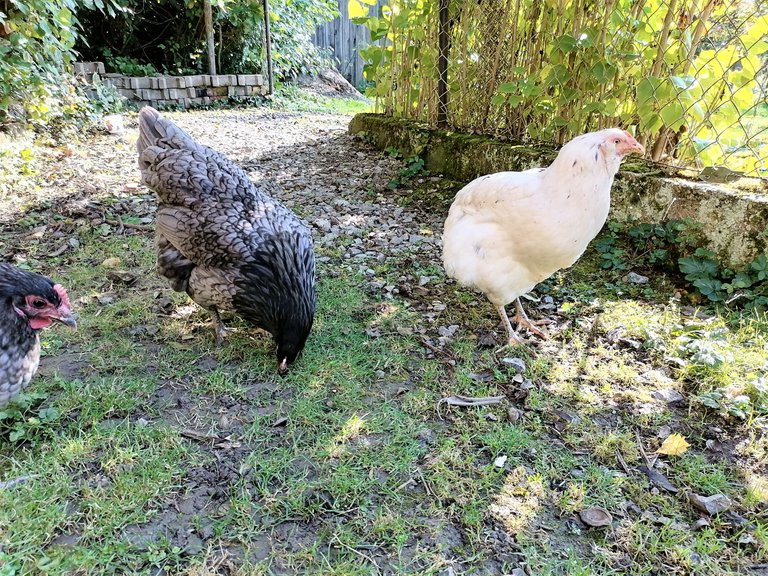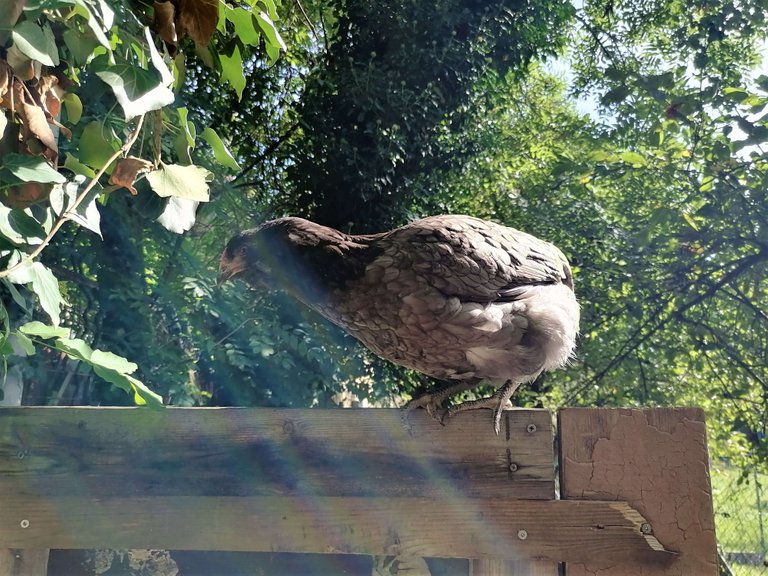 I got 2 Araucana hens, the white one is a very special animal because this one has a very warm nature, is incredibly curious and hand-tame from day one. In addition, the chicken has white eyes, which I have not yet encountered at a feathered friend - I could not quite figure that out yet, but the animal can see wonderfully :).
At her dark companion you can see the original chicken wonderfully on this picture, moreover, the animals like to climb on everything and fly as seen also easily the 2 meters on the gate of the outdoor enclosure :D.
Araucana Hennen habe ich 2 geholt, die weiße ist allerdings ein sehr besonderes Tier, denn diese hat ein sehr warmes Wesen, ist unglaublich neugierig und vom ersten Tag an handzahm. Zudem hat das Huhn weiße Augen, was mir bei einem gefiederten Freund bisher noch nicht unter gekommen ist - so ganz ergründen könnte ich das noch nicht, aber sehen kann das Tier wunderbar :).
Bei ihrer dunklen Gefährtin lässt sich auf diesem Bild wunderbar das Ur-Huhn erkennen, zudem klettern die Tiere gern auf allem Rum und fliegen wie zu sehen ebenfalls problemlos die 2 Meter aufs Tor vom Außengehege :D.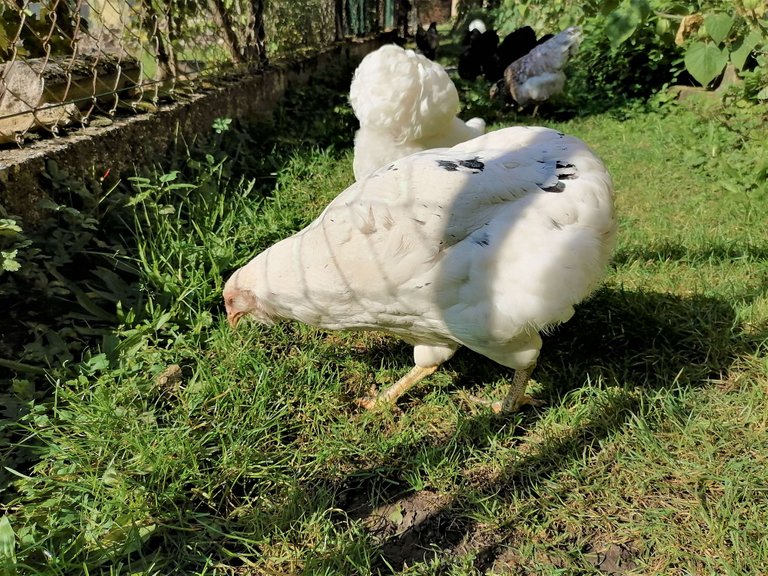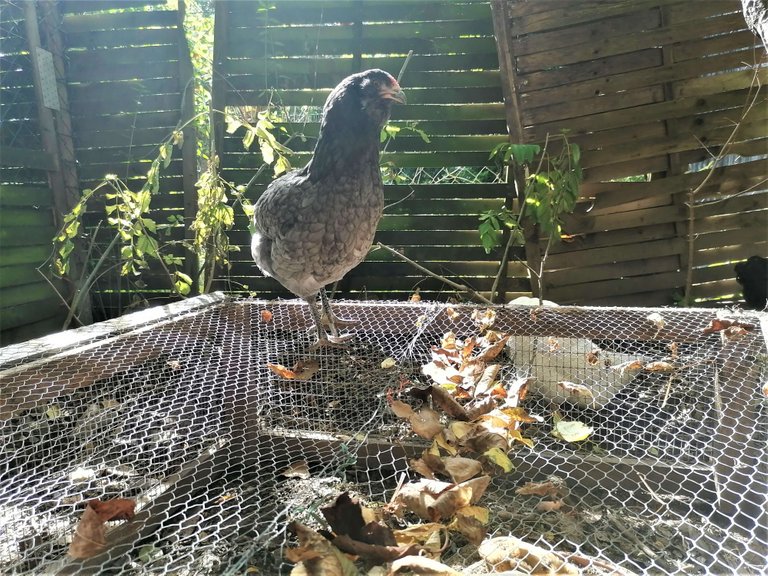 You have to admit, it looks a bit like a small raptor, besides mine don't have long tail feathers as you can easily see.


Which brings us finally to the flower chickens - of which 3 ladies have moved in.
Die sieht schon auch ein wenig aus wie so ein kleiner Raptor, zudem besitzen meine wie unschwer zu erkennen keine langen Schwanzfedern.
Womit wir abschließend zu den Blumenhühnern kommen - hiervon sind 3 Damen eingezogen.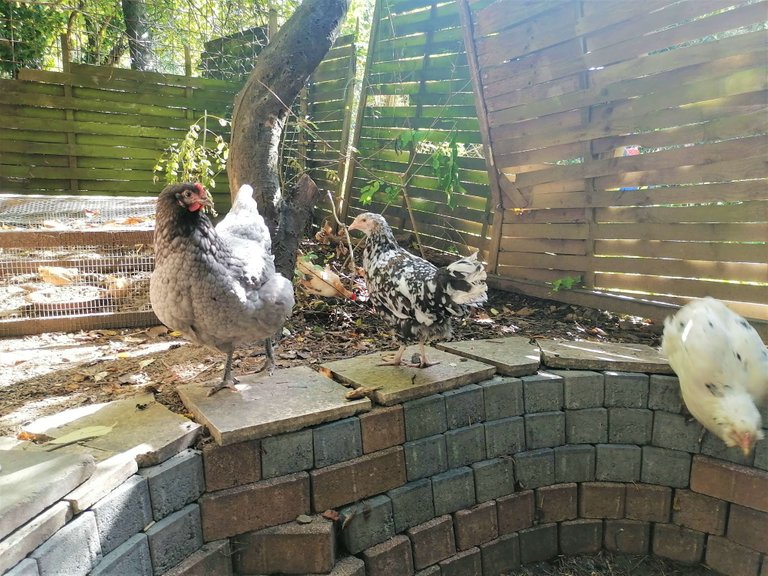 The flower chickens are characterized by their pied feathers, which allow the most diverse color combinations. Again, there is a hen, which is very trusting and curious. In the beginning she wanted to fight, but after 1 or 2 days she noticed, that the hand only brings good things - since then stroking or picking her up is no longer an issue :D.
Also this breed puts a small pile of poop on my fence, should the ladies feel like it - with one jump they are over it.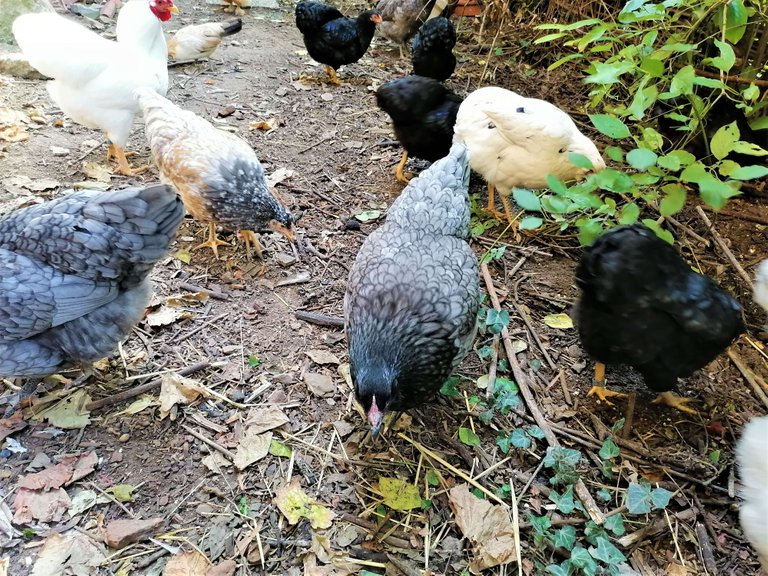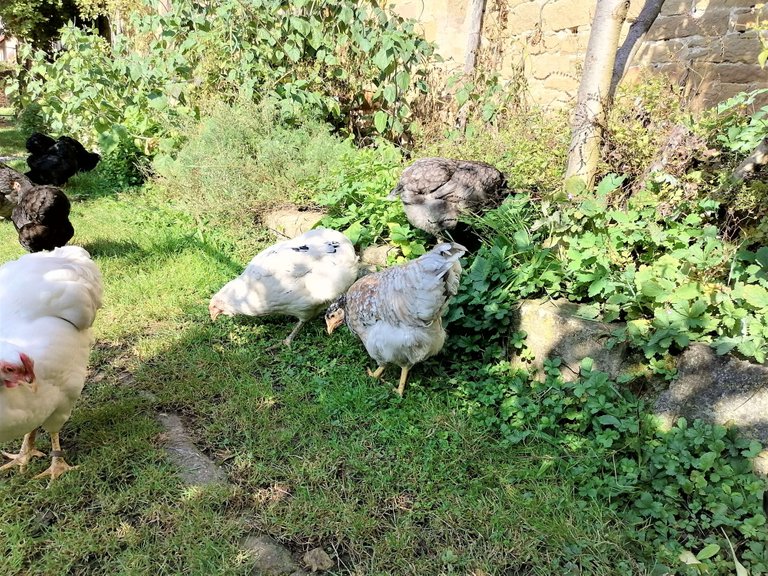 Die Blumenhühner zeichnen sich durch ihr geschecktes Gefieder aus, welches farblich diverseste Kombinationen zulässt. Auch hier ist wieder eine Henne dabei, welche sehr zutraulich und neugierig ist. Anfangs wollte Sie noch kämpfen, aber nach 1 bis 2 Tagen ist ihr aufgefallen, dass die Hand nur gutes bringt - seither ist auch streicheln oder hochnehmen kein Thema mehr :D.
Auch diese Rasse setzt ein kleines Häufchen auf meinen Zaun, sollte den Damen danach sein - mit einem Satz sind sie drüber.
---
Not only the chickens differ from each other very massively, but also their eggs.


Araucana lay green, flower chickens pied, the Königsberger like the dwarf Wyandotten brown like white and then there are also small brown and white eggs from the Dutch dwarf-hens as Valeria, the dwarf-silk hen.
Nicht nur die Hühner unterscheiden sich somit teils sehr massiv voneinander, sonder auch deren Gelege.
Araucana legen grüne, Blumenhühner gescheckte, die Königsberger wie die Zwerg-Wyandotten braune wie weiße und dann gibts auch noch kleine braune und weiße Eier von den Niederländischen Zweghennen wie Valeria, der Zwergseiden-Henne.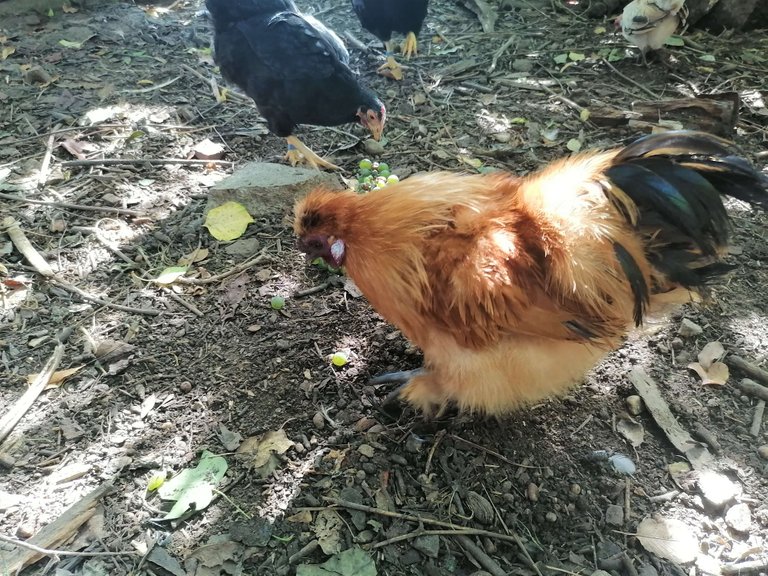 In spring, the new hens as well as THE gang will probably be ready, then there will also be some nice pictures of the many colorful eggs in all sizes :).
I hope you enjoyed the latest excursion into Schleese's world of chickens - enjoy your time and have a good time :)!
Im Frühjahr werden die neuen Hennen wie auch DIE Gang wohl so weit sein, dann gibts auch ein paar schöne Bilder von den vielen bunten Eiern in allen Größen :).
Ich hoffe, der erneute Ausflug in des Schleeses Welt der Hühner hat euch gefallen - genießt eure Zeit und lasst es euch gut gehen :)!
---
@schlees
---


Druckado.de - your provider for everything related to 3D-printing - HIVE payments accepted!
---
---