Wake Me Up When the Pain is Finally Gone

Hello beautiful Hivers. It's Monday, although it is already at Night, still Happy Monday y'all. I hope everything is okay at your end.
Anyways, we are at the 4th Week of HivePH contest. As for the theme or more like a question: What does wake me up when September ends mean to you?. This is my own interpretation of that line. For sure you are all familiar to that famous song of Green Day. It's one of my favorite actually.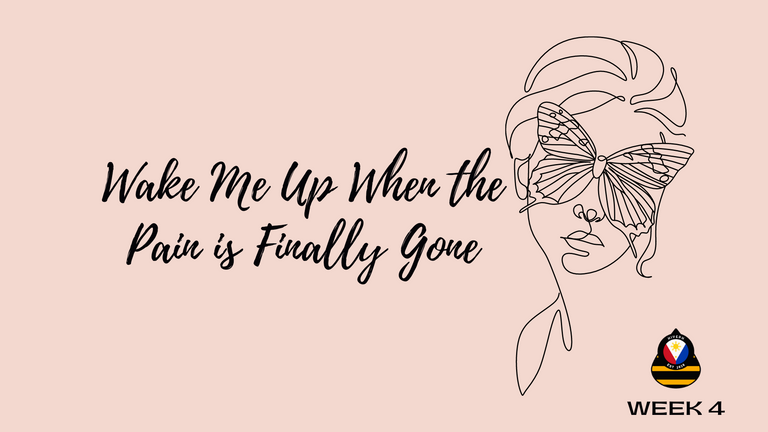 Image Created in Canva with it's Free Templates and Resources. Logo is from HivePH

And here's my entry for this week's contest:
--
"I Like You."
"Thank You."
"Is it okay of I like you?"
"It's your feelings, it's not like I can stop it?"
"Yeah, No. So, is it okay if I just like you? I am not expecting anything or what. I just want to like you."
"It's up to you?" It's your decision."
"Can I send a message to you to greet you Good Morning or about some nonsense stuffs,.?"
"I'm okay with that, but don't expect that I can reply always because I have work."
"I understand that off course. I won't expect anything. I just want to express my feelings tru this. I hope that's okay."
"It's your choice, so whatever you decide."
"Thank You (◍•ᴗ•◍)."
"You're welcome."
I know I said that I will just make him feel what I feel for him tru chatting with him everyday but, I never thought that it will be this tiring.
You know the feeling of when you are trying to convey your feeling to him but it is as if, he doesn't care. I know he is busy, he gave me a warning from the start but I never really thought that waiting on someone can be this tiresome. And I just discover that I am an impatience person.
I can feel his coldness, I thought I can even just get in his system. Like you know, like I can make him like me too. Just through my persistence and always present on his chat box. I also make sure that I let him feel how much I like him. I thought I am making a little progress on all of this. But, I guess I am not.
What we had that time is still the same to when we are just starting. There's no progress, no nothing, zero, nil, nada. I thought I successfully made him feel my real feelings for him but, why we're still the same to when we first started. He's replying to my message sure, but there's nothing in there. And I was in pain halfway through the process of it.
I thought, I can wait no matter how much longer it takes but, if it's you? Can you still wait for him even if you know to yourself that nothing is happening? Won't you feel tired? Or sick of all those specially if you remember those time you imagine that one day, your feeling will be reciprocated?
I even wished to just drop on the ground and sleep indefinitely just until I finally move on. And just wake up when I already accepted everything and the pain is already gone. But that is just a wish from a heartbroken woman. I'm just tired of feeling the pain over and over again that time.
I know it's my fault, and I know too that expecting that something will happen in the end is not right. But, I can't help it. Even if I know it's impossible I still hope that maybe, just a little bit - something will change. But I expected too much that when I finally realize it, I am already drowning on my own feelings for him. That is where I realize that you can't force anybody to like you just because you like them. It doesn't work that way.
So, I decided to end it. I want to move on. I don't want to hate him more because the truth is, even I know it's my fault, I can't stop myself from blaming him. But I know it is just a reason to really hate him. So I can finally move on. I also think that hating him will help me to move on. Well it did help me, in some ways, but it is not that easy.
I feel like shit because I really use that "hate" just to move on. Because to be honest, he is too good and too kind to be hated. He didn't do bad. It's not his fault that he can't reciprocate my feelings. I hated myself more because of those thoughts about him.
The process of moving on is not easy. But I did it. In the end I learn something on that experience, I learn something from him.
---
"Wake me up when September ends" to me is "Wake me up, when the pain is already gone." Meaning, You already move on and you finally let it go. You are ready to finally face the world again. With the new you and with a happy heart.


---
---