The 2021 Holiday Challenge Begins November 25!
It's almost time for our most popular challenge! The 2021 Holiday Challenge begins November 25 (US Thanksgiving) and ends December 24 (Christmas Eve).
Every participant who completes at least 100k will be able to download a free certificate of achievement, and everyone who completes at least 200k, chooses a donation option, and provides their mailing address will earn a free Holiday Challenge pin.
Participation is simple! All you have to do is complete as many meters as possible on either the RowErg, SkiErg, or BikeErg (or combine meters from all three!) during the challenge dates and enter your meters in your Concept2 Online Logbook.
If the idea of doing 100,000m in just over a month sounds daunting, we've published suggested workouts for each day of the challenge to help keep you motivated and provide some inspiration.
Note: BikeErg meters are counted as half when applied to the challenge.
Support Great Causes with your Meters!
For every person who rows, skis or rides at least 100k during the challenge, Concept2 will donate $.02 per kilometer (1000 meters) to your choice of one of the organizations listed below. Once you get to 100k, we will then donate $.04 for every kilometer beyond that. Note: For kids and adaptive participants, the $.04 rate will take effect at 50k. Visit the Holiday Challenge page for more information.
Note: You must choose a donation option from the main log page of your logbook for your meters to count toward the donation. Donation options include "Do Not Donate" and "Let Concept2 Choose."
The Pocock "A Most Beautiful Thing" Inclusion Fund
The Vaccine Alliance
Clima Fund
Right To Play
Vermont Adaptive Ski and Sports

Wishing you happy healthy holidays!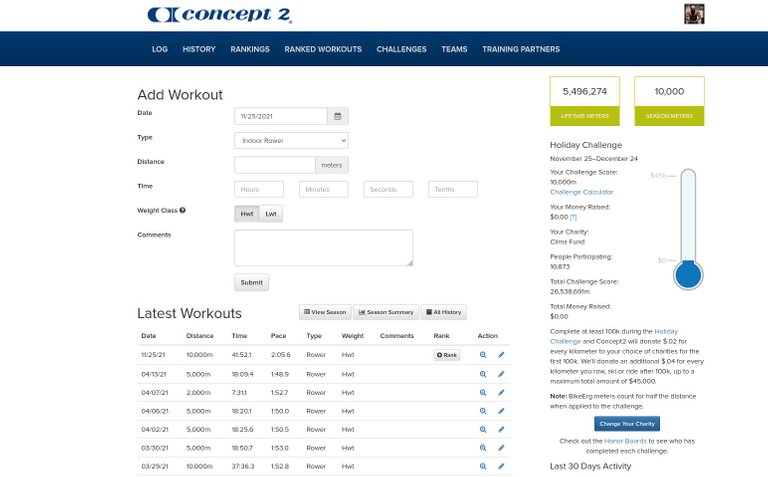 ---
---