Purchasing Splinterland Cards With Affiliate Earnings (3/30/2023)
With card staking on land fresh on my mind and the gut wrenching feeling that card prices might spike soon I decided to hit the Splinterlands marketplace to add to my collection of Splinterland assets. Yesterday I created a post detailing my Malric Inferno purchase and shortly after that purchase I went on a buying spree of what I consider under-valued monsters. My cards of choice; Rusty Android, Animated Corpse, Highland Archer, Grumpy Dwarf. I know what you are thinking, who does such a thing? Well, not that long ago the Grumpy Dwarf was trading at a value over $2.00 USD each. Today (03/30/2023) they can be purchased for $0.28. The Grumpy Dwarf have the same collection power and same production points as all other monsters in its class. To add to that it also has one of the lowest total circulating supply as other monsters in its class (Beta/Neutral/Common). All that adds to the likely-hood we see the USD worth of the Grumpy Dwarf eventually spiking.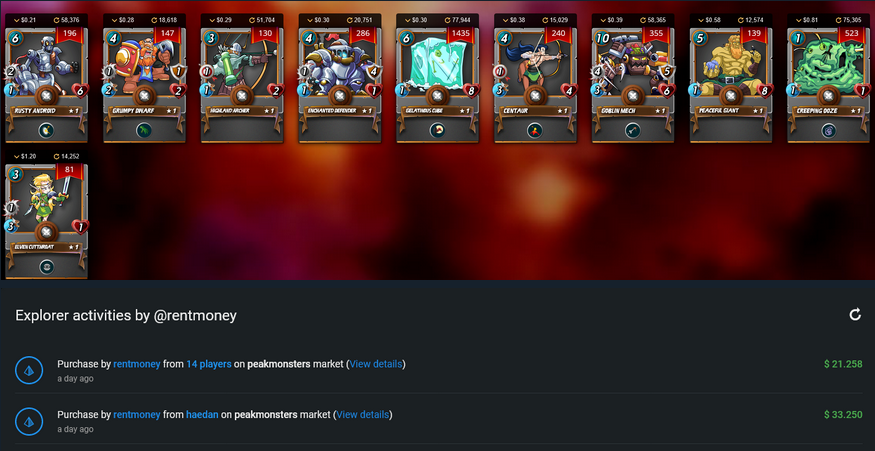 But that was yesterdays news. Today I'm going to do some more purchasing. As I type this I'm not sure what variant of card I will purchase but my collection is mainly BETA cards so that is what I'll be eye-balling first. I'll be using my credits earned from affiliate earnings to purchase these cards. (What is affiliate earnings and how do we get some?) Great Question: Splinterlands has an affiliate program that will give you the potential to earn credits in exchange for bringing new players to the Splinterlands game. These affiliate earnings are paid out by the company. The person signing up (and making purchases) are not out a thing for using your affiliate link. To find your affiliate link go to your profile section on the Splinterlands site and click on the section that says Affiliate Program. Once you have done so a new window will open that will display your affiliate link. Anyone who signs up through that unique link will be credited as someone you introduced to the Splinterlands game. Sit back and enjoy your affiliate earnings.
Today's Purchases
I decided to buy up some more Rusty Androids to add to my already 1000+ collection of them. In total I purchashed 40 Rusty Androids for a average price of $0.21 each. Next up was 32 Minotaur Warrior for the average price of $0.22 each. The cheapest is now $0.29. Next on my hit list is 10 Ettin Spearman which eats up the supply of the reasonably priced level ones (unless more is posted by the time you are reading this). Each of these purchases helped build my collection and also my collections value as each purchase helped push the cards USD value in the upwards direction. After checking my total valued owed I realized that if I spend just a little bit more I'd get the 2.25 PKM credit (I'm using PeakMonsters to purchase). So I decided to purchase 26 Baby Unicorns because they were only *12 cents each. The Baby Unicorn currently has the lowest USD trade value out of all the Beta Reward cards listed on the Splinterlands marketplace. That is enough "shopping" for me for one day. I do have a little more credits to spend but I'll do that another time. If you are looking to round out your collection, now might be a good time as some of these Splinterland cards (Alpha/Beta) listed supply are dwindling.




---
What Is Splinterlands?
Splinterlands is a blockchain game built on the Hive Network. The game itself utilizes NFT's for game play. These NFT's can be won in battle and/or purchased from the official Splinterlands marketplace or many other secondary markets. Game play rewards players with cryptocurrency and in game assets. Click here to get started with Splinterlands.
---
---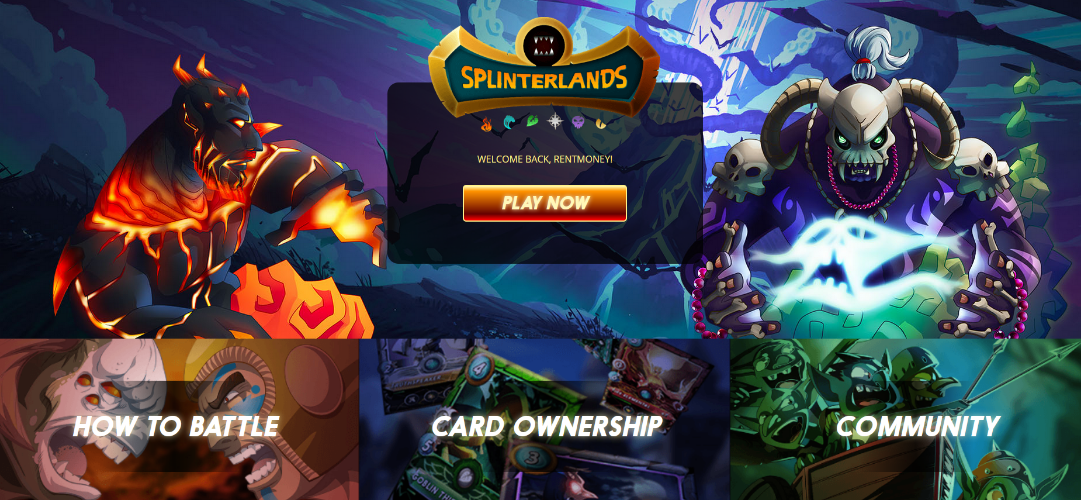 ---
Posted Using LeoFinance Beta
---
---