Ethereum Gas fees affecting the ETH blockchain..
It is no wonder, the gas fees of ETH has been the talk of the town since the price of ETH gas fees rose to the peak in the recent crypto pump of the year. Some even stated this could be the end of ETH blockchain due to this sudden rise of gas fees. The situation was very difficult to handle. It seemed like as it, whatever you do in ETH blockchain, you are going to count a nefty amount for that. It was being called for a sudden demise for eth users. The ripple effect of it would be felt in long term.
---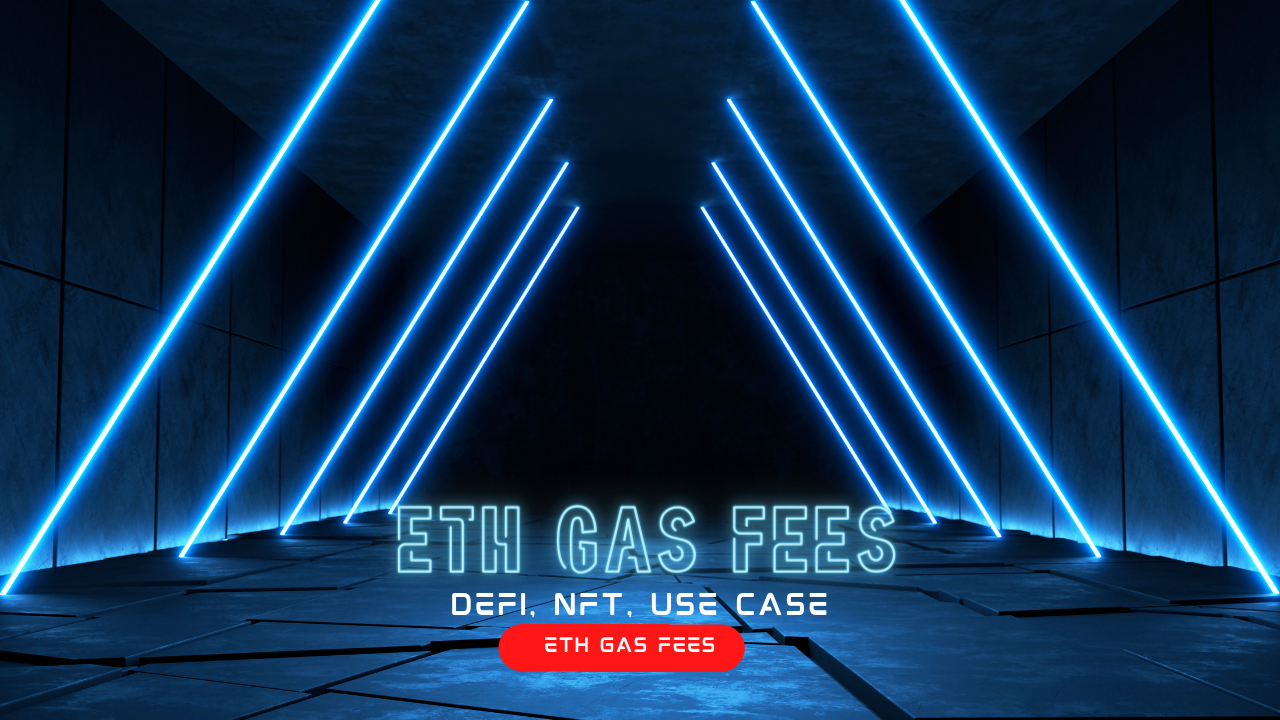 ---
Whereas, in the last couple of weeks the gas price has been decreasing in a phenomenon way. To my surprise, I was quite lucky to see gas fees even less than 10 GWEI for a certain period of time. Which made the gas fees less than $5. For someone like me, who is used to paying huge gas fees (I paid over $250 as gas fees, including the trx in multiple occasions), this sudden decrease of gas fees was indeed a blessing. But likely, as of now I am away from ETH based projects for some time (the ripple effect I was referring to). Let me share my POV in regard to this aspect.
---
The chart below refers to a week's calculation of used Gwei. Which precisely is denoting to the fact of how constant it was over the week. It almost was steady below 30-40 most of the time in during the last seven days. Apart from all the node attributes (ETH 2.0 and all) and the miners being over crappy about their mining fees, ETH was literally getting screwed over. As an user of different blockchain I am seeing some major changes in this DEFI space and I am able to say that ETH blockchain dominance is decreasing as days are passing by.
---
Each unit of gas has a price, simply referred to as the "gas price". Gas prices are denoted in gwei. Gas is used to pay for transactions on the Ethereum blockchain. The amount of gas required for each transaction depends on the complexity of the transaction. A simple transfer may use as much as 21,000 gas whilst a more complex transaction. Read more
---
My point!
---
The chart below are the number of Defi exchanges activities over the last 30 days. As you can see in terms of receiving users in its exchanges, all I can see are the exchanges from other blockchains rather than of ETHEREUM's. I myself was surprised to see what is actually happening.
---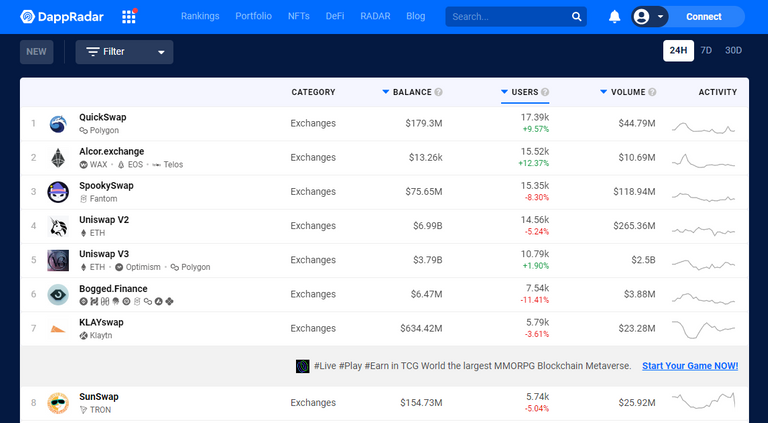 ---
People are searching for options !
---
---
I admit that ETH blockchain has the one of the best security that a blockchain can offer but without users and funds what would eventually happen to its blockchain. Do not forget what actually happened to BTC. Not only people are finding alternatives to BTC in terms of HODL, Trade, Transfer of funds. But even after all this BTC will and shall be the KING of all times, no doubt there!
---
Defi
---
We can not ignore the fact, the rally of Defi started to get its market place via the hands of ETH blockchain. But like it is said there will always be a better option. Even though ETH blockchain has been seeing a surge in its userbase due to defi but the high gas fees has been its demise. I myself have done countless trrdes and when I was going through the gas fees that I have spend in those trades, I was astonished. Thousands of dollars just for transfers and trades. This is insane. I somehow feel sorry for myself lol.
---
NFT
---
Opensea made a revolution, in terms of bringing NFT close to users. Opensea helped a lot in mass adoption of NFT's. All I can say now, NFT market place is getting slow as days are passing by. There are few reasons for it though :
---
---
Almost all the top NFT which are listed in different sites they got to that price due to the hype. Which is why as soon as the hype starts to fade over most of the NFT projects starts to loose its floor, thus having an impact is humongous wallets of different users. I wonder what would have happened if those money were actually lost in real life assets. Just curious!
---
---
Almost all the NFT's that are available on the ETH marketplace has no propper utility or use case. They are just being hyped and going over the market. Tbh if I had enough money to play with, I would have done severe trades or flipping these NFT's and make some fortune out of it.
---
But in that regard I must say Splinterlands NFTs are a real gem among all the other play to earn games out there. In fact, I regret to this day for not holding onto enough cards when I had the chance. There is still time left to get into the game and make a place out in there. Here's my ref link ;)
https://splinterlands.com?ref=rehan12
---

---
All I am saying is, when you create an opening for your opponents to deliver something far better than you can offer there is a high chance you are going to loose the floor that you have. This is exactly what is happening to ETH. Well, blockchains like Fantom, Solana, Avalanche, Matic and many more they are slowly getting the market and its userbase is increasing. Unless ETH might try something big which would attract its users like crazy :)
What I might think is, ETH might follow the road of BTC where they will the the idol and the rest of the blockchains are going to make place for themselves as time passes by. Well, these are just thoughts that I wanted to say out loud lol. Nothing of those sorts might happen. Just my mere thoughts being shared with my fellow hive users :)
---
---
Best regards
Rehan
---

Posted Using LeoFinance Beta
---
---