Crypto Hacking....
As the world is stepping into the era of digitalization, the vulnerabilities have been the price which we had to pay. The more we dive into this zone, the more obstacles we are to find! The two foremost result would be, too much luxury or loose what you have as there are loopholes within the system.
---
Crypto literally invented a different path for millions of users. Some might curse it due to the loss they have suffered while others would have a total different sets of opinion in this debate. I am among those who would cherish about the fact of getting introduced to crypto. The change that took place in my life due to the fact of wiling to choose a different path than others. I might even say, I am glad that this change in my life actually happened. While The more we step into the world of crypto, the more doors shall open for us. Which makes it difficult for people to be aware of the scams and hacking stuffs that are being attempt to get hold of their assets. I might call myself lucky as there has been no incidents so far with me which resulted me to loose my funds.
---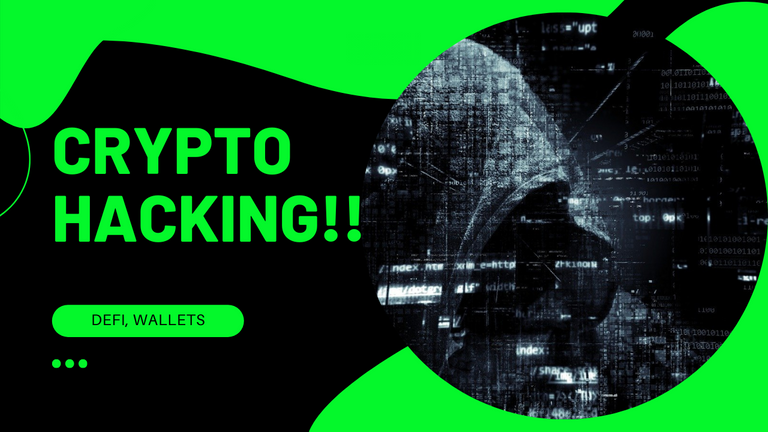 ---
Crypto Hacking
---
Hackers have been identifying loopholes all across the defi protocols. While some of these protocols were successfully exploited and hackers ran off with millions of dollars of users, smart contracts and what not. If only these protocols were dead serious about their assets and do what needed to be done before this incidents took place. In recent times these exploits have been making a buzz about security and the integrity of these so called defi platforms. Needless to say, defi industry has made a revolution but it has also given a clear path for hackers to make themselves millionaires in just few clicks.
---
Few recent hacks, which does shows the continuance of these actions. Where people, projects are loosing millions of dollars from their protocols. Which is leading towards confusion, dis-trust and overall crypto market is panicking due to such incidents.
---
---
Apparently it is a DEX where stable coins were traded. It got exploited and according to the report over $10 million dollars were hacked from the smart contract. Apparently around $4 million dollars were recouped but they did managed to get away with $10 million dollars in ETH.
---

---
---
This time it was attacked as a means of Flash Loan attack. There was some sort of loan and collateral issue. Which can precisely mean the protocol system was exploited and money was made due to the increase of the native currency. Read more from the source below.
---

---
---
Another lending platform which got hacked for about $80 million dollars. They were able to find a loophole in the smartcontract thus this exploit took a successful turn of events as we speak. A funny tweet was lend out by the team of rari to the hacker, "return $80 million dollars for a bounty of $10 million dollars". I am not sure if the hacker will take the bait lol.
---
---
De-fi (Decentralized Finance) has taken us to the next step close to financial freedom. I own my own assets, there are no third parties involved and I have the full authority over my assets. Which does feels very intimidating but it is also a grave threat. With recent incidents, it is making difficult for users who are not aware of such theft being committed and they have no idea how to deal with these so called situations. Few steps which I try to follow in order to secure my assets in my non custodial wallets.
---
Do Not click un-wanted links

When you are using any wallet/s be sure to justify the web/link before you connect your wallet

While giving permission, read thoroughly from your non-custodial wallet, which sort of permission you are giving out

If you get a coin for free/airdrop do not just go for sell, as most of these are known scam to get hold of your account

If you are using PC, do not download any random extension (web wallets) justify and download from official source only
---
Honestly, I do not hold huge stakes of crypto which is why I probably do not mind taking on a service from CEX but for the coming days I am definitely moving towards DEX and also moving towards the non custodial wallets for holding my crypto. In more favorable case, I would definitely switch to hardware wallets as we speak.
---
Since, it is our fund and we should be total responsible of saving them from attacks and make sure we take all the necessary precautions to maintain the safety of our assets. As even if you locate the transaction it is close to impossible to catch the hacker or get your full fund back from them. Better be safe than sorry!
---
Best regards
Rehan
---

Posted Using LeoFinance Beta
---
---