[Eng-Spa]. Melocactus curvispinus, Pitigue or Melon de Monte and remembrances of my childhood // Melocactus curvispinus, Pitigue o Melón de Monte y recuerdos de mi infancia.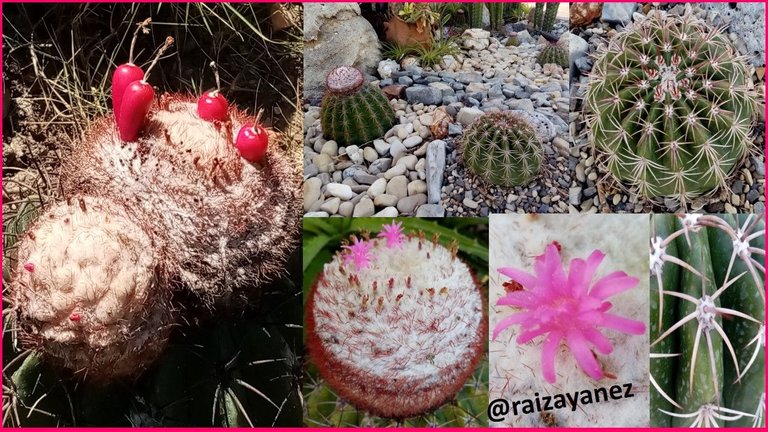 ---

I invite you to enjoy this publication inspired by some beautiful Pitigues, which I found on my daily walks through my community, which brought back fond memories of my childhood, when we used to go hiking on Cerro Venezuela, located near our home in Colinas del Neverí.
Los invito a disfrutar de esta publicación inspirada en unos hermosos Pitigues, que encontré en mis recorridos cotidianos por mi comunidad, los cuales trajeron gratos recuerdos de mi infancia, cuando realizabamos excursiones en el Cerro Venezuela, ubicado cerca de nuestro hogar en Colinas del Neverí.
---
This plant whose scientific name is Melocactus curvispinus belongs to the Cactaceae family, and is one of my favourite cacti because of the contrasts of colours, texture and shapes it offers us.
Este planta cuyo nombre científico es Melocactus curvispinus pertenece a la familia Cactaceae, y es uno de mis cactus preferidos por el contrastes de colores, textura, y formas que nos ofrece.
---
When I was a child, the Pitigues represented a challenge in children's games, discovering the plants with ripe fruits, and extracting them without pricking yourself with the thorns. It was great fun as well as the reward of enjoying their delicious and intense flavour and sharing them with friends.
De niña los Pitigues, representaban un reto de los juegos infantiles, descubrir las plantas con frutos maduros, y extraerlos sin pincharse con las espinas. Era muy muy divertido y asi como tambien obtener el premio de disfrutar de su delicioso e intenso sabor, y compartir con los amigos.
---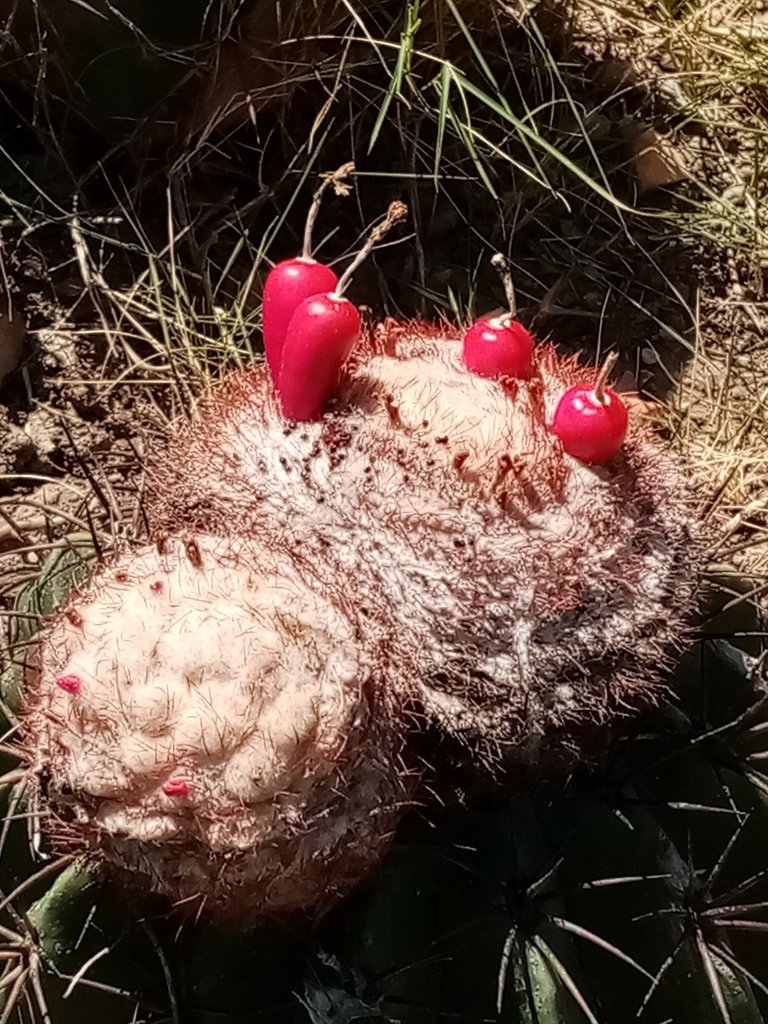 ---
As part of the adventure, we were sometimes surprised by small snakes or "rat snakes" as we call them in my country, typical of the mountain habitat, and amidst laughter and screams we ran away from the place.
Como parte de la aventura, en algunas ocasiones recibimos algunas veces la sorpresa de pequeñas serpientes o culebras "ratoneras" como le decimos en mi pais, propias del habitat de montaña, y entre risas y gritos corriamos lejos del lugar.
---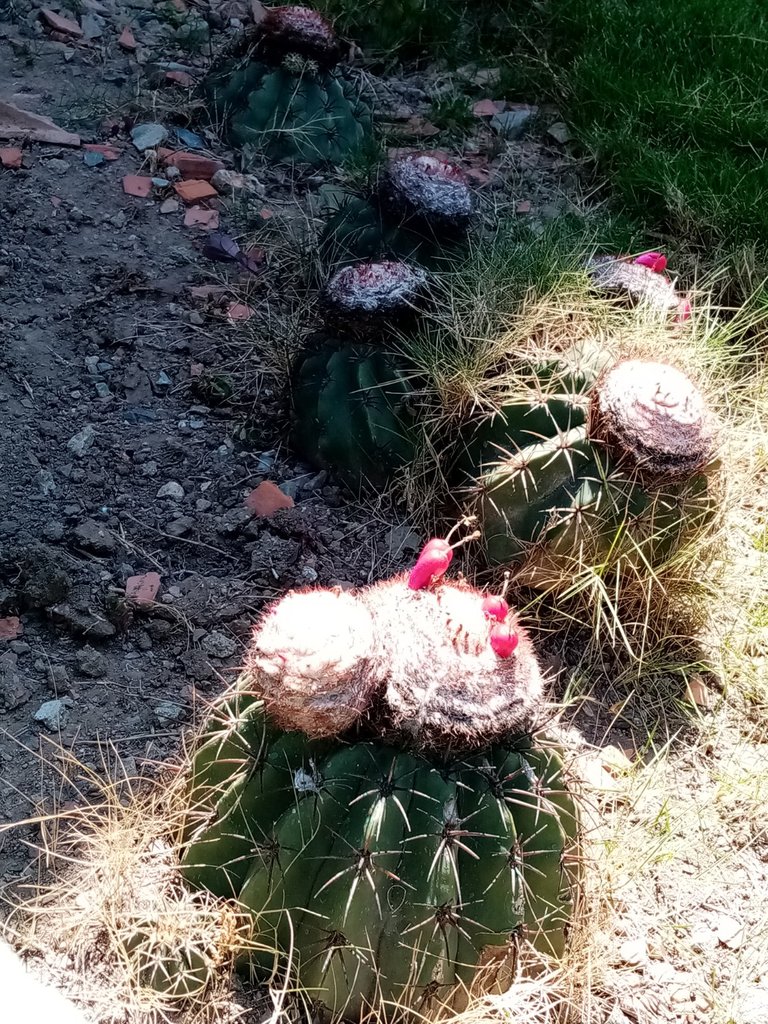 ---
Nowadays the situation has changed, and the Melocactus curvispinus is cultivated and used as an ornamental plant, in spaces created for that purpose.
Actualmente la situación ha cambiado, y el Melocactus curvispinus es cultivado y utilizado como planta ornamental, en espacios creados para tal fin.
---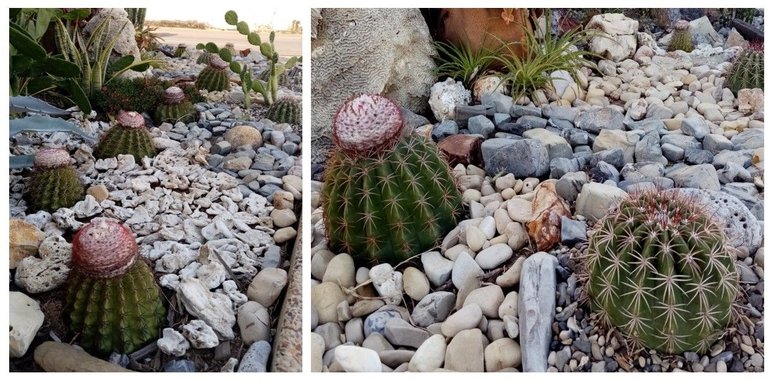 ---
Its exotic beauty stands out for its beautiful rounded shape, colourful flowers and fruits, and for its curvilinear spines grouped in a surprisingly artistic way, only nature can offer us this perfection
Su belleza exótica destaca por su hermosa forma redondeada, colorido de sus flores y frutos, y por sus espinas curvilineas agrupadas de una forma sorprendentemente artística, sólo la naturaleza puede ofrecernos esta perfección!
---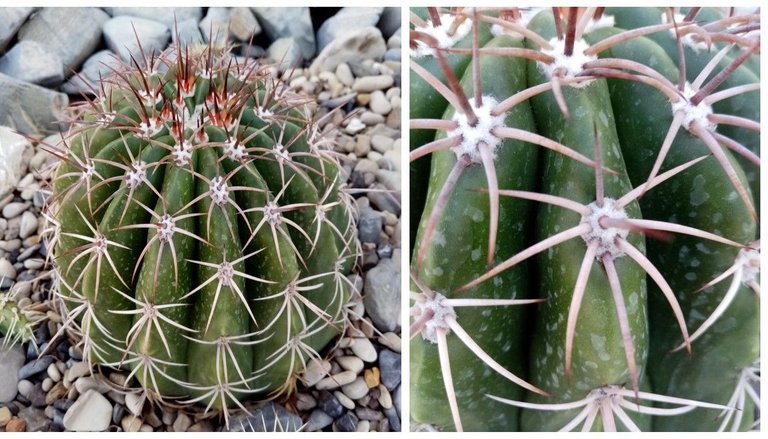 ---
Look at these tiny flowers with delicate petals, their presence is ephemeral, we are fortunate to have the opportunity to enjoy them.
Observen estas diminutas flores con delicados pétalos, su presencia es efimera somos afortunados de tener la oportunidad de disfrutarlo.
---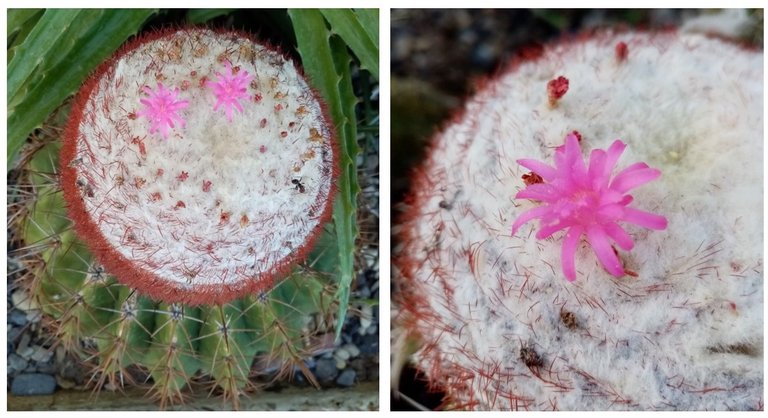 ---
The direct contact with nature, and the observation of its astonishing beauty is an elixir for holistic wellbeing, I enjoy it more and more, I learn from it and I love it. Thank you for the opportunity to share with you these experiences.
El contacto directo con la naturaleza, y la observación de su sorprende belleza es un elixir para el bienestar integral, cada vez lo disfruto más, aprendo de ella y la amo. Gracias por la oportunidad de compartir con ustedes estas experiencias.
---
This is my Amazing Nature contest entry Free Topic- #2/4/22.
Esta es mi entrada al concurso de Amazing Nature Tópico Libre- #2/4/22.
---
---
I appreciate you visiting my blog. Grateful for your time.
So long friends, happy live!
Aprecio su visita a mi blog. Agradecida por su tiempo.

Hasta pronto amigos, ¡feliz vida!
---
Photography and original content by @raizayanez, Venezuela Anzoátegui state, 2022.
Fotografías y contenido original de @raizayanez, Venezuela, Estado Anzoátegui, 2022.
---
Sources consulted.
Fuentes consultadas.
---
Melocactus curvispinus
https://diversidadbiologica1upn.wordpress.com/2017/05/13/melocactus-curvispinus/
---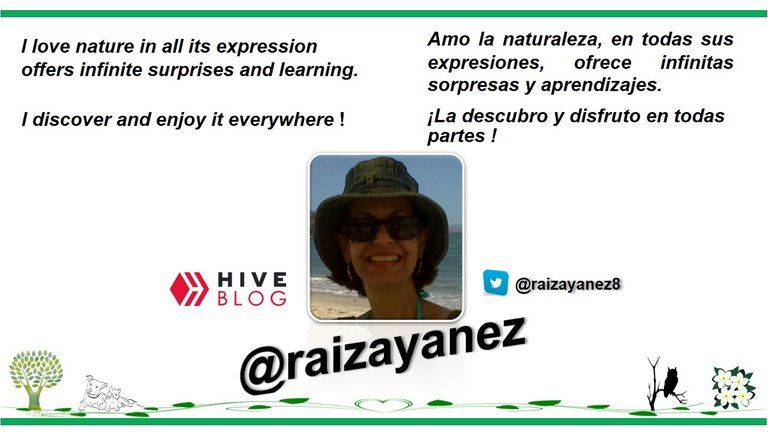 ---
---