Getting to know the beaches of the Venezuelan Caribbean " Catica Beach" (ENG-ESP) #BeachWednesday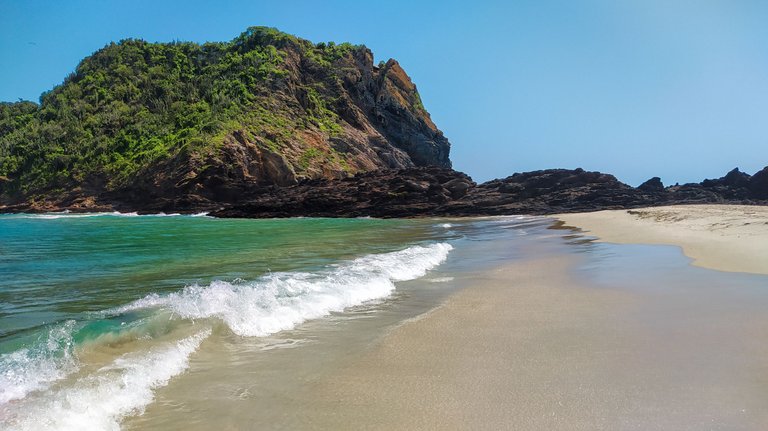 Friends readers a cordial greeting, I recently wrote about Cata beach, an extremely beautiful place, this little piece of Venezuelan coast has a sister beach known as Catica, which is located in the Aragua State of Venezuela. Since in my previous post I told you about the trip to these coasts here I leave you the post.
Amigos lectores un cordial saludo, hace poco les escribí de la playa Cata, un lugar sumamente hermoso, este pedacito de costa venezolana posee una playa hermana conocida como Catica, la cual se encuentra en el Estado Aragua de Venezuela. Ya que en mi anterior post les hable del viaje a estas costas aquí les dejo el post.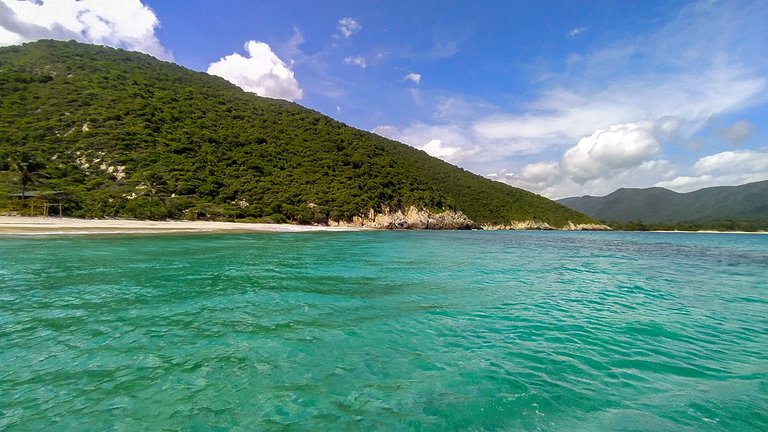 ---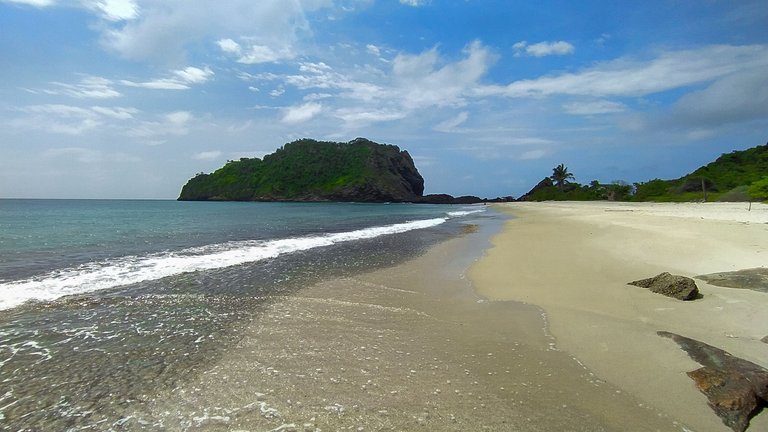 This beach is located in the surroundings of the town of Ocumare de la Costa, a coastal place that serves to receive visitors from all over the world, a small town with inns, traditions and a lot of culture. To get to this beautiful coast take a boat from the beacon of Cata.
Esta playa se encuentra en los alrededores del pueblo de Ocumare de la Costa, lugar costeño que sirve para recibir a visitantes de todo el mundo, una pequeña ciudad con posadas, tradiciones y mucha cultura. Para llegar a esta hermosa costa tome una lancha desde la playa de Cata.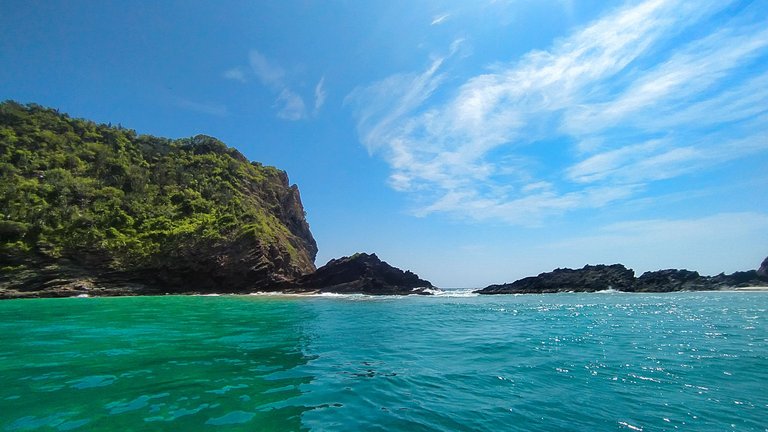 We went into the water to reach this beautiful beach, where I affirm that the view of the sea is beautiful, but from the sea to the coast is much more so. I entertained myself on this short boat ride observing the scenery and taking pictures. The shades of blue were amazing, I felt like I was in a National Geographic film with high definition.
Nos adentramos al agua para poder llegar a esta hermosa playa, donde afirmo que la vista al mar es preciosa, pero del mar a la costa lo es mucho más. Me entretuve en este corto viaje en lancha observando el paisaje y tomando fotografías. Los tonos de azules estaban asombrosos, me sentía en una película de National Geographic con alta definición.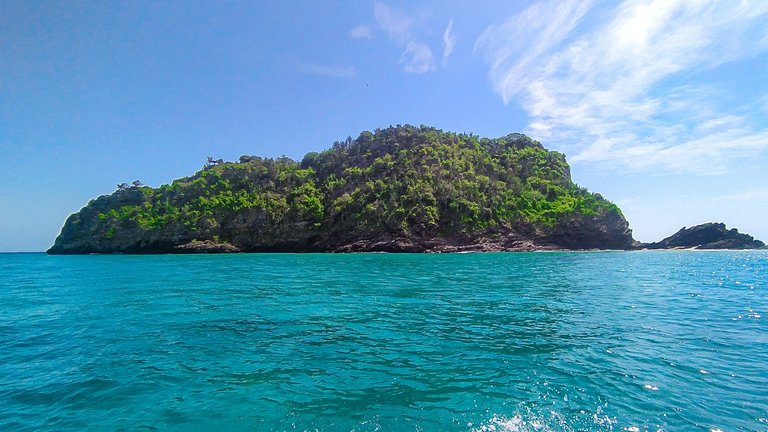 ---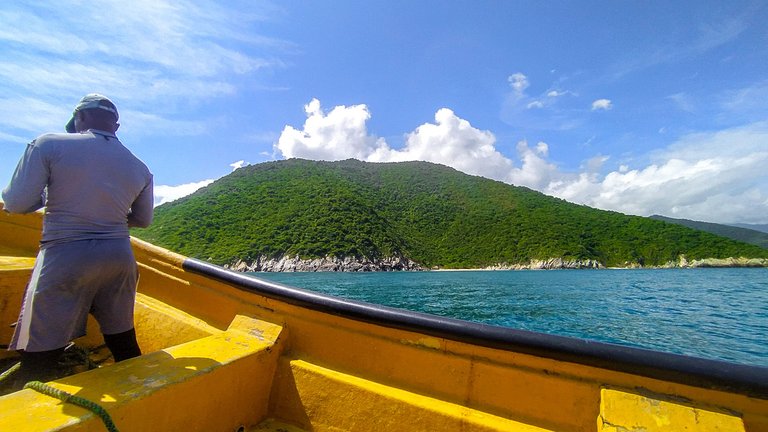 When I reached the coast I was even more surprised, as this beach has many surprises that I did not know, the first one was a kind of altar or chapel from many years ago, with religious images that have been damaged by saltpeter and weather conditions. I don't know the history of these images and I didn't find it in Google. What I do know is that this feature is unique.
Al llegar a la costa me sorprendí aún más, ya que esta playa posee muchas sorpresas que yo desconocía, la primera fue una especie de altar o capilla de hace muchos años, con imágenes religiosas a las cuales el salitre y las condiciones climáticas han dañado. No se la historia de estas imágenes y tampoco la encontré en Google. Lo que si se es que esta característica es única.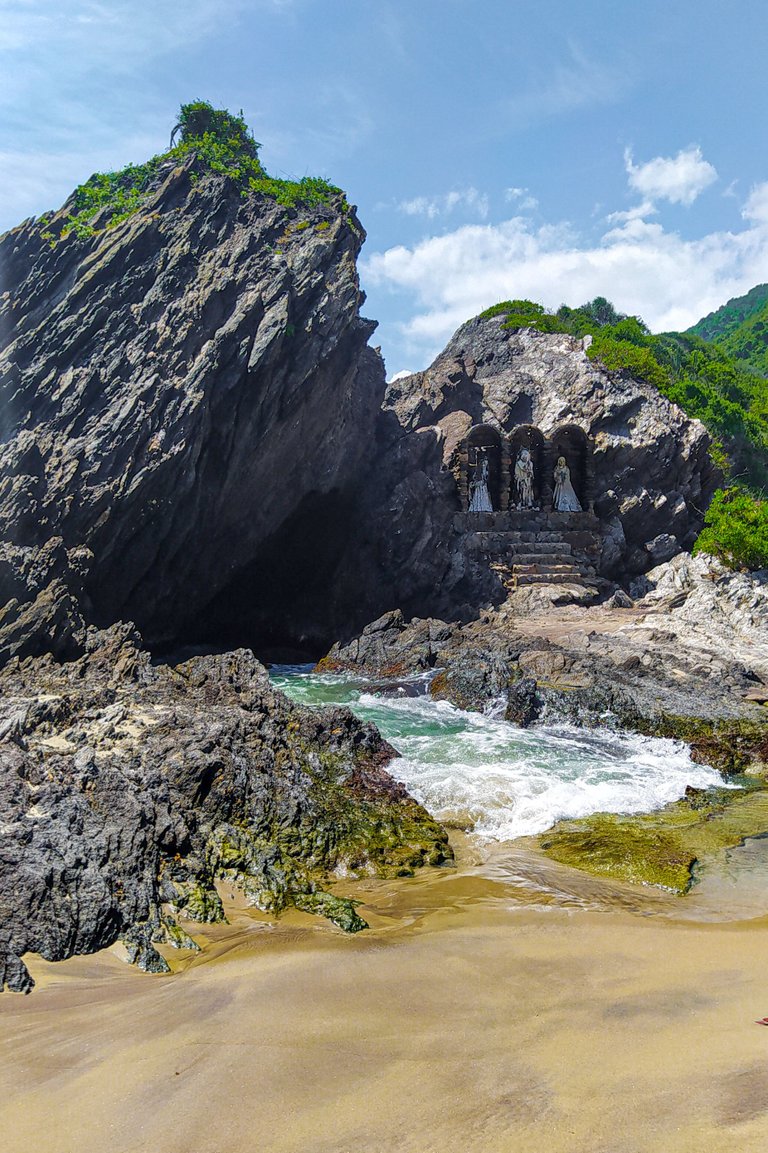 The very nice features of this beach, are to have crystal clear waters, where the shades of blue and turquoise cause an incredible visual effect, it has almost no waves being a very quiet coast, but nevertheless, has a natural breakwater where the sea currents collide, this makes the beach a total calm.
Las características muy agradables de esta playa, son poseer aguas cristalinas, en donde los tonos de azul y turquesa causan un efecto visual increíble, casi no tiene oleaje siendo una costa muy tranquila, mas sin embargo, tiene un rompeolas natural de donde chocan las corrientes marinas, esto hace que la playa sea una total calma.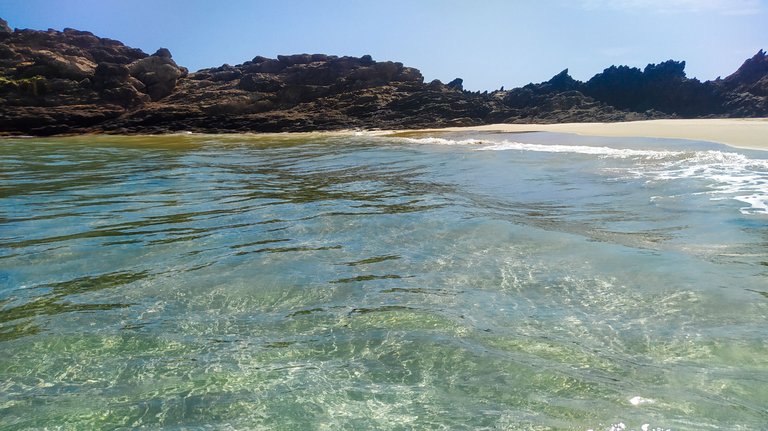 ---
Its sands are fine with a light tone, in one part has a rocky relief that separates the force of the sea with the coast, in this space there is a rock wall with a small opening that communicates with the sea where it makes a kind of cave where the water enters and exits, which can be seen as a beautiful place for its characteristics.
Sus arenas son finas con un tono claro, en una parte posee un relieve rocoso que separa la fuerza del mar con la costa, en este espacio hay una pared de rocas con una pequeña abertura que comunica con el mar por donde se hace una especie de cueva donde entra y sale el agua, que se puede observar como un lugar hermoso por sus características.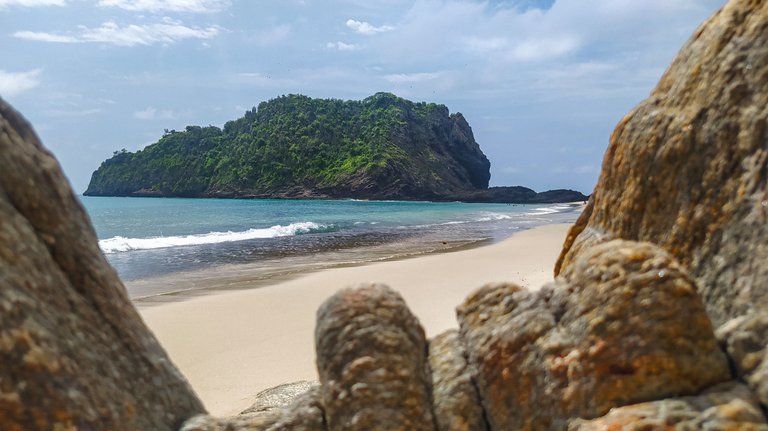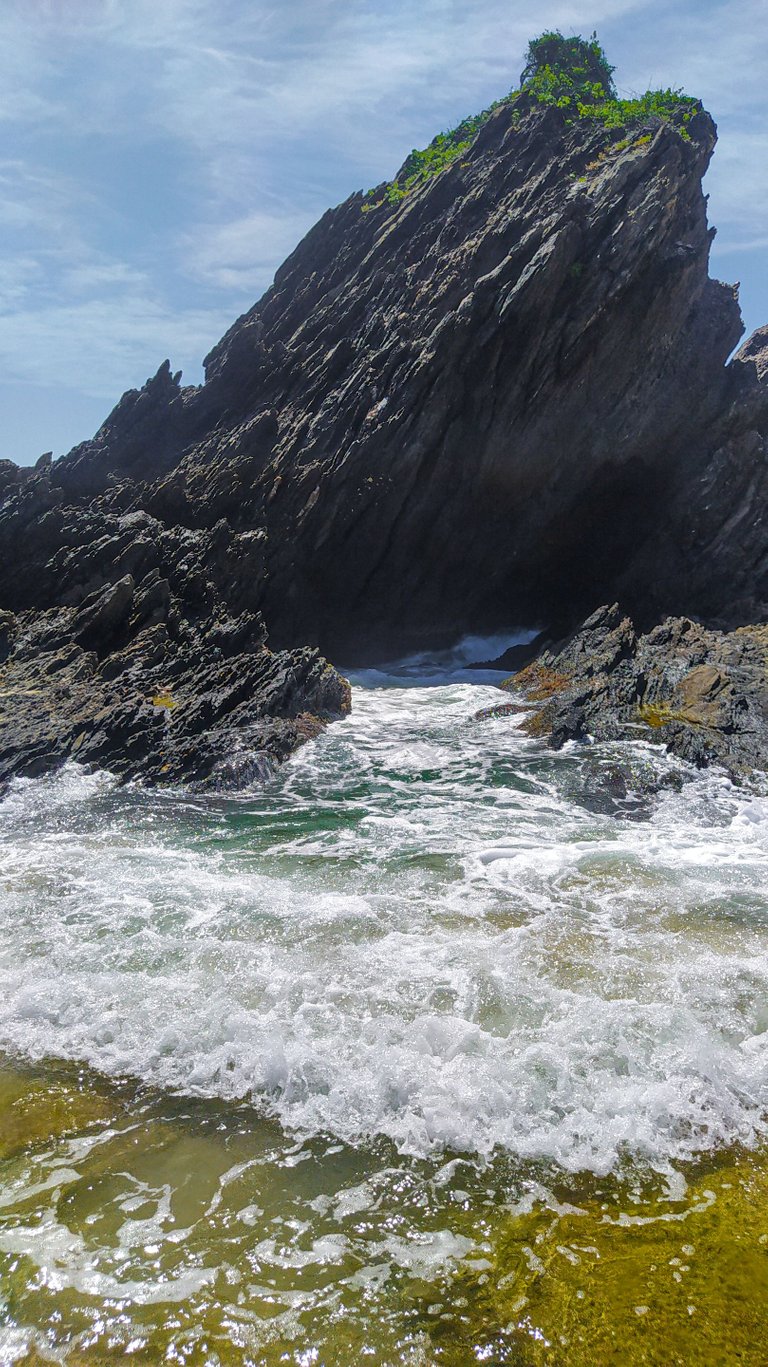 In this beach, I spent a super nice day, for all the characteristics described above, the temperature and it was a great day, the weather was good and the beach was clean. I hope you liked this new trip that I share with you. If you liked this post, I invite you to know other beaches of the Venezuelan Caribbean that I have written about.
En esta playa pase un día súper agradable, por todas las características antes descritas, la temperatura y que fue un día estupendo, el clima estuvo bueno y la playa estaba limpia. Espero les haya gustado este nuevo viaje que comparto con ustedes. Si te gusto este post, te invito a conocer otras playas del caribe venezolano de las cuales he escrito.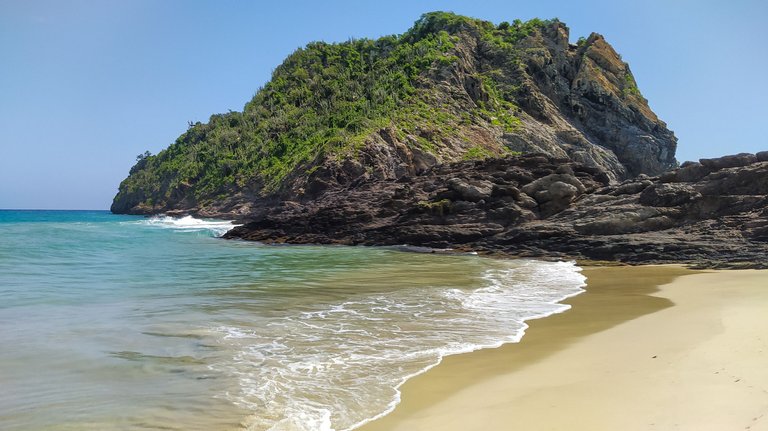 ---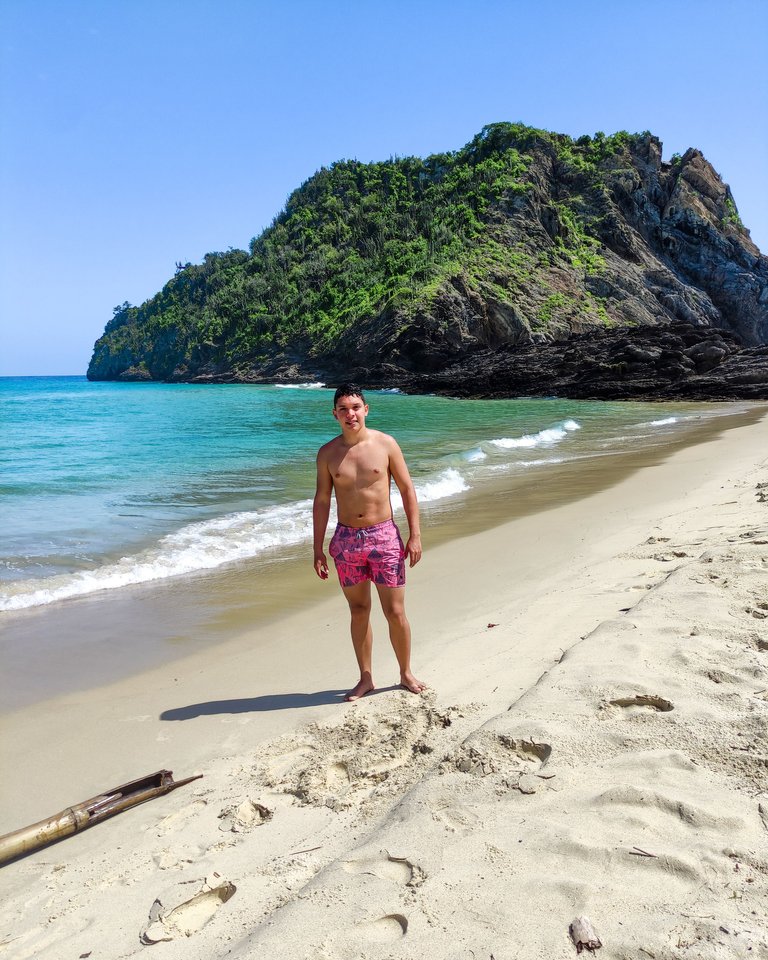 If you liked this post I invite you to see other Venezuelan beaches in the following links and to follow me for more content like this.
Si te gusto esta publicación te invito a ver otras playas venezolanas en los siguientes links y a seguirme para más contenido como este.

---
---
Mi idioma nativo es el español por lo que uso Deepl para mis traducciones.
Las fotografías son de mi propiedad, usé la cámara del Redmi Note 8 para las fotografías y retoque con lightroom.
"Somos una partícula en el universo con el poder de cambiar el mundo"
Si te gusto el escrito deja tu opinión y si tienes alguna observación constructiva no dudes en hacerla.
---
My native language is Spanish so I use Deepl for my translations.
The pictures are my own, I used the camera of the Redmi Note 8 for the pictures and retouched with lightroom.
"We are a particle in the universe with the power to change the world"
If you liked the writing leave your opinion and if you have any constructive observation do not hesitate to do it.

Banner designed by myself in PowerPoint / Banner diseñado por mi persona en PowerPoint
---
---