Assertiveness and Us
This is going to be a criticism of a particular group of people here on Hive, so, embrace yourself. If you find any resemblance with you in line with the discussion, don't get offended as it's not meant to be that way— instead, I have a good intention to extract the goodness from "YOU" and see if that can be of any help to "ME" and relative souls.
Once again, it's based on my observation, so, no data that I can provide to back the claim. However, I do firmly believe that you will find this relatable.
---
I will come to YOU later, but, firstly, let me focus on a point to two about Assertiveness.
---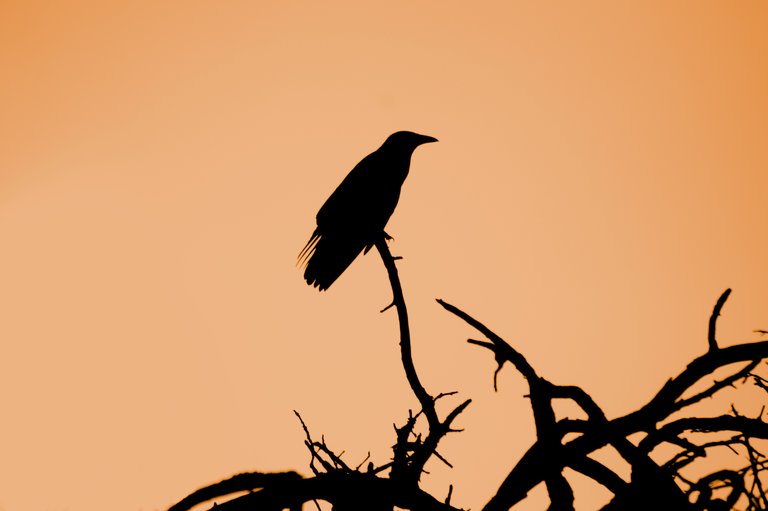 ---
I like how crows stick to their plan even after neglected and hated by most other creatures
---
Photo by Alexander Sinn on Unsplash
---
Well, it's no brainer to know what that means— so, straight to the point, assertiveness has something to do with self-respect and honouring others' opinions but without compromising what's legit. Also, there's no denial of human rights in being assertive— you don't go beyond logical reasoning to be expressive or assertive, but it's a behavioural pattern that is sketched in a flexible environment, mostly sympathetic and understanding.
The best part of being an assertive person is you don't ever look down upon yourself despite the situation. And you make friends out of the blue— build a relationship that lasts long and shares mutual benefits even after they may have two different poles. Not necessarily you have to agree on everything, but a fairly convinceable amount will do.
Now, who are those ASSERTIVE people?
Yes— time to celebrate (or upset) some persona.
My time on Hive is mostly confined to reading blogs, upvoting content, and sometimes engaging with authors. Sorry to say, I don't engage with other authors that much in recent times, at least to a degree I used to just a few months back. But I do read, I read a lot. Thanks to the authors here for making some digestible content. Also, thanks to them who barely touch the standard mark of content creation— mostly templated and often lack a proper setting defined by a minimum sense of authority and genuineness.
While browsing through the feed, I came across tons of blogs written (read crafted) by my Nigerian friends. I guess you now know who are those "YOU" people I will be talking about.
If you are a wanderer like me, you have surely noticed a big chunk of blogs are dominated by Nigerian authors. And there are Good authors, Bad authors, and Ugly authors.
Well, not necessarily only the Nigerians fall into that Good, Bad, & Ugly category, in fact, it applies to all out there— regardless of ethnicity and gender, many go above and beyond that category while some are even to be eligible to define by those three words.
But I am not here to judge how YOU write or how it should be.
I am convinced mainly by the ASSERTIVENESS they show through their writings. Even if it's from an 'ugly' author, I can guarantee that you will find his/her writing expressive enough. However, be mindful not to go through their travel log or such, but you are welcome to read where they write their mind.
It's truly amazing when someone highlights himself all over the piece they have given birth and more interestingly, when everyone has a negative attitude towards them because they are from a third-world country with economic instability!?
I have seen many writings explicitly describing what they are up to and what they are doing at this moment— no matter if it's farming, raising chickens, saving up for the future, or their desire for immigration for a better life.
Oh, I almost forgot— they are more expressive when it's about their beauty. Yes, geographically, they are from some less-privileged area, economically they are frustrated, and genetically they are not up to standard (standardisation is a shit, created by colonialists and supremacists). But this doesn't keep them away from showing the people how beautiful they are, how beautiful they can be— from their perspective, and it doesn't matter if you find it praising enough or not.
Now, you might notice the same scenario in others' writing; I noticed it too. But what makes me think the Nigerians are different is how they represent— and I must say they do it confidently. They preach in support of their statement and fight as long as they can (often go beyond, which is a bad practice as smart people know when to stop).
Yes, I have many Nigerian e-friends, never met and probably, never will— but I always try to follow the confidence level they foster within. Probably it's because I can relate myself to them, or whatever— I don't know actually.
But I can say for sure, right or wrong, I am confident about my actions. Even though I have suffered in the past for such a high level of confidence, I got rewarded too. One such thing I can remember at this moment is, back in my school, we had this SBA (School Based Assessment) system introduced by the government for a short time where you get marks for your confident answer. The system divided the traditional 100 marks final exam into two parts; 70+30— where 30 marks are rewarded based on regular performance in the class and included a variety of activities including sudden tests, behaviour, discipline, sense of cleanliness, and so on.
As a part of the assessment programmee, we were asked to answer questions from time to time, and the number was rewarded for two sections— right answer and fluent answer. So, you get a portion for the right answer and the rest for how fluent you are while answering, right or wrong.
And in most cases, I used to get marks for my fluent answer as I was not that good at studies but had this sense of speaking with confidence. That was rewarding enough for then, though.
Well, that's it. Let me know if you can relate to the ASSERTIVENESS I mentioned above. And if you are still not, I suggest you try it from today. It has some sort of power to make you feel good despite the situation you may face or are already in.
---
---