Visit the special garden - Son Tra Tinh Vien
Hello everyone.
I'm Quyet 😊. Do you remember me?
I've been a bit busy with work, so it's been a while since I wrote a post. Fortunately, this time, my girlfriend worked very hard to write the article as a replacement for the missing part because of my laziness 😁.
That's life, isn't it? There are times when everything goes by so slowly and times when we have to be in such a hurry because everything is so sudden that we don't have enough time to leisurely do it all. But I like it and it makes me feel like I'm really alive.
Back today, I will introduce to you a very interesting place. It is suitable for those who want to rest after stressful working days. The place I went to is Son Tra Tinh Vien.
If you are Vietnamese, when you hear the name, you will immediately imagine this place. "Tinh Vien" means a quiet garden.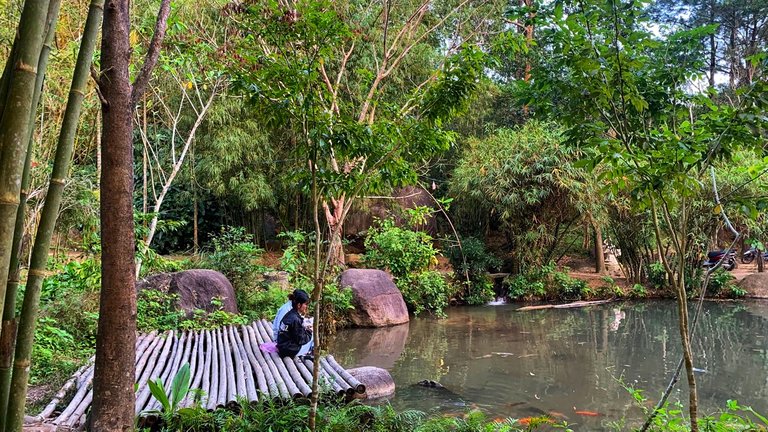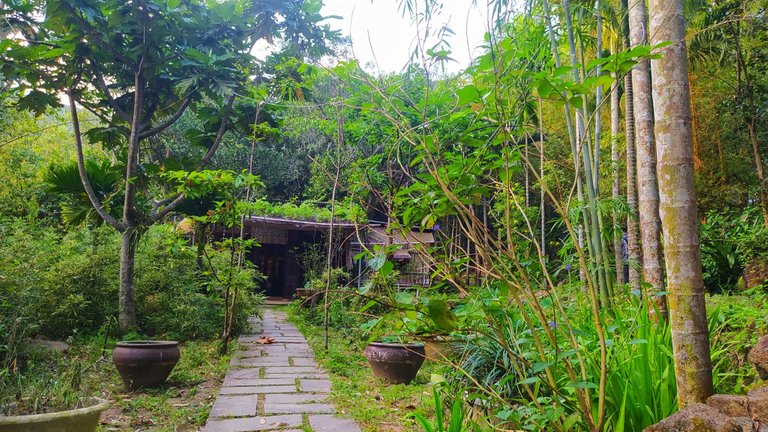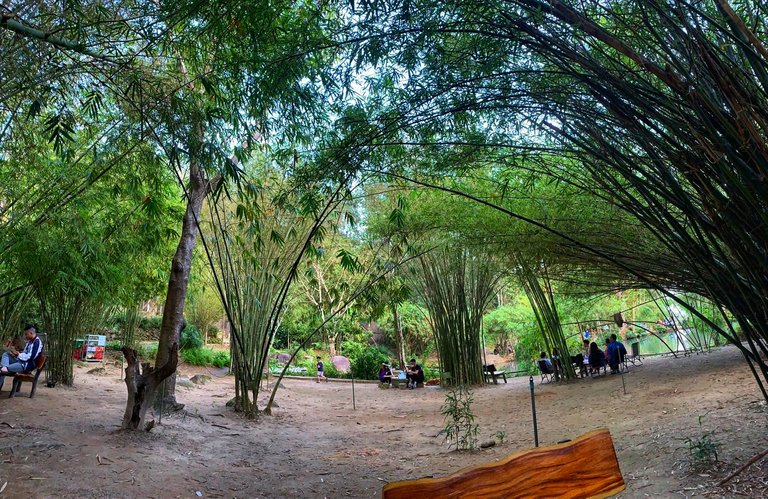 If you drive from Da Nang City Center to here, it will take about 20 minutes. Although this place is in the mountains, the road is quite big and easy to go, so don't worry. You just need to look up Google Maps to get there.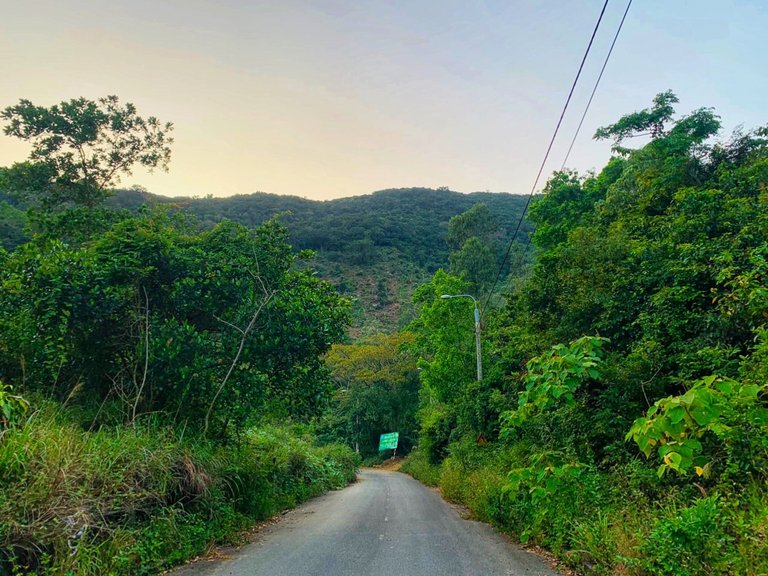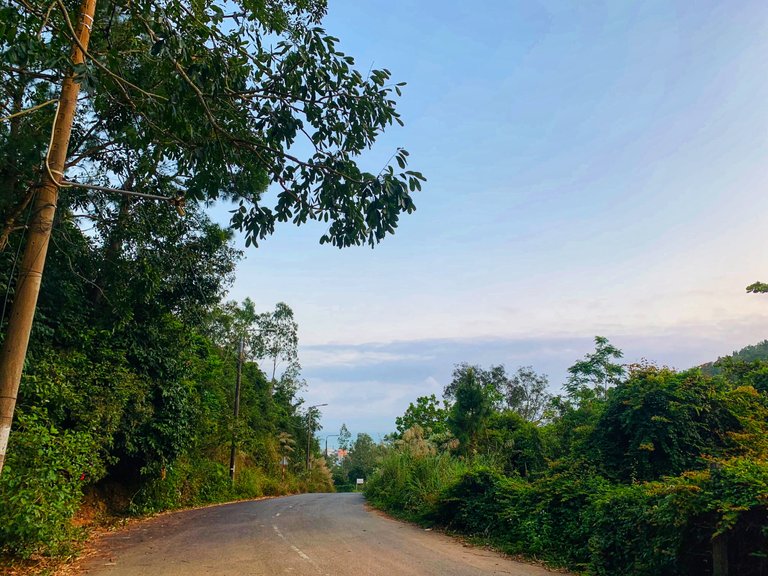 Because the road is deserted, if you go alone, it can be quite sad because no one is talking. And if you are a person who likes quiet, then there will be no problem 😄. We finally got there and my girlfriend took a picture right away.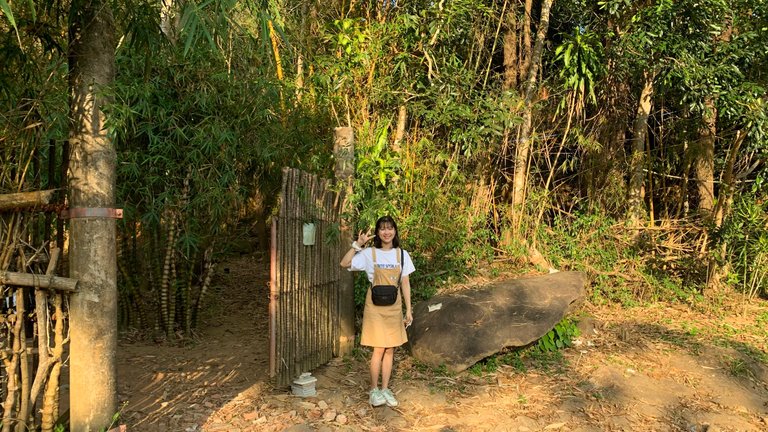 This is the entrance to the garden. They will be open from 6:30 a.m. to 6 p.m. every day of the week. Especially this place has no fees.
Come on, let's explore this place together! 😎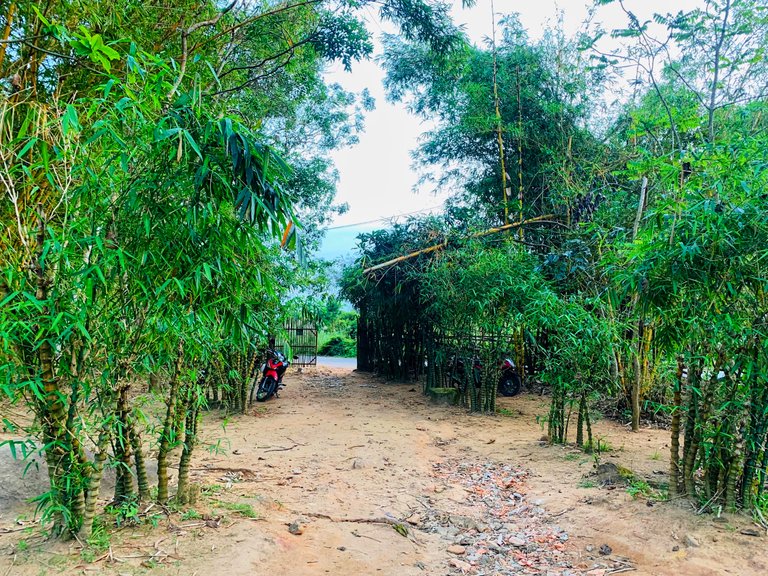 If you have a car, you will have to park it on the side of the road. Because there is no car park here. And as you can see, the entrance is also quite small.
Going from the entrance, we will see this scene.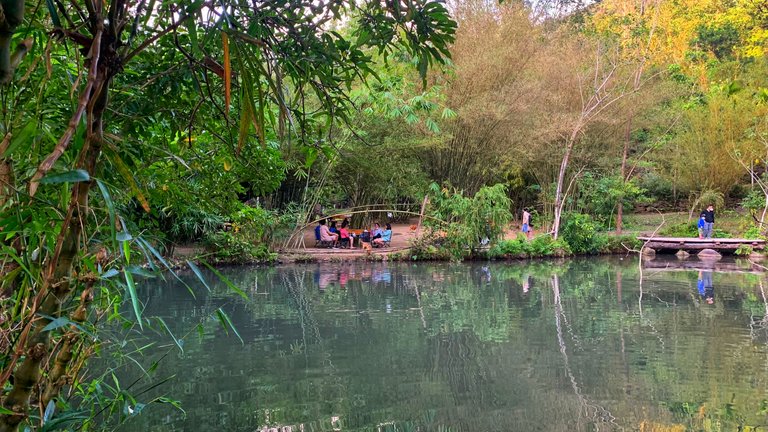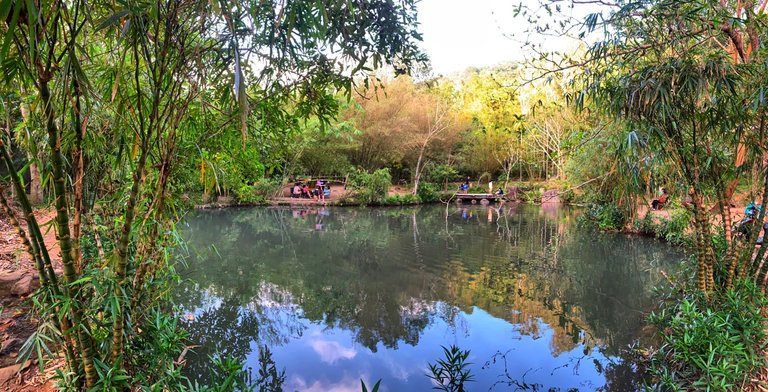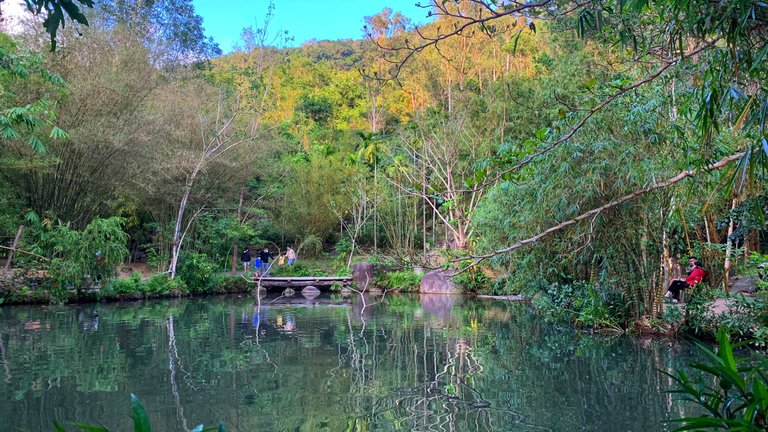 The garden has a lot of trees, the air is very cool and fresh. The highlight is that there is a pond in the middle of the garden. This scene is so poetic, isn't it? You will have to go around the pond to get deep into the garden.
If it were you, would you choose to go left or right first? 😄
We decided to go to the left. If you go to the left, you will meet a small stream. If you don't want to get your shoes wet then you'll have to tread carefully on the rocks. And then you'll have some great photos 😄.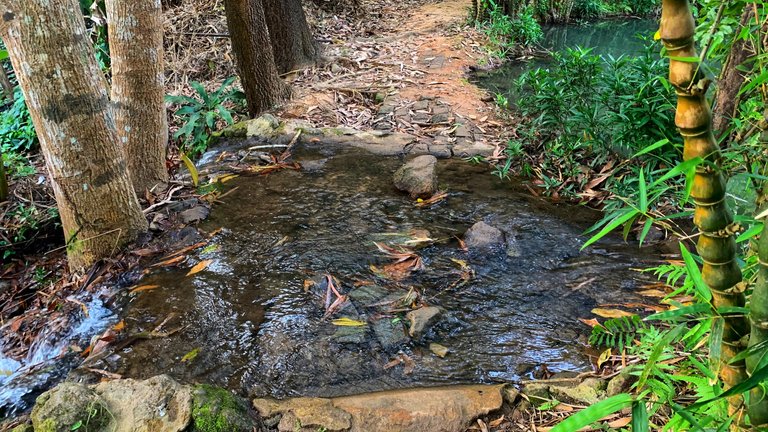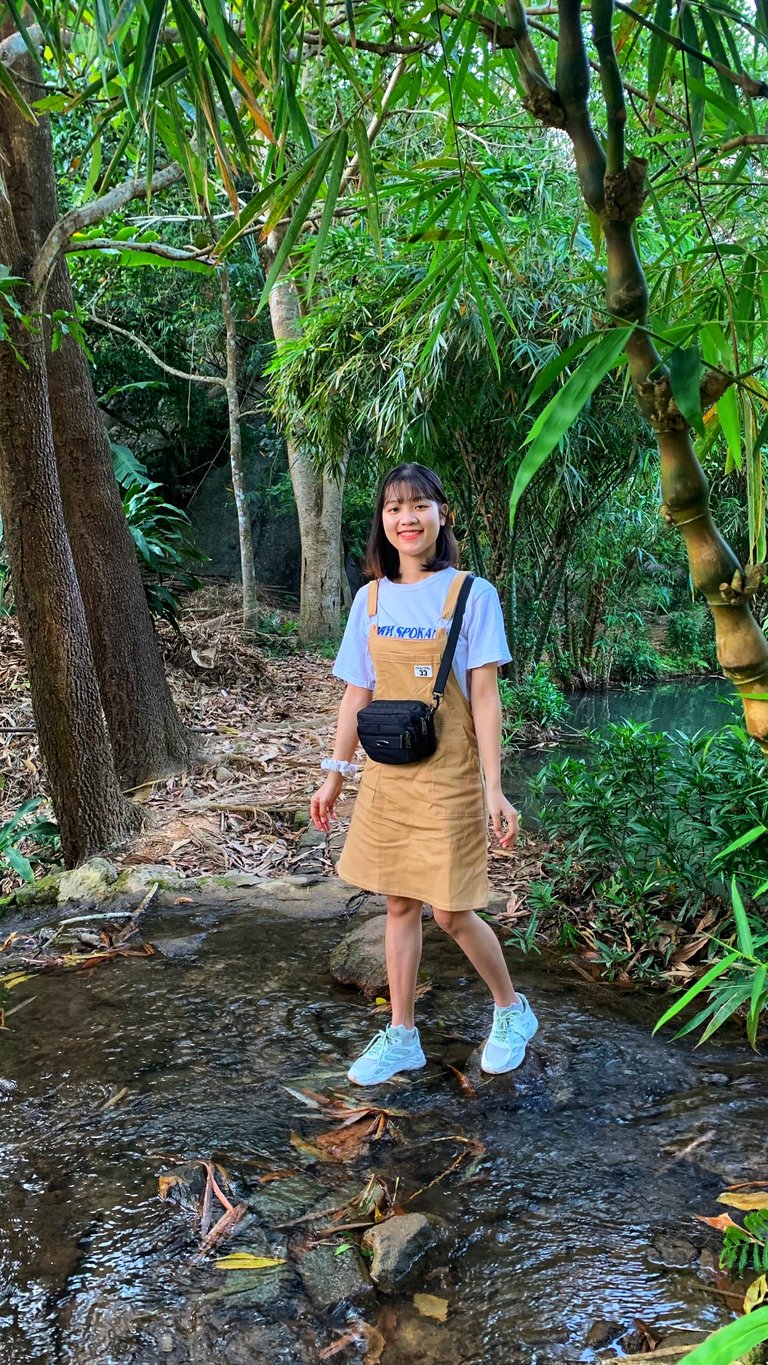 The water is very cool. I think in the rainy season if the water flows strongly, the fish in the pond will follow this stream and swim out 🐟 😄.
This picture looks pretty interesting, doesn't it? 😊 She looks like she's about to fall into the water.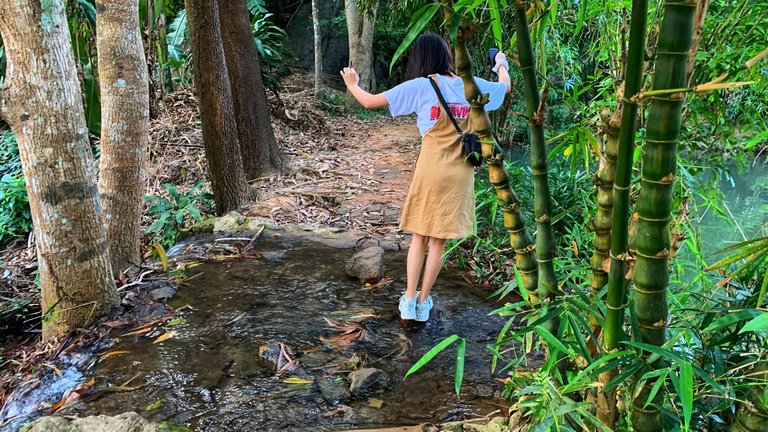 From here we can also look out into the street. You see the water from the stream flowing over that bridge. If you don't know, the long-leaf tree growing on both sides is a banana tree 🍌. You may eat bananas 🍌 every day, but many people in the city may not have seen a banana tree with their own eyes.
Because the road is empty and the air is fresh, people often go jogging or cycling around here. This area is not yet densely populated but if you pay attention along the way, there are many beautiful houses built here. Maybe the rich people in the city they bought land and built houses in this place for rest.
Let's explore the next garden together!
If you go deep inside you will meet a bamboo forest. If you look at it at a glance, it will look like another trees in Vietnam, which is bamboo. Even though I'm Vietnamese, I really don't know the difference between bamboo and bamboo. If you are interested, go to the internet and learn about them.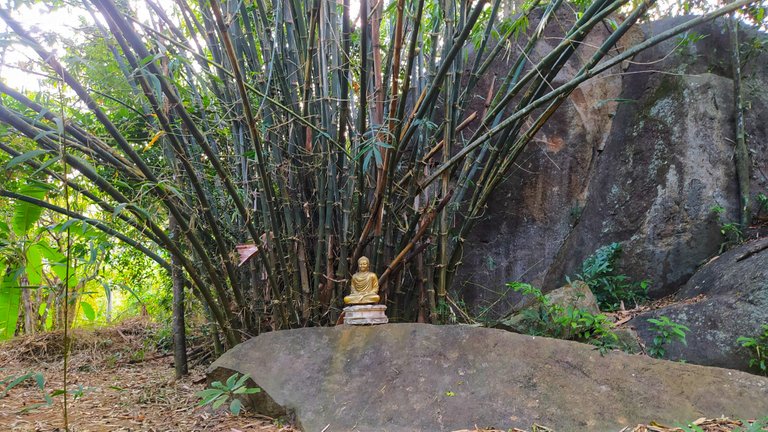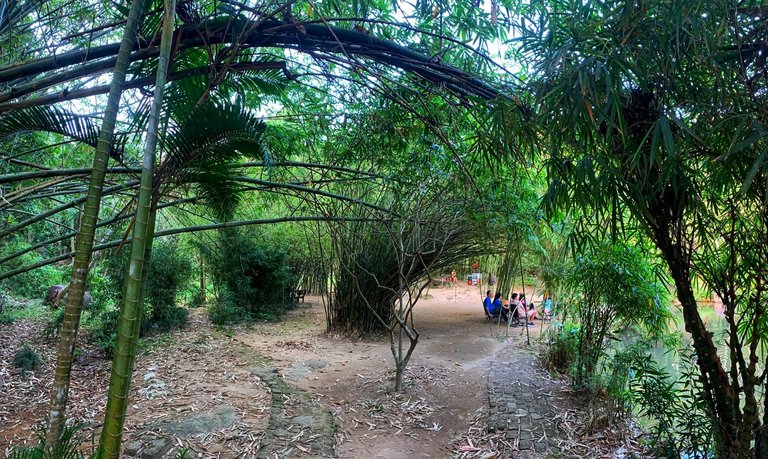 Seeing this scene reminds me of Chinese martial arts movies. When I was a child, I watched a lot of scenes of martial arts masters fighting in the bamboo forest. Those people stood on the top of the bamboo tree and ran on the tree trunks, they looked so cool at that time. You can easily find those scenes on youtube.
People who come to this garden usually come with their family or friends. As far as I know, this place is not allowed to camp. What you can do is sit and talk, go for a walk and breathe in the fresh air. There are tables and chairs available for you to sit.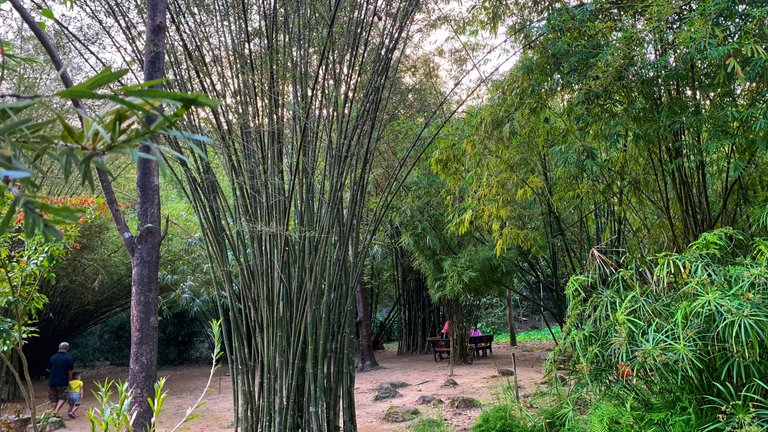 If you bring small children with you, you should also keep an eye on them. Keep them away from the pond because as you can see, to keep the natural beauty, they did not build a protective fence around the pond.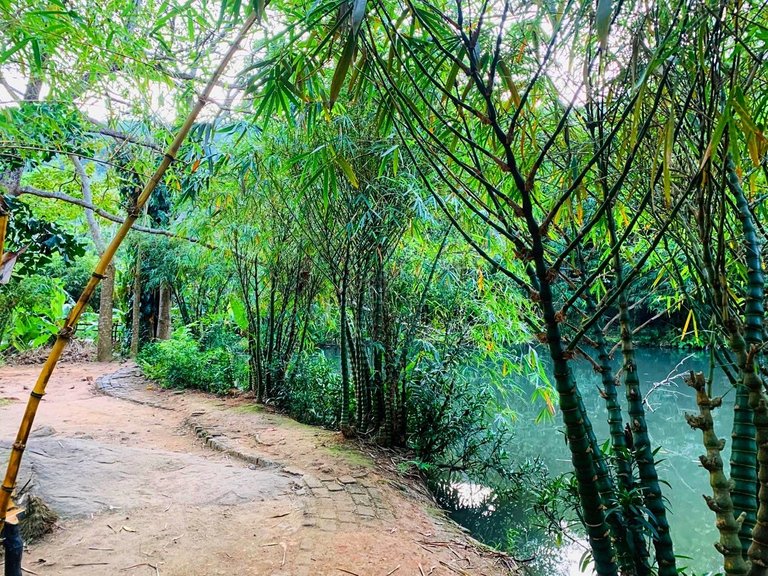 After walking for a while, we also sat down to rest. The tables and chairs are placed quite far apart, so you can talk comfortably without fear of being disturbed. The two of us also took advantage of taking photos 😎 to make memories.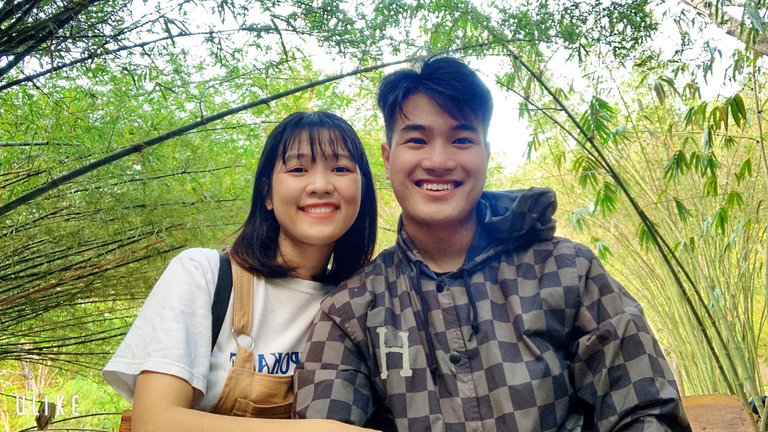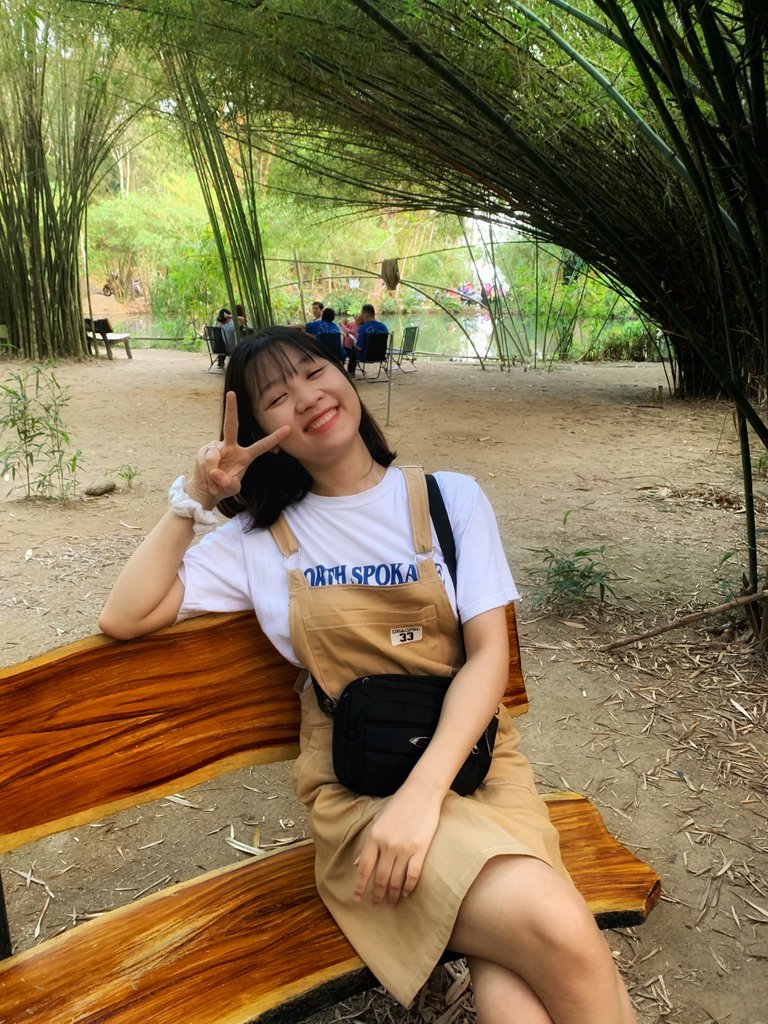 I think when we are young we should take a lot of pictures of ourselves so that we can see them later on ourselves or show our children. I always feel funny and surprised when I see pictures of myself 5 or 10 years ago. Actually, I have changed a lot. And especially, I also like to see old photos of my parents and friends. It feels like I understand more about a part of their past.

After resting, let's go explore further.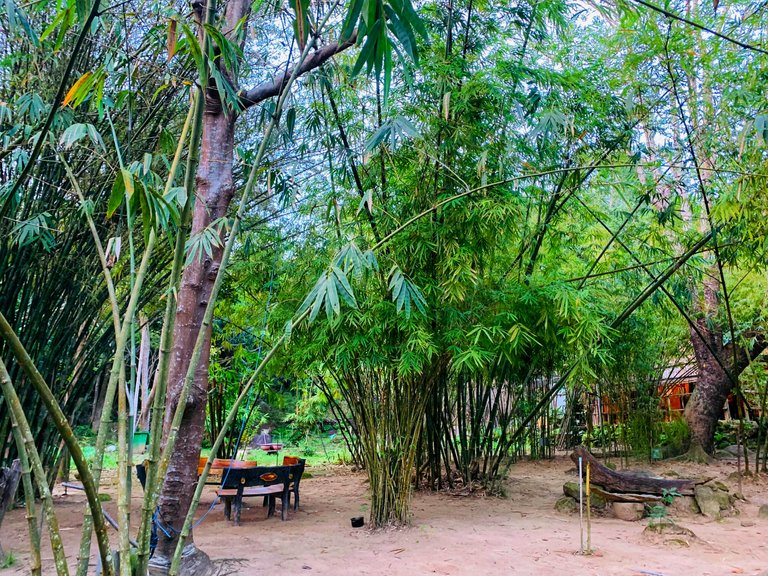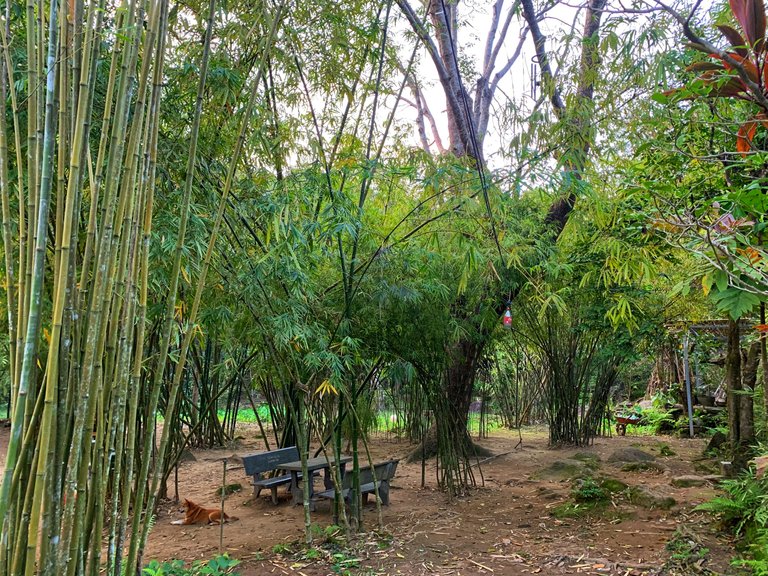 I bet you will love walking in this garden. The air was fresh and cool, the wind swaying the fragile bamboos, their leaves rustling. If there's a bed here, I think I'll be able to sleep right away.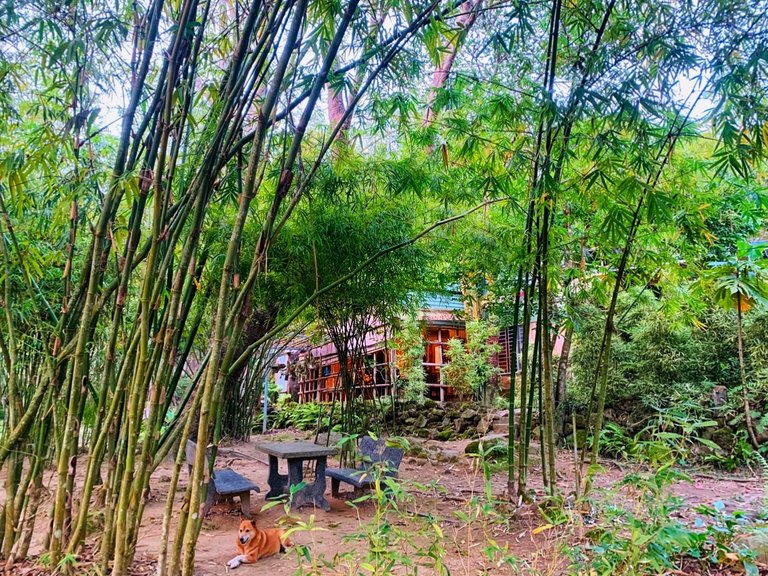 I found another friend. This dog is also resting here. Since she looks so cute, I asked permission to take some pictures. Although I don't know if he agrees or not 😅 but he doesn't seem to mind about it.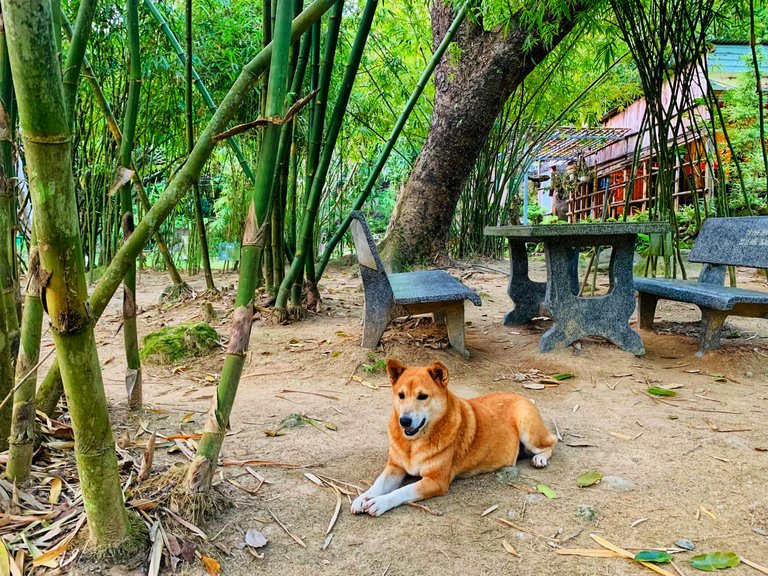 Do you see the house behind?
I guess this is the former residence of the owner of this garden.
Let's go see the house!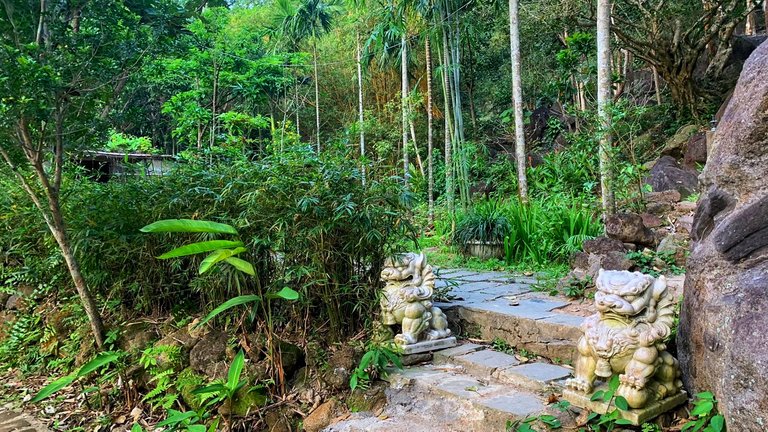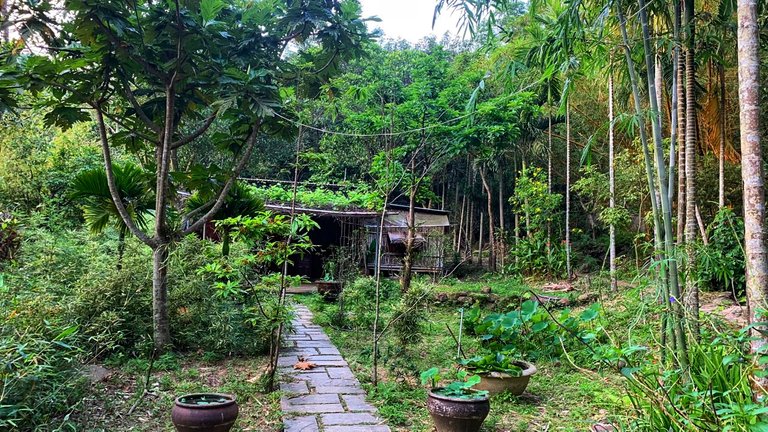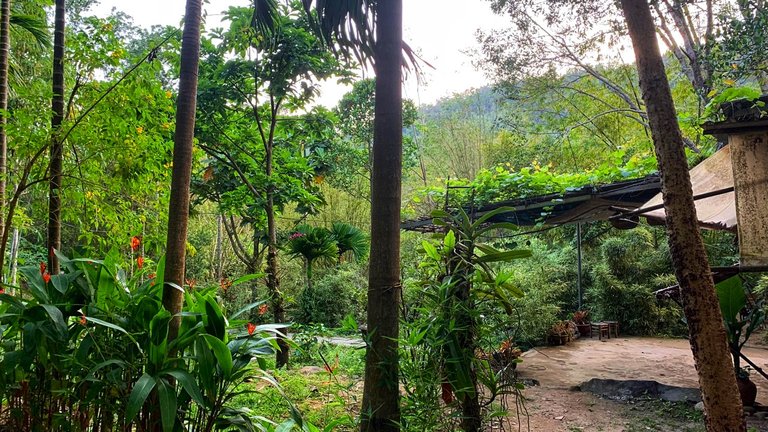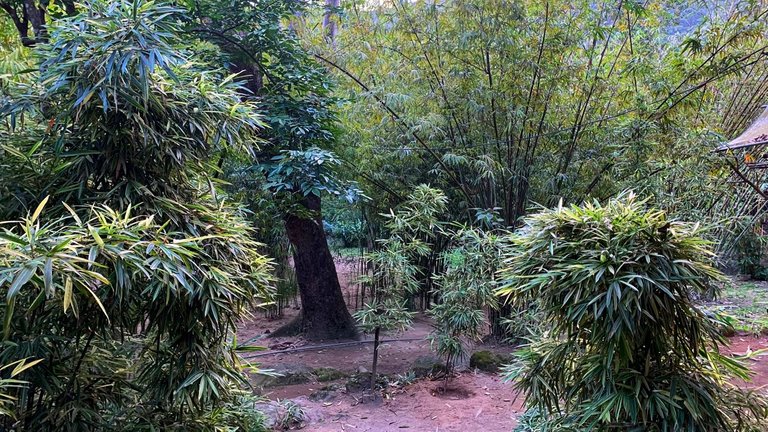 Wow! Would you like a house like this?
Although it's a sightseeing area, I'm also afraid to enter a stranger's house, so I just take pictures outside.
If you go around, you will find that they also have an interesting bridge to go across a small ravine. If it were me, I wouldn't need this bridge because I can jump to the other side easily. It is possible that the owner of the house is an elderly person or a woman 🤗.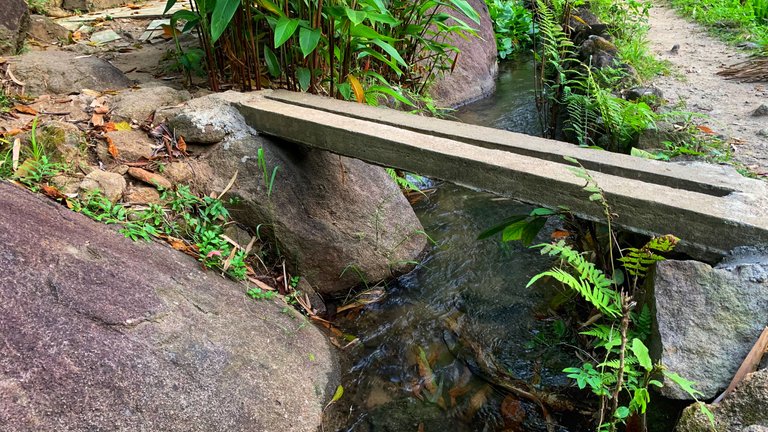 The beauty of the natural trees here, I don't know how to use words to describe. Really so beautiful. Please see for yourself.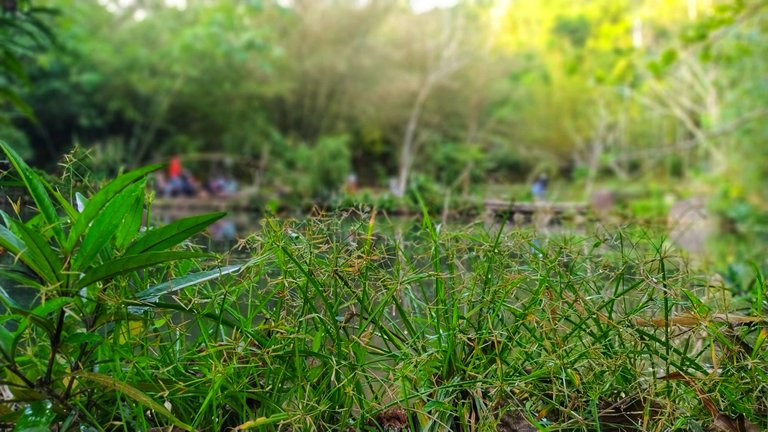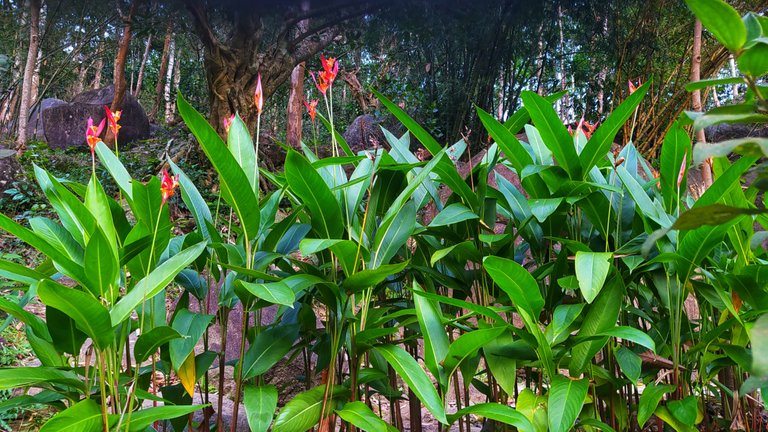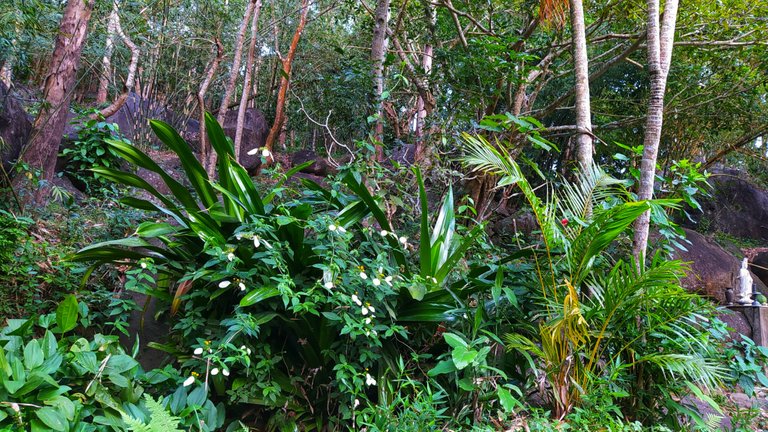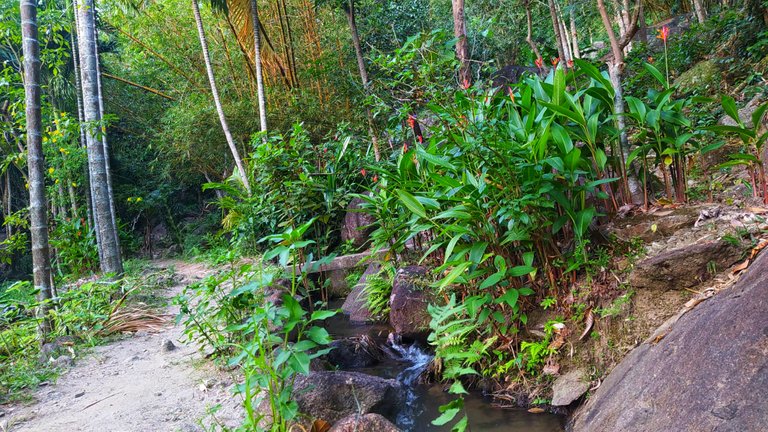 There are quite a few plants that I don't know about.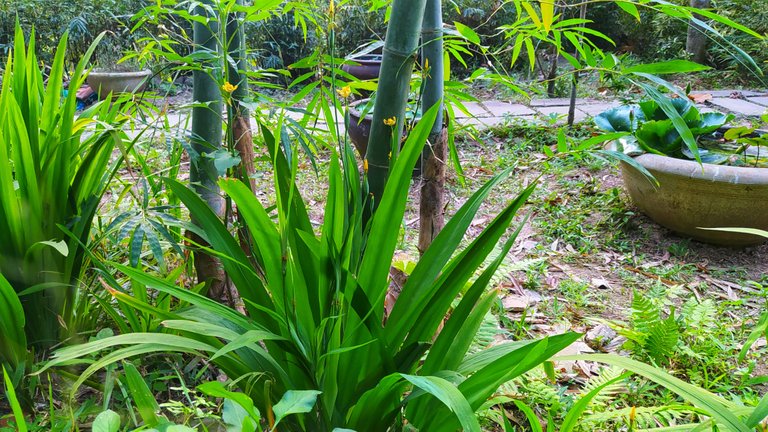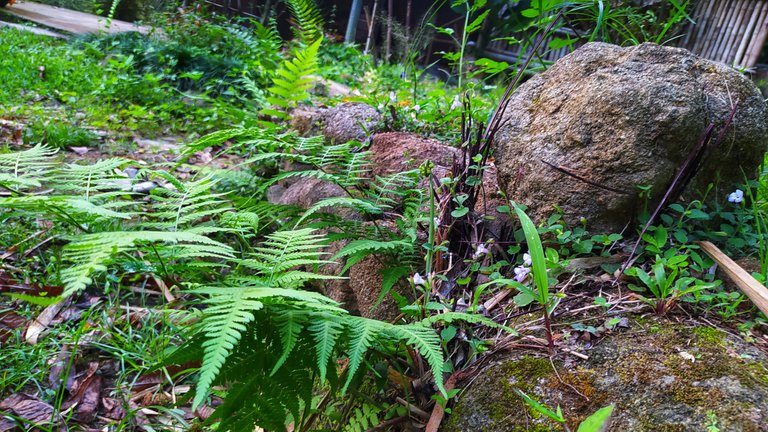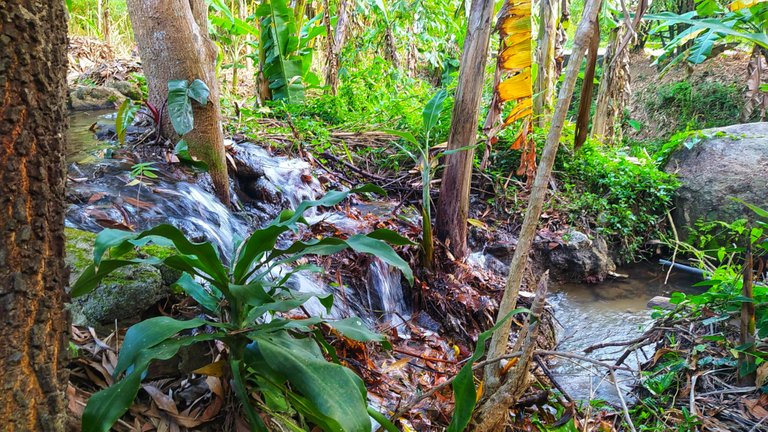 Do you have this kind of yellow bamboo in your country?
When I was a kid, I could only see them in the photo booth. People build gardens and plant them.
This is a picture of me when I was a kid. It's been more than 15 years, you can see the bamboo trees in the back.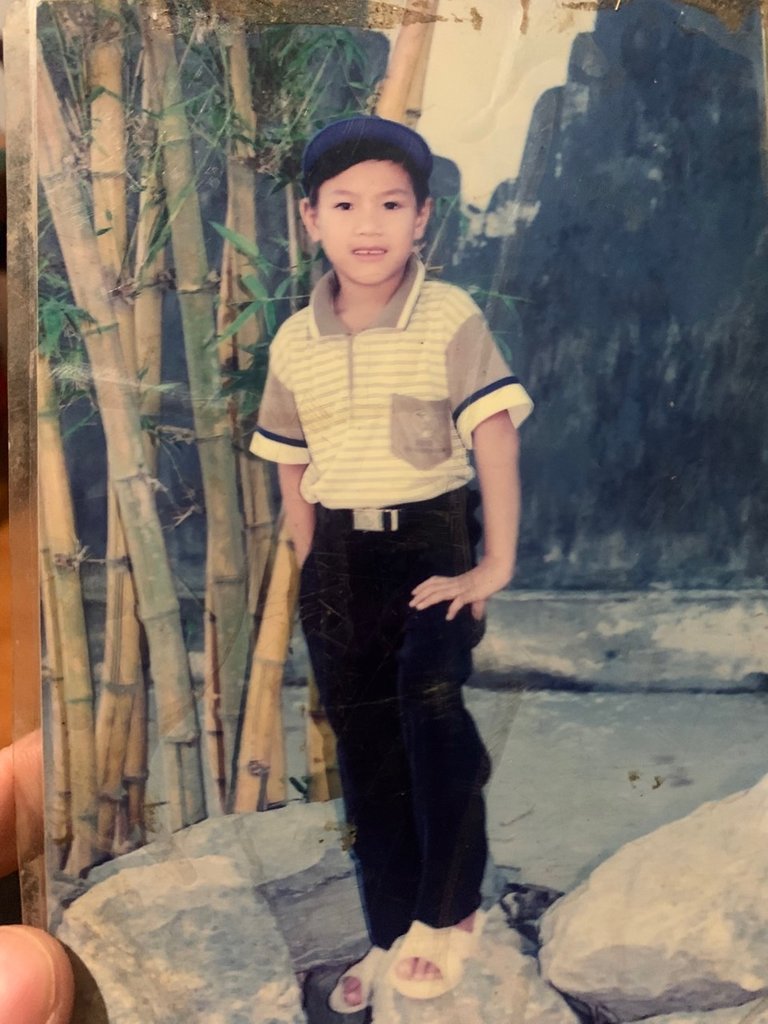 They even built a fake horse for people to ride. At that time, there was no park in my place.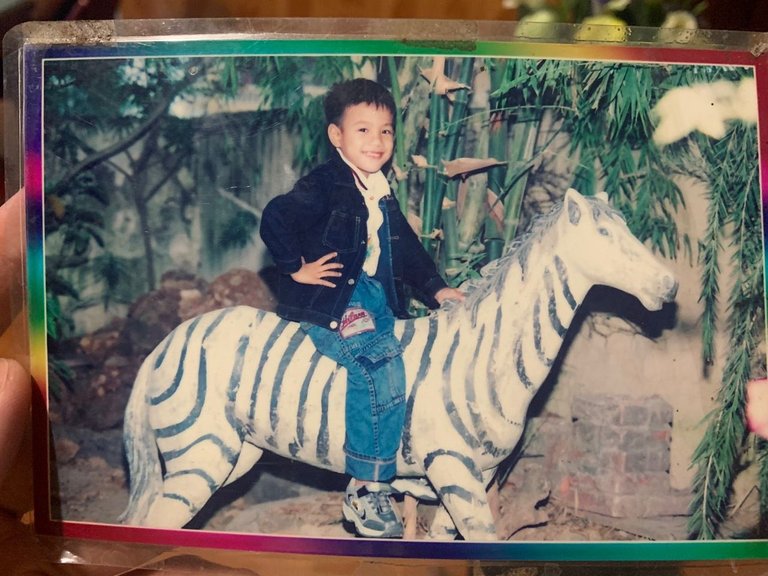 Let's look at the trees.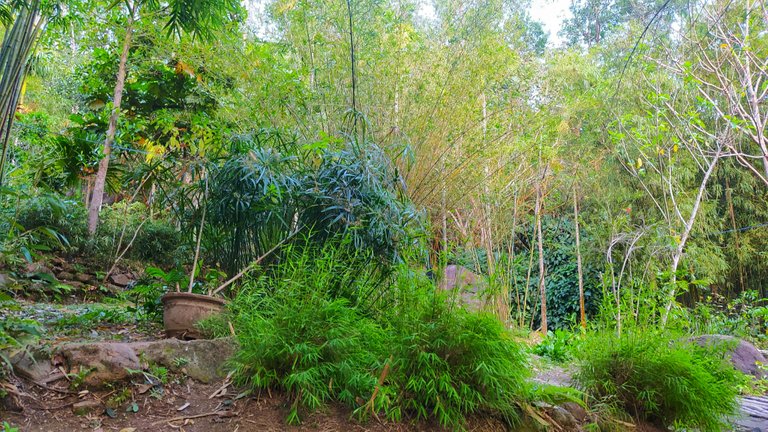 We also discovered a beautiful little waterhole. I'm quite curious when I think about what made it. I guess there used to be a big tree growing here and for some reason it was uprooted. This is the mark it left behind. Do you think your assumption is reasonable? 😄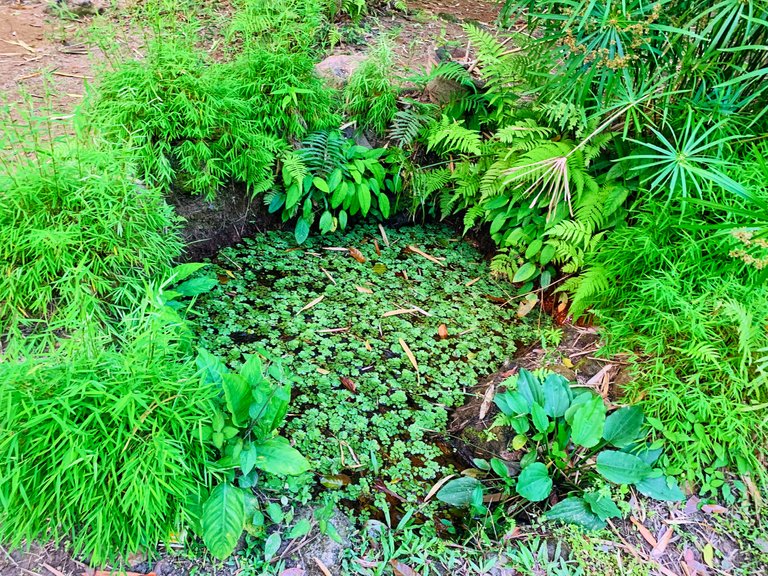 Let's go to the pond together. This time we will go to the right to see the rest of the garden.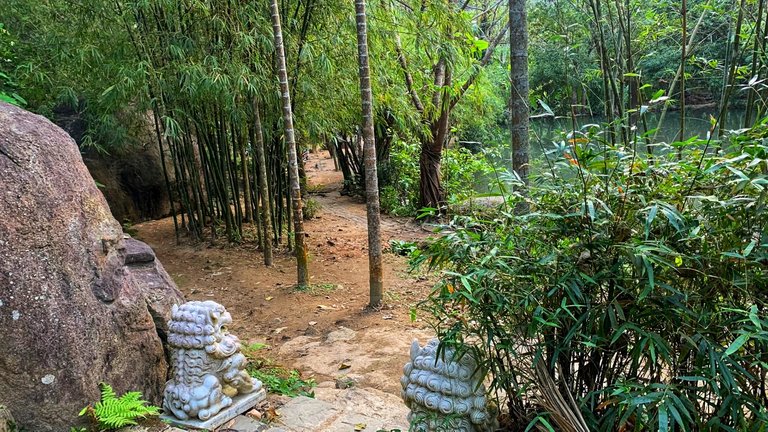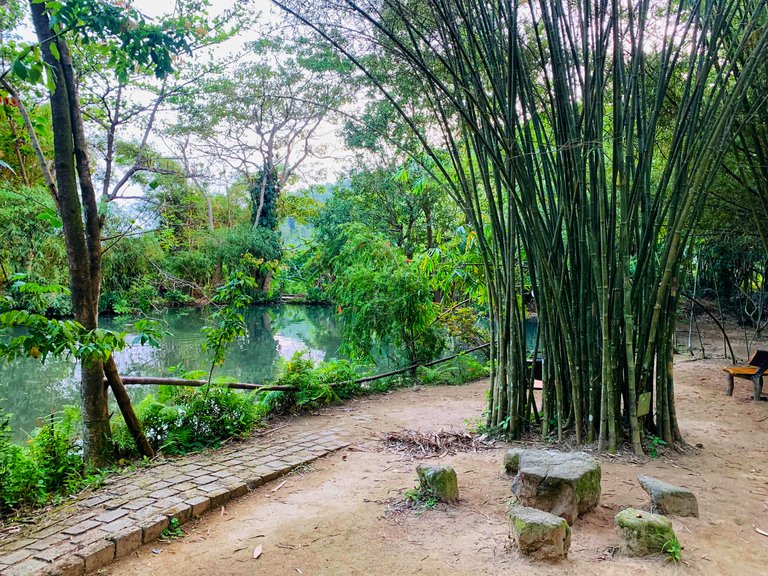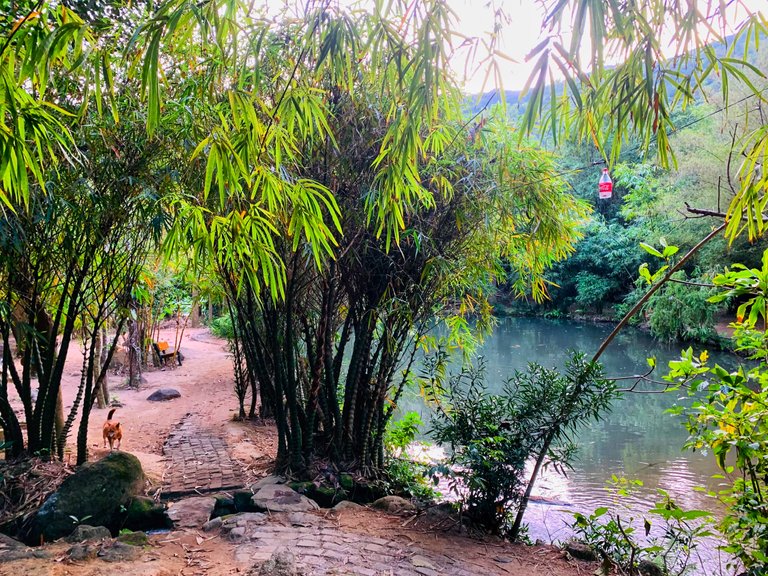 I know in some developed countries it is difficult to see these images. High-rise buildings, modern facilities are sometimes nice but sometimes boring, right? 😄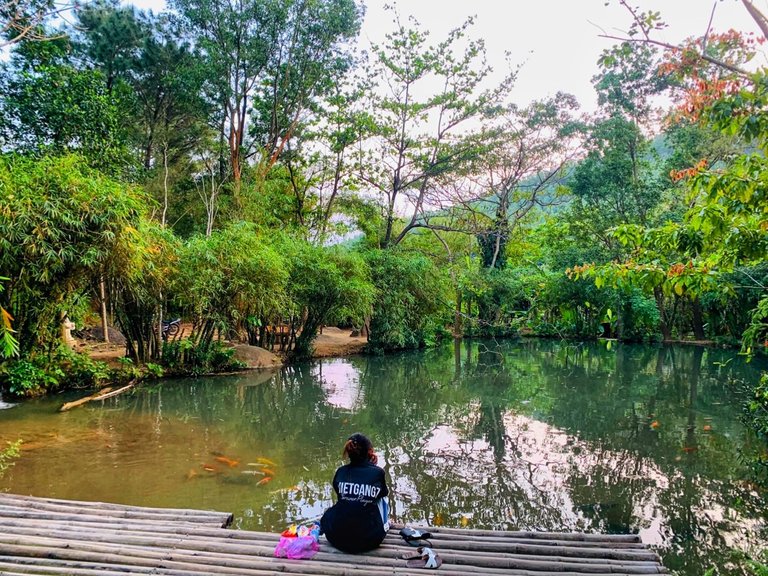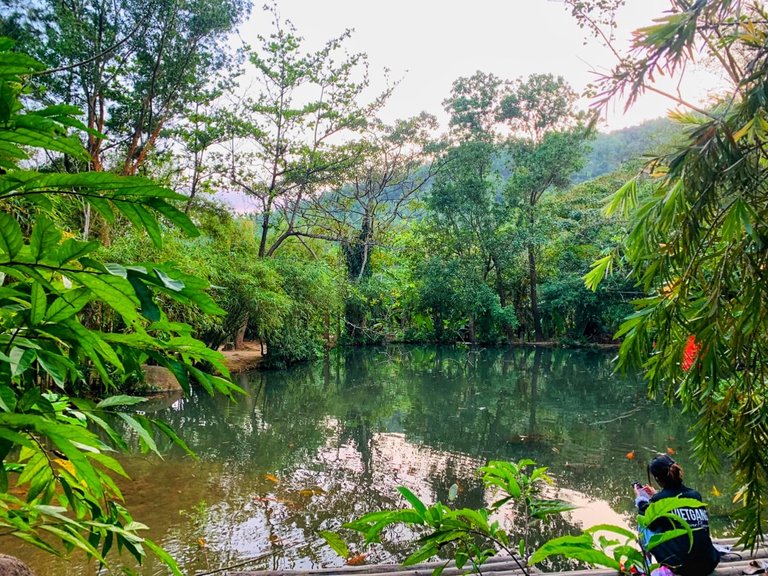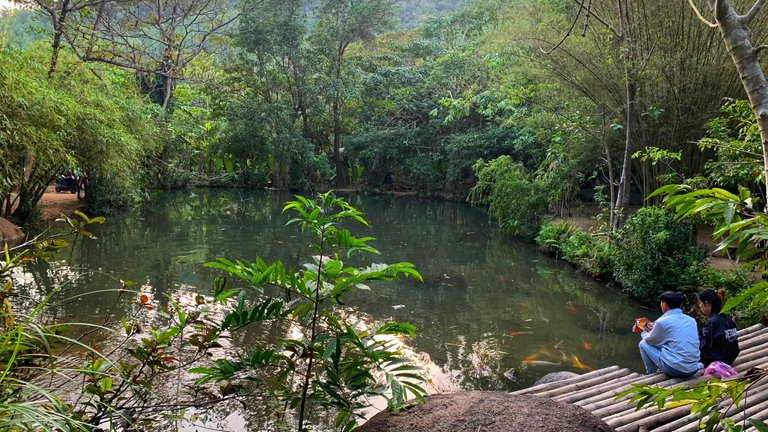 A couple ❤️! A great place for a date, isn't it? Surely if we date here, we will have a lot of time to talk and get to know each other more. Talking to each other, I think, is one of the most important things in a relationship.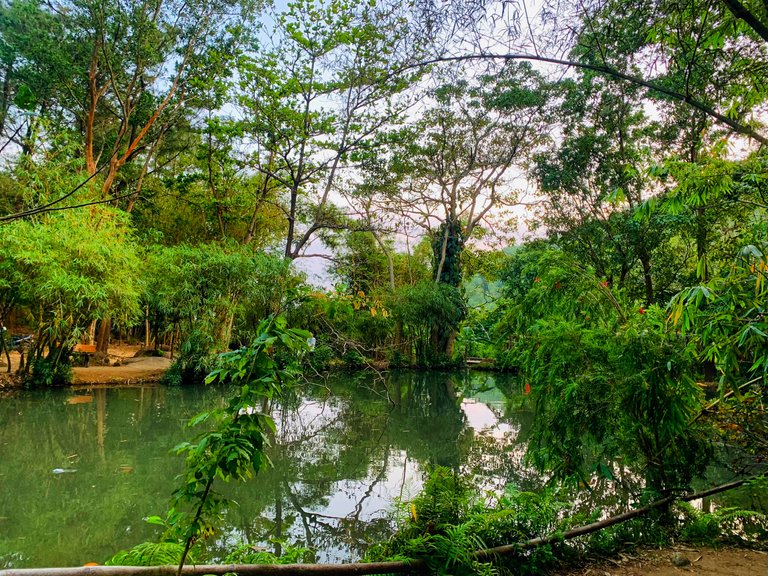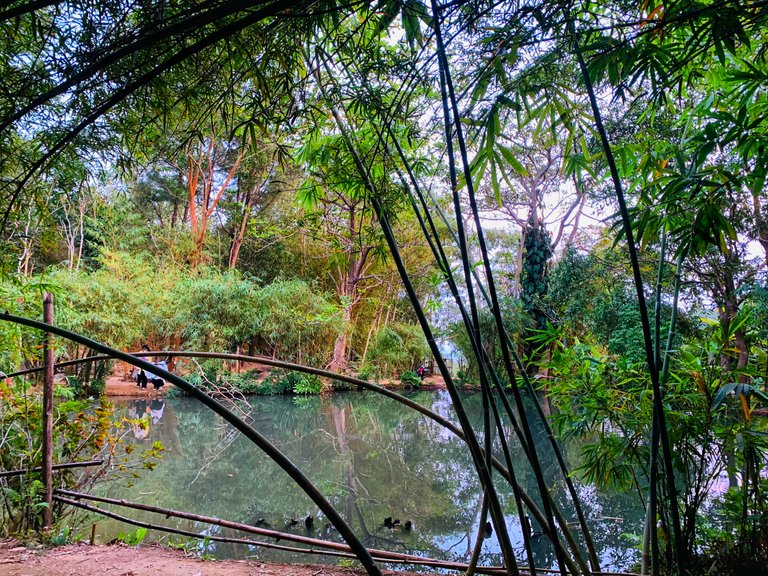 There are many fish in the pond. Of course you are not allowed to fish or catch them but you can buy some breadcrumbs to feed them. They will swim close to you 😄, I bet it will be a great experience.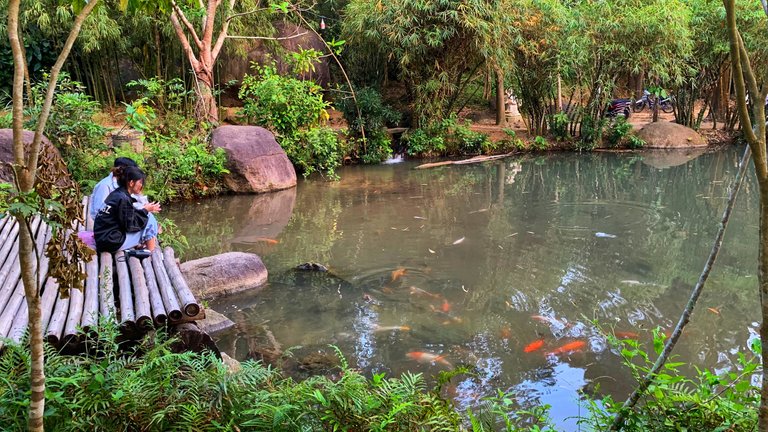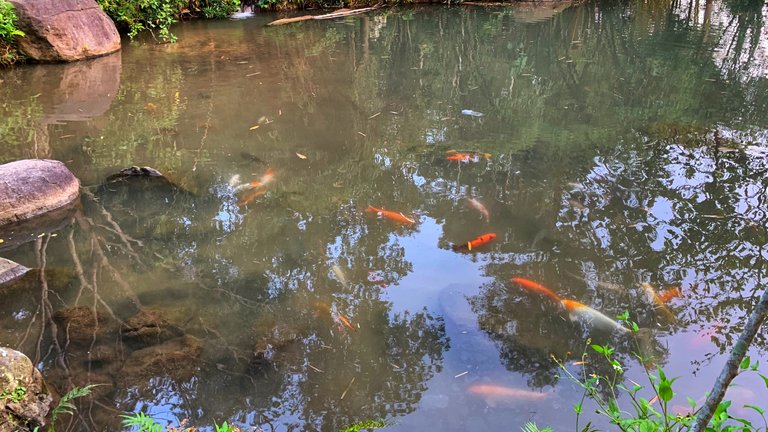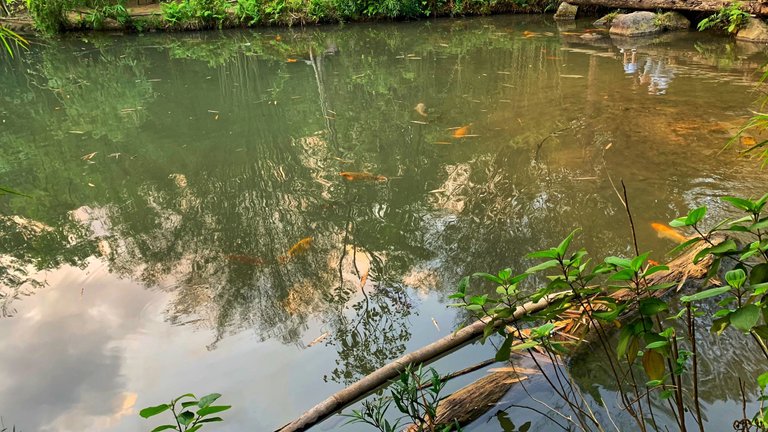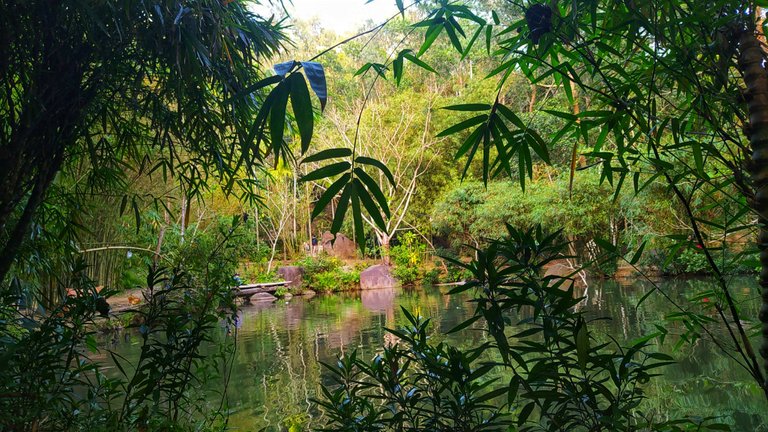 The pond looks like a colorful mirror. I think I could sit here and look at it all day.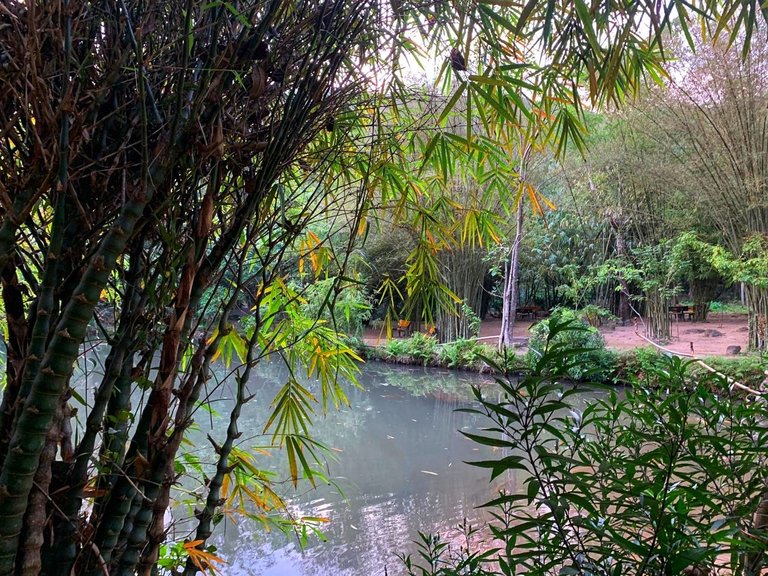 On the way to visit, we met another dog friend walking. Look at him hurrying across the bridge. He's probably looking for something.
I think if we follow him, maybe we can find something special. Maybe a treasure hidden in the garden 🤑.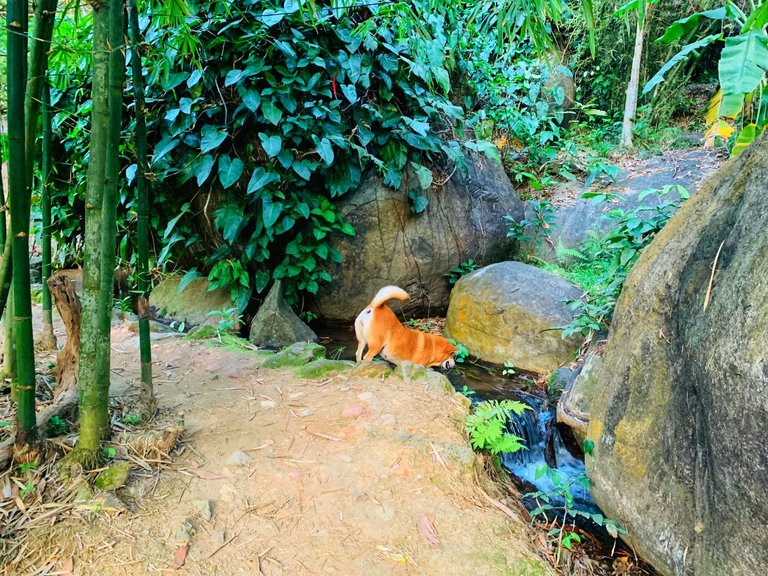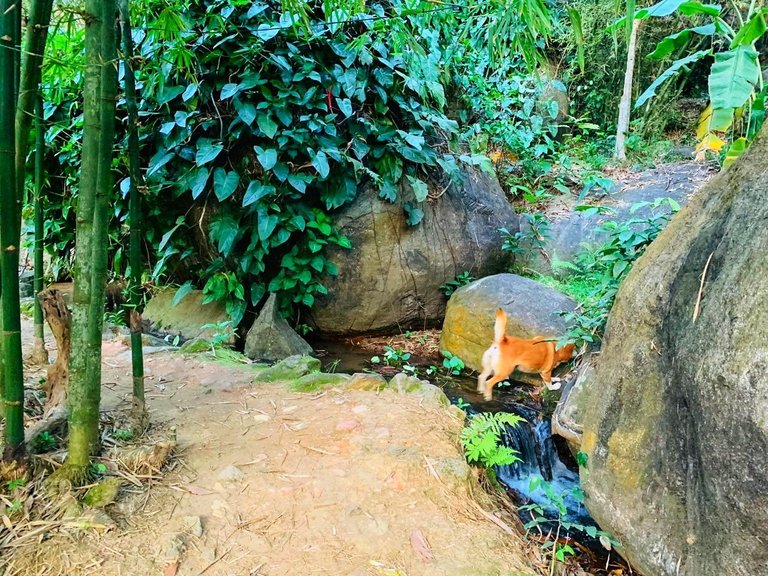 Unfortunately, when we come here, we can't follow her anymore 😄.
It's also getting dark.
So we have also toured the garden. Let's take a look at the garden one more time and then come back home.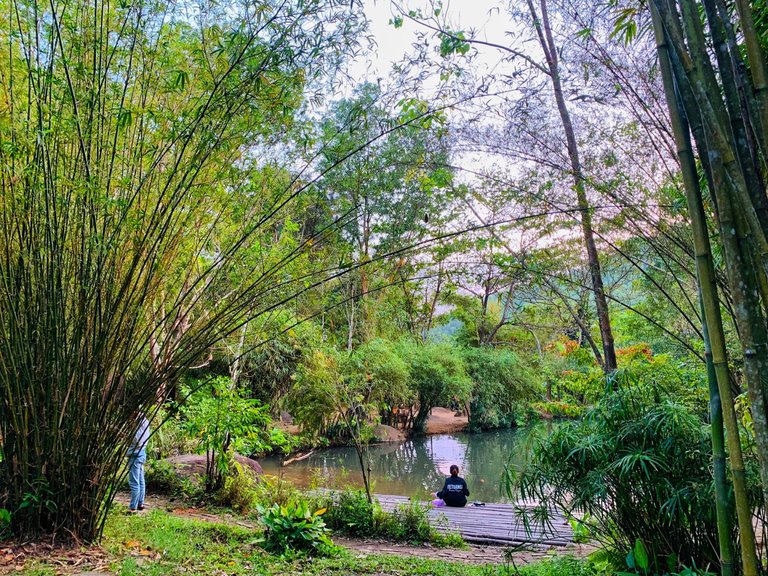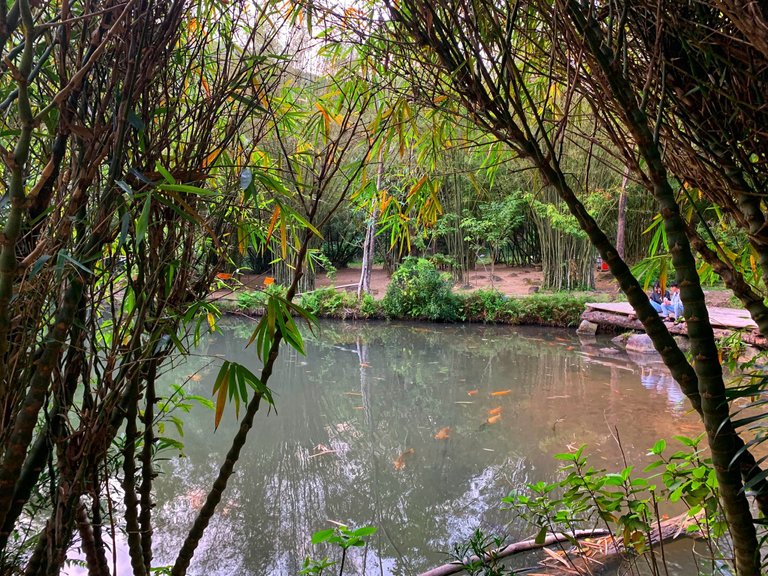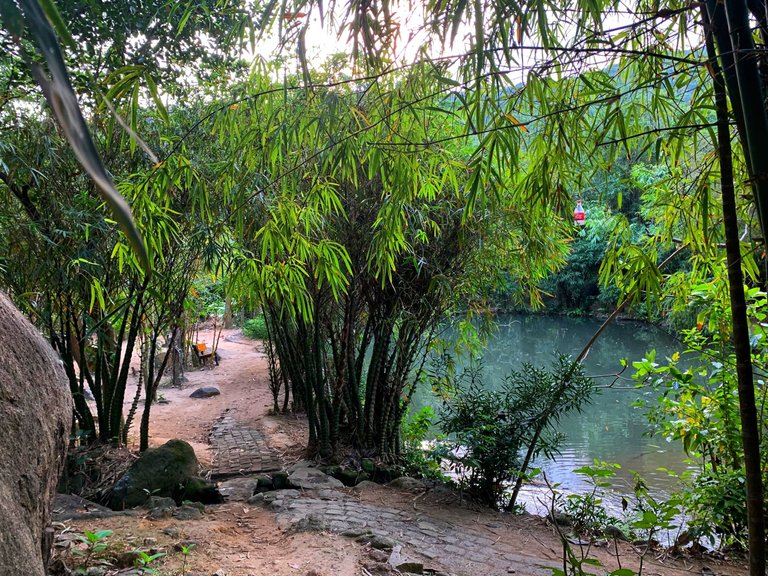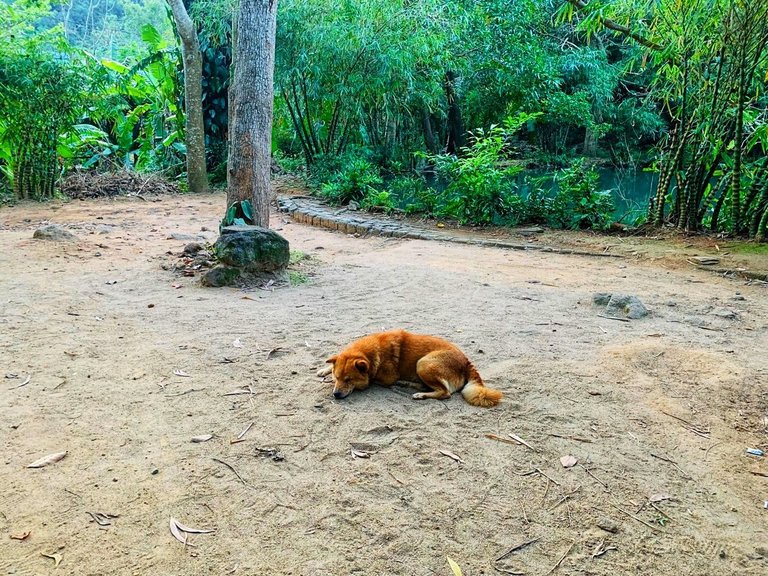 Bye bye dog! We go home. 🤗
On the way back, we stopped by a nearby lake.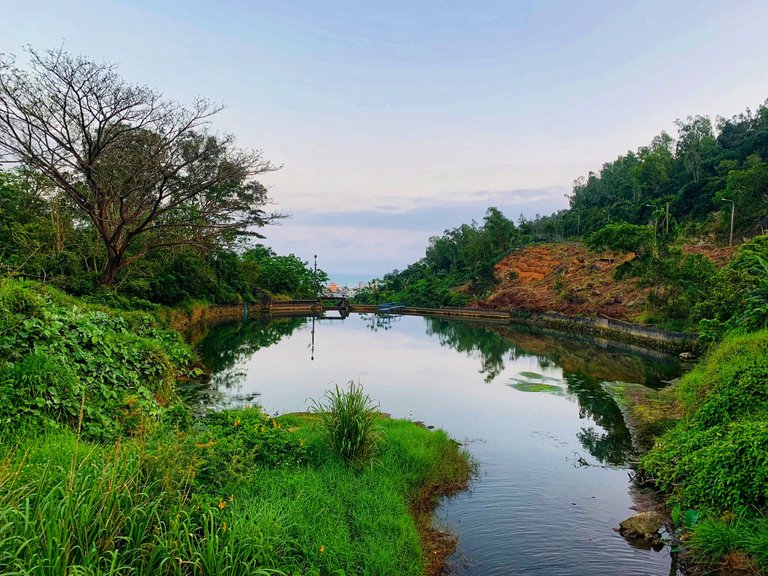 Take a look and then return to the bustling city life.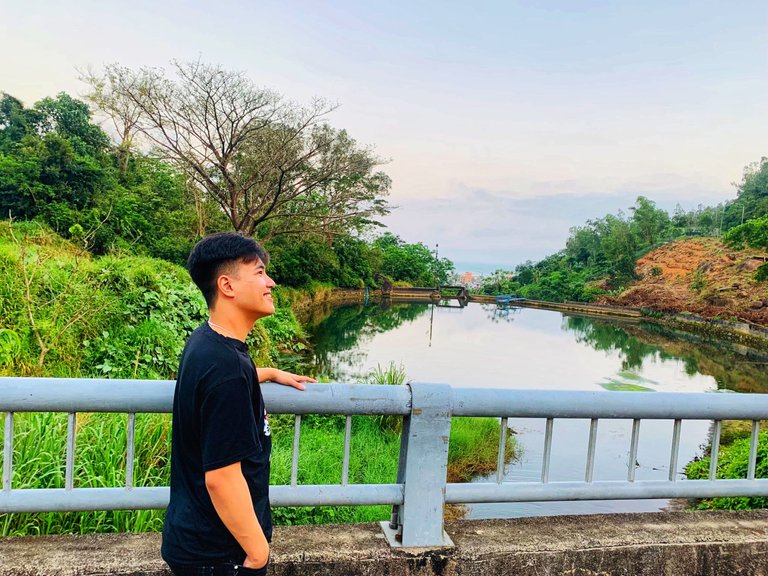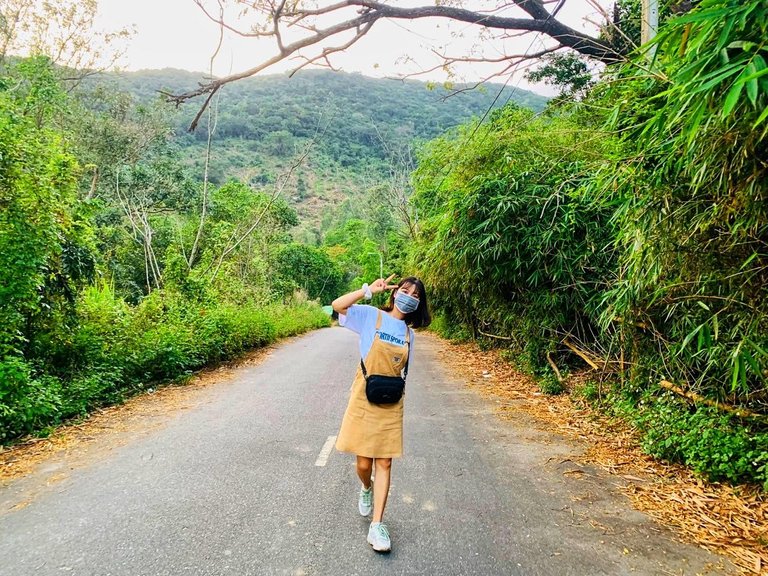 Thank you for reading the article. I hope you had a good time and hope you will continue to support us in the next post ❤️.
---
---