Quello Development Update #6 - Night Mode and other UI Improvements
Hello everyone, each week we like to provide you with information surrounding the development work being carried out Quello.io. It's only been a few days since our last update, however, you may have noticed we like to release small features often to help minimize not only testing, but more importantly how long you need to wait for new features on Quello.
The following highlights a selection of new features/adjustments we've recently made to Quello.
Night Mode
Since the launch of Quello, one of the most requested features to add has been night mode, we should have added this in sooner, however, we're happy to announce this is now available and ready to use on Quello. On Quello, there are currently two themes for you to choose from, these include dark and light.
Dark
The following shows the dark theme on https://quello.io: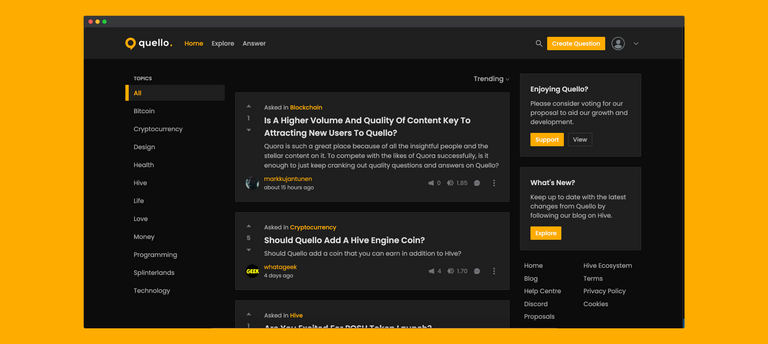 Light
The following shows the light theme on https://quello.io: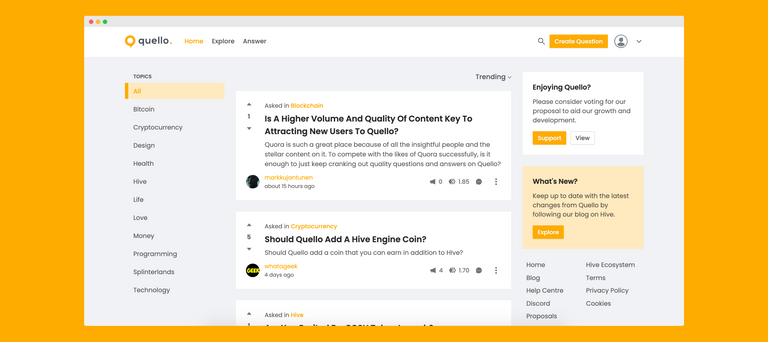 We will also be releasing another slightly less dark theme shortly. Now we have the core functionality surrounding adding themes, adding news ones will be a fast and simple process.
To enable the dark theme, you must first log into Quello and then access your settings. Within the settings, you can easily toggle which theme you would like.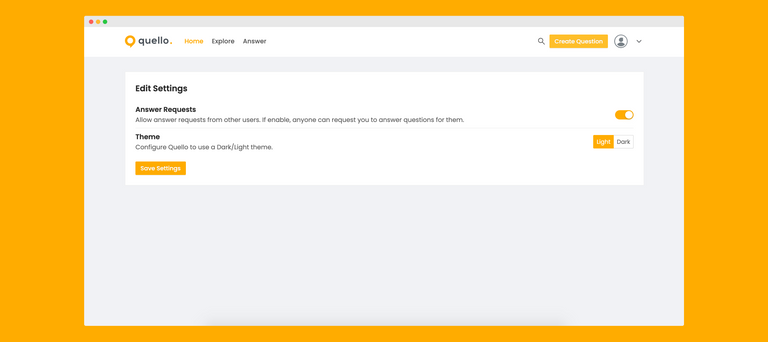 Other UI Improvements
Throughout Quello, you might notice some adjustments to how question cards, answer cards, and a few other areas of the site are displayed. We've been upgrading a few of the core pieces of Quello and one of those was our UI elements, we've tried to simplify some of the design to make it not easier to develop with going forward, but also make it slightly easier to eyes and more consistency throughout the site.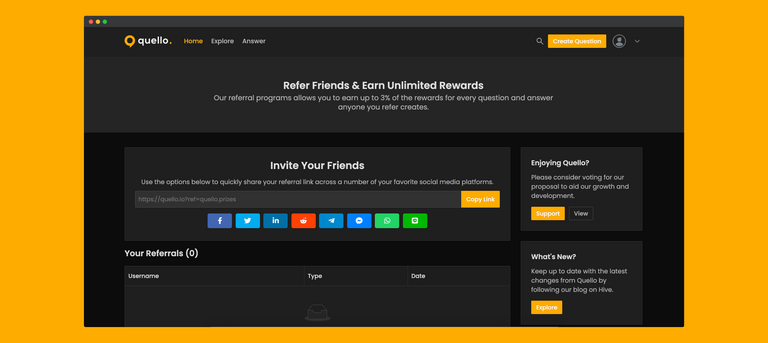 ---
As always, we love hearing your feedback surrounding Quello so if you've got anything you'd like to suggest or if you have any questions, please let us know. We'd be happy to help.
Get Started with Quello Today!
You can get started on Quello today by visiting https://quello.io
Support our proposal and the development of Quello
We have started a proposal to support the development and growth of Quello. You can view and support our proposal here.
Hivesigner: https://hivesigner.com/sign/update_proposal_votes?proposal_ids=%5B%22122%22%5D&approve=true
HiveDao: https://hivedao.com/proposal/122
Peakd.com: https://peakd.com/proposals/122
Support Quello
Join us on Discord: https://discord.gg/G2XZsau
Follow our blog on Hive: https://peakd.com/@quello
Join the Quello Community: https://peakd.com/c/hive-163099/created
---
---