Busy Bees: Hive Christmas Party Update | @hivecebubloggers Field Trip To Serenity Busay | Happy Fifth Month To My @hivecebubloggers Family!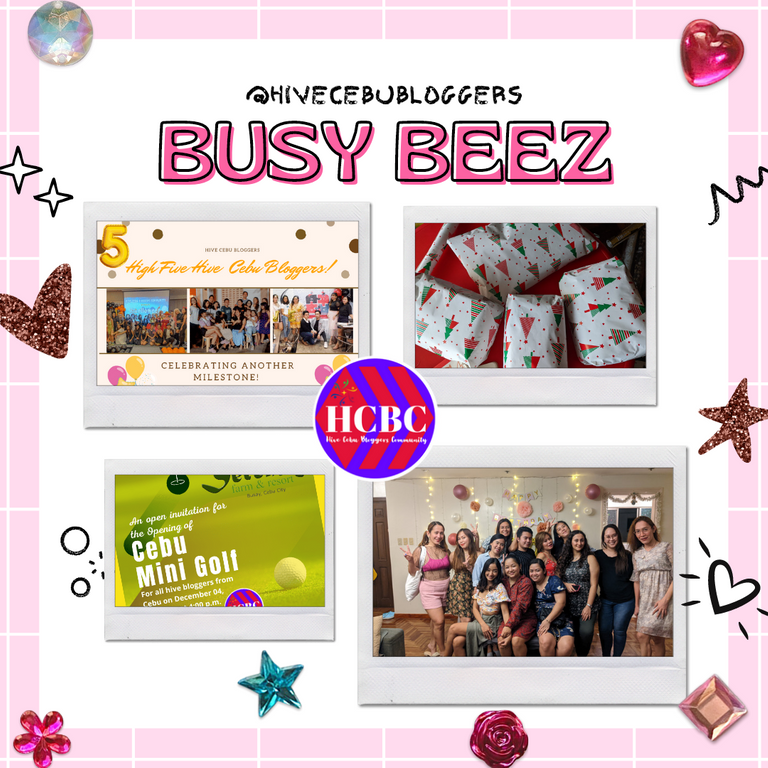 November has been quite a very productive month for us @hivecebubloggers community so December will be!
Majority of the members are actively blogging and while the rest are still actively engaging within the Hive community. Thanks to the leaders constant effort in motivating our members and of course, everyone's social engagement wether here in Hive, our private group chat and in the physical world.
Am really proud to see my team's achievements and it is because of their hardwork and dedication to bring value to Hive. We have also been doing a lot of Hive meet-ups and even smaller meet-ups within the two groups, @sassycebuana and @explorewithsasha.
Just a short recap on few of the activities last month:
Smaller Hive meetups, these Bees catching up with with each other, @gerel shared her story here and also, @explorewithsasha on this blog. Feel free to also browse on our @hivecebubloggers page or our members page to spot some shared Hive fun moments! Below are the Hive activities, upcoming ones and HCBC's fifth 'monthsary'!
---
December 1st, 2021
---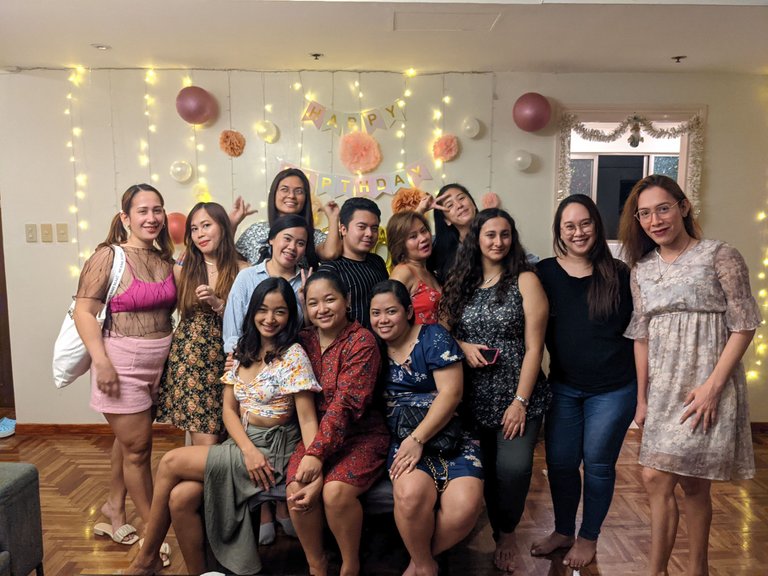 I had gathered some @hivecebubloggers for @gerel's 30th surprise birthday party, last Wednesday, December 1st. Although it was an epic failed one but so much laughter and fun and a story that we're always gonna talk about whenever we remember this day, lol! @explorewithsasha wrote a post about it. Visit blog here.
---
December 3rd, 2021
---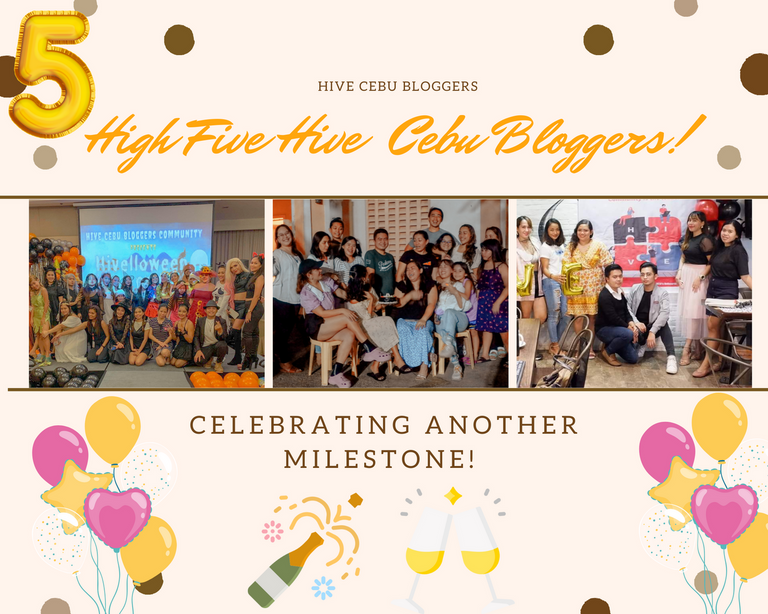 Celebrating our @hivecebubloggers
fifth monthsary, @sassycebuana made an announcement on our communal page of this new Hive milestone : > "Today, December 3rd, marks the fifth month, ever since Hive Cebu Bloggers"… continue reading here. And noticed those enthusiastic Bees in the comments, you might want to put on ear plugs, lol!
---
December 4th, 2021: @hivecebubloggers are going to Serenity Farm Busay!
---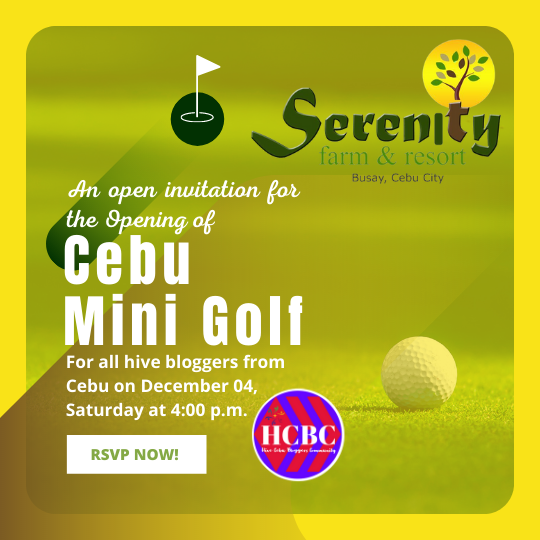 Tomorrow we are going to have a field trip to Serenity Farm Busay because of an exclusive invitation that I received from the owner when he saw my previous blogs featuring a few of his restaurants inside Serenity Farm.
You can read more about this field trip here: We are happy to inform all Hive Cebu Bloggers to attend an opening event for ... .
We had moved the date since the owner asked if our schedule is flexible and he also wants to show us another are inside this landscape- The Hobbit House.
Thanks to @asasiklause, we don't have to worry about our transportation hence he's got contacts with private shuttles. @cheerupwithjl will be coming to my place to do my make-up so I can use that time to work on some important Hive stuff or maybe also just feel like to pampered, ehehe. Am really excited to see again my Hive family!
---
Hive Cebu Bloggers Upcoming Christmas Party: December 11, 2021
---
Only a week from now is our Hive Christmas Party and I have been busy planning how to make this event extra special. This means a lot to me because this is going to be our first Christmas as a @hivecebubloggers Family!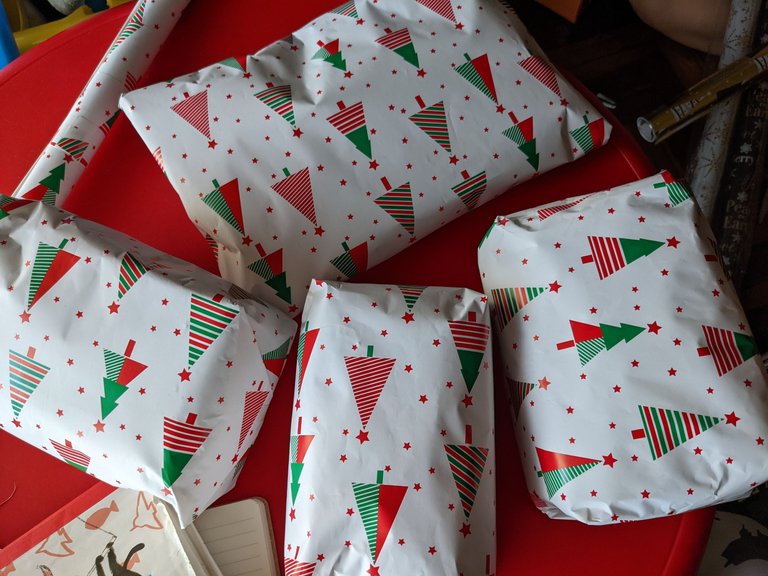 So, a few days, I went to buy a few more items for the Christmas party giveaways and I had @gerel wrap them and put them aside so my baby won't open them, he loves opening gifts btw even if it's not his. 😂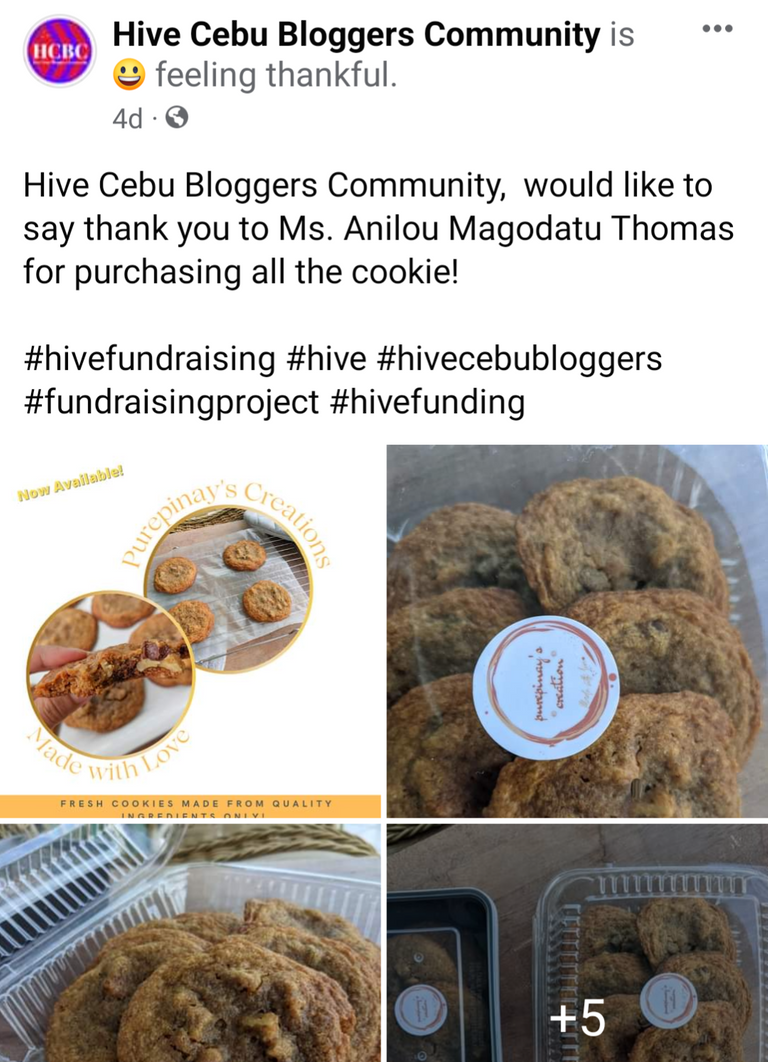 I sold the first batch of my cookies for my Hive fundraising project in order to promote the Hive brand and use the funds for different activities that will help market Hive in our local community. I shared this on my Twitter account: "itspurepinay" and our fb page "hivecebubloggers". At first, I was going to use the fund for our Christmas party but since I only sold 9 cookies at 55 each, lol no profit at all but it's okay, I have a better plan next time. And hence, I already have a lot of items for the giveaways and some Christmas decors from thirty stores in Colon and Shoppee, I'd like to make use of it for more Hive marketing. Will make a separate post about this, meanwhile to our successful collaboration with a reputable Chef in Cebu and how our Hive Cebu Id will be useful in this collaboration but first, it will be announce on our communal page.
A sneak peek of discount voucher for
@hivecebubloggers, posted on the owner's business page: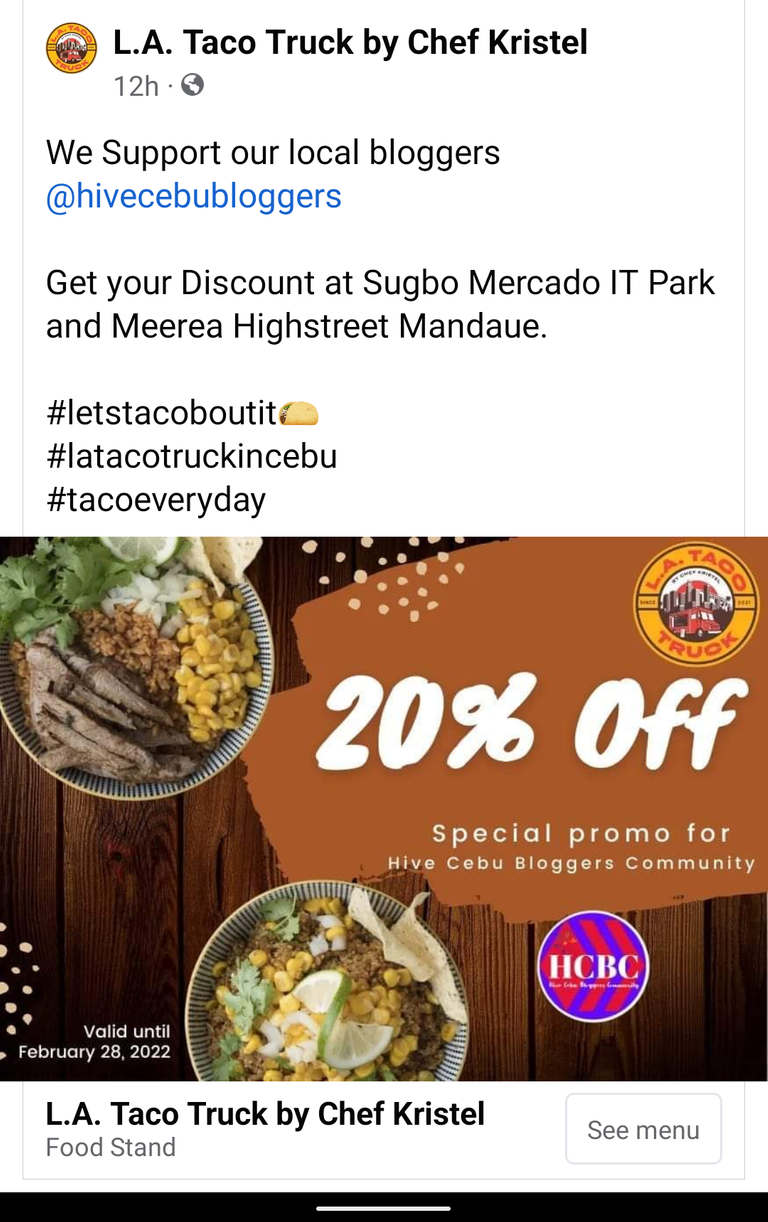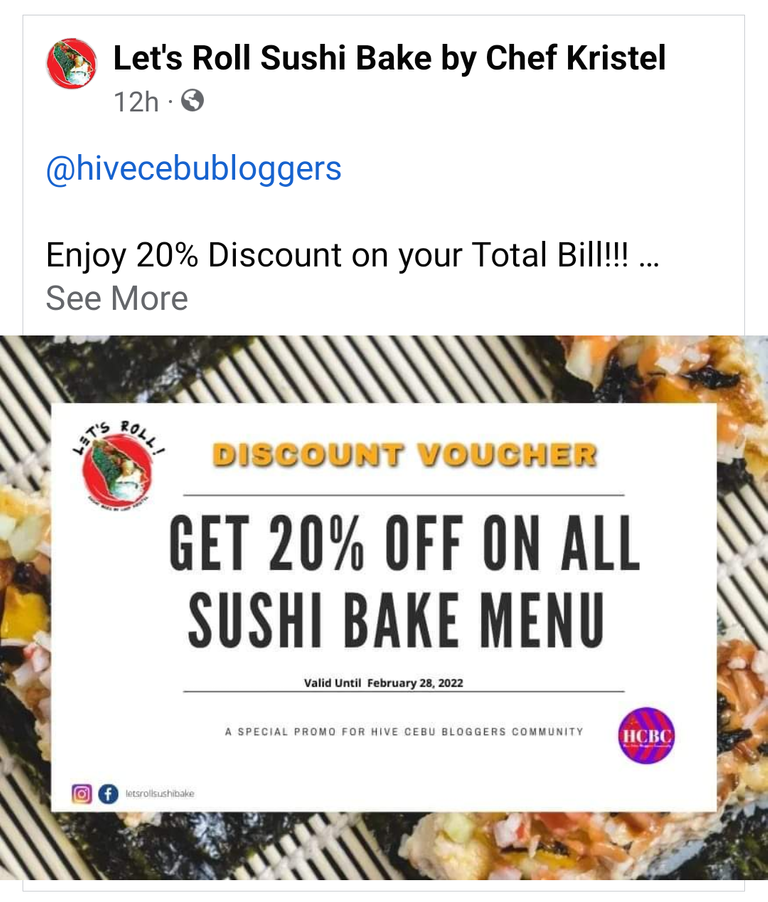 I hope you guys got some inspiration from this post, to continue your contribution to Hive. Everything that we can do to make this space a better place for everyone on the web and contributes to the growth of Hive as a whole. Wether its small or big, wether your on the tech side or simply just wants to share your creative contents or whatever your role in the Hive ecosystem, always focus on bringing value to the table.
Before I sign off, I would like to say thank you to all the Bees who's been very supportive with our @hivecebubloggers and @purepinay's journey! Shout-out to @theycallmedan for giving huge support on our Hive marketing activities. @abh12345 and @fedesox for supporting our Hive Christmas party through their generous upvote. To @justinparke for welcoming our @hivecebubloggers in his lovely community. @wil.metcalfe for always boosting our members motivation through his @comet.ranker project. @foxkoit,@chinito, @mrnightmare89, @shikika for always engaging with us.
I would also like to thank @madushanka for always supporting my posts through his reblog and even on twitter, you are amazing! ❤️
To keep up to date with our Hive activities, make sure you follow @hivecebubloggers and its members. Feel free to also collaborate with us at [email protected] or you can directly send me an email at [email protected]
Beneficiaries added to the ff HCBC members: @sassycebuana @gerel @sellennee @humbledwriter @swaycanete @sorenkierkegaard @cheerupwithjl @wanderingbella


Hive Fun fellas! ❤️


Xo
Gil
---
---