HOW WAS YOUR OCTOBER WITH HIVE ?


source
Another month behind us, it has been rocky for a good reason. #Uptober is the best month for this year. It could start the best quarter of the year with November and December altogether.
The ambiance of the crypto market is giving us hope every minute you look at the market.
I read a nice post about ETF and so far we are in a crisp to see great adventure of crypto going forward.
Have you seen #Cub lately? One thing I can tell you it is steady and making stride in the DEFi world. It is so rewarding knowing we manage to have a place to experience decentralized finance while earning in the making. I need to rebalance a little bit so I can maximize my earning. After all the clock is ticking, if you do not go after the earnings another diamond paws will fill the void.
February was the best month for #BTC before this month. It may seem obvious for that rally to cascade to November. Hard to tell how. Usually crypto market can be predictable. More folks trying to play it but the end result stays the same. We are in a positive vibration. November can pull another 40% for crypto in general. It is like you have awaken the crypto beast. Meme coin as risky as it is enables the purchase and entry point for many other tokens. Many will lose as before cause they are weak hands.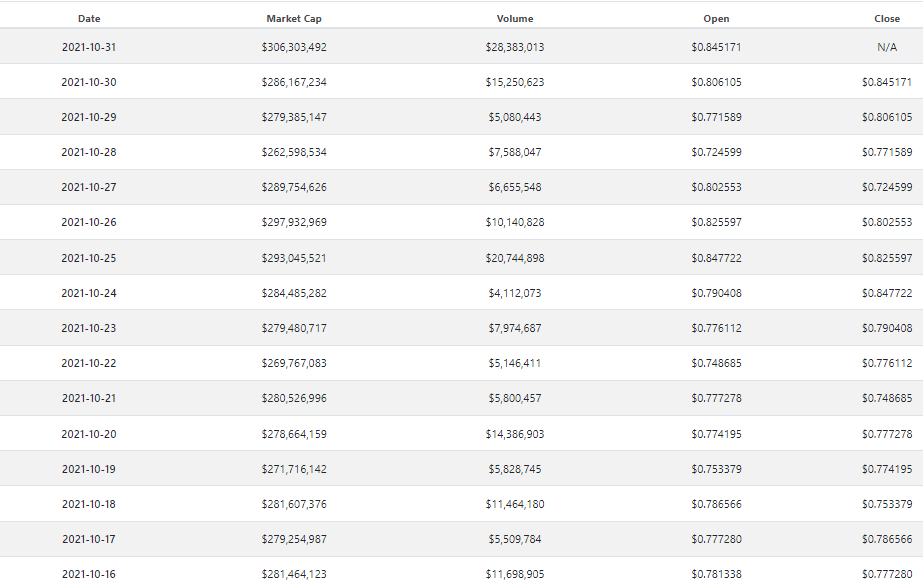 source
Comfortably #hive is running with the bulls. Maybe I should say, it is about time Hive is gathering momentum to project its rightful place in the market. Sincerely I look online, there is no propaganda for Hive. It is hard community collaboration at work. I know #twitter is everyone best guess for quick promo, Hive is planning its resurgence for quite some times. Definitely a dollar is getting closer to reality and it will stick around.
We have seen $1.48 and then deflated. I think the assignment is on everyone radar this time.
The volume is naturally inspired to remain around $15 million daily. We have liquidity to push it through. I usually do not focus much on the price for Hive. It is a barometer to check where we are and what will come next in comparison to the whole market.
I like that tweet about a hiver transferring Hive funds via #Chivo wallet through lightning network. Hive can fulfil more than just that. You probably read my holding patterns every post. It works if you keep it simple. I would say this is how you can make headways in the community.
More #HP you have more comfortable you will become.
Everybody has a repertoire where to start and stop accumulating.
I am not there yet and it is a long shot for me.
With what the system is giving me via Hive power and constant participating in HPUD
it could take me some couple years to get to a point where things will look
a lot better.
It is a long plan where anything is possible. Hard to reach the millionaire status with Hive, but
I am having the best fun where I feel the desire to write daily.
Hey never say never to start $5/Hive can change things quick.
The part I like lately is the learning curve. So much to learn, so much to share.
Crypto is more than earning. It is a way to stay up to date with the Financial world.
Lately in my neck of the woods, the internet has been causing headache. Without internet, it will be chaos for everyone. You got my point though.
It is a vital part of everyday life. Most jobs rely on the internet. Crypto is purely the internet money. I am hoping the companies are repairing the lines for better service like fiber.
We are living in the best part of this technology extravaganza. The abundance I have been reading about is approaching at a speed you can sense. After all crypto is ready to change everything.
By the way be ready to make this community the best ever, no fanfare.
Last week I missed writing due to busy schedule I had.
I have been busy with work. It is a good thing cause I can buy more Hive in the future.
#Leo is a solid buy on my radar, just like #POB.
Opportunity is alive amongst us.
How was October for you?

Posted Using LeoFinance Beta
---
---