HIVE THREE YEARS IN THE MAKING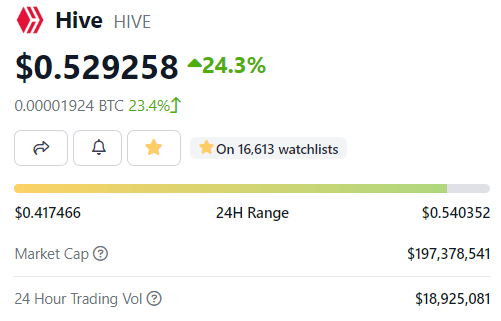 source
This is the power instilled in crypto. The minute you look elsewhere it comes back running. Apparently the time is special for #hive to grab into some positive. A lot of fun things happen Sunday night. For many other it is Monday morning. For all of us it is a special month where Hive is at the altar. I did not expect #hive to jump that quick tonight. 23% over BTC is always a great thing to witness knowing if you want to exchange you get to keep your profit.
Hive the name is just a continuation for this community. The bees are at work everywhere. 52 cents may not represent a huge step today. It plays a stamp where we are serious about this blockchain. Not matter how you look at it, it is beneficial for everyone. If you plan to sell, you are earning more than 10 cents over yesterday. If you are holding, it brings more confidence to your plan.
Chaos and crypto tend to work in tandem. It may sound weird but crypto is constantly trying to fix the gap the financial market cannot fix. It makes no sense for everything financial to be centralized. Hard to eradicate that notion knowing regulations will always be around. it give the end user the option to be the one making the move.
HIVE
For the past three years, Hive development has been steady. Due to inflation and desire to grow #HBD, you can say Hive inflation should be deflationary. Thanks to #Hive powered, almost Half of Hive is not circulating. #hive.fund hold quite a few. It does not affect the reward pool and it is Hive only access via proposal.
Hive blockchain is slowly changing, giving the impression it should be that way since ever. Since last year you can feel the 3 seconds blocks much better with irreversible blocks. Delegation of #RC is another move where you can help new account without delegating your #HP.
Talking about #HBD is a prime example Hive is growing.
Yes you lock your HBD or a month with 20% APR. It may not sound genius to say the least since many are impatient. Every 30 days it is fruit of patience. I want it now does not help to grow.
Learning is the pinpoint that will keep this community grow.
By the way buy low and sell high is part of life.
I did buy some HBD and if Hive is going higher I will get more.
Can you see the relation though?
Higher Hive delivers more HBD.
Many are powering up Hive to celebrate this moment. March is a special month. Hope we can build on top of that high and reach the dollar mark then.
I am thinking the signification stands to push Hive higher in the incoming months. Just wait for BTC to make a move, Hive will follow.
Today have fun and keep Hive in your mind.
Posted Using LeoFinance Beta
---
---