EASY DOES IT, DO IT THE HIVE WAY


source
For the past 7 days, Hive has been trading like it should be. No crazy high or low, while we maintain a satoshi ration of 1200+. It may appear Hive is trading sideways, reflecting a resistance around that price for a while now. SInce we touch the dollar mark recently, it is clear that could be the next step.
BEfore we jump to that phase, #Hive has a tendency to act as a damper to the community. When you least expect a rise, you do not see it. #Hbd is as close as it should be to the dollar mark. I wish to see that $1.15 or $1.20 again. There is a race for the capitalization of the conversion to Hive via HBD. This community knows well what they are looking for. No need for a quick jump where the fall will come quick to mess up any true gain.
Comfortably Hive is building a fierce resistance before reaching 90 cents. It may take time till we get used to it. It may happen as always around or right after December #HPUD. This is solid contingency for Hive holders. You know the price will not drive you off crazy. You know it has a stable tendency. Hive can be predictable but it is crypto after all.
Liquidity wise we are right in the middle. So many exchanges to look for. You can even do exchange within Hive-engine token and make your way via #Cubfinance to the #BSC network. You can take the route of #Ethereum via #WLEO in uniswap. So much at your disposal with Hive in mind. Hive-engine has so many potential, the sky is the limit.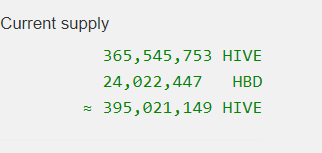 source
Imperatively the amount of Hive is proportional at the figure you see here plus the HBD that gets created by the system as an IOU. The minute you convert it to Hive, it gets destroy. The same this can be said for Hive to HBD. That way Hive has become slowly a deflationary token even though it was set up to be inflationary. Little hard to comprehend the math behind it but it is the way and this is ample news knowing the Hive you have today will be more harder to get tomorrow.
The same Hive is getting more expensive as well. The community with the market dictates the value. No wonder at the beginning of the year you could get Hive for 13 cents. Believe me this price stayed with me. You wish you did better then. Time flies and Hive will not stop as flying high. As you can see it is a cool token for a reason. No fanfare, no big news, strong value with strong community is what we need and we are getting there.
Anyway by now you should be the most informed Hiver ever.
Keep vesting on what will pay you 10X tomorrow.


Posted Using LeoFinance Beta
---
---