The Strongest Typhoon that ever hit Sibonga, Cebu, Philippines
---
December 16, 2021
---
Typhoon Rai (Odette) was coming to the Philippines and according to the data by our national weather monitoring unit PAGASA Odette was expected to land fall in our town Sibonga, Cebu around 10 to 11 PM.
We have already prepared for the Typhoon. We have already stock piled food, water, flash lights, medecine and all other daily needs just in case the worst will happen but our expectations were dead wrong.
We, not only my family but all other inhabitants of our town as well, under estimated the Typhoon as we usually don't get hit by the eye of a Typhoon and this is probably the first time our town was passed by an eye of a Typhoon. We have experienced so many Typhoons in the past but we have never tasted an eye of a Typhoon. That is why we never expected the nightmare that will befall to all of us Sibongahons.
---
Meeting Odette Head On. The Nightmare Begins
---
At around 4PM in the afternoon the electricity was already cut but the internet is still on so I was watching the news online regarding the typhoon. During this time our town was already under signal number 4, the highest rating in our country, but we were not worried at all. We, I, have personally experienced a signal number 4 typhoon rating before so we knew what we were getting ourselves into. It's not a new teritory for us. The clouds were already as dark as night. The rain wasn't that strong yet but the winds were. The coconut trees were already dancing but that was normal as we have experienced in the past.
As time passes by the rain and winds keep getting stronger and stronger. So around 6pm I told my family members that we should evacuate and move to our neighbors house since their house was made out of concrete while our house was made of light materials that can easily be destroyed by a Typhoon.
Around 7 PM the internet was down, even the mobile phone signals were down. We can't call, send a message or use the internet. During this time we can already hear the wind whisle and I thought to myself this is probably it. The wind was already so strong and I can hear the sound of the tin roof banging due to the wind. I was always looking outside the window from time to time when the wind subsides for abit and used the flash light to see if our house was fine. So far everything was fine.
Around 8 PM we heared a very loud BANG, i knew something was wrong so I rushed to see what it was. I opened the back door and saw my niece together with her cousins rushing towards where I stayed. The first ones to arrive were the kids as they were fast. The next one was my cousin who was carrying his grand mother and asked me to help them. So we and the other guys went and helped them. I had to carry the other old woman as she was walking so slowly with the help of his teenage grandson.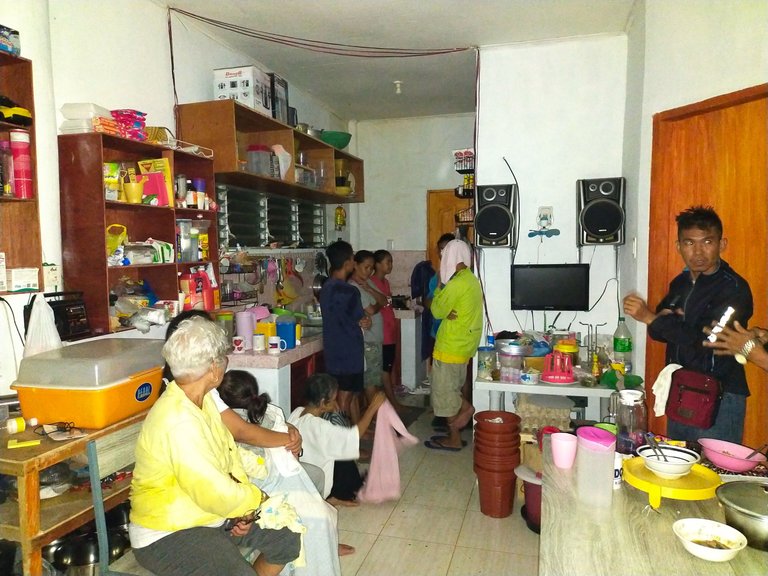 Luckily nobody got injured during that scramble and they all got inside safely. The owner of the house we were staying was so kind and lent us some change of clothes as we were all wet from that scramble. There were a total of 20 people in the house including the 7 children.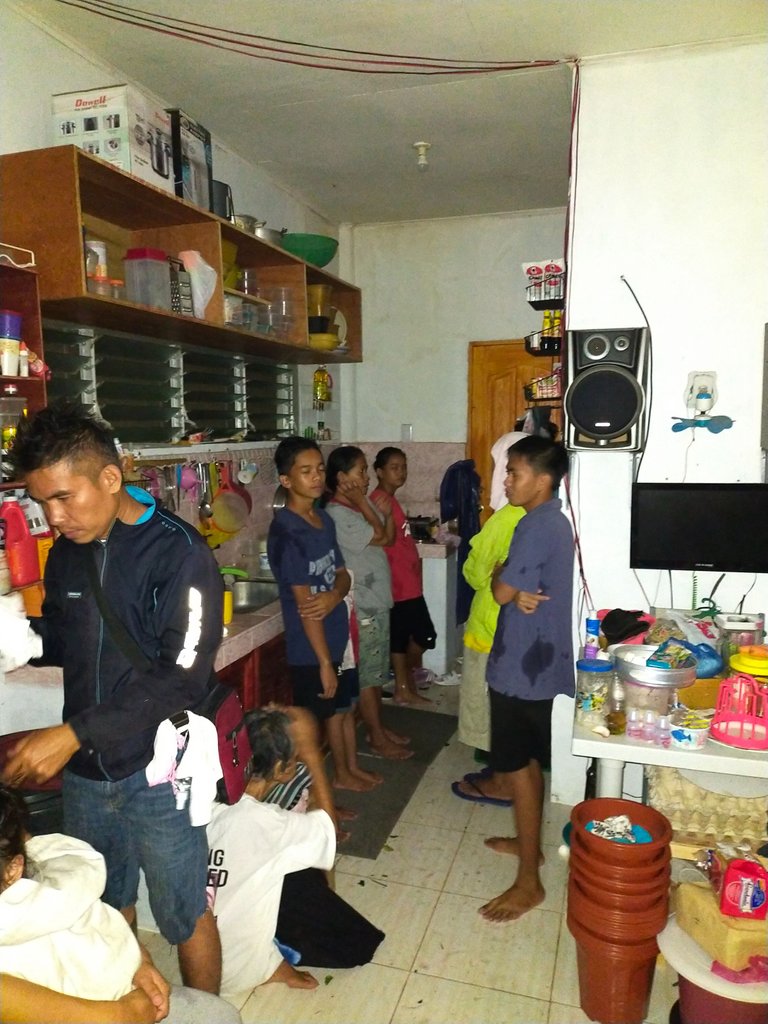 We asked them what was that loud bang and they said one tree fell into their house and the roof got blown away by the wind. They got so scared by the sound of the tree falling, the roof being blown away and the rain coming in that they just rushed out of their house and ran towards where we were staying.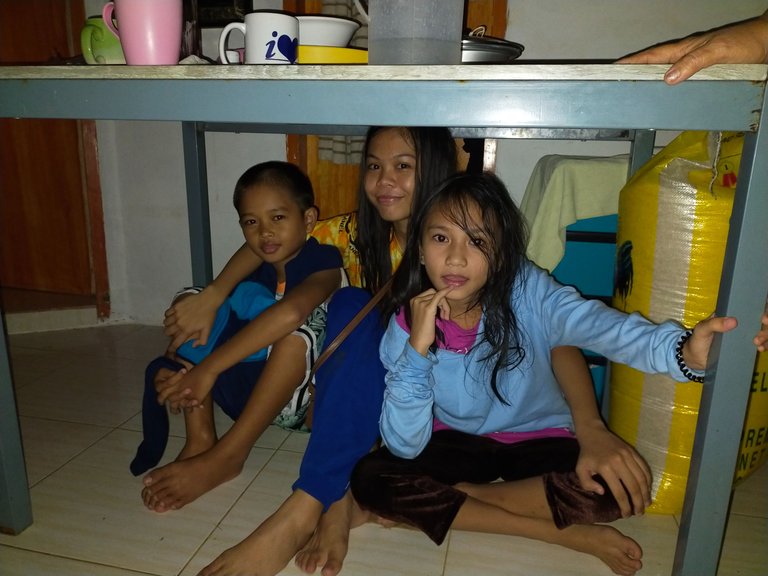 We Filipinos are really resilient as the kids still had the audacity to smile when I took a picture of them hiding under the table just in case this houses roof will get blown away as well.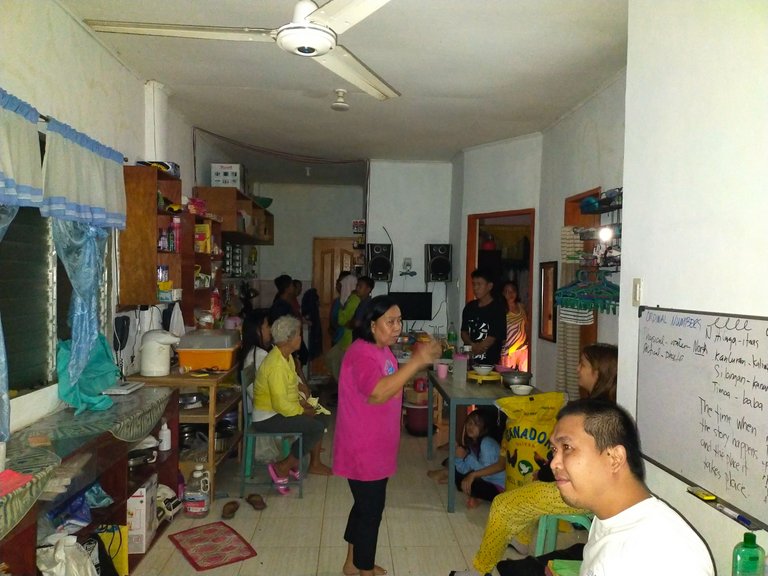 Around 8:30 PM we heard a couple of bangs yet again. It was the sound of a tree being snapped. We don't know for sure as we cannot open the doors anymore to check it out due to the very strong wind. We tried opening the door but we can't.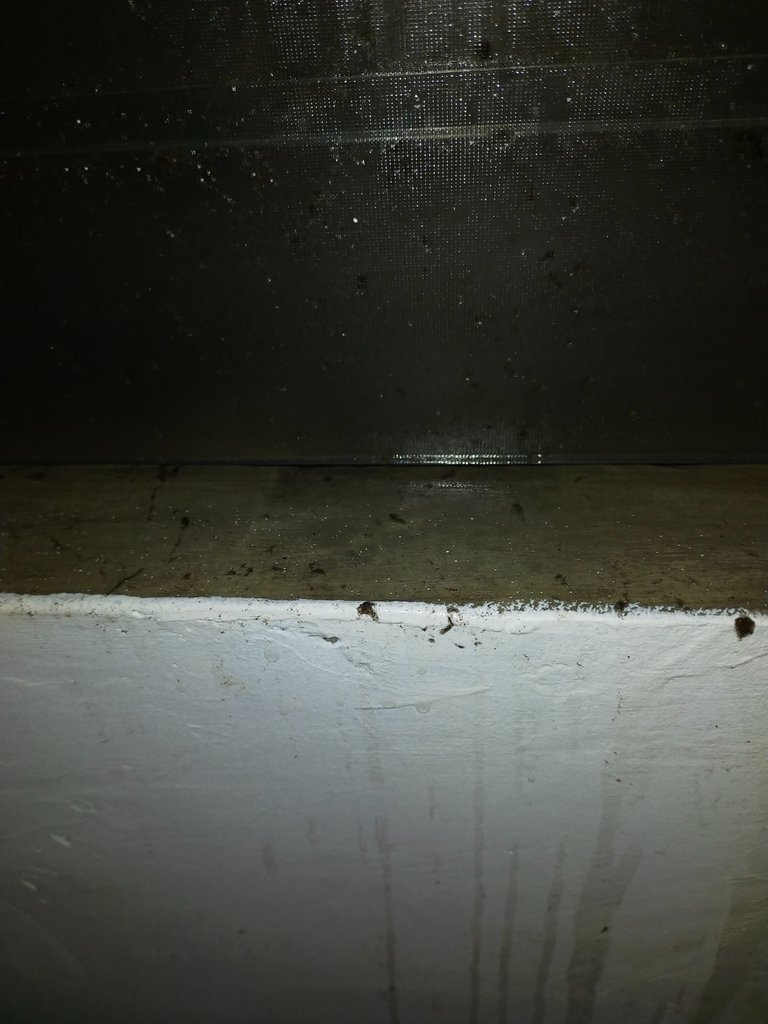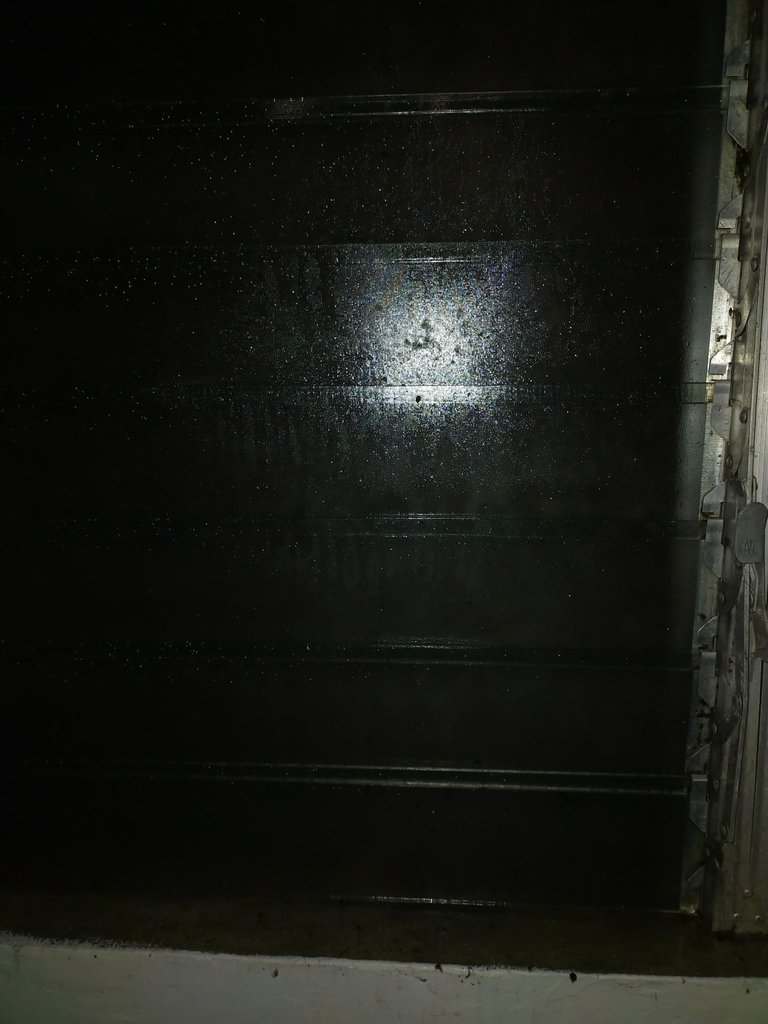 The rain was comming in the house we were staying through the glass windows. These windows have very tiny gaps in which the rain can get in with the help of the very strong winds. The floor was wet all over near the windows and the only place we could stay is right in the middle of the house.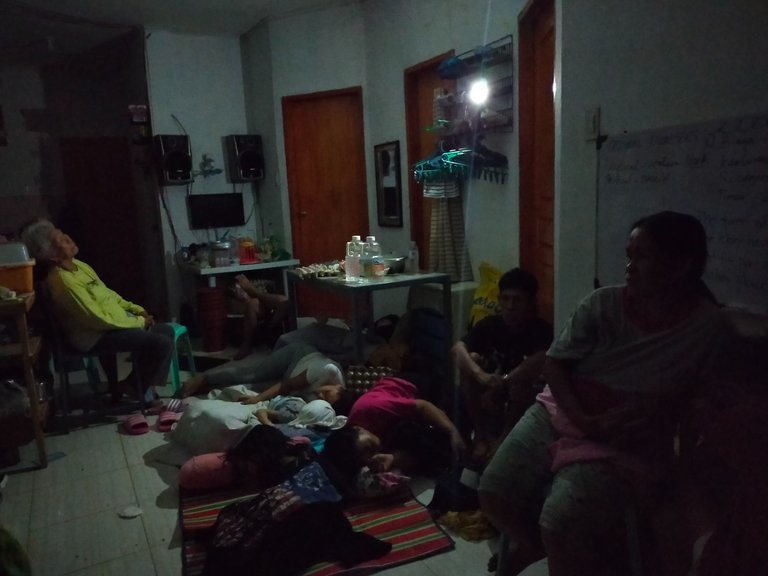 We prioritized the children and they were sleeping in the middle and under the table. All of us adults planned to stay away the whole night but some of us just took turns taking naps but I did't. I want to be awake the whole night so I can tell the whole story.
Around 9pm the Typhoon is brewing so hard. The whistles that the wind was producing was getting louder and louder. It felt like the time that I almost died while swiming in a haunted river. This poltergeist got a hold of my feet and dragged me deep into the water. It was producing this kind of sound that is similar to a whistle blowing. I was traumatizer by that experienc and now its all coming back again.
This sound that will make me shiver in fear is all over the place. North, south, east and west there was no safe place. I just buckled up and covered my ears. I was trembling with fear but I don't want this fear to consume me coz I know when we get consumed by fear we can't move so when the worst comes I can't react in time.
The doors were trembling, the wind was knocking the door so hard that it looked like some bad guys are trying to break the door open. The same can be for the windows, both were trembling so hard that it looked like it will break anytime soon. But all of us just stayed put and prayer that it does't break or people will die. The debris of shattered glasses will pierce through the people laying flat on the floor if that happens.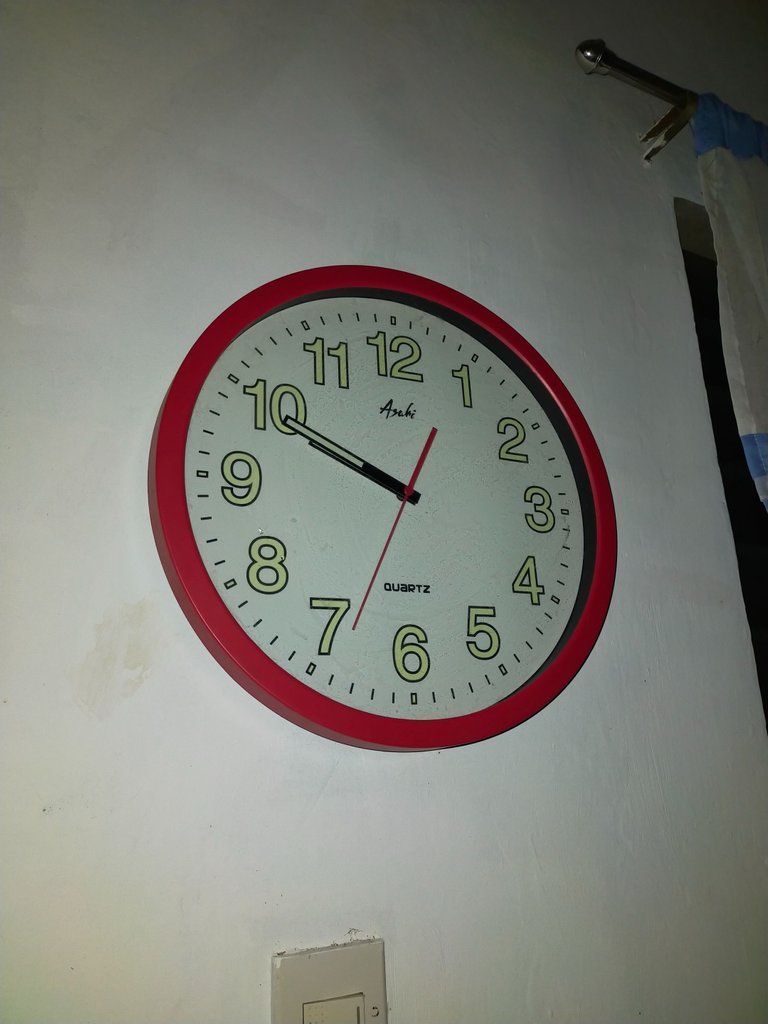 Around 9:45 PM the rain and wind just stopped. It felt like the time had suddenly stopped. One second the rain and wind were blowing so harr and the next it was gone. It was so peaceful, we can't hear anything and the trembling doors and windows just stopped. One of the guys said we should take a look outside and see what's happening.
One guy slowly opened the window and peaked outside. It was dark so he used a flash light to see whats hapenning outside. He said the tall coconut tree stopped bouncing. It was just standing there as if there was no Typhoon at all.
Then one of our neighbor who had a first hand experience of Typhoon Haiyan (Yolanda) said that this is the eye of the Typhoon. A brief 15 minute calm before the 2nd part of the Typhoon.
I just can't help my curiousity so I opened the front door. The aluminum door in front was broken. It looked like some drunk guy kicked the door half to death. I slowly opened it carefully so I won't cut myself from the bent aluminum door.
I stepped outside and turned my flash light on to see the bamboos were all gone. The coconut was so beat that its lush leaves are now gone. Only a few leaves left remaining, the same goes for its fruits.
As I turned right the whole mango tree that was beside my house was down. The huge branch of the tree (I don't know the english name of the tree but we just call it Colo) was gone and most probably fell right into my computer shop. But that's the least of my worries. If my computer shop and computers are broken then it can't be helped. I had no where to store them in the first place.
As I looked far right out I can see our neighbors house (the one where all the people came in when we heard the first bang) was still standing but there is a tree at the top of their house. A mahoganny tree was also blocking the way to their house and a jack fruit tree at the back also fell into their house.
I can see the clean roads were littered with leaves, branches, debris, roofs, plastics and even clothes. I just took a cigarette and smoked to calm myself down. I just sat in front of the house looking at the devastation in front of me. I wanted to go inside my house to see if the ceiling or the inside was wet but I thought to myself the answer is clear as day. All of our things are probably wet by now and there was a chance that as I go inside the house might collapse so I just brushed the idea off.
Two other guys came out and asked for a smoke as well. We talked about how strong the Typhoon was. We all agreed that this is probably the strongest Typhoon that ever hit this town by just looking at the damage done within the vicinity of the house we were staying and how lucky we are that the roof of the house hadn't been blown away.
It was most likely well built for it to withstand such very strong winds. Not to mention very lucky as the Mahonganny Tree that was beside the house didn't fell directly into the house or else we would have been doomed. People would have died for sure. Instead the snapped tree fell 45 degrees and 10 meters away from the house so we were very lucky but it is not over yet.
After we finished smoking we went back inside the house and looker at the time. It was 10:30 but it was still calm. One of the old ladies said that maybe the Typhoon was over but my cousin insisted that it is not over yet. Maybe the Typhoon was so big or moving slowly that is why we were still inside the eye.
And his guess was true... At 10:45 PM we all hear the whistle then followed by the rain and wind which slammed through the windows and doors. The second wave has begun.
The second wave was as strong as the first one. The doors and windows started trembling again. We just stayed put and I starter talking just to ease the tension in the air. We were all afraid but I wanted to atleast divert the worries by talking.
I asked the oldest person in the house which was the grand mother of my cousin. She was more than 80 years old so she probably have faced more Typhoons than me during her lifetime. I asked her to rate this Typhoon Rai (Odette) compared to all the other Typhoons she has faced before.
She said "I have never faced this kind of Typhoon in her entire life". She have lived here in Sibonga all her life and this was the first one she ever heard the wind whistle. She continued "This Typhoon is way stronger than Typhoon Ruping and Nitang which devastated our town of Sibonga decades before. Those 2 Typhoons were strong but it never produced that whistle sound that we are all hearing right now. Also based on the sound of the roof slamming and the trembling of the doors and windows she said "This Typhoon is probably the strongest Typhoon that have ever hit our town.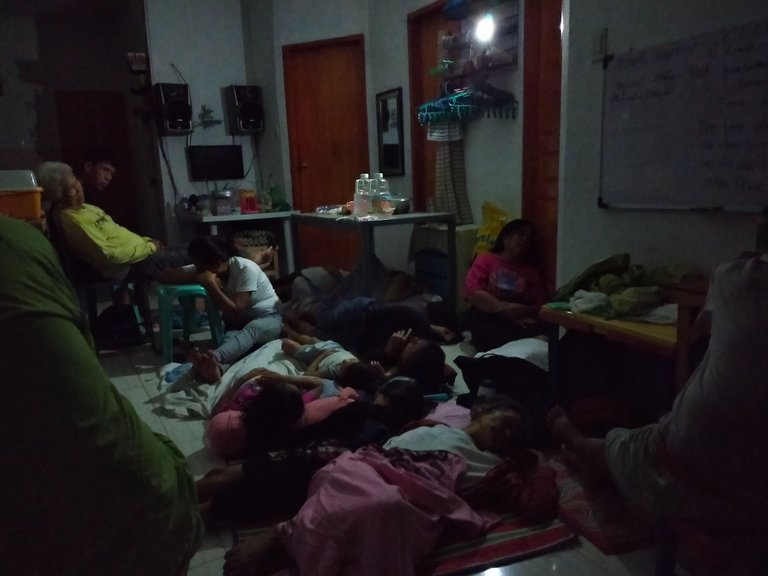 We kept talking together with the other people inside to pass the time... Most of us thought that this Typhoon would probably pass around 1 AM but as soon as 1 AM has passed the wind and rain still hasn't stopped. Although it wasn't as strong when the second wave started but it was still strong. The sounds of the roof banging into the walls can still be heard.
Around 2 AM most of us are already asleep. I mean I can't blame them as most of them got wet in the rain as they ran towards this house. But I was still awake and alert. Only 7 people were awake during this time and the Typhoon is still outisde.
I told them about Hive and about why I was taking pictures of us inside. I told them I might get some money out this and hope people will help us. I told them i would go outisde early in the morning and I would roam around taking pictures of the damage this Typhoon has done if there is any. But based on what we have experienced so far Im 100% sure there will be some form of damage but I hope it won't be that bad.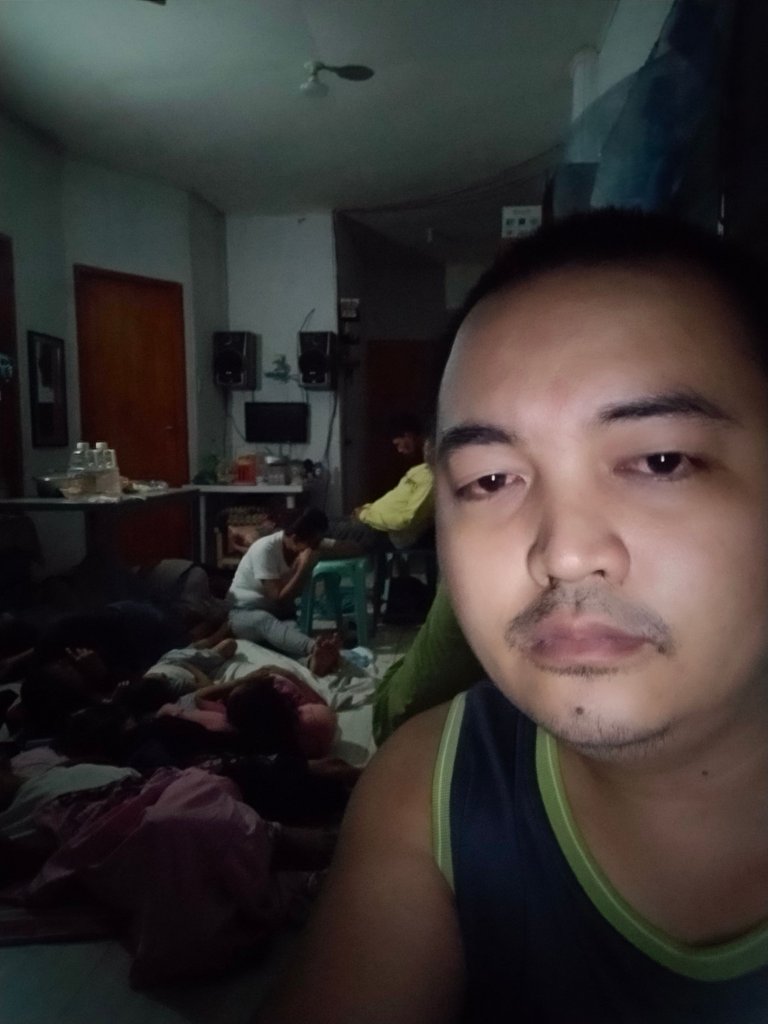 Around 3 AM only 4 of us are awake and the Typhoon seemed to be slowly going away. The rain and wind are still there but it is not as hard anymore. I tried to go outiside but the doors still won't budge. The wind was playing a tug of war with me so I just gave up and wait till its 4 AM.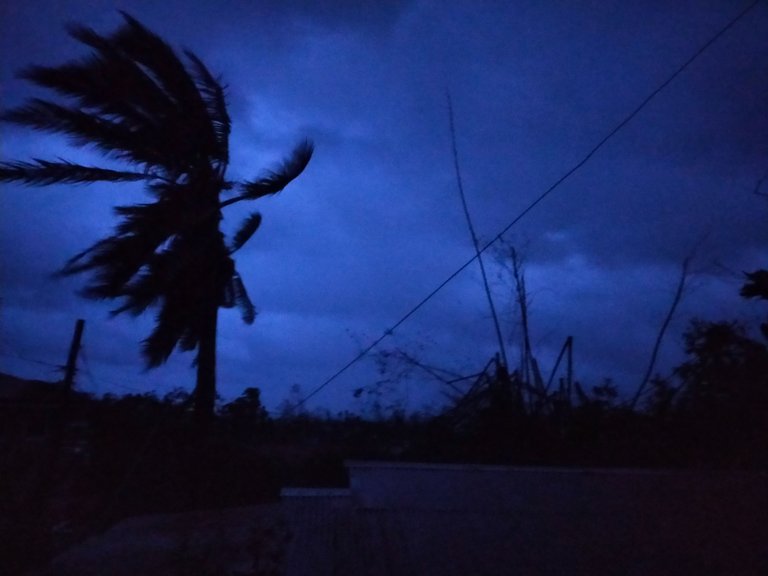 Around 4 AM the winds were not as strong anymore so I tried opening the door and it opened. I tried to look outisde and already see a dim light far away. But it was still not safe to go out yet and so I waited till 5 AM.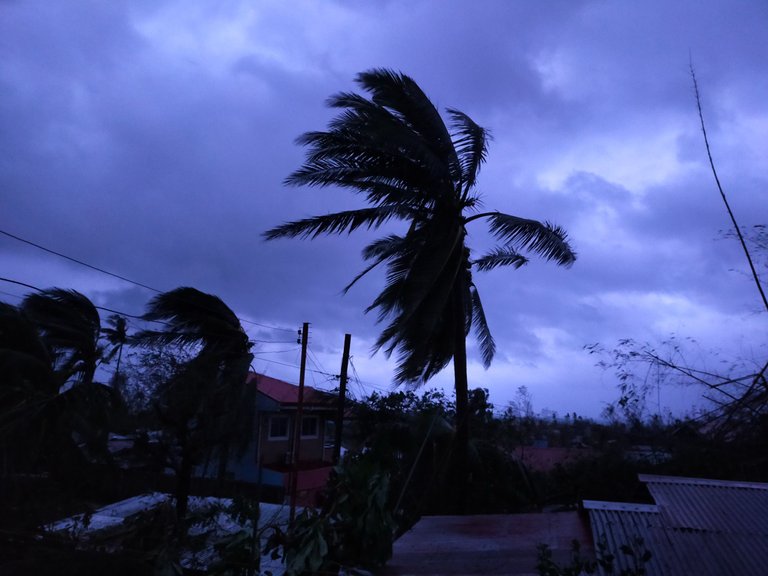 Around 5 AM the Typhoon is still there but the rain has stopped. Only the winds remain so I think it was already safe to go out and roam around.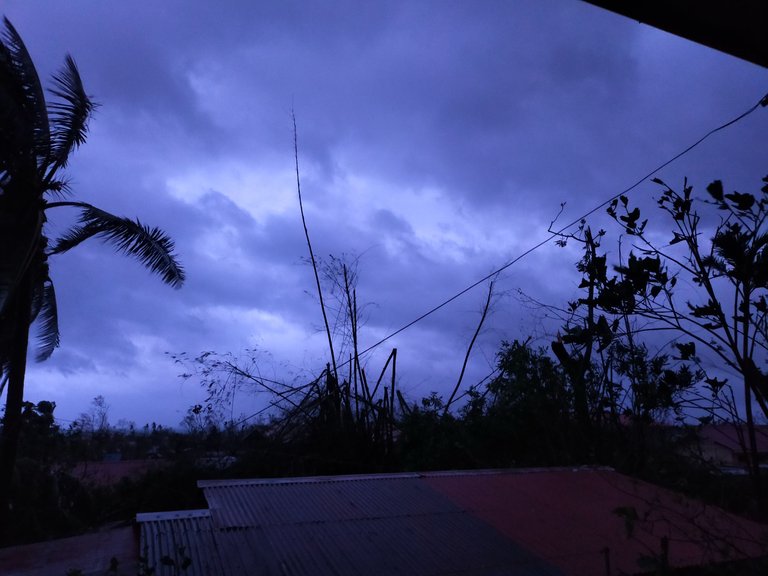 One of the guys who was still awake together with me said "Man this is probably the longest night of my entire life". I couldn't agree more to that. It felt like an eternity. I couldn't believe it was already over. I really felt it will not stop and that would be our last night together. That was how most of us felt. I was relieved and happy that we survived all of that.
---
The Aftermath of Typhoon Rai (Odette)
---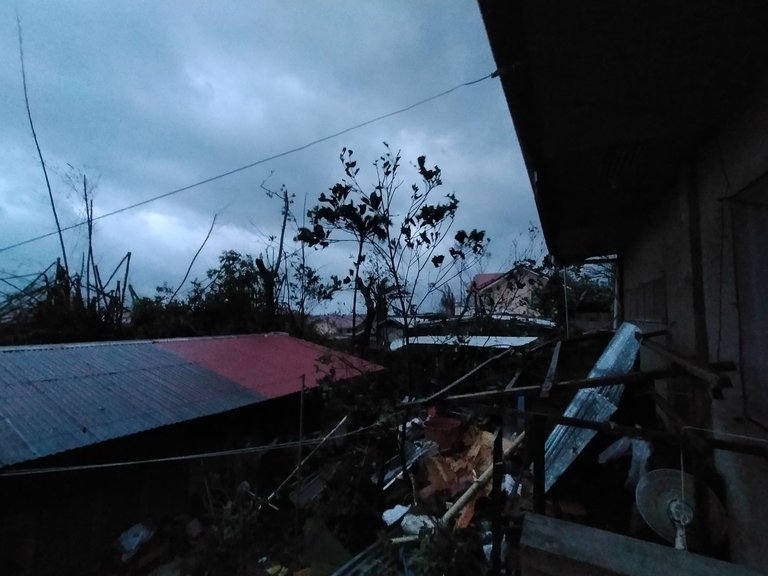 5 AM I started walking around and went to the road. My motorcycle seemed fine so that was a relief.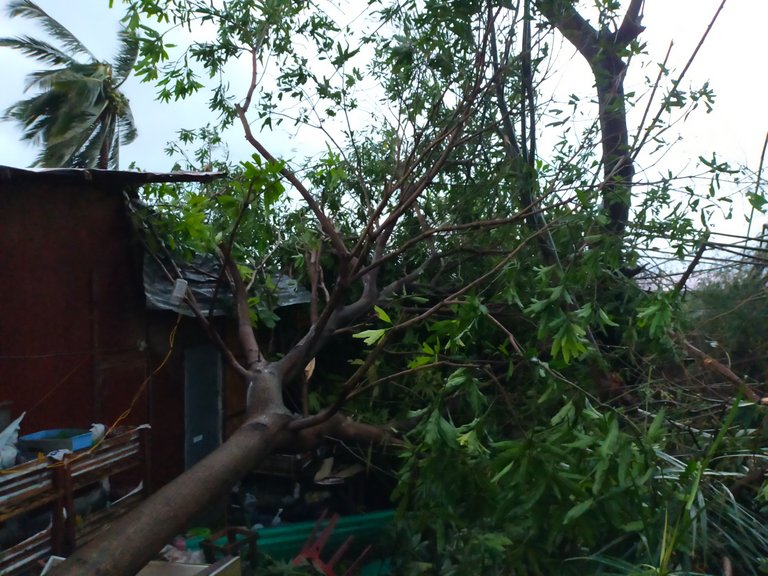 But my computer shop was not so lucky. It was hit by the fallen mango tree and the huge branch of the colo tree. I couldn't really tell for sure as I can't go inside yet as the mango tree was blocking the way.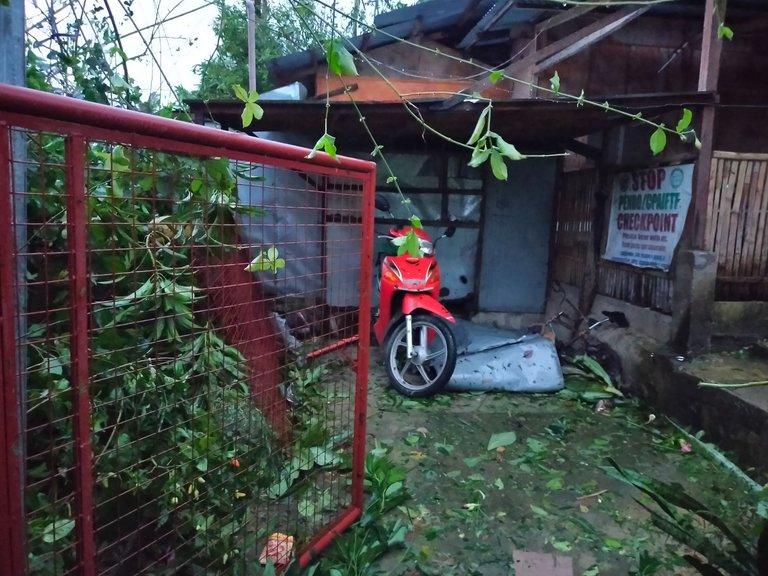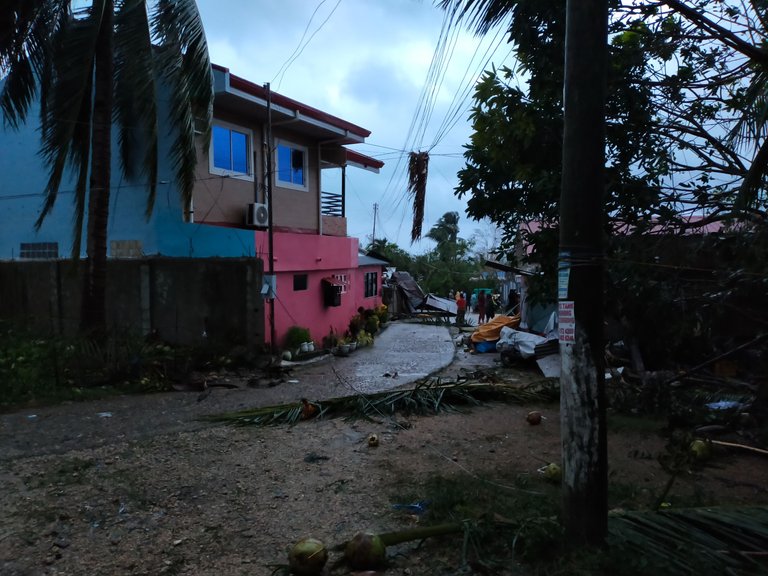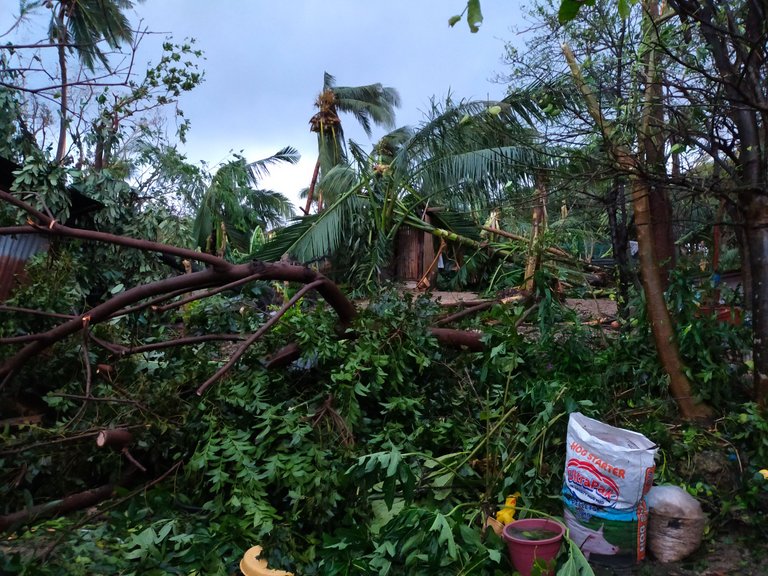 It seemed like almost all of the trees around us were damaged. If it didn't fell down then the wind stripped all of its leaves.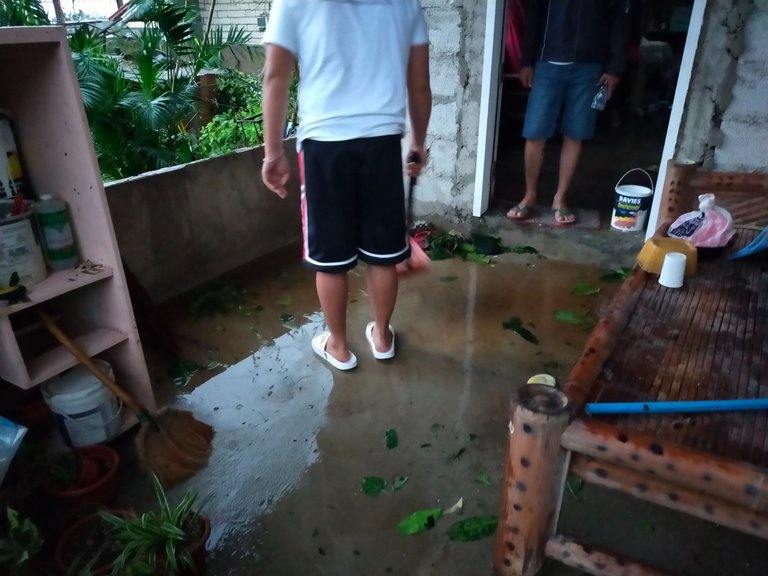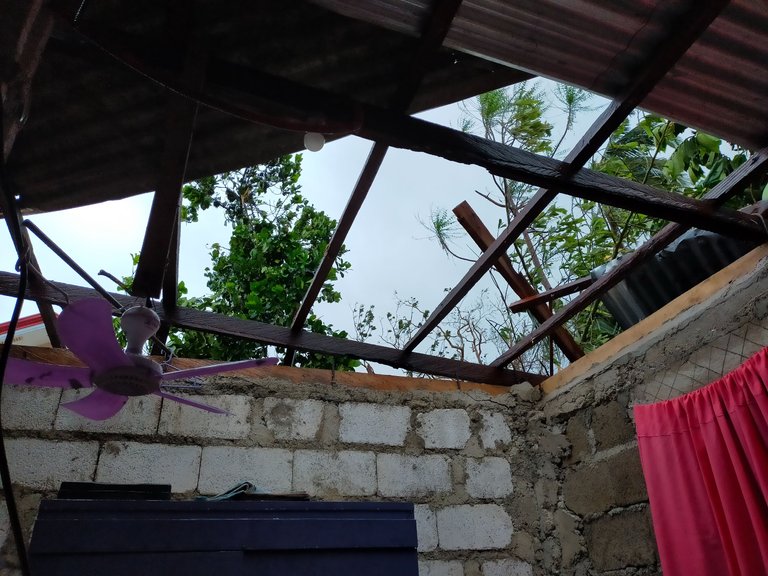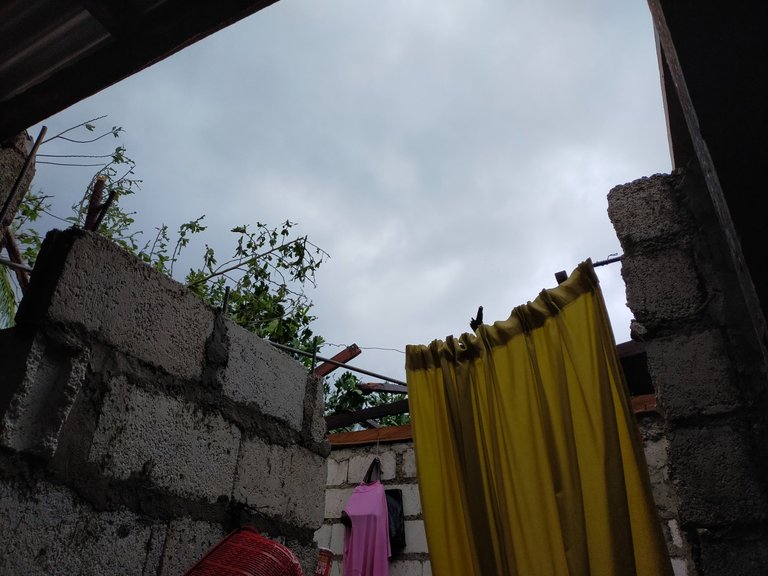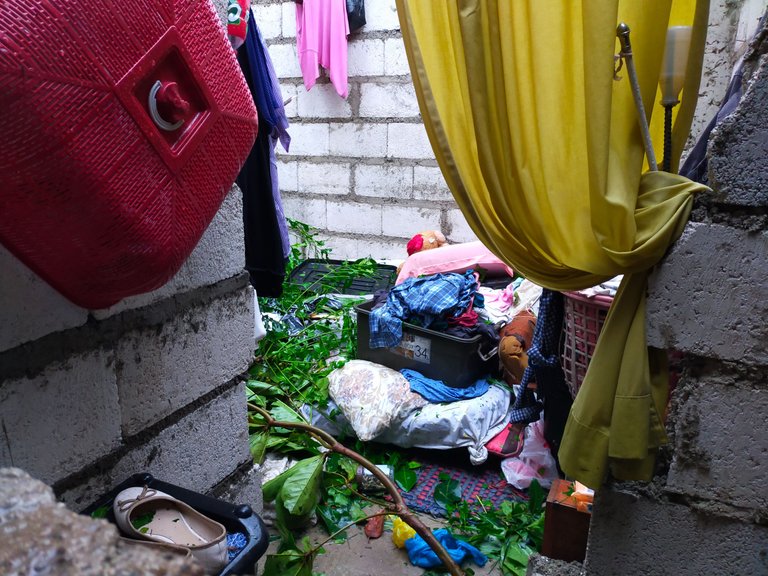 I tried visiting my cousins house where they were de-roofed and it was all wet. Their things were a mess and their roof is gone.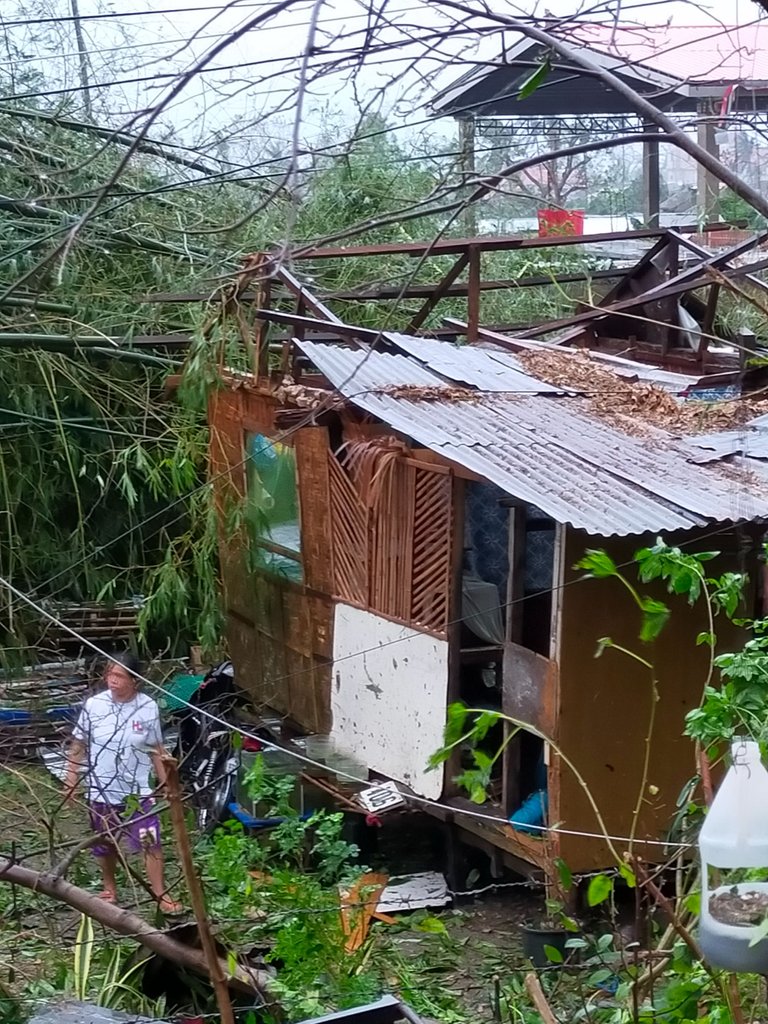 The house infront of my cousin also got their roofs blown away by the Typhoon.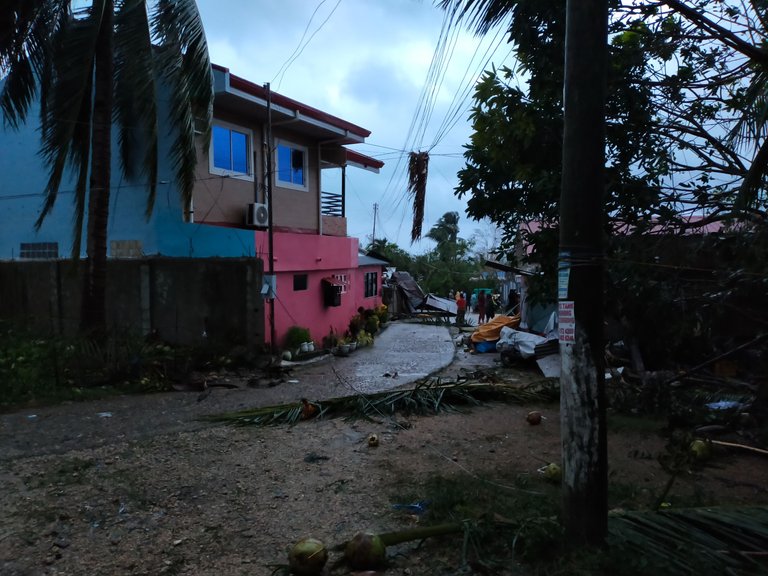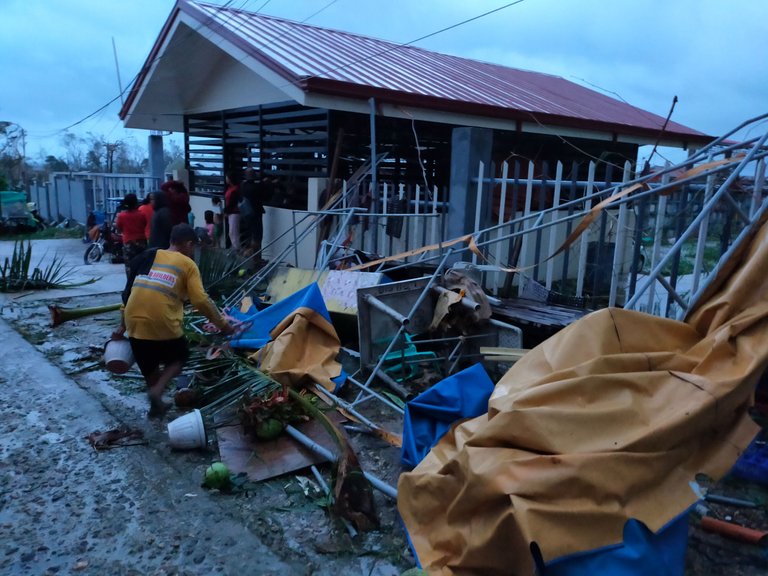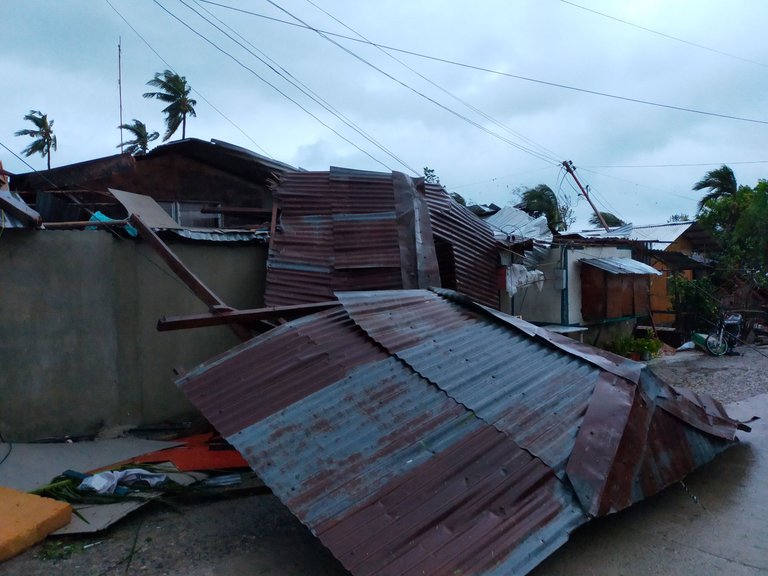 I went to the road to see the other houses there and one house was blocking the road. It was the second floor of that house and it fell to the road.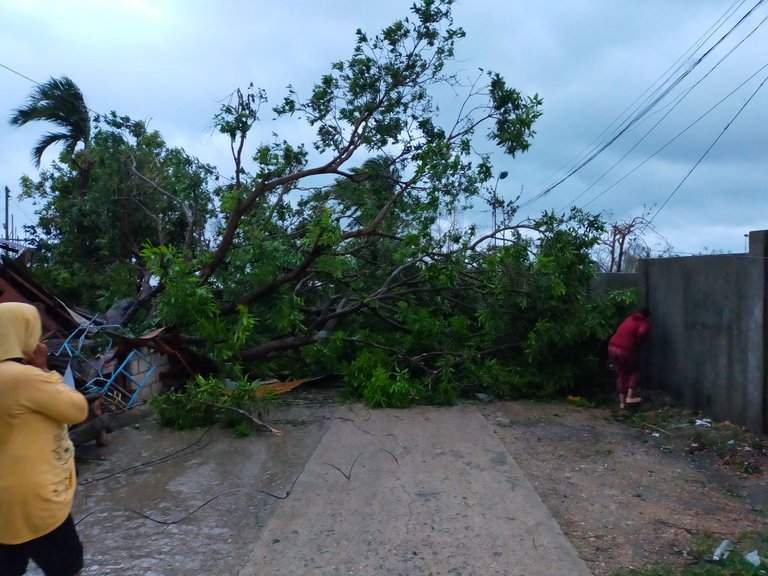 This huge mango tree is also blocking the road making it impossible for vehichles to pass through.
I went back home and told my family that I would be roaming around to see the damage that Typhoon Rai (Odette) has caused and I will blog about it. It was around 6 AM and the rain started pouring again. Although there were no more winds but the rain is a pain as a lot of houses got their roof removed.
I started roaming around bathing in the rain. My eyes are hurt because I didn't sleep the whole night and now Im bathing in the rain. I wanted to capture some of the damage before they get cleared or removed by our LGU.
From here on I will just put the images I captured and maybe a little bit of captions for some of the pictures because I got a lot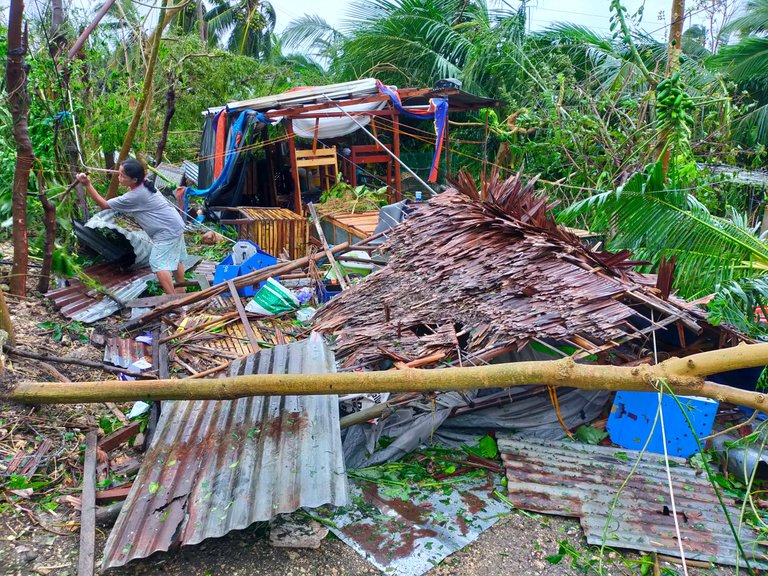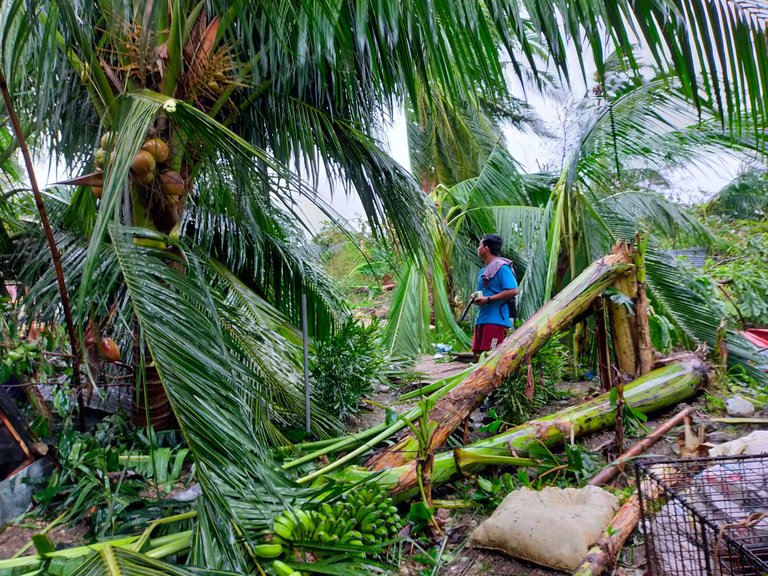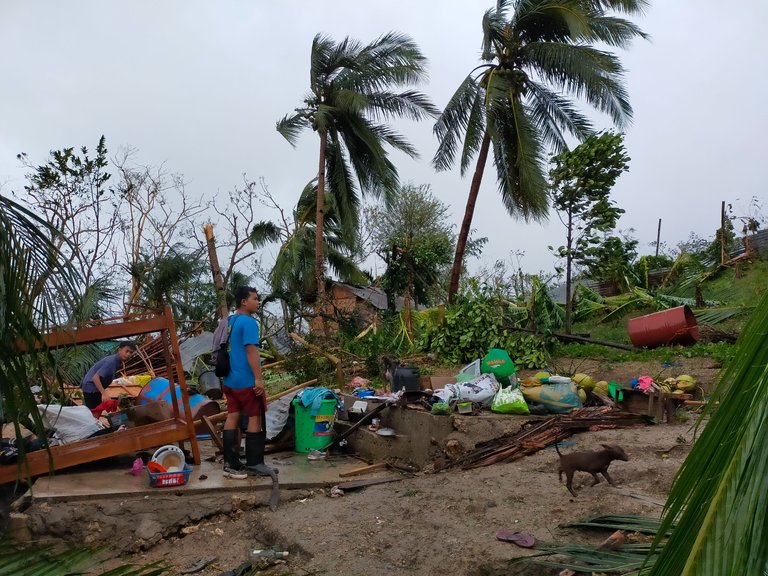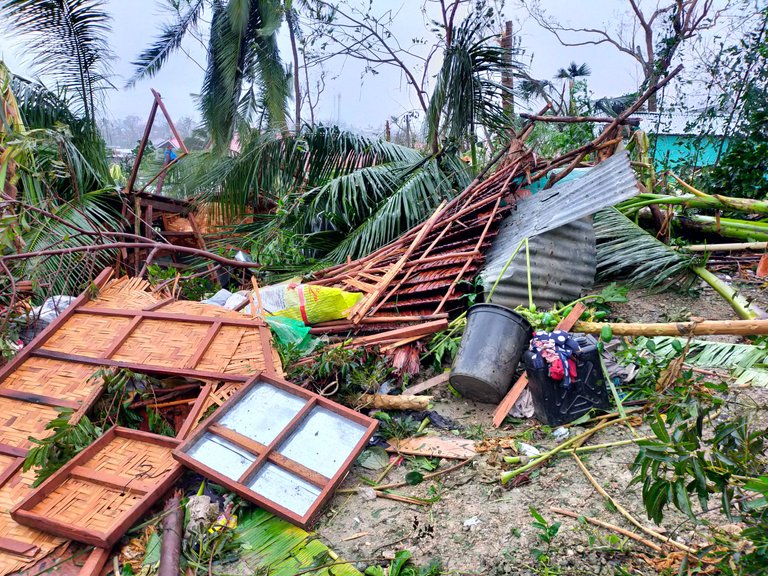 Those are some of the pictures I got from one of my close neighbors that got their house blown away by Odette. Only the debris, clothes and the floor remained.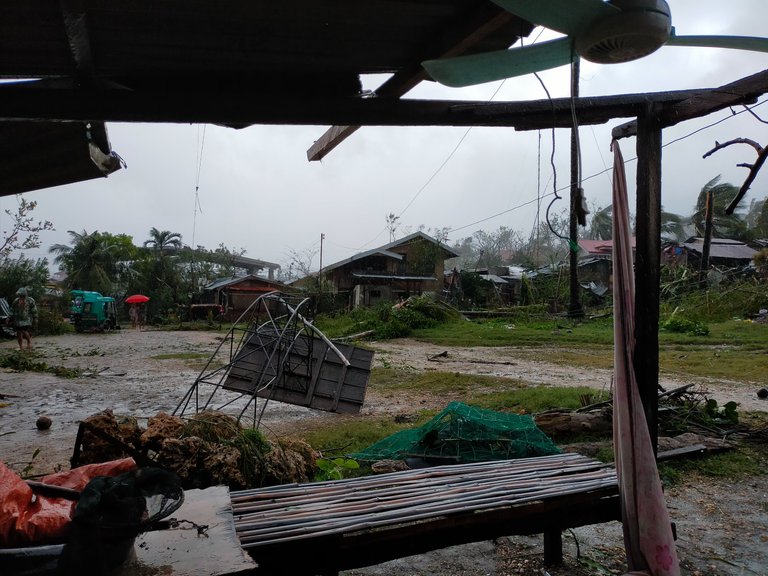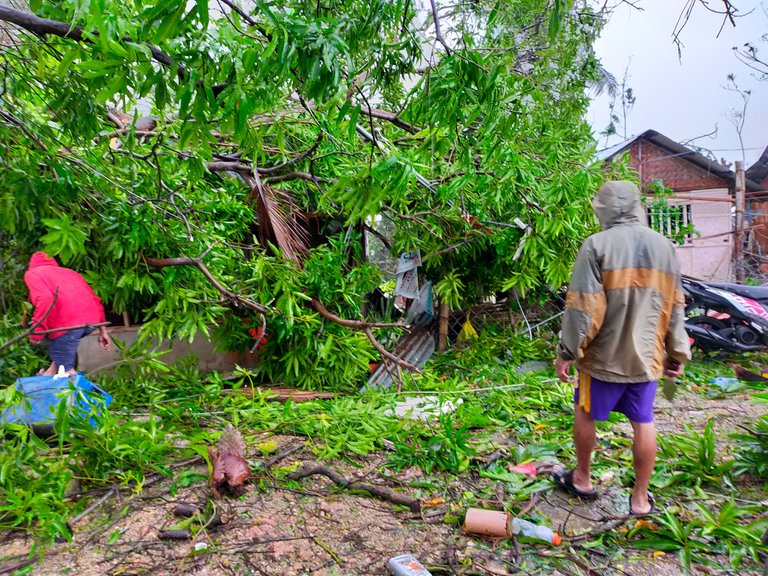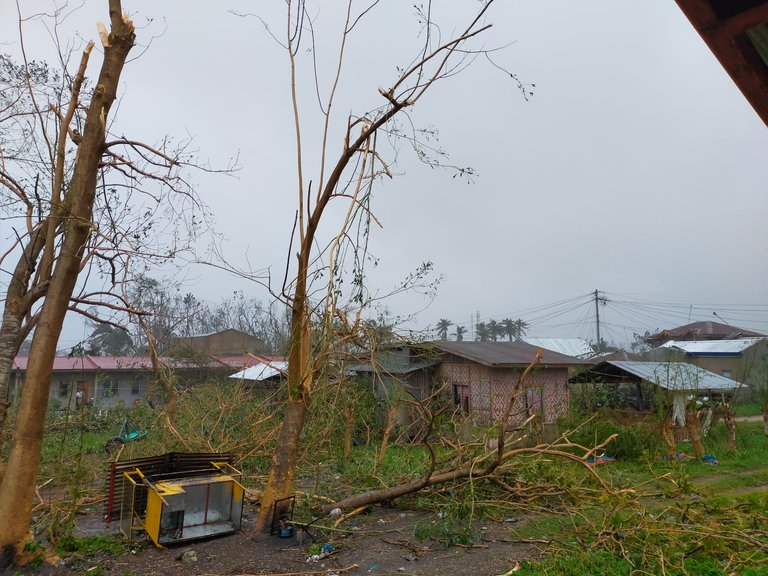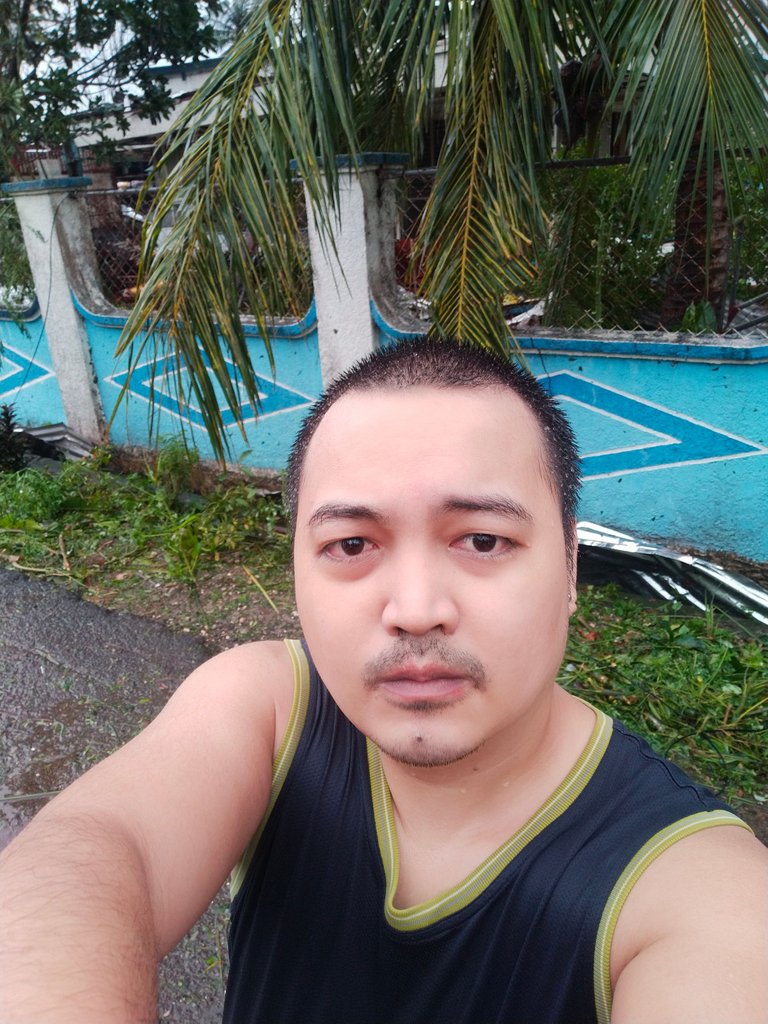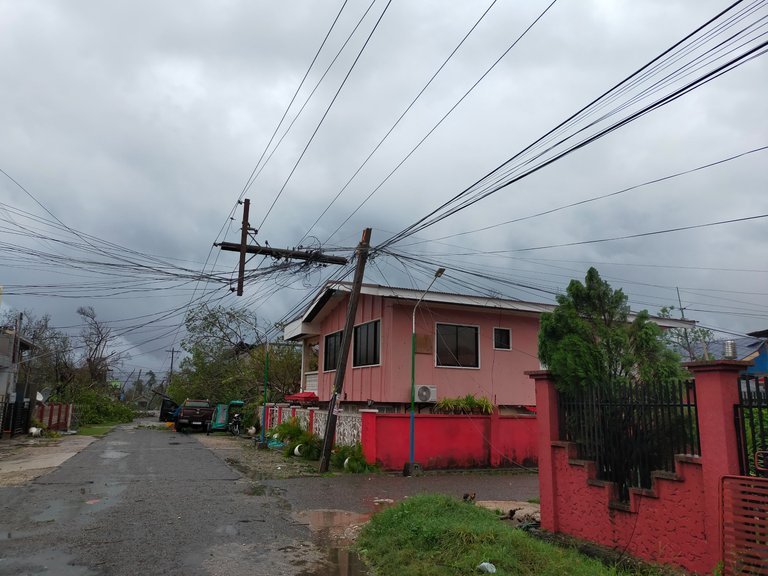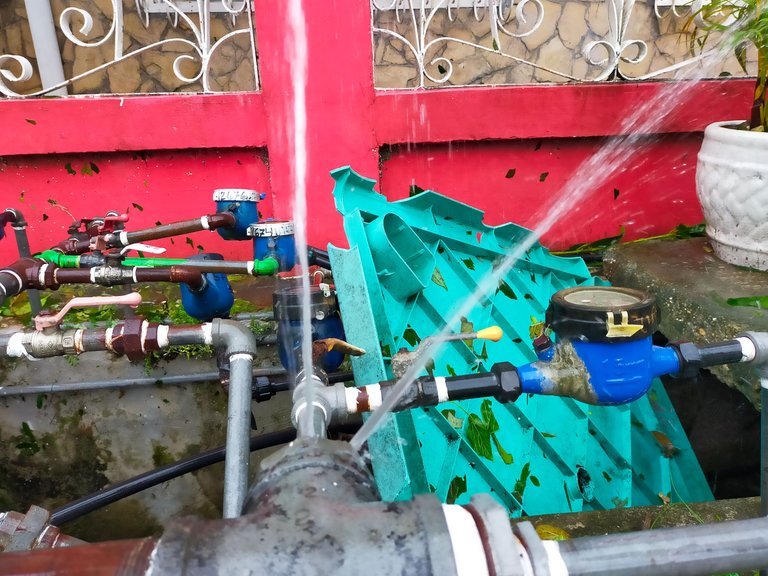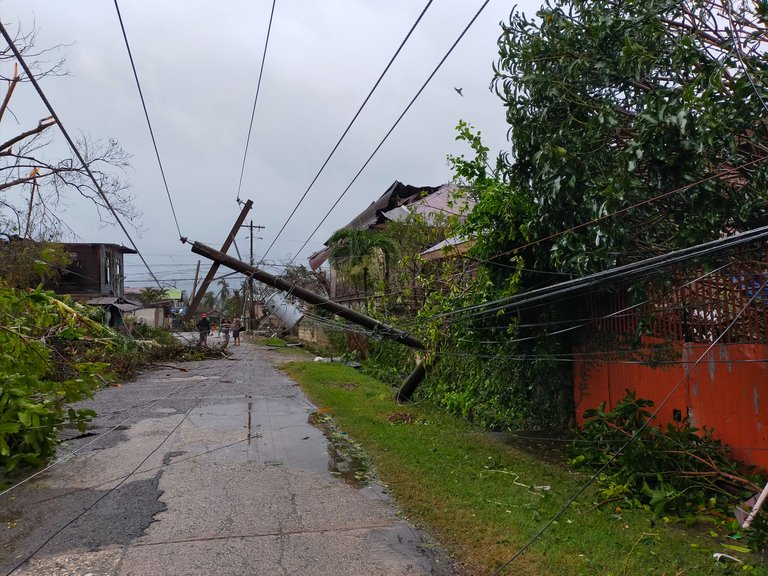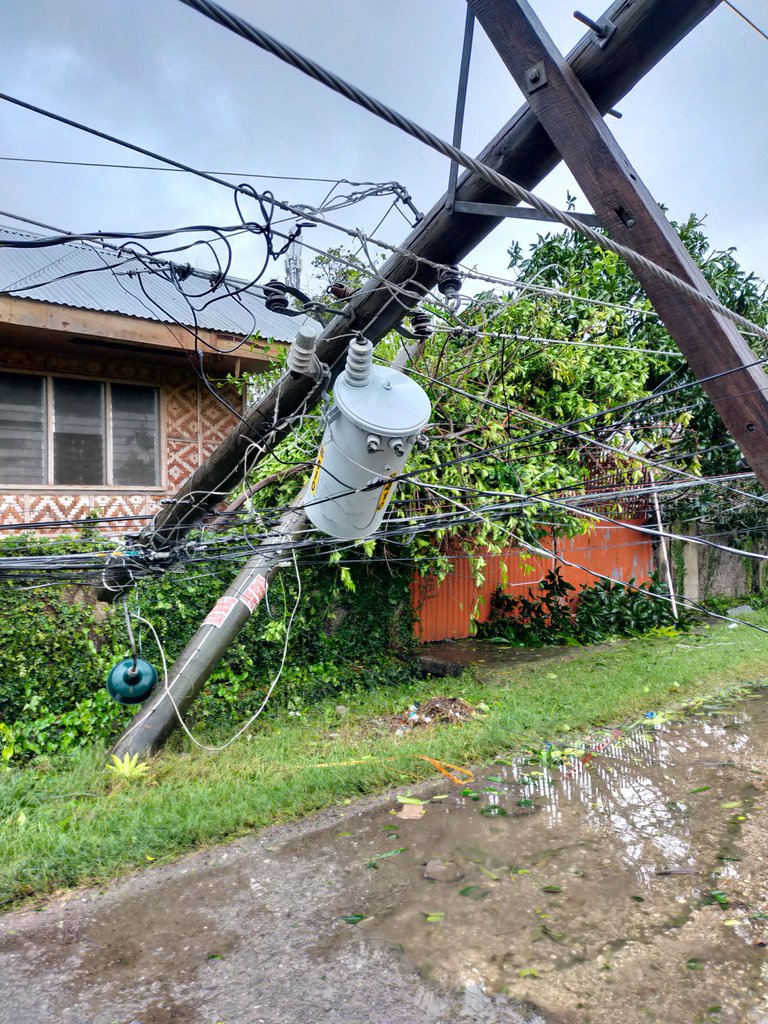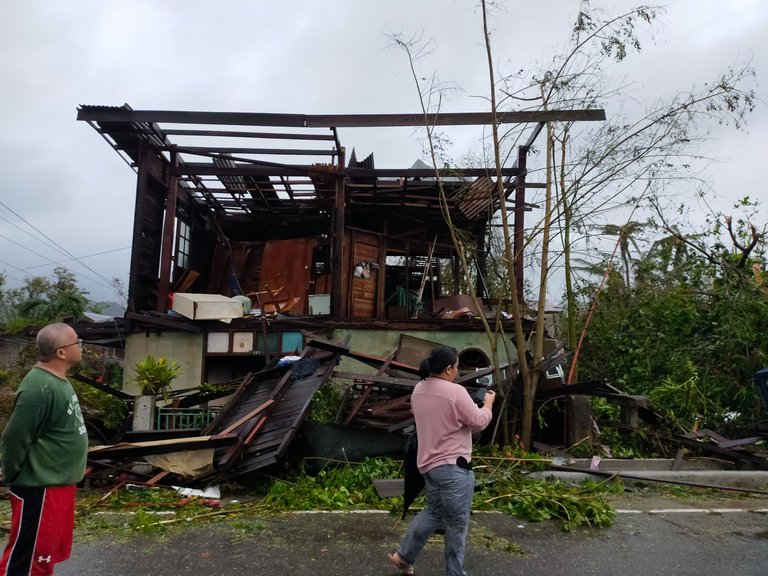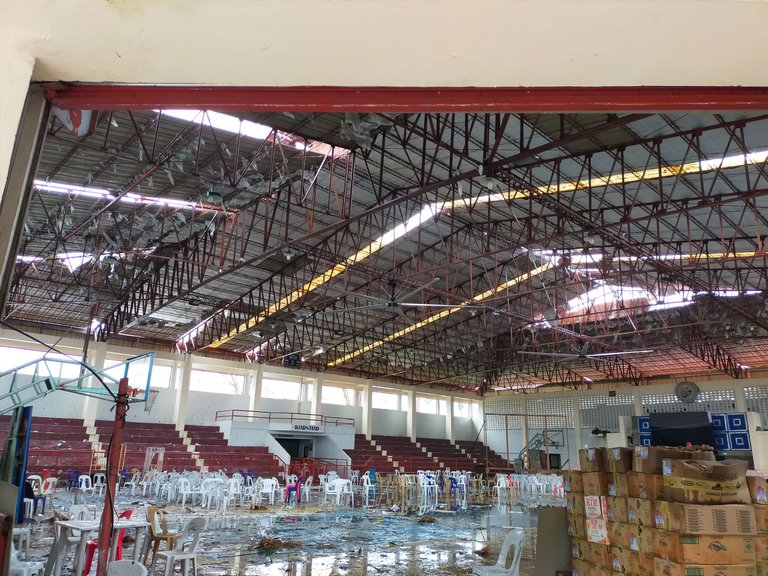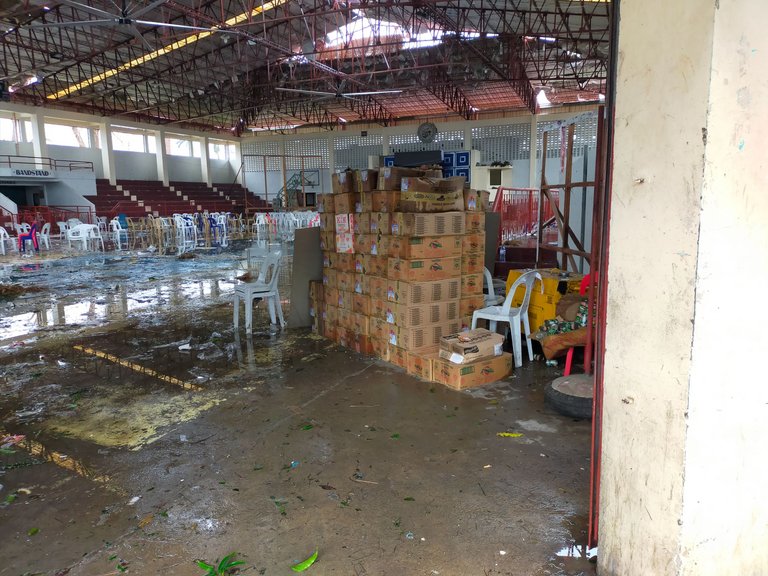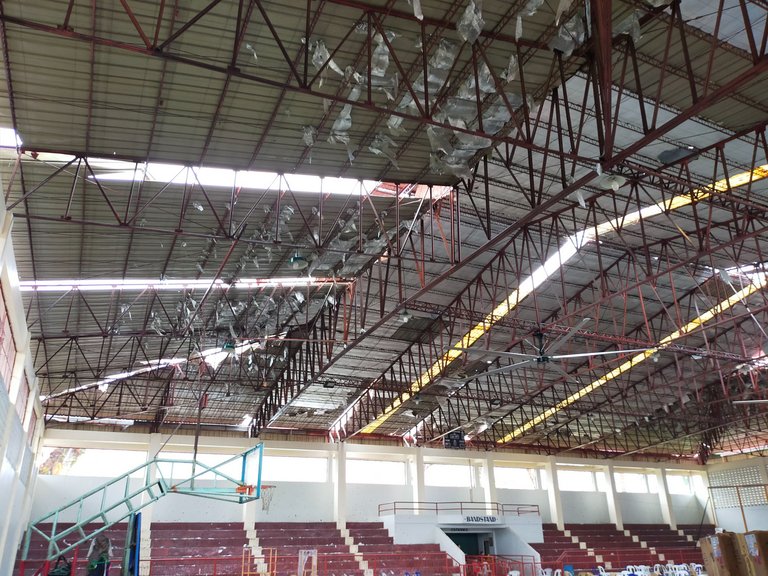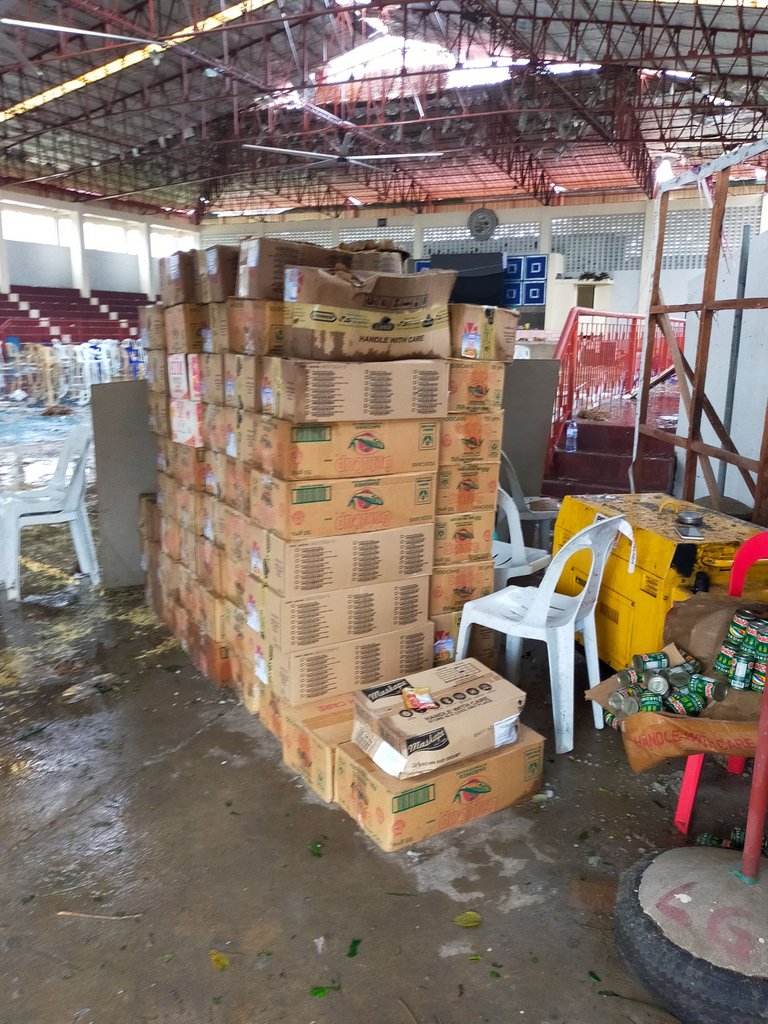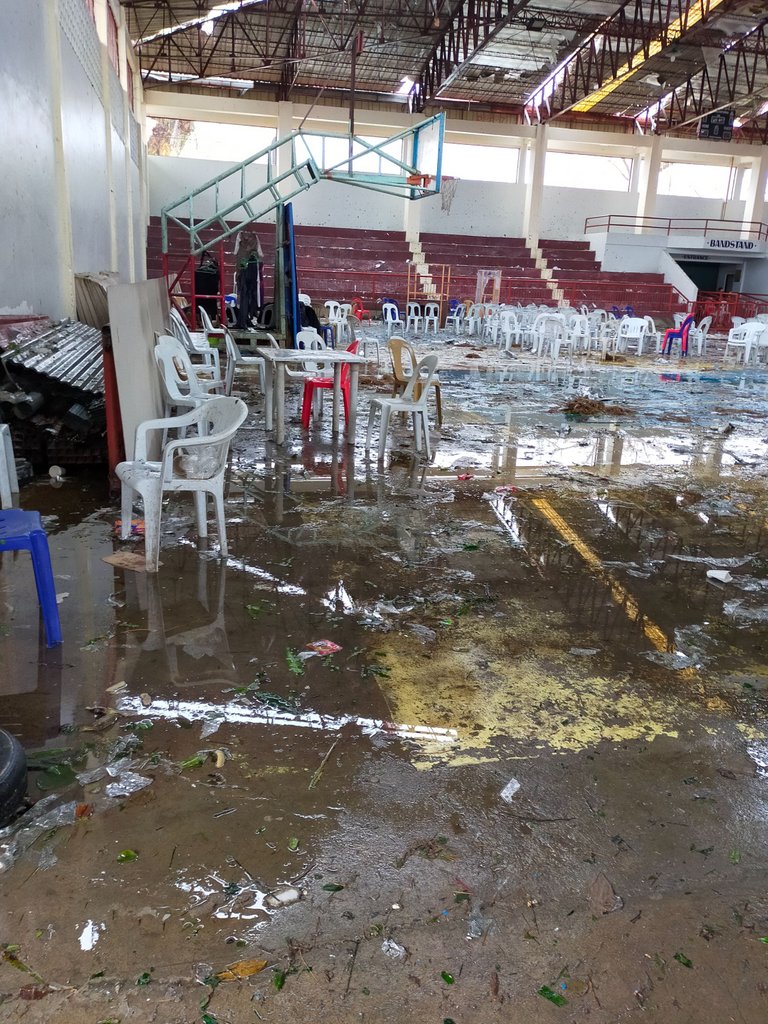 The last few pictures above is our sports centrum. I heard people evacuated here last night during the typhoon. I can't imagine the fear they must have felt when some of the roofs have been blown away by the typhoon. Everything is wet and messy including our supposed to be initial relief goods.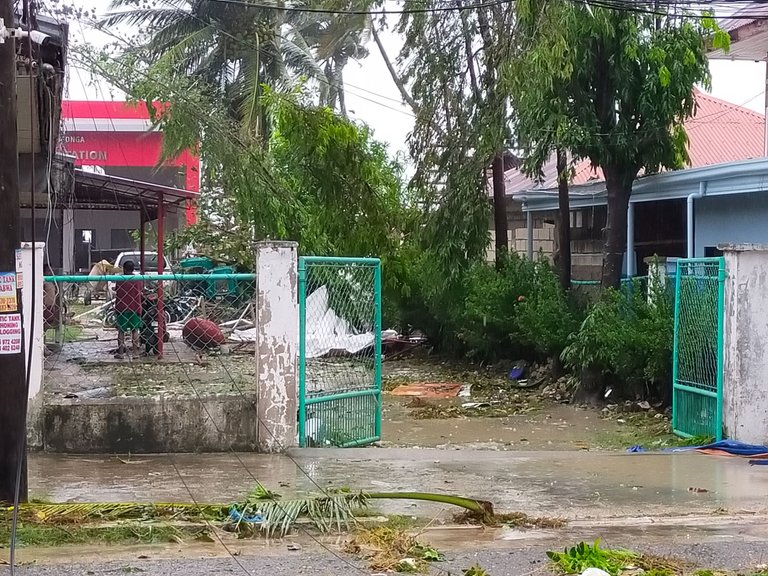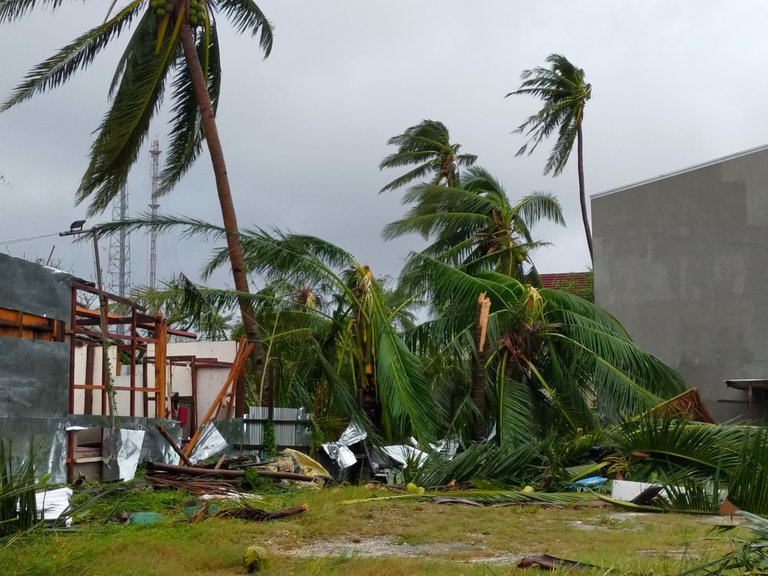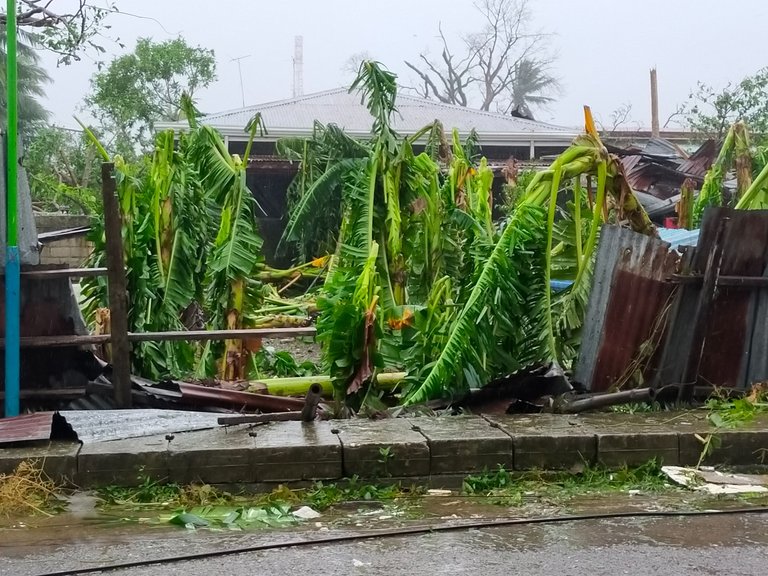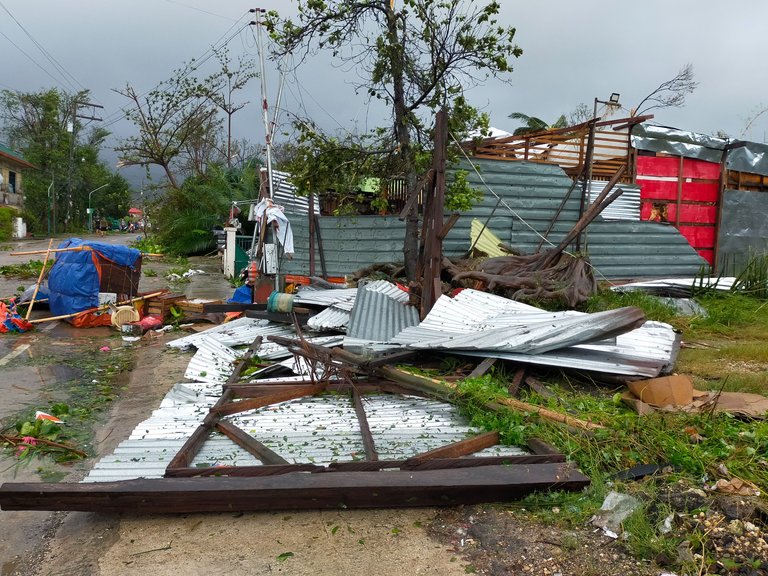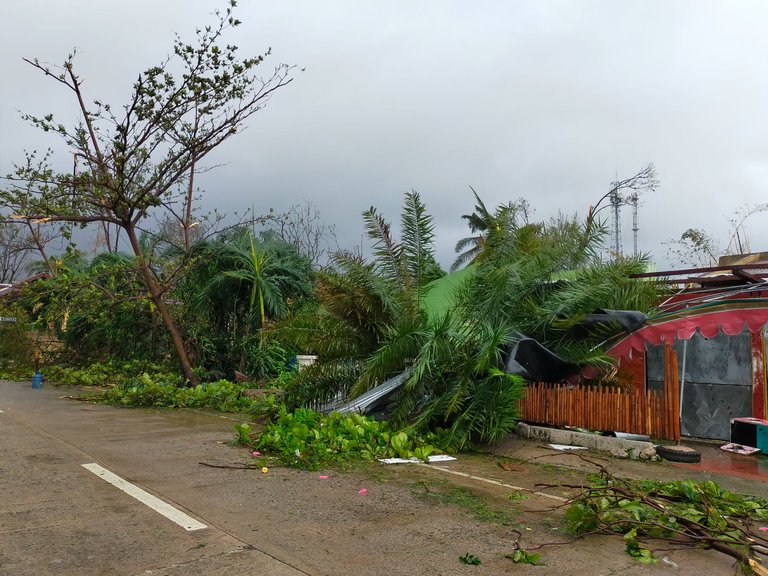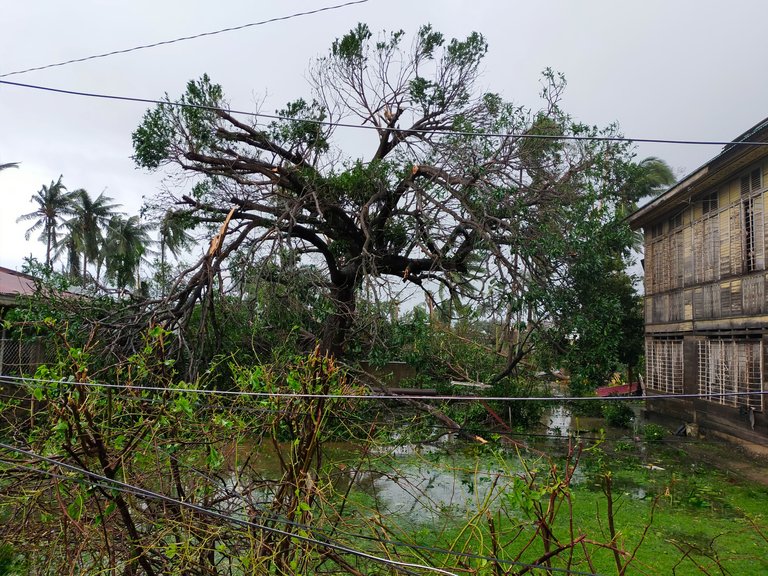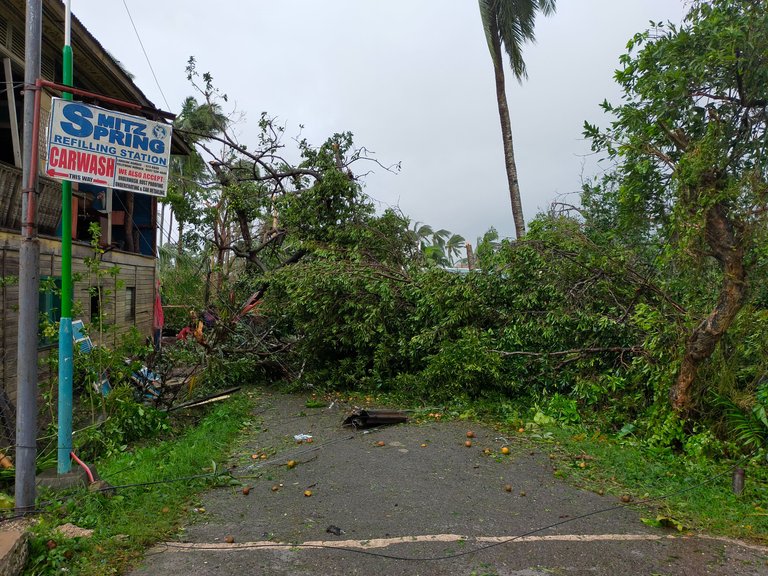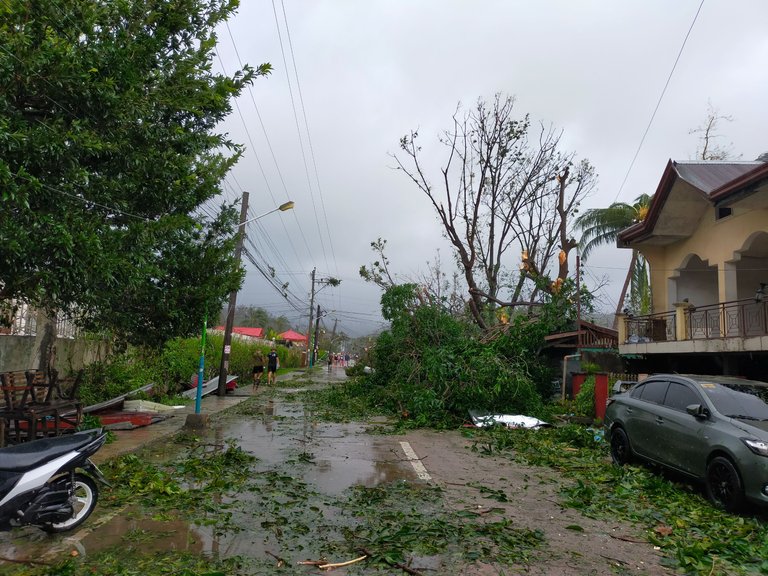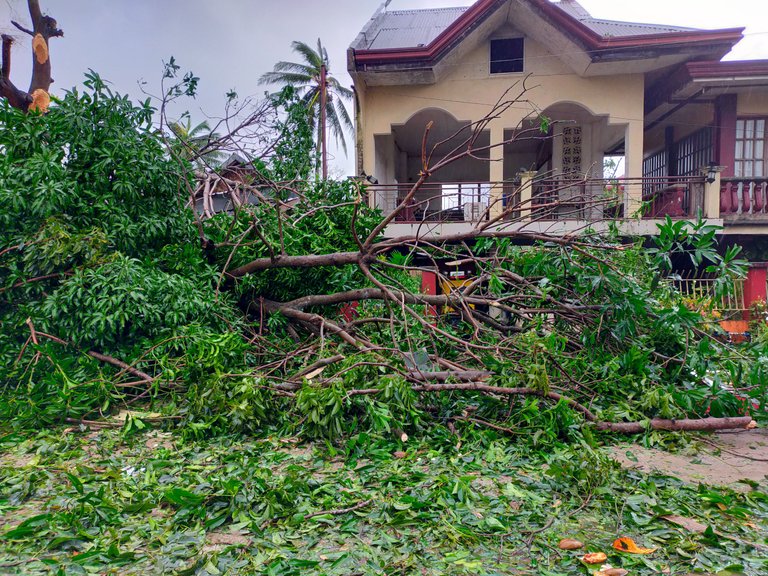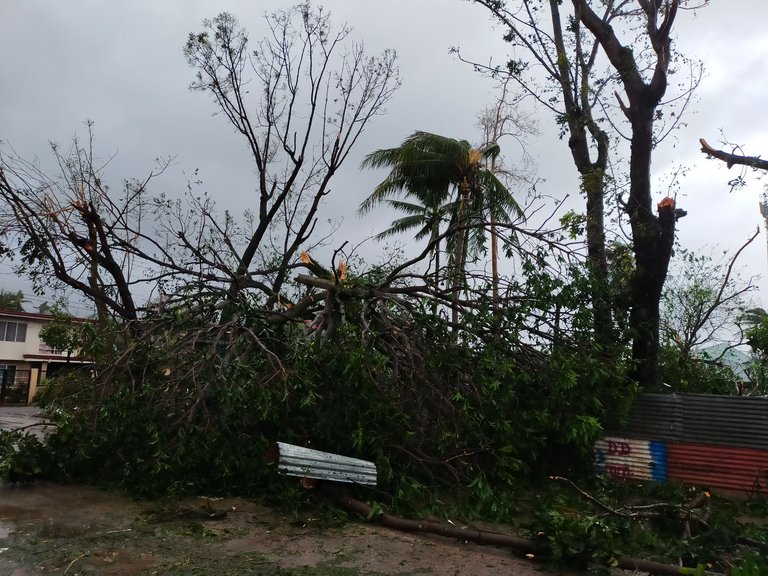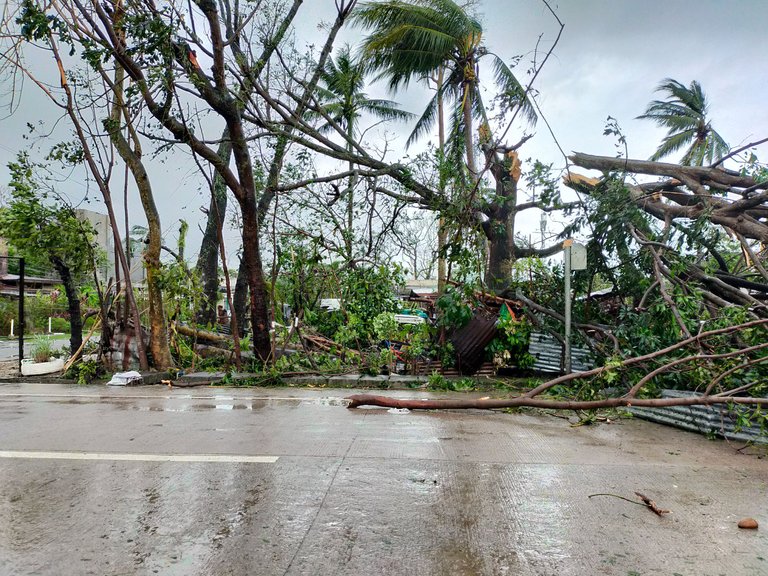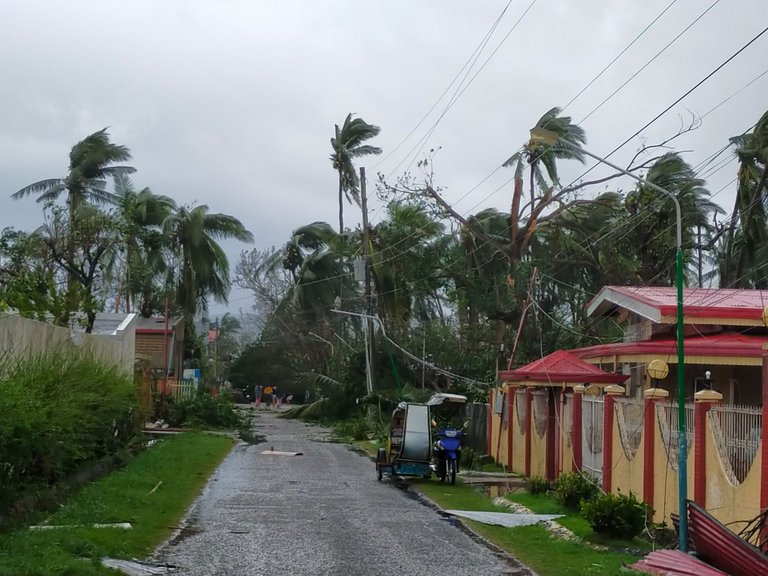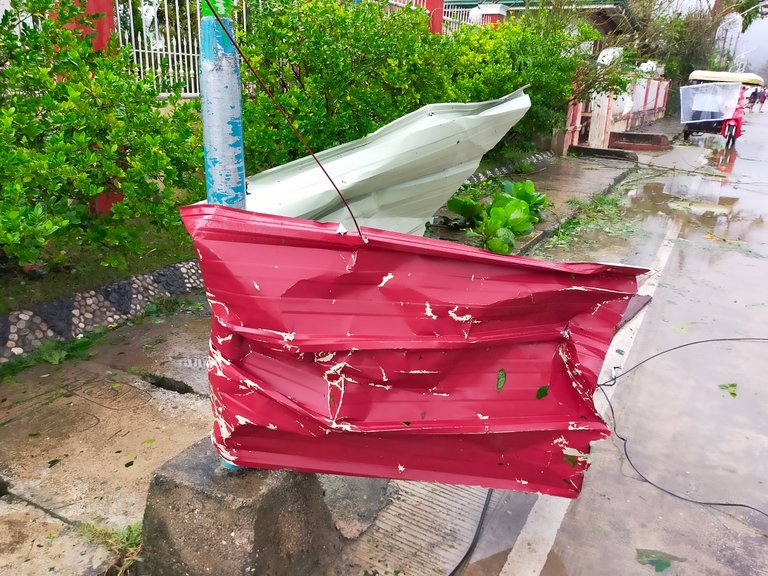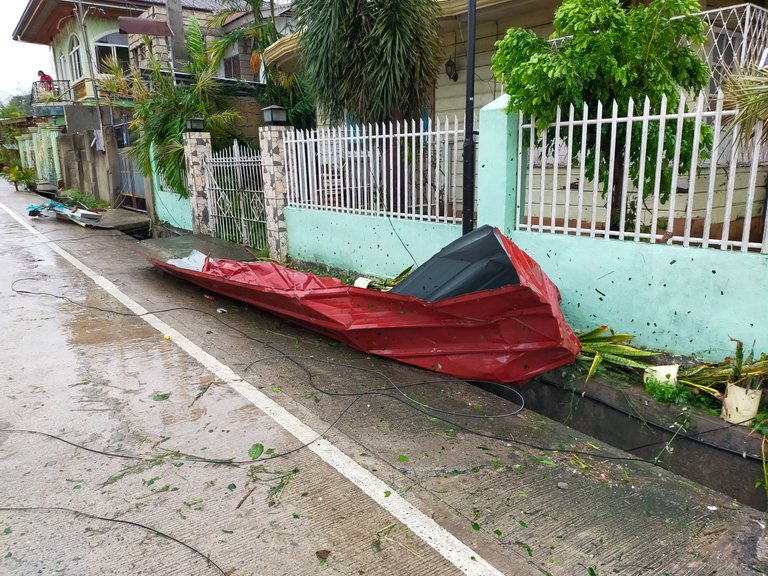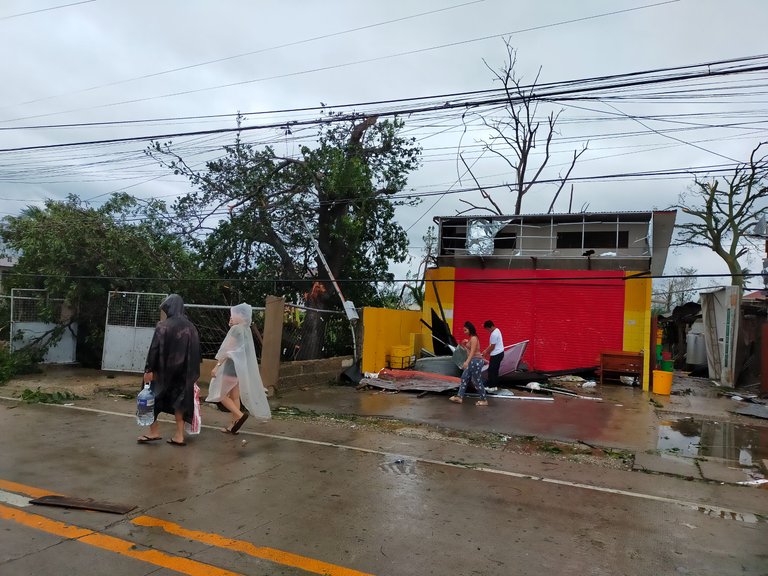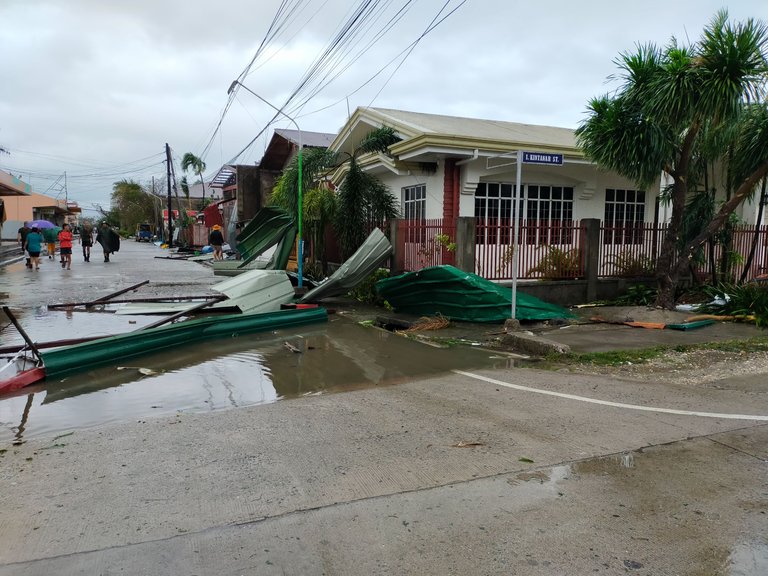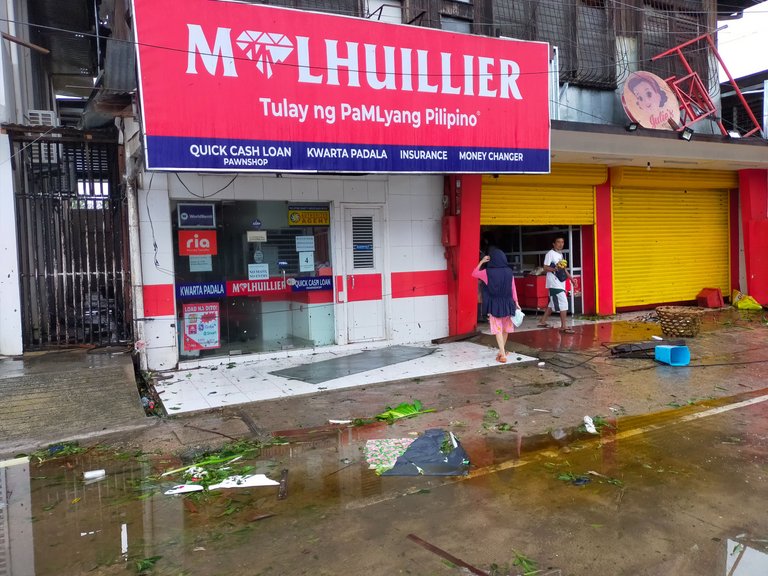 Luckily Julies Bakeshop was open... I was so hungry right now...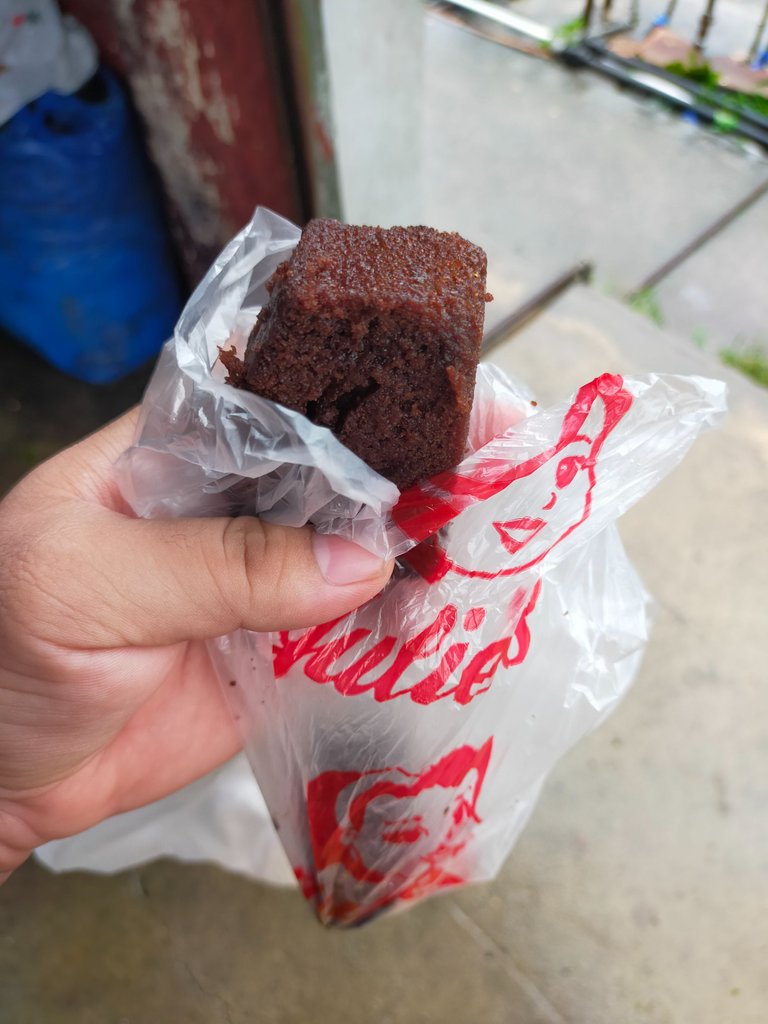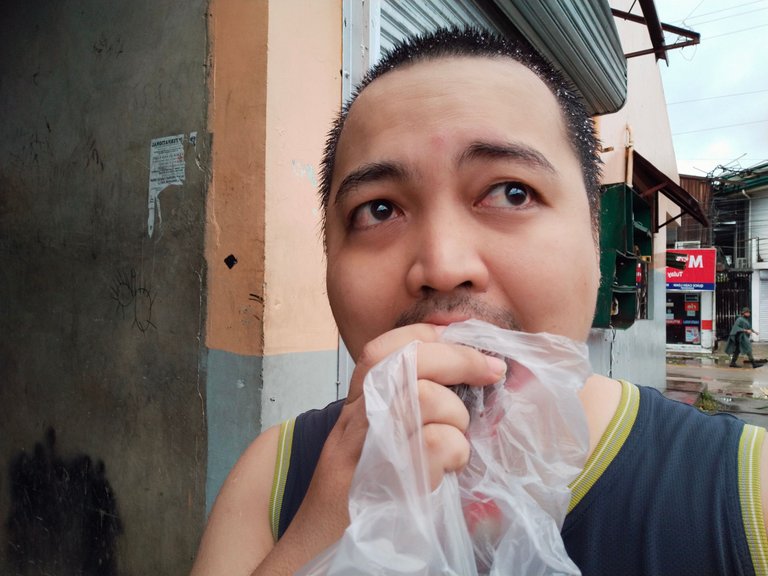 The only thing they had left was the leftovers from yesterday... A chocolate cake and ube cake which is better than nothing so I bought 2 pcs and ate it. It was fine it tasted good to be honest. I guess they wanted to sell it out as they know people would look for food after that insane typhoon.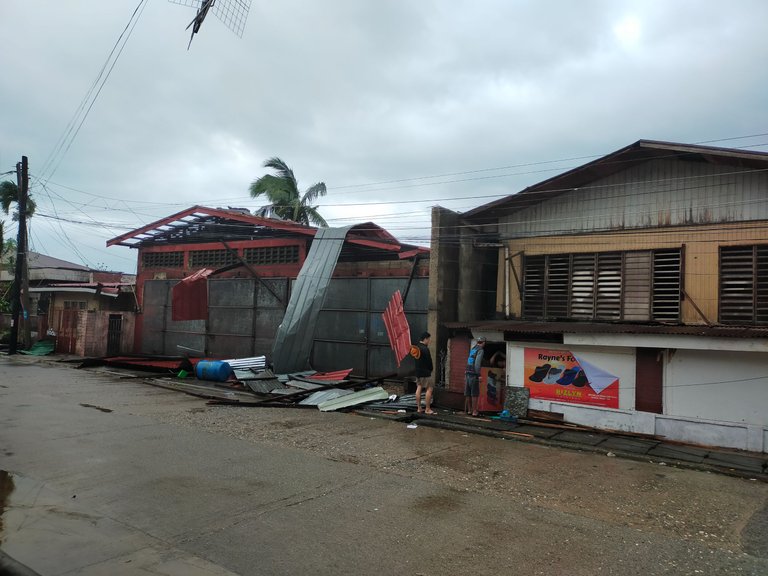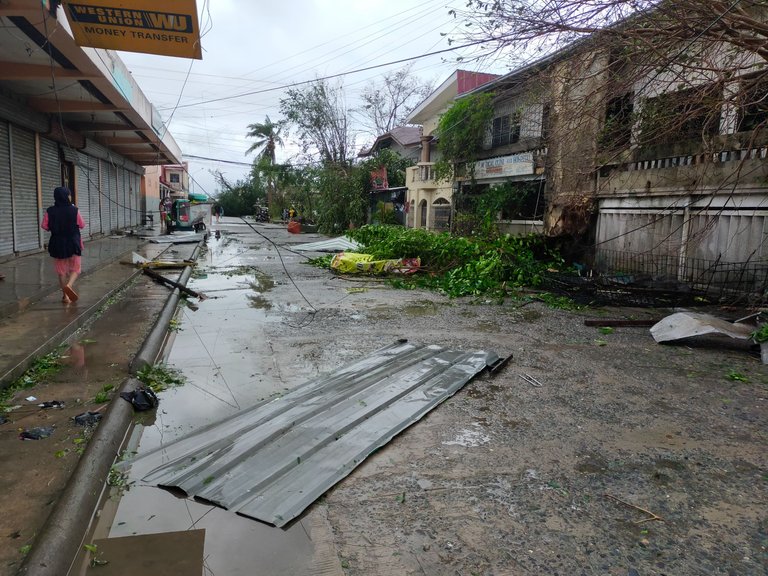 I have talked to the people I passed by as I was roaming around and all of them never expected this kind of devastation would be fall to our town. Most of them have lived longer than me and they also said that this is the strongest typhoon that ever hit this town. Everything was a mess and most of us have either lost their roofs or have lost thier houses.
---
Closing Remarks
---
It's already December 27, 2021 11 days after the Typhoon and there is still no electricity, phone signal is scare and mobile data is limited and slow. I was able to post this blog through sheer determination and luck. I write and upload small pieces of it everyday and save it as a draft. Life is hard for us Sibongahons right now. Water and gasoline and fod are our major problem right now especially in the mountain areas. Me specifically have to travel 1.5km just to get water and the line is long.
There is still no help coming from the government. Our local government units have tried their best to help the people but since the whole town have been devastated their resources really isn't enough and most people have not even received any form of help.
I will most probably also post a donation drive soon. I hope our phone signals will be fixed soon so I can call on my fellow hive cebu bloggers to come and help the donation drive. Sadly this can't be done unless I can communicate with them properly.
From what little information I have gathered. They say it will take at least 5 months for the electricty to be fully repaired.
For now we are trying to survive with the limited resources we have so we really hope help with come soon or else people will mostly do desperate things to desperate situtations. On the first day people have already ran sacked couple of the stores and got some food. I just hope the situtation wont get worse.
I'm quite tired right now and my phone battery is low right now. I would like to appologize if there are some misspellings or words that are not clear since Im quite in a stressful state right now. I hope you guys will understand. If you have questions feel free to comment down and I will try my best to answer it...
---
---