Bike Maraton Miękinia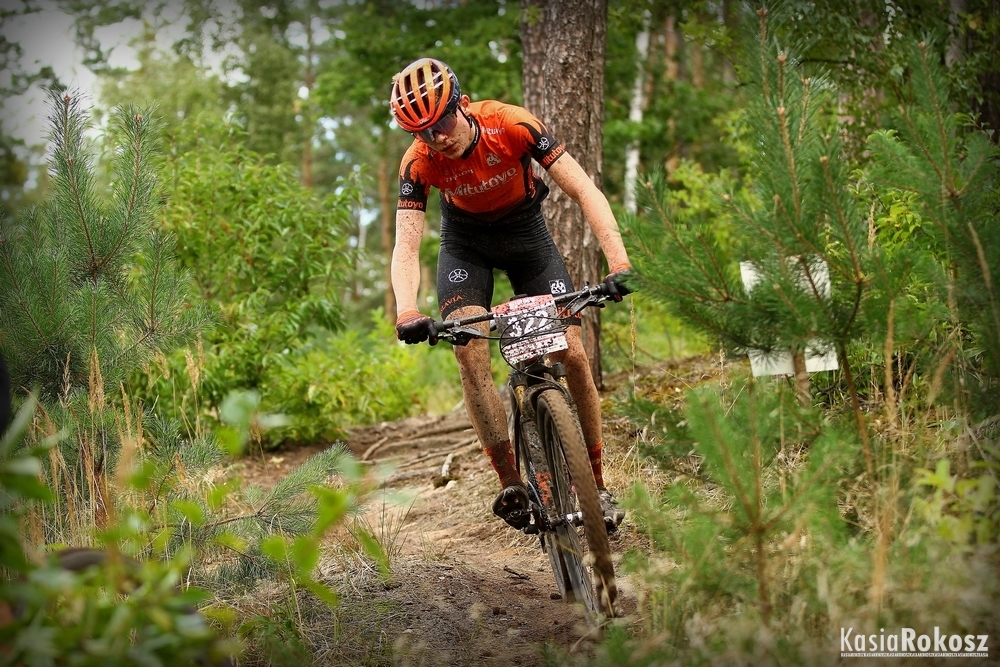 Bike Maraton Miękinia i trzecie miejsce w kategorii wiekowej na dystansie mega! Był to mój pierwszy raz na takim dystansie więc jestem zadowolony podwójnie 😉.
Od startu z drugiego sektora przebijałem się powoli do przodu aż wylądowałem w czołówce. Do połowy jechałem na 100% swoich możliwości jednak wyścig okazał się dłuższy niż przypuszczałem i złapała mnie przysłowiowa "bomba" *. Niestety odpadłem od grupy prowadzącej i traciłem coraz więcej pozycji.
Po pewnym czasie, kiedy już myślałem, że to nie będzie jeden z moich udany wyścigów zobaczyłem na długim prostym odcinku mojego kolegę z klubu, który jak się później okazało jechał na drugim miejscu (oczywiście w kategorii wiekowej). Wiedziałem, że to mocny zawodnik więc się zdziwiłem widząc go przed mną. Dogoniłem go i okazało się, że jedzie drugi. Bardzo mnie ta informacja ucieszyła ponieważ oznaczało to, że jestem trzeci a nawet mogę zawalczyć o wyższą pozycję.
Jednak kolega wiedział, że może stracić drugie miejsce i po chwili zaatakował, a ja już nie miałem siły żeby wykrzesać z siebie więcej.
Ostatecznie dojeżdżam na trzeciej pozycji ze stratą dwóch minut do drugie miejsca. Z wyniku jestem zadowolony i z niecierpliwością czekam na finałową edycję Pucharu Polski XCO już za tydzień, z której również pojawi się wpis!
*Dla nie wtajemniczonych "bomba" w słowniku kolarskim oznacza brak energii lub po prostu duże zmęczenie podczas jazdy.
📸 Kasia Rokosz
---
---