The Dangers of Chemicalisation of Farm Products: My Experience with Food Poisoning
Food poisoning has become rampant in the country for some time now, I could remember vividly, the very fist time I experienced food poisoning, it was in my friend's house, fortunately, despite the number of attempts made by him to serve me, I declined the offer, thus, there was no way I could have traced or relate the food poisoning to his food because he served me none, however, it was easy for me to trace and relate the food poisoning back to the last food I ate in my own house.
I almost died that night, yes, it was during the night I paid him a visit because I arrived home late for the week end break. I was working in another state during that period, so, I always make sure I travel back home every week end to be with my family, also my home is not that far from his home, so, distance has never been a barrier between us, to cut the story short, I remained perplexed until I purged out almost the last morsel in my stomach before I could gradually get myself back to normal life again.
Causes of Food poisoning
Chemicalisation of farm products: Addition of sniper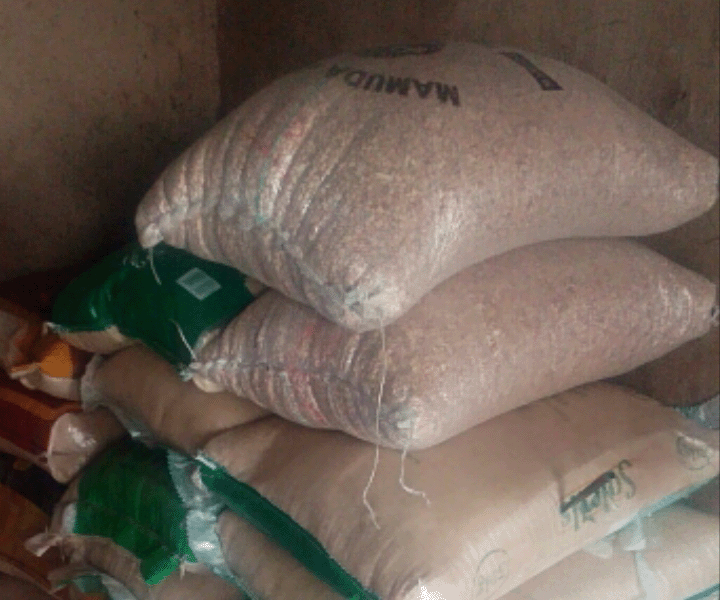 Preserved bags of rice and beans. Image by @noble-noah
One of the causes of food poisoning in the country could be traced to the chemicalisation of farm products, thorough investigations have revealed that most of the farmers usually add a chemical known as sniper with the aim of preserving farm products during storage, especially, it is used to preserve beans from weevils.
However Sniper has been confirmed to be among today's best effective and powerful miticide and insecticide. Sniper consists of 2,2-Dichlorovinyl dimethyl phosphate substance (DDVP). It is an organophosphate chemical substance that usually cause cancer due to its strong bondage with lungs and kidney.
Sniper usually leaves a chemical residue in the preserved foods, especially when applying for long period of time, farmers may not be aware of this but the reality is that it is almost in everything we consume in my country (Nigeria). It should be noted that our farmers do not have any intention of causing harm to the populace but due to their ignorance about the pros and cons of the chemicals being used therefore causing mass murders.
If my memory had not failed me, there was a time in the past when the European Union (EU) was forced to banned our exported beans as a result of high level of dichlorvos pesticide residue found to be at 0.3 as against the supposed 0.1 acceptable limit in the beans.
Weevil control in Beans with Aluminum phosphide (AlP)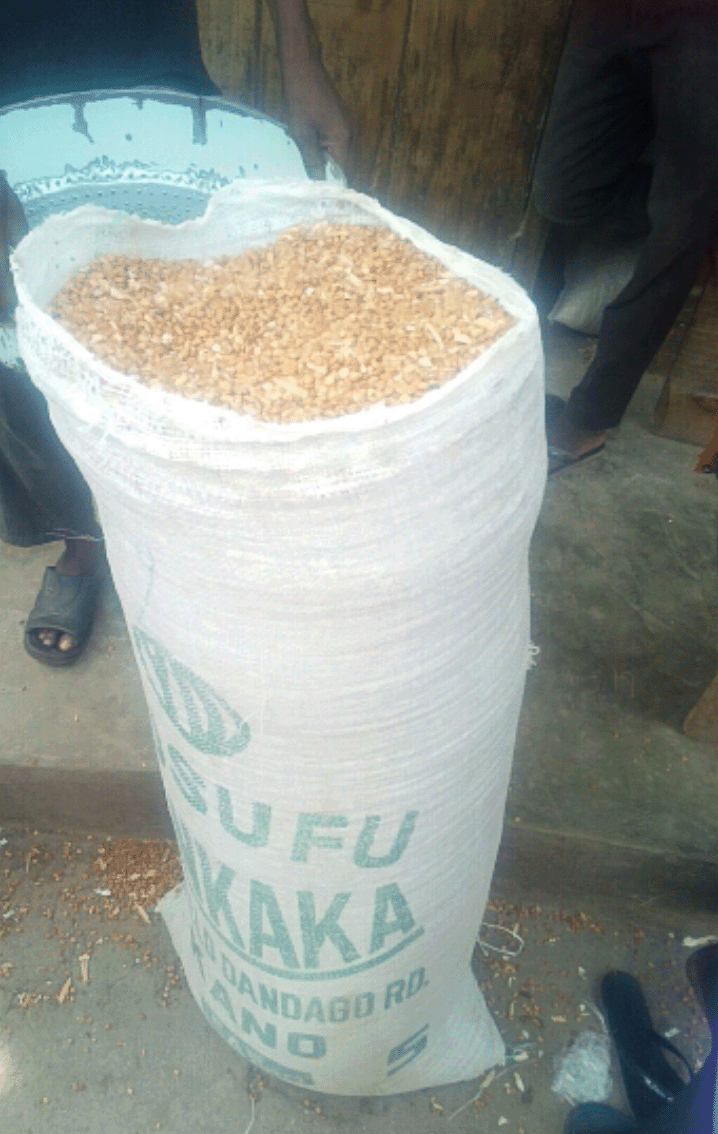 A filled bag of beans waiting for Aluminum phosphide (AlP) to be added. Image by @noble-noah
Aside the use of sniper to control insecticide in farm product, most farmers also consider the addition of Aluminum phosphide (AlP) in order to drive the weevil away from the bag of beans, since weevil has been confirmed to have the ability to destroy overall yearly harvest within a few days.
This has been considered not only as the most dangerous food pollution but the most rampant causes of food poisoning to have emerged, it has been confirmed to have the ability to liberates lethal phosphine gas when it mixes with either hydrochloric acid in the stomach or in contact with atmospheric moisture.
Preserving Chicken from China using embalming substances
Have you ever asked yourself about what method they usually used to transport and preserve chicken to your country from China with no proper cooling system, most times, they preserve imported fish and chicken from china using chemical which contain certain amount of formaldehyde: A toxic chemical and an embalming agent that is usually used to embalm dead bodies in Nigeria, it is also used as a medical disinfectant. It has been discovered that it is one of the substances that are causing a cancer by killing people slowly.
Ripening agent for banana and plantain
Just like @gentleshaid narrated how human being have learned the art of manipulating and trigering the ripening process in his post titled The Dangers of Induced Ripening of Fruits, the hasten nature of human beings, especially, the farmers, they are always in haste to harvest their farm produce, of course, there are several ways to achieve that, but most of our farmers here are found of usually spraying them with Calcium carbide: A ripening agent that hasten the ripening of plantain. Research has confirmed that it is extremely hazardous to the human body as it contains traces of arsenic and phosphorus.
Final thought!
Having discussed some of the foods causing food poisoning and cancers in our society, we should focus more on how to avoid some of the problems discussed above, of course, it is the duty of government to control and regulate the anomalies in the market, however, some of the agencies which are suppose to regulate the affairs have become a self-serving government agency.
It is pathetic that the food agency like NAFDAC (The National Agency for Food and Drug Administration and Control )in Nigeria is not visiting the market or farm again, especially since the inception of covid-19, there has not been any form of regulation against the spread of covid-19 in the market. Farm products are being exposed to public with no caution. Imagine the below picture showing a peper seller with no precautive measure against the spread of covid-19.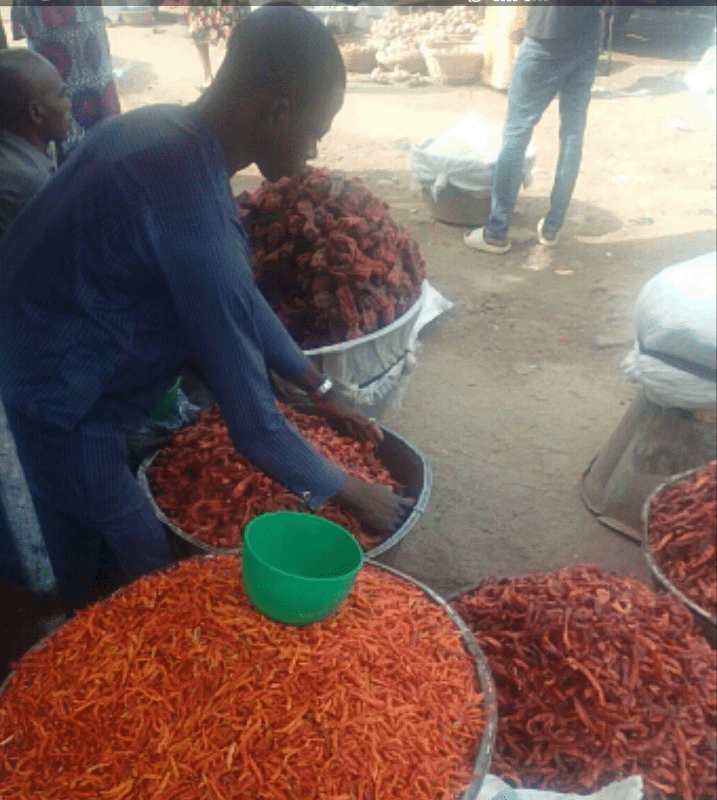 An image showing a pepper seller. Image by @noble-noah
It's high time we stopped the mass murders of Nigerian agriculture!
I hope much attention could be given to the food and drug control, this will not only saves lives of many but it will also improve the agriculture sector.
To ensure good health: Let's eat lightly, be careful of what we put into our mouth and live moderately. Thanks for reading through!
References
---
---