NEWBIES INITIATIVE HIGHLIGHT || COURSE CALENDAR AND PARTICIPANTS FOR - SECOND EDITION 2023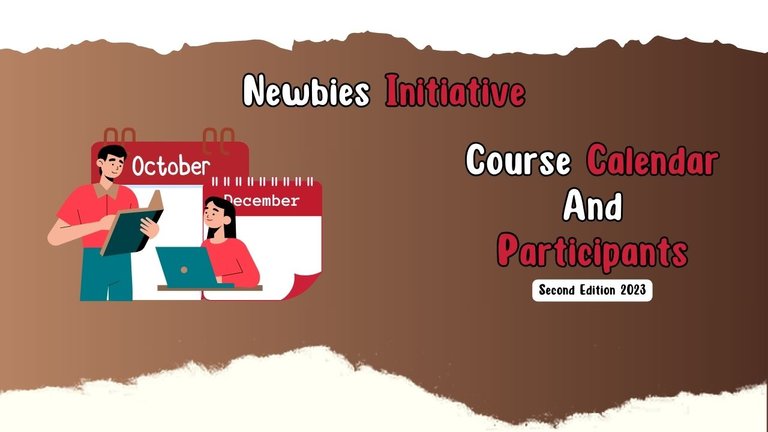 Newbies Initiative
---
Greetings! We are delighted to announce the list of people accepted to participate in the initiative for the second edition of the program in 2023. Unlike the previous years, we adopted a strategy for accepting the applicants into the program, and overall, it's about the newbies who have proven their commitment on our Discord server regarding the activities we have been organizing for them since the application was active.
However, every applicant was directed to do the needful on our Discord server immediately after their applications. It's been 9 days since the application for this batch ended. There were a total of 40 applications, of which 23 have been selected to participate in the initiative.
As the program continues, inactive participants without tangible reasons for missing any tasks would be dropped off each week.

Iniciativa de Novatos
---
¡Saludos! Estamos encantados de anunciar la lista de personas aceptadas para participar en la iniciativa para la segunda edición del programa en 2023. A diferencia de los años anteriores, adoptamos una estrategia para aceptar a los solicitantes en el programa y, en general, se trata de seleccionar a los novatos que han demostrado su compromiso en nuestro servidor Discord con respecto a las actividades que hemos estado organizando para ellos desde que la solicitud estaba activa.
Sin embargo, se indicó a todos los solicitantes que hicieran lo necesario en nuestro servidor de Discord inmediatamente después de presentar sus solicitudes. Han pasado 9 días desde que finalizó el plazo de solicitud para este lote. Hubo un total de 40 solicitudes, de las cuales 23 han sido seleccionadas para participar en la iniciativa.
A medida que el programa continúe, los participantes inactivos sin razones tangibles para faltar a alguna tarea serán dados de baja cada semana.

Welcome! You can greet them!
¡Bienvenidos! ¡Puedes saludarles!

As previously stated, the chosen Hivians will be divided into three teams, each of which will be led by a Team Leader.
Como ya se ha dicho, los hivianos elegidos se dividirán en tres equipos, cada uno de los cuales estará dirigido por un jefe de equipo.
---

The Team Leaders' (TL) responsibility will be to support, encourage, and carefully watch over each team member's growth.
Meet the Team Leaders
La responsabilidad de los Líderes de Equipo (TL) será apoyar, alentar y vigilar cuidadosamente el crecimiento de cada miembro del equipo.
Conocer a los Líderes de Equipo
---

---

Congratulations to those accepted into the program!
¡Felicidades a los aceptados en el programa!

PROGRAM ACTIVITIES
The program will last for 3 months and will include fun and challenging activities, interesting project you will love, and a celebration that ends with a presentation of awards.

Beginning on October 1, 2023, the initiative will commence with a live tutorial on our Discord server, and the topic for the week will be revealed on Thursdays. Supporting materials will be provided in the announcement post.

Every Newbie is required to read the materials in advance and show up prepared to the Sunday meetings on Smile Discord Server for additional explanations and clarifications. The meetings start at 7 pm GMT.

The task assignment will be made public the following day (Monday) through a post,so do well to always check the hive learners community for your task post.

The due date for assignments will be Saturday of that same week; however, a few tasks that we feel might be difficult for you to approach will last for two weeks. Do not worry; you will be notified as we keep progressing.

On Wednesday of the following week, Team Leaders are required to publish a post with a review and evaluation of the tasks that have been turned in by the newbies.
Actividades del programa
El programa durará 3 meses e incluirá actividades divertidas y desafiantes, un proyecto interesante que te encantará y una celebración que finalizará con la entrega de premios.

A partir del 1 de octubre de 2023, la iniciativa comenzará con un tutorial en directo en nuestro servidor Discord, y el tema de la semana se revelará los jueves. Los materiales de apoyo se proporcionarán en el post de anuncio.

Todos los novatos deberán leer los materiales con antelación y acudir preparados a las reuniones de los domingos en el servidor Discord de Smile para recibir explicaciones y aclaraciones adicionales. Las reuniones comienzan a las 7 pm GMT.

La asignación de tareas se hará pública al día siguiente (lunes) a través de un post, así que haces bien en consultar siempre la comunidad de Hive Learners para tu post de tarea.

La fecha de entrega de las tareas será el sábado de esa misma semana; sin embargo, algunas tareas que nos parezcan difíciles de abordar durarán dos semanas. No te preocupes; se te notificará a medida que vayamos avanzando.

El miércoles de la semana siguiente, los Jefes de Equipo deberán publicar un post con la revisión y evaluación de las tareas entregadas por los novatos.
---
| WEEK | TOPIC | TOPIC ANNOUNCEMENT | MEETING DATE | TASK ASSIGNMENT | TASK DEADLINE | TEAM LEADER'S ASSESSMENT | INSTRUCTIONAL MATERIALS |
| --- | --- | --- | --- | --- | --- | --- | --- |
| WEEK 1 | Layout your Hive goals | September 28th | October 1st | October 2nd | October 7th | October 11th | Hive Goals |
| WEEK 2 | Hive Guidelines and Markdowns Tutorial | October 6th | October 8thth | October 9th | October 14th | October 18th | Hive / Guidelines / Markdowns |
| WEEK 3 | Hive Keys and Security | October 13th | October 15th | October 16th | October 21st | October 25th | Recovery account / Review Recovery account / Hive Security |
| WEEK 4 | Tags, Tribe tokens, tipping tokens, Mining Tokens & How to use Hive Engine | October 20th | October 22nd | October 23rd | October 28th | November 1st | Tipping Token / Tribe token / Tag Usage Practical / Hive Engine Transaction Guide |
| WEEK 5 | Canva Tutorial | October 27th | October 29th | October 30th | November 4th | November 8th | Canva Tutorial |
| WEEK 6 | Discord tools (Friday bot, kanibot) & Hive tools (hivestats, hive.vote, hivetasks) | November 3rd | November 5th | November 6th | November 18th | November November 22nd | |
| WEEK 7 | Leothreads and Financial Growth Charge | November 17th | November 19th | November 20th | November 25th | November 29th | |
| WEEK 9 | Blockchain Games - Serfdom & Sorcery | November 24th | November 26th | November 27th | December 2nd | December 6th | |
| WEEK 10 | Building Hive Connections | December 1st | December 3rd | December 4th | December 9th | December 13th | |
| WEEK 11&12 | Hive Project | December 8th | December 10th | December 11th | December 23rd | December 27th | |
| WEEK 13 | Feedbacks & Recount of Hive Goals | December 22nd | December 23rd | December 24th | December 30th | January 3rd | |
---
Final Assessment and Award - 30TH DEC
Evaluación final y premio - 30 DE DICIEMBRE
---

Benefits
---
High-quality newbies posts on the #newbies-initiative-posts channel in the SMILE DISCORD SERVER will receive upvotes.

High-quality newbies post published in the Hive Learners Community would be selected for curation.

Newbies can ask us anything they want to know about Hive or blogging-related topics in our SMILE DISCORD SERVER under the #noob-chat in the "N.I-INITIATIVE" category.

You'll get to know new authors, communities, and initiatives.

Finally, by completing tasks, commenting, posting, upvoting, and making transfers, Newbies will beat at least part of Hive's learning curve. They will be ready to grow as Hivers and become part of this thriving community.
Beneficios
---
Las publicaciones de alta calidad de los novatos en el canal #newbies-initiative-posts en el SERVIDOR DE DISCORD, SMILE recibirán upvotes.

Los posts de alta calidad de los novatos publicados en la comunidad de Hive Learners serán seleccionados para su curación.

Los novatos pueden preguntarnos lo que quieran sobre Hive o temas relacionados con los blogs en nuestro SERVIDOR DE DISCORD, SMILE en el #noob-chat de la categoría "N.I-INITIATIVE".

Conocerás nuevos autores, comunidades e iniciativas.

Por último, al completar las tareas, comentar, publicar, votar y hacer transferencias, los novatos superarán al menos parte de la curva de aprendizaje de Hive. Estarán preparados para crecer como Hivers y formar parte de esta próspera comunidad.

Final Words
---
We are thankful for this opportunity to help Newbies once again. It's always a pleasure to help new Hive users. Besides the people we already mentioned here, we want to thank @theycallmedan and the @aliento team.
Remember to join the SMILE and Hive Learners Discord Servers
Palabras Finales
---
Estamos agradecidos por esta oportunidad de ayudar a los novatos una vez más. Siempre es un placer ayudar a los nuevos usuarios de Hive. Además de las personas que ya mencionamos aquí, queremos agradecer a @theycallmedan y al equipo de @aliento.
Recuerda unirte a los servidores Discord de SMILE y Hive Learners



@Aliento Project by @eddiespino and @grisvisa.

Click the banner to get redirect to Hive Learners Community

Click the banner to get redirect to SMILE server, or: https://discord.gg/wyhVUvt.

Translation made with the help of https://www.deepl.com/translator.
---
---