NEWBIES INITIATIVE: APPLICATION NOW OPEN - 2023 - FIRST EDITION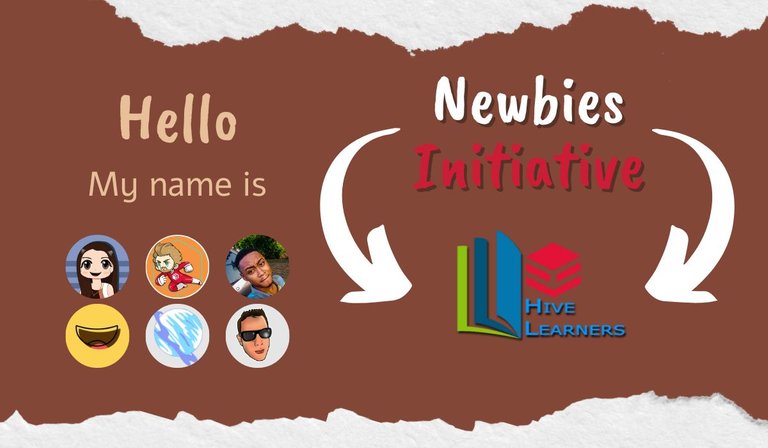 Newbies Initiative
Hello everyone!
We are back, and if you are just meeting this account for the first time, here is what this initiative is about:
The Newbies Initiative is a program designed to mentor and guide newbies about Hive by sharing structured tutorials that cover a wide range of what Hive is about, partaking in live meetings, and giving tasks to enforce the learning of interested participants in the initiative.

Iniciativa de Novatos
¡Hola a todos!
Estamos de vuelta, y si estás conociendo esta cuenta por primera vez, aquí te explicamos de qué va esta iniciativa:
La Iniciativa para Novatos es un programa diseñado para orientar y guiar a los novatos sobre Hive compartiendo tutoriales estructurados que cubren un amplio abanico de lo que es Hive, participando en reuniones en directo y dando tareas para reforzar el aprendizaje de los participantes interesados en la iniciativa.

---
A FEW THINGS ABOUT HOW THE PROGRAM WOULD RUN
---
The initiative would run for a total of two months, covering topics like Hive guidelines, Markdown tutorials, Canva tutorials, blockchain gaming, tags and second layer tokens, Leothread, Ecency, and 3Speak.
The program allows for a total of 30 users to participate. Each account will be thoroughly reviewed to ensure that it meets all of the criteria for inclusion in the initiative.
Each participant would be dedicated to one of three teams, with a team leader for each team.
It is important to know that this is a training program that users enter of their own volition, not for votes of support. We cannot guarantee that every post written during the program by a participant will have support.
---
ALGUNAS COSAS SOBRE CÓMO FUNCIONARÍA EL PROGRAMA
---
La iniciativa se desarrollaría durante un total de dos meses, abarcando temas como pautas de Hive, tutoriales de Markdown, tutoriales de Canva, juegos de blockchain, etiquetas y tokens de segunda capa, Leothread, Ecency y 3Speak.
El programa permite la participación de un total de 30 usuarios. Cada cuenta será revisada minuciosamente para garantizar que cumple todos los criterios de inclusión en la iniciativa.
Cada participante se dedicaría a uno de los tres equipos, con un jefe de equipo para cada uno de ellos.
Es importante saber que se trata de un programa de formación en el que los usuarios entran por voluntad propia, no por votos de apoyo. No podemos garantizar que cada post escrito durante el programa por un participante vaya a tener apoyo.

How to Apply:
Your account must be no older than one year (calculated from the first post on the platform)
A maximum of 65 reputation
A maximum HP of 500 (All time, it would be crosschecked)
Share the link of this post on Leothread, let us know how excited you are to join, and invite others to participate.
The entry must be added as a comment on this publication in the following format.
Deadline: 31st March 2023
Cómo aplicar:
Tu cuenta no debe tener más de un año (calculado a partir de la primera publicación en la plataforma)
Un máximo de 65 de reputación
Un HP máximo de 500 (Todo el tiempo, se verificaría de forma cruzada)
Comparte el enlace de este post en Leothread, haznos saber lo emocionado que estás por unirte e invita a otros a participar.
La entrada debe añadirse como comentario en esta publicación con el siguiente formato.
Fecha límite: 31 de marzo de 2023
---
| Application | Account | @ your account |
| --- | --- | --- |
| First Post Published | Date | Link |
| Introduction Post | Date | Link |
| Hive Power | Your own HP Without delegation | Delegation |
| Reputation | Number | |
I understand that the main purpose of the program is to teach users how to use the platform and getting votes from it are not guaranteed.
---
| Aplicación | Cuenta | @ nombre de usuario |
| --- | --- | --- |
| Primer publicación | Fecha | Enlace |
| Introducción | Fecha | Enlace |
| Hive Power (HP) | propio, sin delegaciones | Delegación |
| Reputación | Número | |
Entiendo que el objetivo principal del programa es enseñar a los usuarios a utilizar la plataforma y que la obtención de votos no está garantizada.
---

Benefits
---
High-quality newbies posts on the #newbies-initiative-posts channel in the SMILE DISCORD SERVER will receive upvotes.

High-quality newbies post published in the Hive Learners Community would be selected for curation.

Newbies can ask us anything they want to know about Hive or blogging-related topics in our SMILE DISCORD SERVER under the #help-chat in the "ALIENTO" category.

You'll get to know new authors, communities, and initiatives.

Finally, by completing tasks, commenting, posting, upvoting, and making transfers, Newbies will beat at least part of Hive's learning curve. They will be ready to grow as Hivers and become part of this thriving community.
Beneficios
---
Las publicaciones de buena calidad de los novatos en el canal #newbies-initiative-posts en el SMILE DISCORD SERVER recibirán upvotes.

Los posts de buena calidad de los novatos publicados en la Hive Learners Community serán seleccionados para su curación.

Los novatos pueden preguntarnos cualquier cosa que quieran saber sobre Hive o temas relacionados con los blogs en nuestro SMILE DISCORD SERVER bajo el #help-chat en la categoría "ALIENTO".

Conocerás nuevos autores, comunidades e iniciativas.

Por último, al completar las tareas, comentar, publicar, votar y hacer transferencias, los novatos superarán al menos parte de la curva de aprendizaje de Hive. Estarán preparados para crecer como Hivers y formar parte de esta próspera comunidad.

Final Words
---
We are thankful for this opportunity to help Newbies once again. It's always a pleasure to help new Hive users. Besides the people we already mentioned here, we want to thank @theycallmedan and the @aliento team.
Remember to join the SMILE and Hive Learners Discord Servers
Palabras Finales
---
Estamos agradecidos por esta oportunidad de ayudar a los novatos una vez más. Siempre es un placer ayudar a los nuevos usuarios de Hive. Además de las personas que ya mencionamos aquí, queremos agradecer a @theycallmedan y al equipo de @aliento.
Recuerda unirte a los servidores Discord de SMILE y Hive Learners


---
---